How to Boost Your Sales With Video Testimonials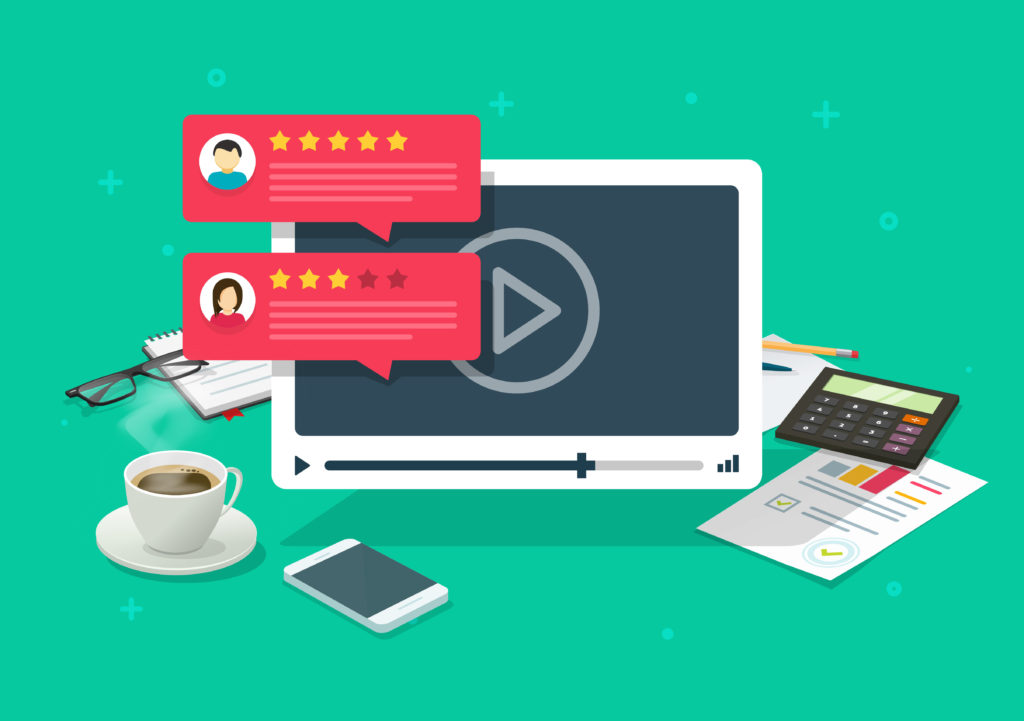 Are video testimonials important for your business? Do video testimonials work? Marketing is no easy business. Every decision you make has an impact on your company and your sales:
how you present your products and services;
the design of your website;
what images you use for your products;
the quality of your customer support;
and so on;
Establishing trust with your potential customers is a key element. If people trust that what you're selling is good, they will buy. However, simply taking your word for it is not the best option. That is where customer testimonials come in.
---
---
What are customer testimonials?
Simply put, a customer testimonial is positive feedback given by a customer after they purchased a product or service. This feedback can be given voluntarily or when a company asks for a testimonial.
The difference between customer reviews and customer testimonials is that the former isn't always positive. Unsatisfied clients who are disappointed with a product or service sometimes leave negative reviews.
On the other hand, testimonials are a guarantee of trust and they are always given by happy customers.
Here are some testimonial examples to get a better idea: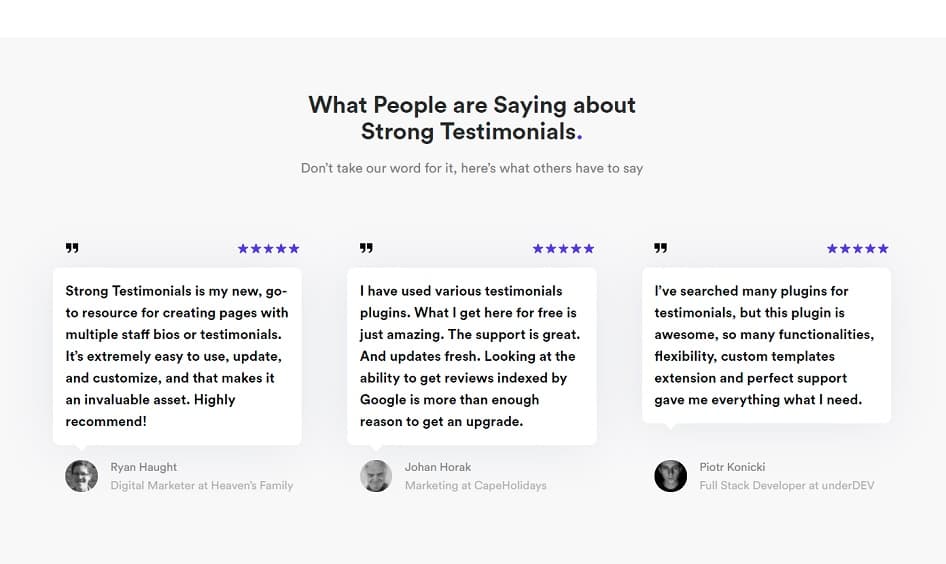 There are several testimonial formats that you can use: written, audio and video testimonials.
The format you choose for your website very much depends on how much your customers are willing to share with the world. Therefore, it is up to you to earn your clients' trust and convince them to spread the word about your business.
Regardless of the testimonial template and format you choose, the purpose is the same. You have to convert as many potential customers you can into loyal clients.
---
Are testimonials effective for your business?
Do you want to know why small businesses such as "mom and pop" stores are usually more trusted and appreciated by the buyer than big corporations? Even though high quality of product/service is no issue for either of them.
That is because those businesses have managed to earn the trust of the customers. They convey more credibility and show they care about their clients' needs and the local community. People don't think of them as being solely money-driven, but an altruistic, personalized solution to their problems and needs.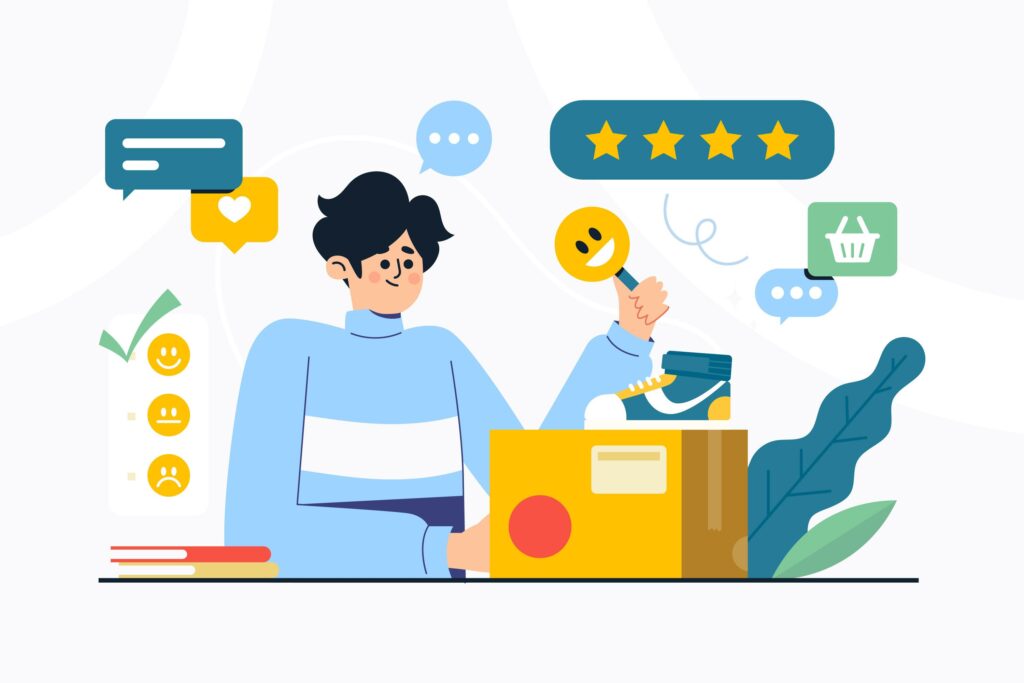 Research shows that focusing on customer experience is of paramount importance if you want to have a successful business and increase your profit.
Customer reviews and testimonials in numbers
There have been many case studies related to the power of customer reviews and especially of the positive ones. Here are some numbers to show you the importance of displaying customer reviews and testimonials on your site:
And once you earned the trust of a person, you want to make sure you use that to your benefit and spread the word. That way you encourage other people to switch from merely potential customers to loyal buyers.
One of the best ways to do that is to display customer testimonials on your website.
Testimonials have the power to build an emotional connection with consumers. When used right, they can magically turn potential customers into loyal, long-term, satisfied customers.
By the way, full disclosure! We've built a WordPress plugin called Strong Testimonials. It has helped over 100,000 businesses like yours to generate more credibility and attract more customers.
---
Written testimonials vs video testimonials
Written testimonials tend to be the most popular testimonial format, but that doesn't mean they're the most effective, too! They are just easier to get from customers, for both you and them.
People feel more comfortable writing their opinions than showing their faces in a video that can be seen by millions. Some are shy and others might simply be reluctant to the idea of appearing in such videos.
Don't get us wrong! Written testimonials can be very effective and are definitely more useful than no testimonials at all. Moreover, WordPress users can choose between a variety of great testimonial plugins packed with useful features.
However, video testimonials have a greater impact on the viewer, regardless of your target audience.
Are you just getting started with your business? Do you need an effective marketing strategy to boost your sales? Then video testimonials are a great solution. So, let's talk about the power of video testimonials:
unlike testimonials that are text-based only, video testimonials create a deeper emotion with the viewer. That is because they can see the face of the person who is talking, can connect with them, and relate better;
video content is more eye-catching than text and gets more shares than written content;
video testimonials allow you to offer more information faster;
research shows that only around 12% of all text content is remembered by the reader, as supposed to 95% in the case of videos;
video testimonials are more trust-worthy than written ones because you can actually see who is behind the testimonial;
---
How to get video testimonials from your customers?
Now that you know the benefits of video testimonials for your business, make sure you know how to collect video testimonials from your customers.
However, not everybody is comfortable with appearing in videos for the whole world to see. That is why it's very important to know how to ask your customers for a video testimonial.
Whether you ask for the testimonial via email, phone, or personally, here are some tips you can follow to make your job easier:
ask them at the right time; that time is usually as soon as they have purchased and used your product/service. This way, their memory is still fresh and they appreciate it better. Thus, they are more willing to help you;
make use of human empathy; kindly explain to them how they can inspire and help other people enjoy the benefits of your products/services, by sharing their positive feedback with others;
ask them to give you an interview. This way you can come up with the right questions and get the answers you want. Your customers will also feel more relaxed, because they'll just answer to given questions and won't have to come up with their own "script";
send them examples of other video testimonials, to encourage them and show them what they usually contain;
ask them for remote video testimonials if they can't come to your headquarters;
make their job as easy as possible; provide them with the video recording methods, whether you show up with a camera yourself, use remote directed video, a dedicated service and so on.
If you want to take a look at some video testimonial templates, Apple has some great stories from their customers.
However, is it possible to buy video testimonials? Well, yes, but we all know that the key to video testimonials success is the emotion that a satisfied customer can express. And so you can reach more clients.
---
What are the best video testimonial tools you can use?
There are plenty of plugins and services that help you add and manage video testimonials on your website.
Here are some of the best options to consider:
---
1. Strong Testimonials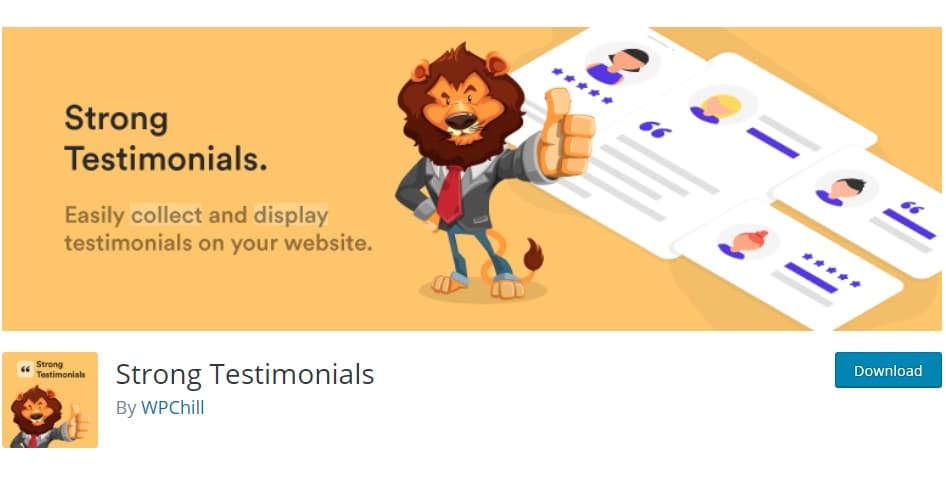 Strong Testimonials is one of the most powerful testimonial plugins available. Over 100,000 businesses trust and use the plugin so far. It features both a free version and a premium one.
Strong Testimonials is highly customizable and includes several useful extensions.
For instance, the Strong Testimonial Importer extension allows you to import testimonials/reviews from external platforms such as Facebook, Google, Yelp, Zomato, WooCommerce. By using the extension, you can collect all those third-party testimonials and display them on your site.
But the great thing about this WordPress video testimonial plugin is that it allows you to add more than just written testimonials. It also has a Custom Fields feature that you can use to display video testimonials on your website.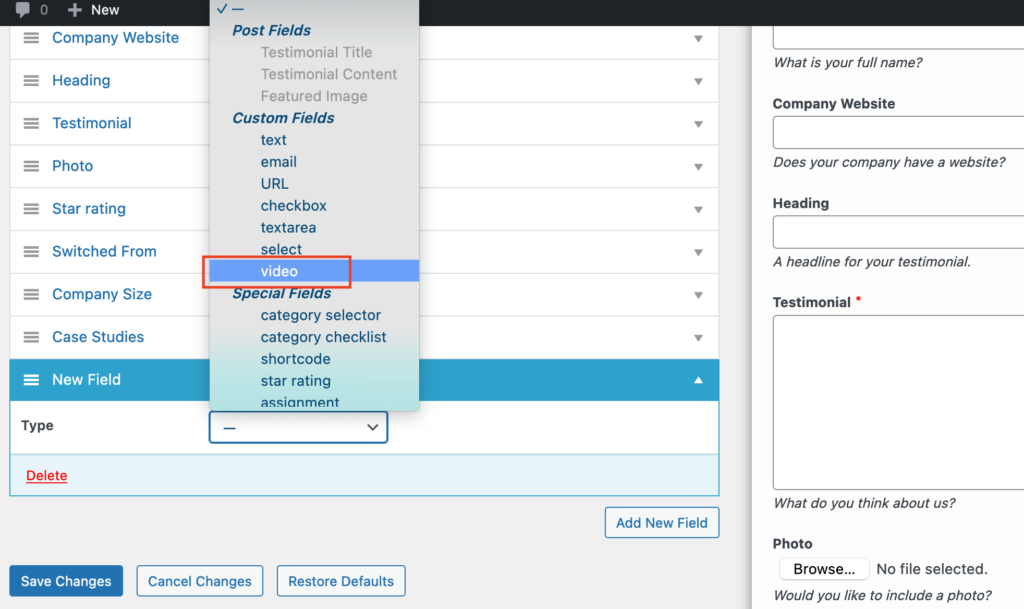 The feature is only available with the Pro version of the plugin. There are 4 plans to choose from. The most affordable plan is $49 per year, and the most expensive plan that includes all features is $149 per year.
---
2. AP Custom Testimonial Pro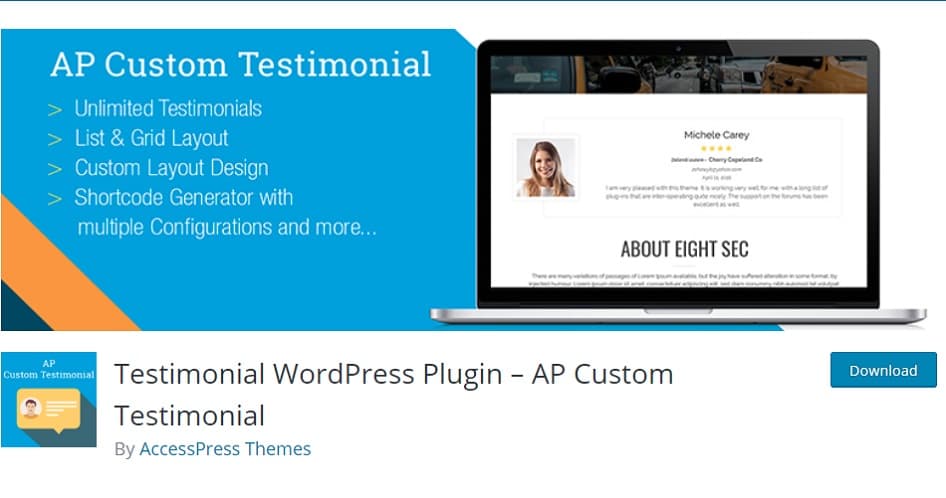 This is another good testimonial plugin to consider if you want video functionality.
AP Custom Testimonial has 5,000+ active installations and includes both a free version and a Pro one.
The 'video testimonials' feature is only available with the Pro version. A regular license is $19, as a one-time fee and for this price you get access to future updates and 6 months of support.
With this feature, you can either use the video ID from YouTube and Vimeo or upload a video directly.
---
3. Boast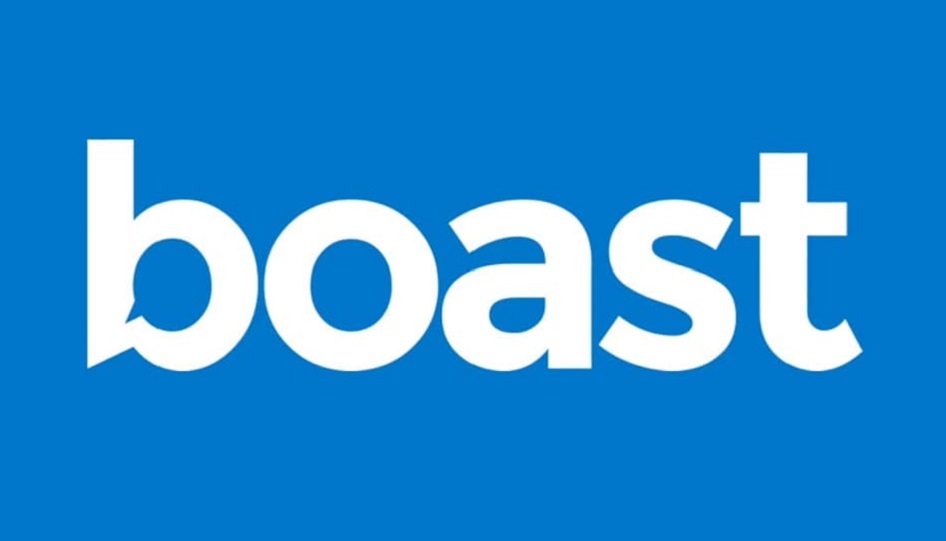 Boast is another useful, premium tool for collecting and displaying video testimonials on your website.
It works by signing up for one of their plans and then receiving from them a code to copy and paste to a page on your site. Once you do that, your website visitors can submit video testimonials directly from your site.
There are 4 available plans with Boast. The most affordable one is priced at $25 per month and includes 20 monthly testimonials. You can record up to 5 minutes per video.
The most expensive plan is priced at $208 per month and includes 500 monthly testimonials. You can record up to 15 minutes per video.
All the plans except Starter (which is the most affordable one), also include HD video and the option to request by email testimonials from your customers.
---
4. Testimonial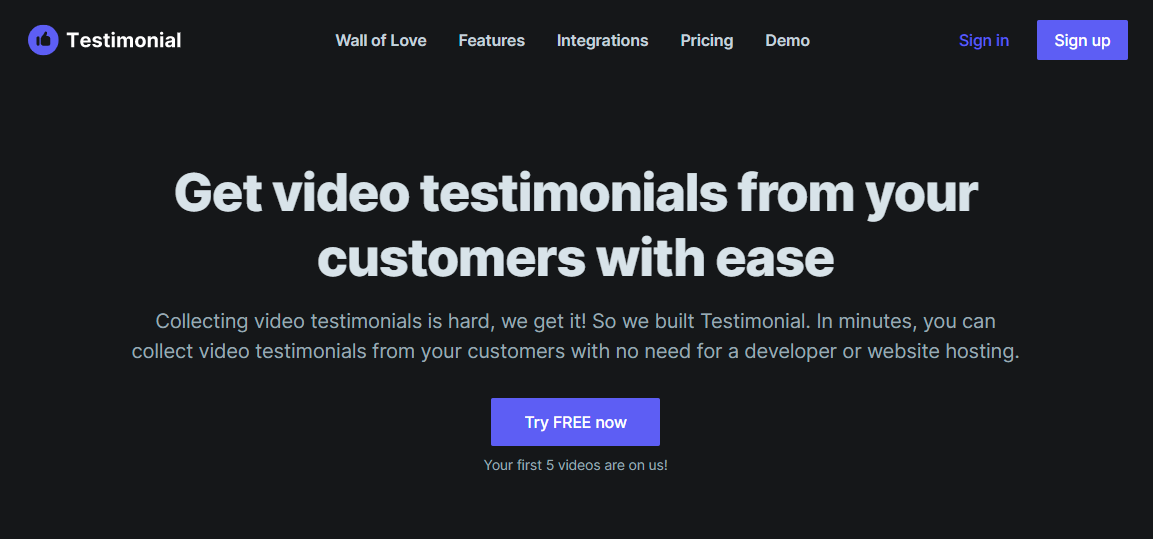 This is a very user-friendly service that also offers free 5 videos if you sign up with them. There is a 2 minutes limit per video.
Once you sign up, you also get unlimited text testimonials for free.
If you want access to all the Testimonial features, you have to choose between one of their premium plans. The most affordable one is priced at $20 per month. There is also a Custom plan available, but you have to contact them to get a quote.
The premium plans allow unlimited video testimonials of up to 3 minutes per video.
The way Testimonial works is by creating a space for your product or service and then receiving a unique link from them.
You share the link with your customers and they can easily record a video from any device. They don't have to log in.
Find out more about Testimonial's features and how it works.
---
5. Trustmary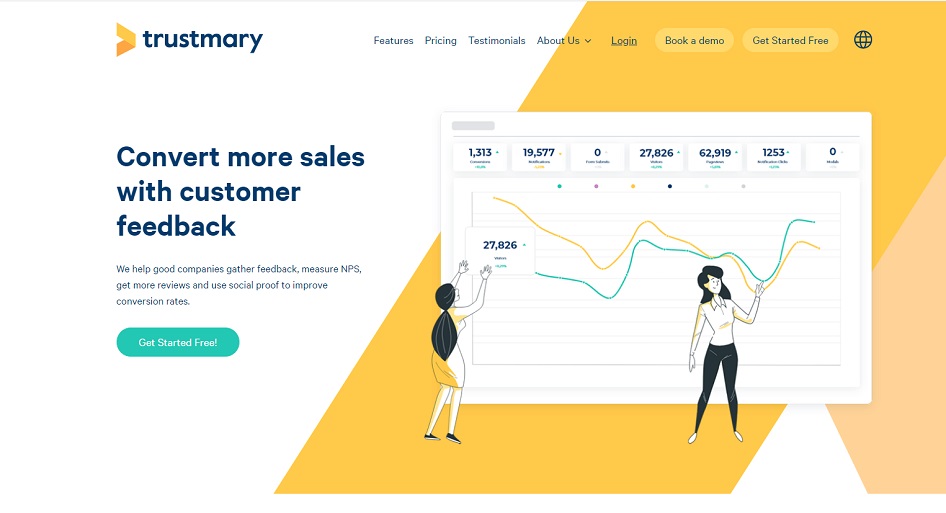 This is another feature-rich service that lets you add text testimonials, video testimonials and measure your NPS (Net Promoter Score).
You can sign up for one of their 3 available packages: Light, Plus, Enterprise. The Light plan is $350/month, the Plus plan costs $470/month, and for the Enterprise plan, you'll have to contact Trustmary in order to get a pricing offer.
In order to collect video testimonials, you have to upload to their site your customer list. A survey will be sent to your customers to leave a video review.
Trustmary has an embedding tool that lets you embed the video testimonials to your website.
---
Key takeaways
To sum up, displaying testimonial videos on your website is one of the easiest and most effective way to improve your conversion rates. There have been countless studies to support this statement. If you need some testimonial video templates, I've heard that Vimeo breaks the ice when it comes to designing customer video testimonials.
Here is what you should take away from this article:
⭐ Consumers will always choose to buy from a business that has reviews rather than from one with no reviews. Over 90% of them prefer to read about the experience of other customers with a certain product or service before they make their purchase.
✅ The more reviews you have for your business, the better.
⭐ Customer testimonials on your website can increase your profit by over 60%.
✅ Video testimonials are more effective than written testimonials:
they create a deeper bond with the consumer;
they deliver information faster than written testimonials;
people remember video content way better than text content: 95% of it (for videos) vs. 12% (for written content);
So stop wasting time and start boosting your sales with video testimonials today!