If you're in the hospitality industry, displaying reviews from popular platforms such as Airbnb on your own website can be a great way to build credibility with potential guests.
Our article will teach you how to import those rave reviews into WordPress with the Strong Testimonials plugin. It's so user-friendly you'll have more time to perfect your pillow fluffing skills. Plus, we'll give you valuable tips and tricks to make your reviews shine brighter than a freshly polished silver spoon.
---
---
Benefits of importing Airbnb reviews into your WordPress website
Airbnb is a giant in the world of travel websites, catering to all kinds of adventurers. And let's face it, who doesn't love scoping out reviews from other travelers before committing to a booking?
Let's take a closer look at how showcasing Airbnb reviews can benefit your travel business and how the Strong Testimonials plugin can make the process a breeze.
✔️ Boost credibility: Showcasing genuine Airbnb reviews on your website proves your service quality and builds a solid reputation. Great for new or lesser-known businesses!
✔️ Save time and effort: The Strong Testimonials plugin simplifies getting customer reviews onto your site by letting you easily import Airbnb reviews. Plus, there are plenty of customization options available!
✔️ Increase traffic and engagement: Reviews on your site boost credibility, engage visitors, and provide valuable information for booking decisions. Encourage interaction by allowing visitors to leave reviews or comments to build your brand and online presence.
---
Install and activate Strong Testimonials
Looking to jazz up your WordPress website with some customer reviews? Enter Strong Testimonials, a powerful plugin that makes importing and displaying reviews a breeze 🤯. Compatible with Airbnb and with several customization options, your review section will look snazzy in no time.
To access the Airbnb importer, you need to have the Strong Testimonials Importer extension that comes with the Strong Testimonials Plus plan or higher.
Activating and installing Strong Testimonials is a piece of cake, following the same simple steps as any other free WordPress plugin.
To install the free version of Strong Testimonials, check our documentation.
Once you purchase the Plus plan or higher, follow the steps in this guide to install and activate the Strong Testimonials Pro version.
Importing testimonials from Airbnb
Before getting to the actual importing part, it's important to head over to Testimonials > Import > Settings tab. Here you will find a variety of general options you can play around with.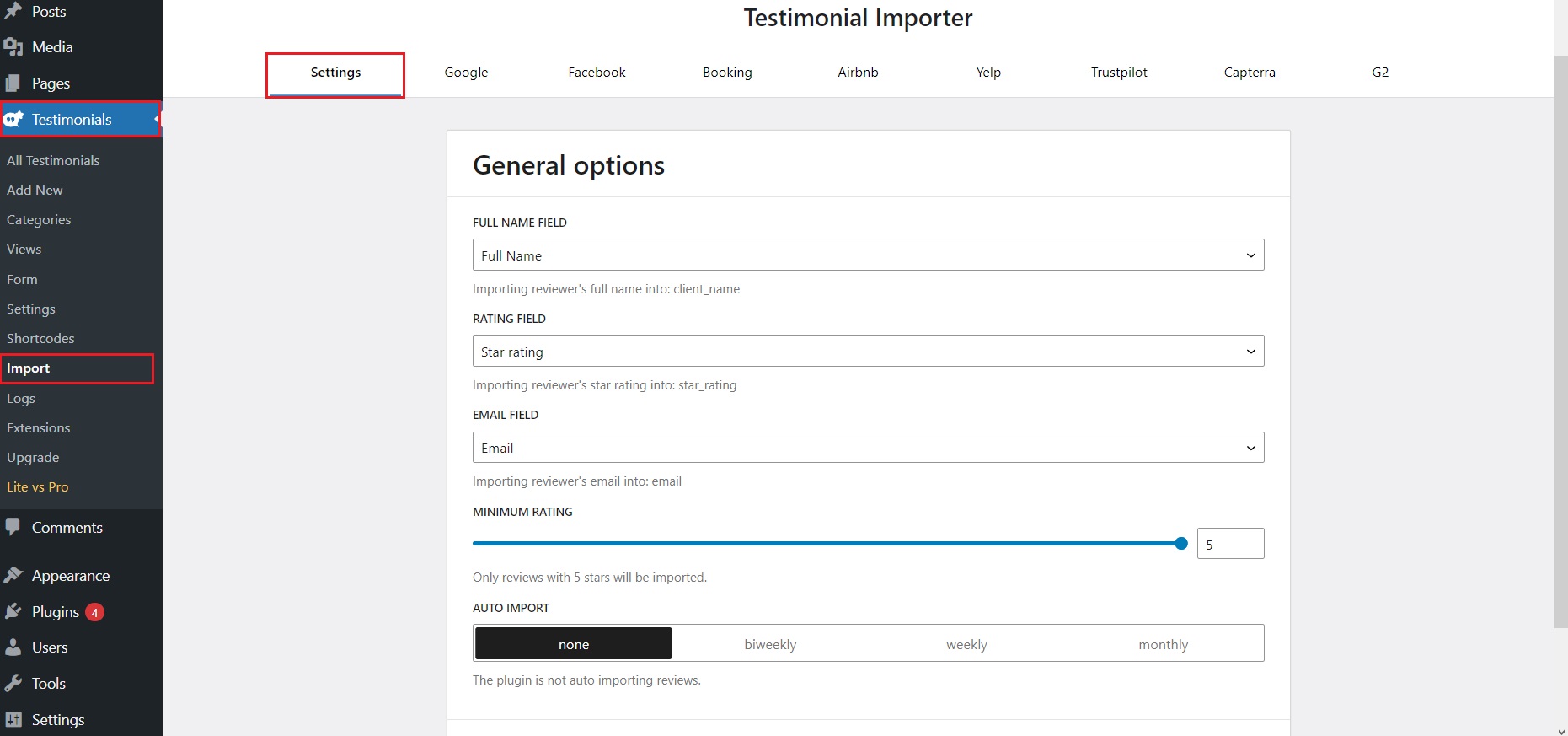 Full Name Field: none, Full Name, Company Name.
Rating Field: none, Star Rating.
Email Field: none, Email.
Minimum Rating: 1-5 (the value will determine the number of stars of the testimonials which will be imported).
Auto Import: none, biweekly, weekly, monthly.
Don't forget to save the changes.
For a more detailed explanation on how these general settings work, make sure to check the documentation on that.
To import testimonials from your Airbnb listing into your website, simply head to your Dashboard and click on Testimonials, followed by the Airbnb tab.
Next, paste your Airbnb listing link into the text box and click the Add pages button.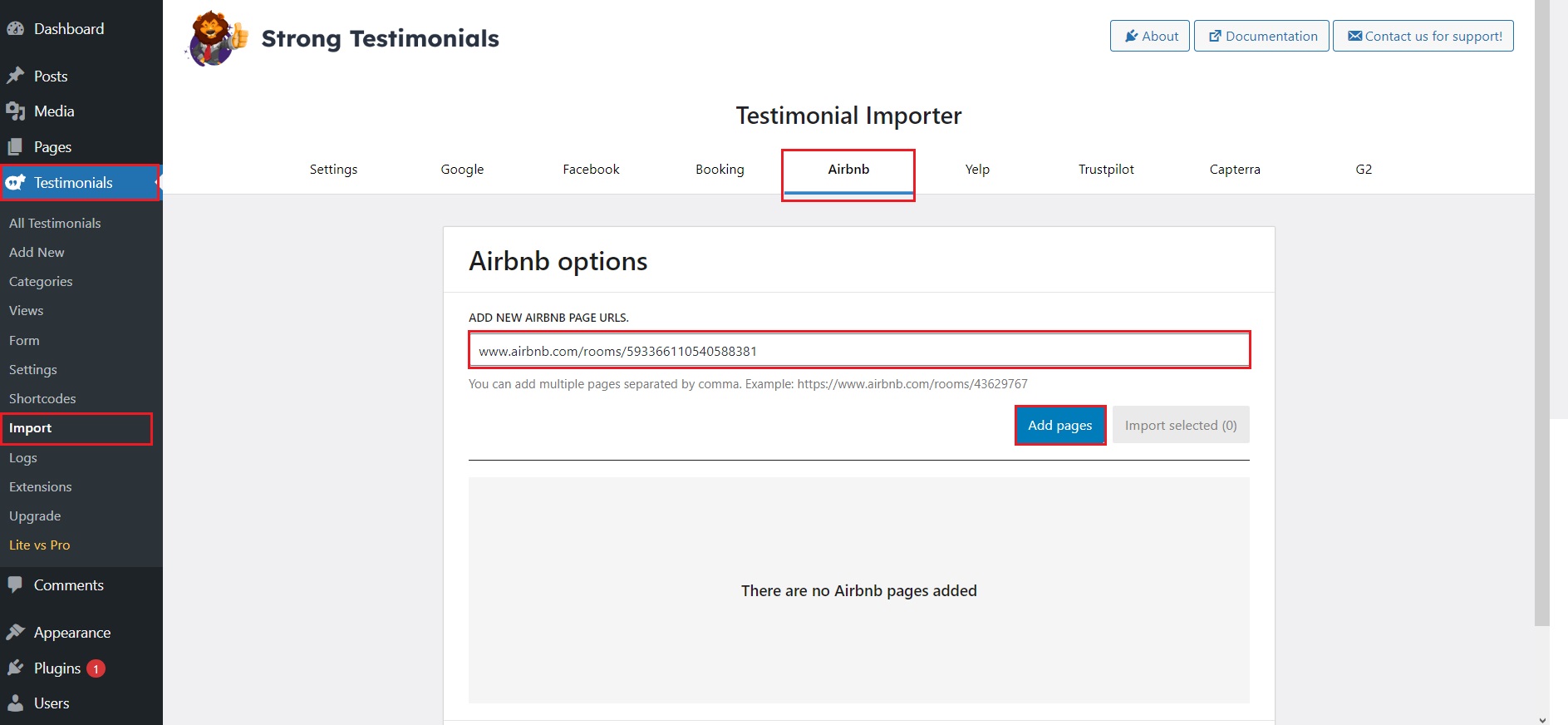 Tip: If you own multiple locations and want to import all of your testimonials across all of your listings, you can copy and paste all of the links and separate them by a comma.
Once you click the button, your listing will appear below. Click on the Import now button to begin the importing process 🤓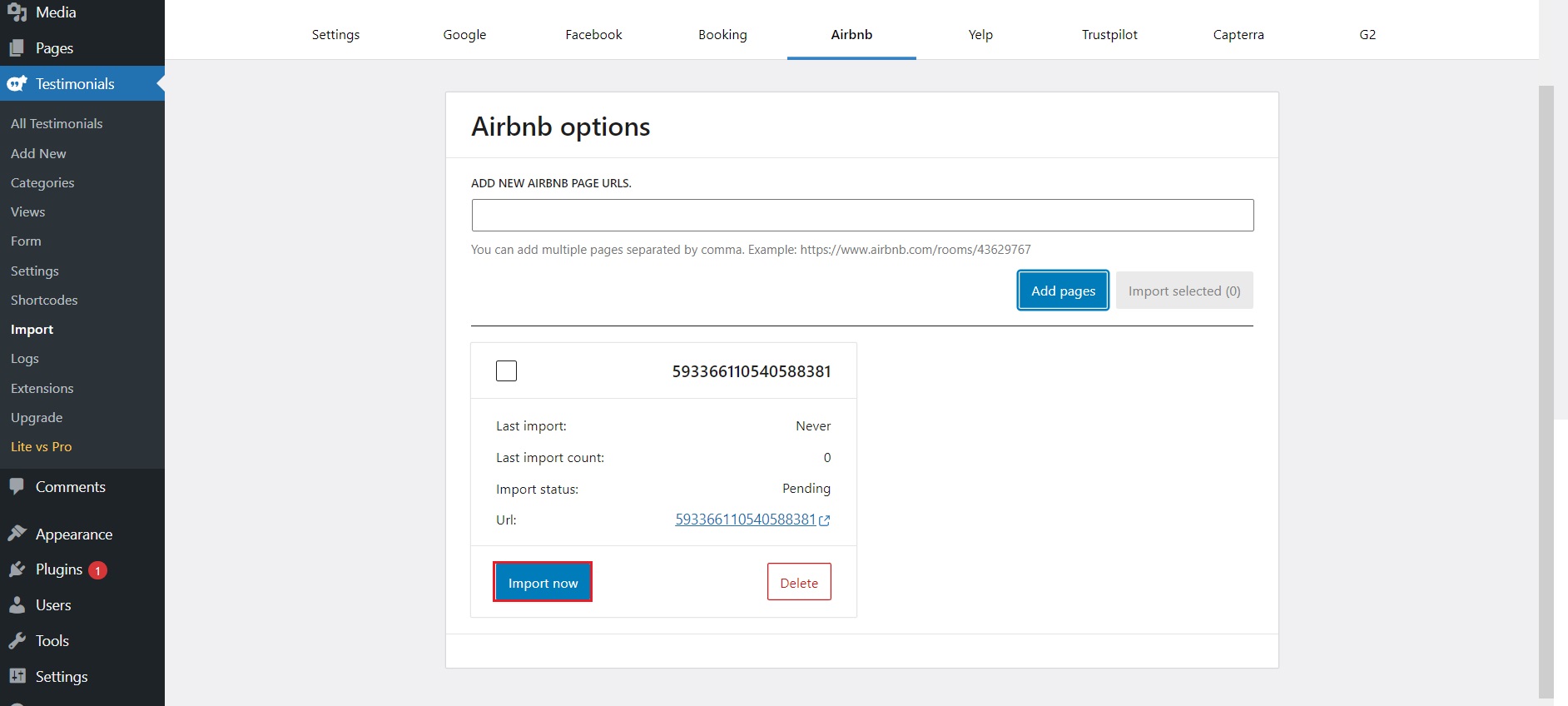 You will see an import status while the plugin is busy processing your request. Once it's finished, it will show ✔️Imported status.

Once the import is finished, you will see all your testimonials under Dashboard > Testimonials > All Testimonials.
Display the testimonials on your website
Now that your Airbnb testimonials have made their grand entrance onto your website, it's time to roll out the red carpet and give them the spotlight they deserve!
But first, let's create a testimonial view. Head to Dashboard > Testimonials > Views > Add New.
You can select either the Display or the Slideshow view, each with its own unique settings and customizations.
Once you've made your selections and saved the changes, Strong Testimonials will generate a shortcode for your view. You're now one step closer to showing off your glowing testimonials to the world!

Thanks to its seamless integration with the Block Editor, Strong Testimonials allows you to easily add your Airbnb testimonials to any post or page. Simply click on the "+" icon, search for Strong Testimonials View, and select the testimonial view you created.
Alternatively, you can just paste the shortcode directly.
Once you're happy with the placement, hit Publish or Update and you're good to go!

And there you have it! Your newly imported Airbnb testimonials are live on your website💪.
---
Wrapping up…
By using the Strong Testimonials plugin to import Airbnb reviews into WordPress, you can effectively showcase your reputation and gain credibility with potential guests. This guide outlines simple steps to import and display reviews on your website in a professional and user-friendly way.
If you haven't given Strong Testimonials a whirl yet, now's your chance to try it out and see the results for yourself!