Do you have trouble finding testimonial templates for your website? No need to worry! We have some cool ideas to share.
If you own any type of business, then you know how useful customer testimonials are. Whether you name them positive reviews, social proof, positive client feedback and so on, they are all different words that mean the same thing. One thing to remember is that client testimonials have the power to influence people. What does that mean for you? It means they can convert consumers from potential customers to active buyers.
That is why so many companies use them as a content marketing strategy.
There are a plethora of case studies outlining the benefits of testimonials. They all concluded that more than 90% of all consumers read reviews and are influenced by testimonials in their buying journey. Moreover, research shows that people tend to trust testimonials as much as they trust the advice of close friends and family.
Businesses that choose to use client testimonials in their marketing strategy can boost their profits with more than 60%.
In this post we'll show you 5 awesome testimonial templates you can use for your own testimonial page. So let's get started!
---
---
How to create a testimonial template?
So you know that testimonials can have a positive impact on your business website. But there's another aspect you need to consider: design. The way your testimonial page looks is really important in the eyes of your site visitors.
But how do you get a testimonial template? There are so many different types of them. Well, the best way to go is to use a testimonial plugin. They all include testimonial templates and plenty of customization options. If you are new to the whole WordPress thing, you might want to read our guide on how to install a WordPress plugin.
You can find plenty of plugins in the WordPress repository, but we're going to give you the best option to consider.
---
What is the best testimonial plugin to consider for your WordPress site?
Strong Testimonials is one of the most popular plugins for customer testimonials. The plugin has helped over 100,000 businesses so far and has a perfect 5-star rating.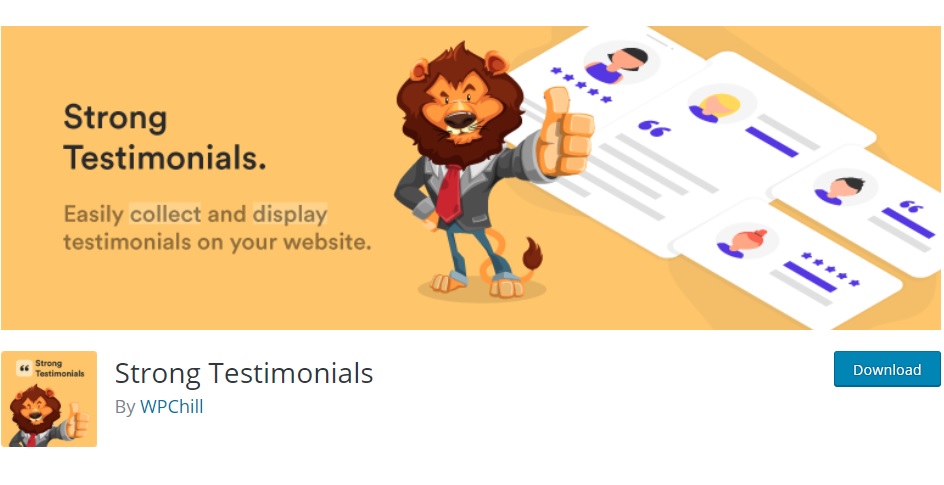 What makes Strong Testimonials such a great plugin is the fact that it has a very simple and intuitive interface, yet it is highly customizable and rich in features. It also comes with constant updates, which shows the team behind the plugin is devoted and invested.
Strong Testimonials offers a free version and a Pro one. The paid version starts at $49 per year for 1 site. Their most premium plan is priced at $149 per year, for an unlimited number of sites.
This testimonial plugin has some really useful extensions to offer that allow you to enhance its functionality. One really useful extension is the Strong Testimonial Importer. It allows you to collect testimonials from third-party platforms such as review sites, social media platforms, etc. The extension can import testimonials from Facebook, Google, Yelp, Zomato, WooCommerce. Once you can collect them all, you can display them all together in the same place: your own website.
Another great thing about Strong Testimonials is that it offers 11 templates for your testimonials. Of course, you have to upgrade to the Pro version in order to be able to use them all. There are also 4 layout types available.
Strong Testimonials lets you create beautiful testimonial sliders if you want a more interactive display. However, you can also go with the classic style and display your testimonials in a list or grid.
Next, we'll show you 5 awesome testimonial templates from Strong Testimonials.
---
5 testimonial templates you must try on your website
So, without further ado, here are 5 awesome testimonial templates included with Strong Testimonials. You can personalize them even further, in terms of featured image size and position, text and background color, layout and more.
---
1. Default testimonial list
There's nothing wrong with choosing a classic testimonial look. You can opt to display your testimonials in a list or grid and you can customize it from the Views menu in the Strong Testimonials plugin. If you want to learn how to use the Strong Testimonials plugin, check out this guide.
Even though the guide focuses on how to create a testimonial slider with Strong Testimonials, you can also create a testimonial list using the same steps. The only difference is when you get to Views – Add New. Instead of checking the Slideshow mode, make sure you check the Display option instead.
Now, back to our testimonial list template. From your Views window, select the Display mode, as we've just mentioned above.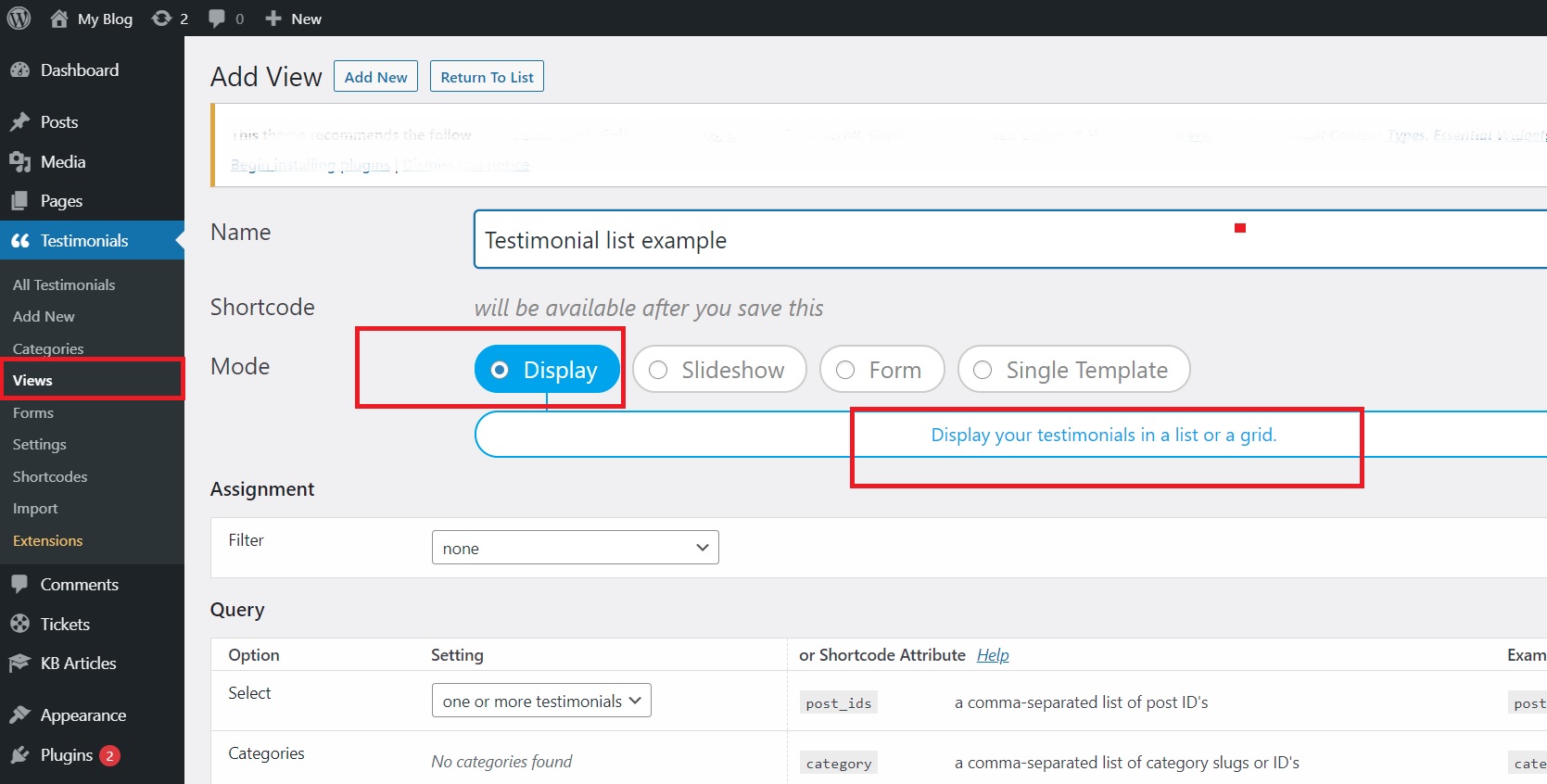 This testimonial template is simple and classic, which means it is timeless. For this template we chose the Default template – Image on left – Light theme. We also opted for the normal layout and a single color background: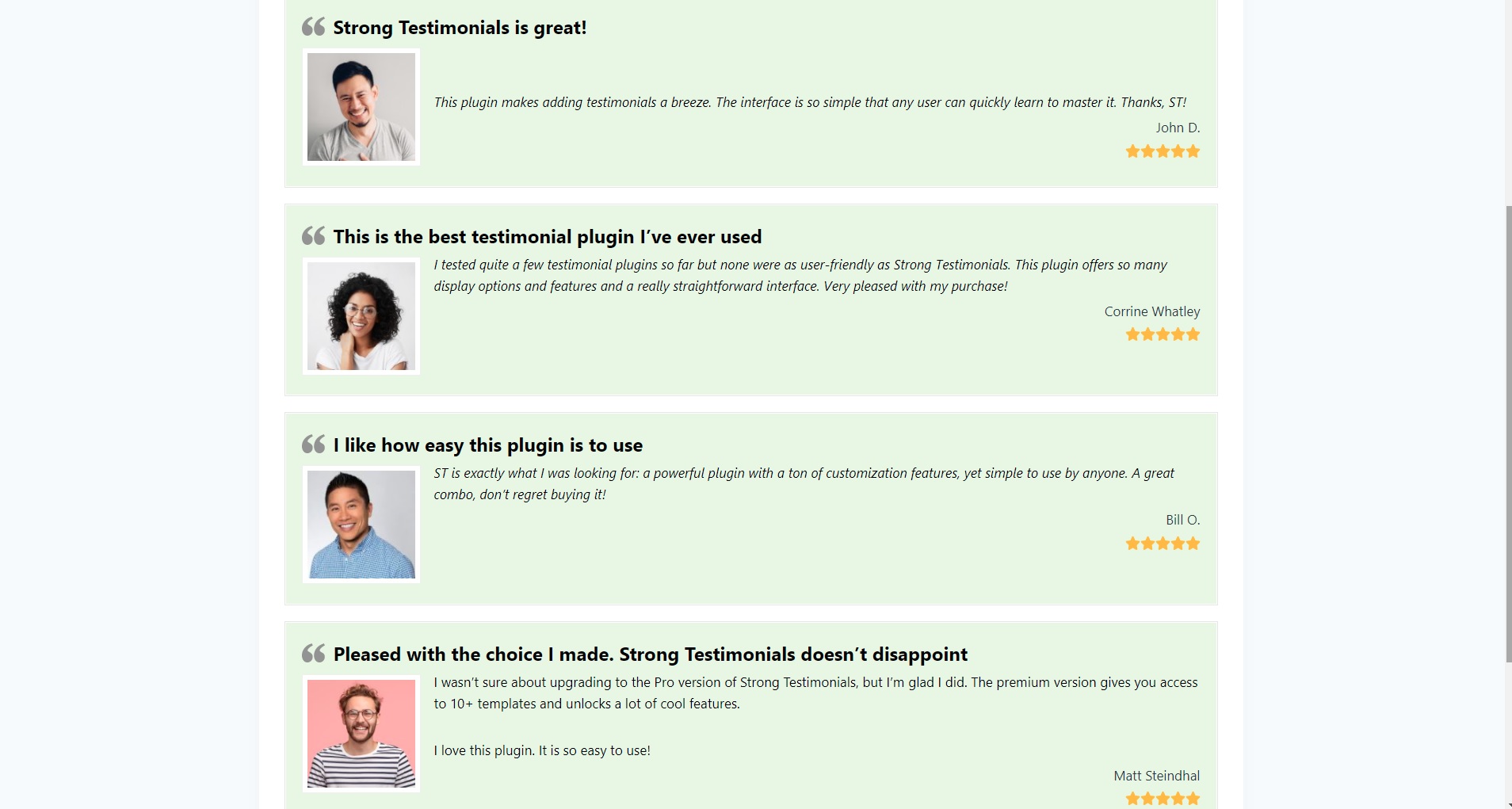 ---
2. Elegant Testimonial Template
This is another simple testimonial display, created with the Elegant template. We went with the Display mode – Elegant template – image on center – normal layout – single color background. The featured image field was set to thumbnail 150 X 150:
---
3. Modern grid template
This template was created choosing the following options: Display mode – Modern template – Grid layout – Gradient background: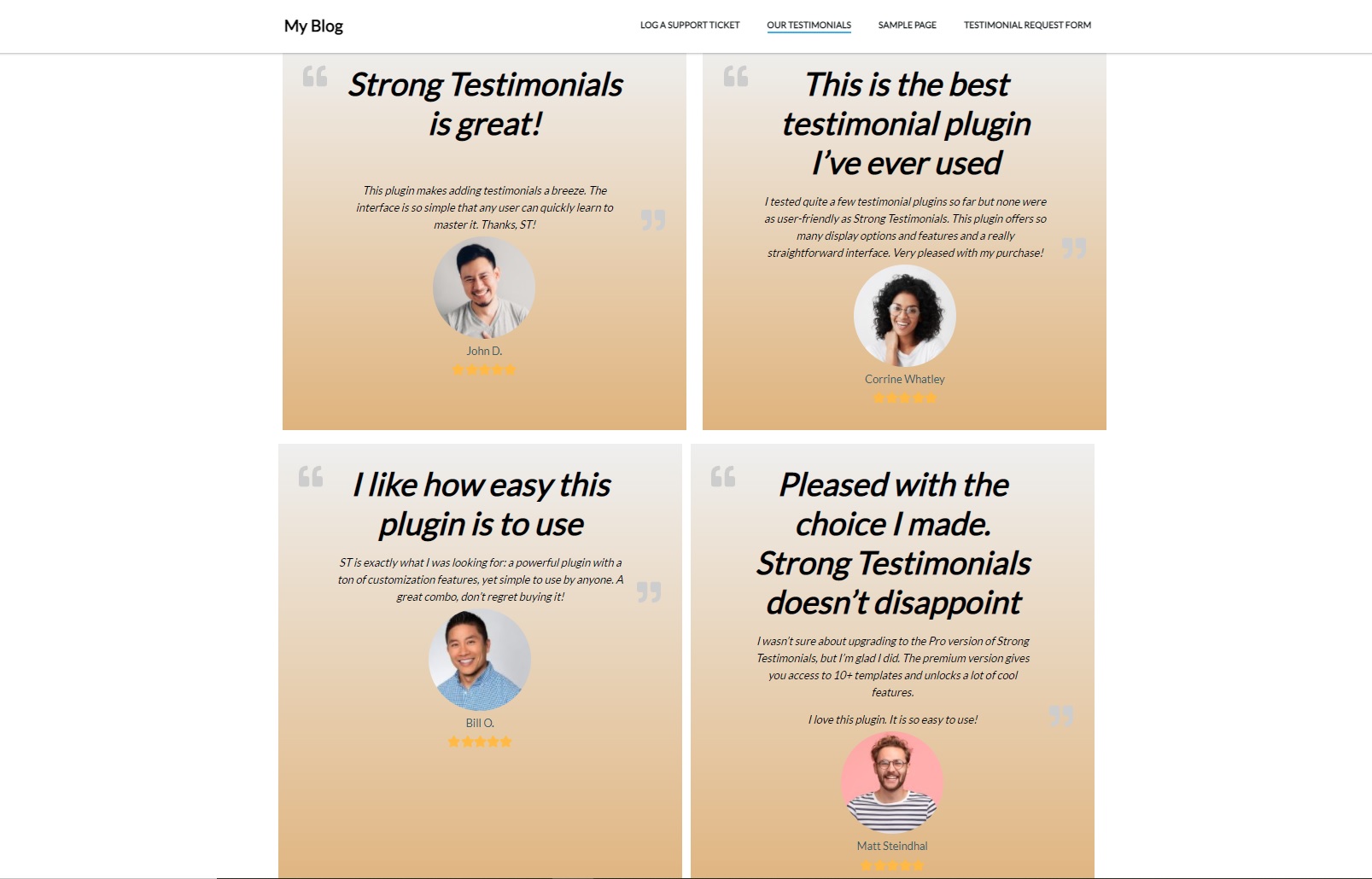 ---
4. Simple testimonial slider
If you want a more visually appealing display for your testimonials, a testimonial slider is the way to go. In order to create a slider, this time you have to check the Slideshow mode instead of the Display one in Views: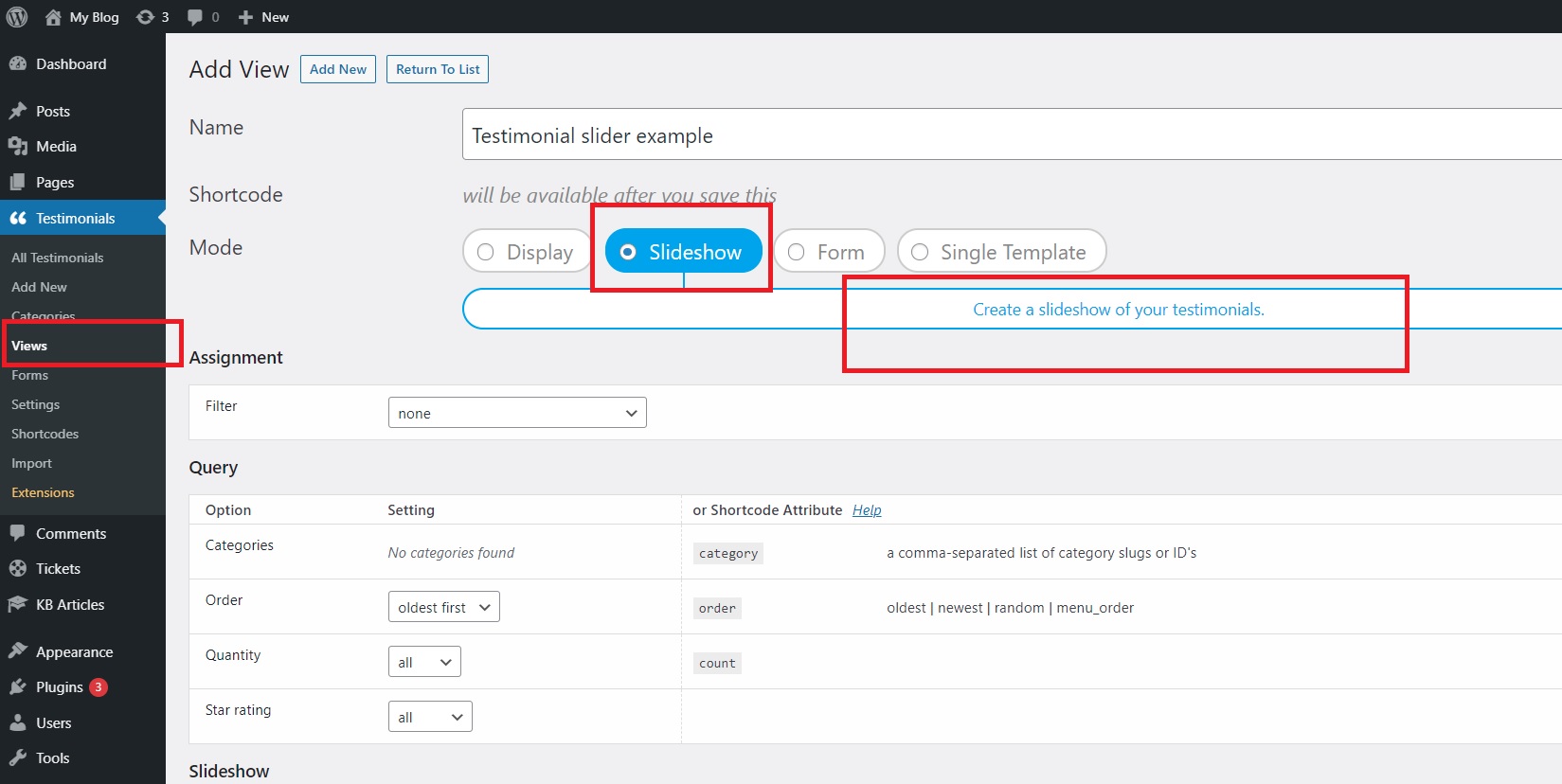 For this particular template, we chose the 'Side' template – image on left – gradient background:
---
5. Bold testimonial slider
Our last example of testimonial template is created with the 'Bold' template. The settings are: medium 300 X 300 for the featured image, Bold template, single color background:
---
Conclusion
These are just a few cool ideas of testimonial templates you can use on your testimonial page. Strong Testimonials includes 11 templates and one of them is the unstyled one. That means you can use CSS to create a completely custom testimonial template.
You can combine the plugin's settings in countless ways and personalize your template to your liking.
Strong Testimonials is really easy to use but offers enough features to satisfy both beginners and web design experts.