Adding a testimonial slider to your website can help you boost your conversions. Customer testimonials are an effective marketing strategy. They represent a social proof and have the power to increase your sales.
If you have a WordPress website and you want to be able to create beautiful testimonial sliders, keep on reading.
---
In this post you're going to find out:
what testimonials are and their benefits for your business;
the easiest way to display testimonials on your WordPress site;
what is a testimonial slider;
how to create a testimonial slider;
the best customer review slider plugin for displaying testimonials on your website and more;
---
---
What are testimonials?
Customer testimonials are a positive feedback from a customer, after they've bought a certain product or service.
When clients are satisfied with a purchase, they sometimes want to share their positive experience with others.
People tend to mistake positive reviews with testimonials. However, reviews are usually left on a third-party websites, such as Google, Yelp, etc. Also, the customer is the one who comes up with the initiative, with no involvement of the business.
On the other hand, testimonials are usually the idea of the business owners who ask customers for them. They usually appear on the company's website, their social media pages and so on.
While customer reviews can be negative or positive, testimonials are always a good form of feedback.
Here's an example of testimonials: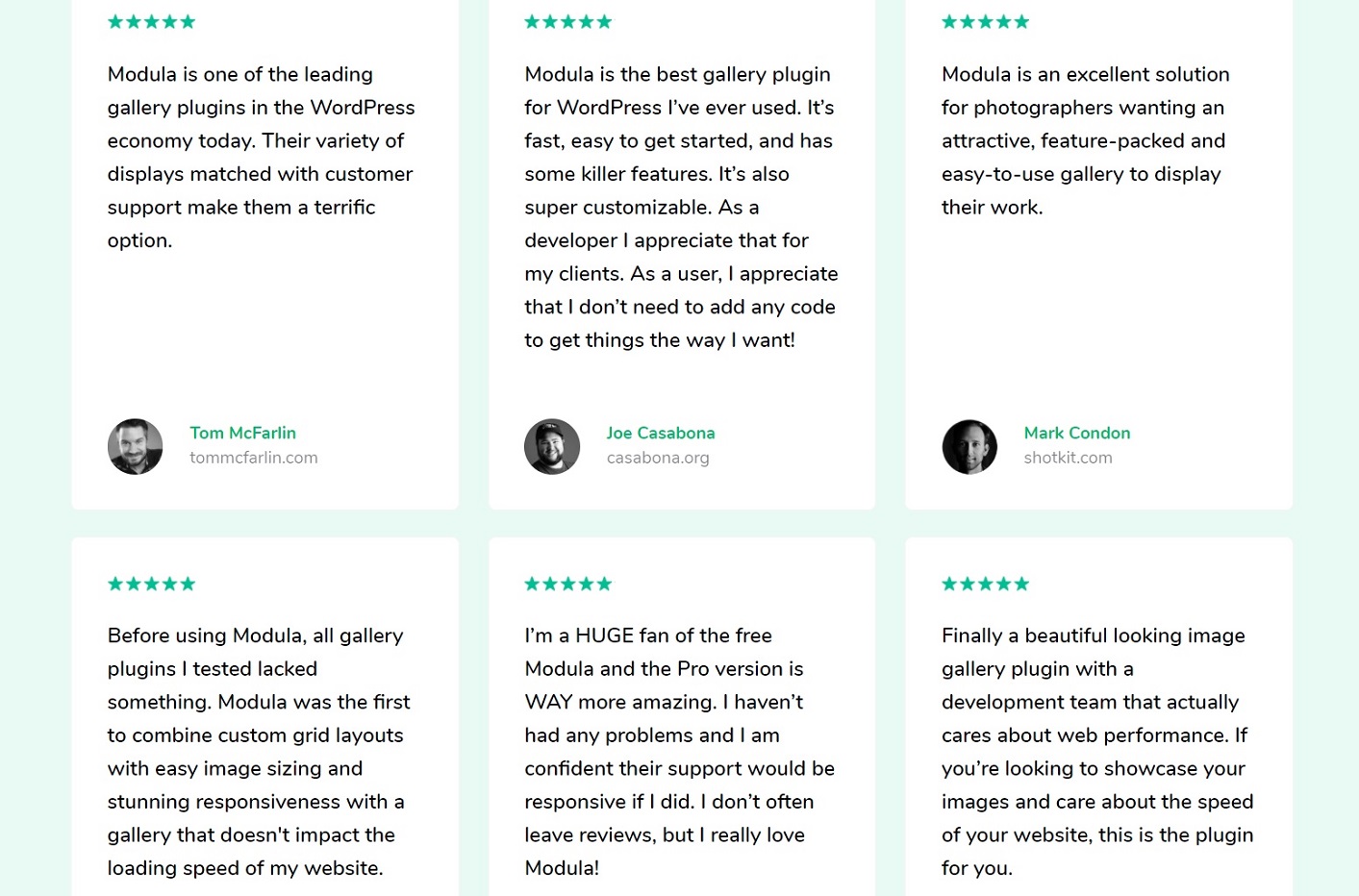 There are several types and formats of testimonials, such as quote, press, influencer, social media testimonials, text, audio, video testimonials, etc.
---
Are testimonials useful for your business?
Customer testimonials are a social proof which makes them very useful in marketing. They have the power to influence others and convert them from potential customers to buyers. That is why business owners are aware of their value and use them to increase their conversions.
According to multiple case studies, testimonials impact over 90% of all consumers. They trust them as much as they trust the recommendations of their close ones such as family members or friends.
Websites that display testimonials from customers can see a growth in revenue of up to 62%, according to research.
You can create a testimonial page anywhere on your site. You can place it on your landing page, a product page, etc. Another great way to use them is on social media, like your Facebook, YouTube account and so on.
---
How to add and display testimonials on your WordPress site?
If you have a WordPress website, the easiest way to add testimonials is by using a WordPress plugin.
The awesome thing about WordPress is that it has a huge plugin repository where you can find plugins for anything you want to do on your website.
Plugins are great because they are user-friendly and don't require you to know any code.
Of course you can also use lines of code to add almost any type of functionality to your WordPress site. However, this is a beginner's guide that shows you the easiest possible way to add a testimonial slider.
Later on in this post we'll also give you the best testimonial slider plugin for WordPress, so keep on reading.
---
What is a slider?
The design of your site is a crucial element when it comes to driving more traffic. It is the first thing that a user sees when they access your website.
A disorganized, busy website or an ineffective placement of your site elements will make your visitors click away.
That is why you have to make your website as visually appealing as possible.
Sliders are commonly used in web design, for various purposes. A slider is a term used to describe a slideshow and it is a way of displaying content on your site.
It works for any type of content, whether it's images, text or video and it is a more interactive and attractive way to showcase your content. They can also include buttons, animations, you name it.
Sliders can be simple or more complex. They can be static or as carousels. The content can simply slide horizontally or vertically, one at a time or with one larger, focus image in the center and other smaller, secondary ones below, etc.
Here's an example of slider from eBay:
---
Here's another one from our Modula plugin website:
---
And here's a third one from HBO GO:
What is a testimonial slider?
A testimonial slider is simply a slider which consists of testimonials from customers. It slides from one testimonial to another and it can be customized to do so in various ways.
Here are some testimonial slider examples from our own Strong Testimonials plugin:
And another demo slider from Testimonial Slider:
Testimonial sliders have a greater visual impact than simply cramming all testimonials on the same page.
Most plugins also offer a lot of configuration options for your sliders. That means you get to choose things like:
the type of slider;
the duration of each testimonial in the slider;
type of navigation;
their order (according to date, random, etc.);
background;
what information to be displayed (full name, location, headshot of the customer, etc.)
and so much more;
---
Where to use testimonial sliders on your website?
If you're wondering where to place testimonials on your website, there are various ways to use sliders on your pages, and you can see them on various types of websites. However, businesses and more professional sites tend to use them more frequently.
As far as their placement goes, a testimonial slider can go anywhere you see fit: homepage, a product page, a dedicated testimonial page, and so on. But how do you know they're in the right place?
A little bit of advice: create multiple testimonial sliders that match the pages or sections of your website! For example, on the homepage can be placed general testimonials about the business, while on categories, product pages, checkout pages (and so on), it is recommended to display only testimonials related to the product.
---
What are the benefits of sliders?
We already mentioned above the importance of visuals and sliders are great design tools in that regard.
Here are the most important benefits of testimonial sliders:
they are attractive and visually appealing;
they are interactive;
sliders are versatile/flexible: you can use them to display any type of content, including images, video, etc.;
they take up less space and help you maximize the space on your site;
you can make your slideshows run automatically by using a timer, so the user doesn't have to do anything;
---
What is the best testimonial slider plugin for WordPress?
So we established that the easiest way to create a WordPress testimonial slider is with a plugin. But before we show you how to actually do that, you have to know how to work with WordPress plugins.
Please check out our guide on how to install a WordPress plugin before you go any further.
So, without further ado, here is the best testimonial slider plugin in 2021:
---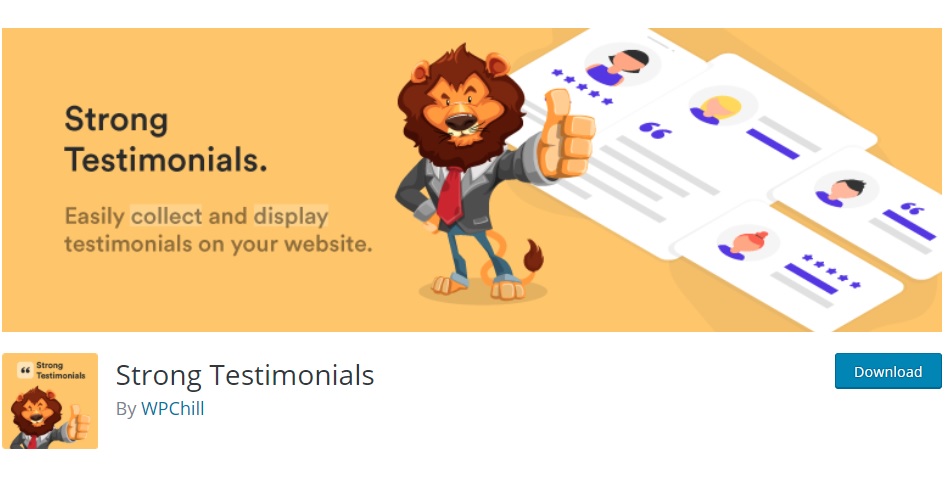 If you are looking for the best balance between user-friendliness and features, then Strong Testimonials is definitely the best way to go.
This plugin has over 100,000 active installations so far and it comes with both a free and a premium version.
If you want to upgrade to the PRO version, plans start at $49 per year for 1 site. The highest premium plan is priced at $149 per year, for unlimited sites.
The great thing about Strong Testimonials is that it is very easy to use while still being a powerful plugin, packed with useful features.
Strong Testimonials is highly customizable and includes several useful extensions.
For instance, the Strong Testimonial Importer extension (available with the Plus, Business, and Agency plans) allows you to create a social testimonial slider by importing reviews from external platforms such as Facebook, Google, Yelp, as well as Zomato, WooCommerce. By using the extension, you can collect all those third-party testimonials and display them on your site.
Here are some of the best features of Strong Testimonials:
custom fields (text, email, URL, video URL, video upload);
shortcode and widget functionality;
useful extensions to collect and display testimonials from external sources;
multiple layouts (masonry, grid, columns) and templates available (card, elegant, minimalist, modern, bold, small widget and others);
Read more about the latest features added to Strong Testimonials.
---
How to create a testimonial slider with Strong Testimonials
If you want to learn how to show testimonials in WordPress, this tutorial is specially made for you. The first step is to add your testimonials, and that is as simple as creating a post.
After you install and activate the plugin, go to Add New and create your testimonials: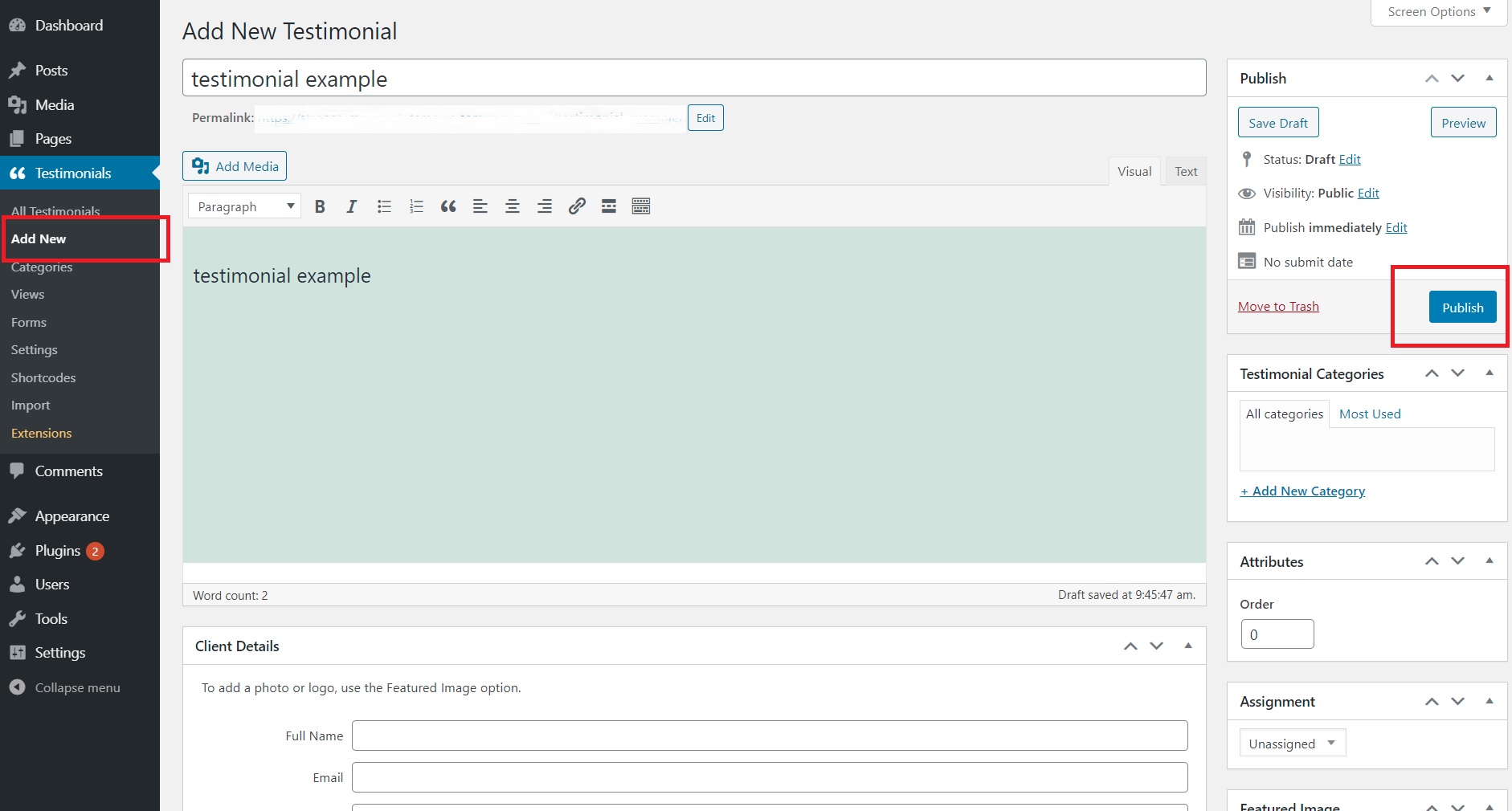 You have several fields to fill in such as the customer's full name, email address, company name and website, an excerpt (optional).
If the customer agrees, you can also add a featured image from the right sidebar, just like you would with a regular post.
Once you have the testimonial ready, you hit Publish to add it.
Next, in order to create the slider, go to the left sidebar in the Dashboard and choose Views. Hit the Add New button, just like in the image below: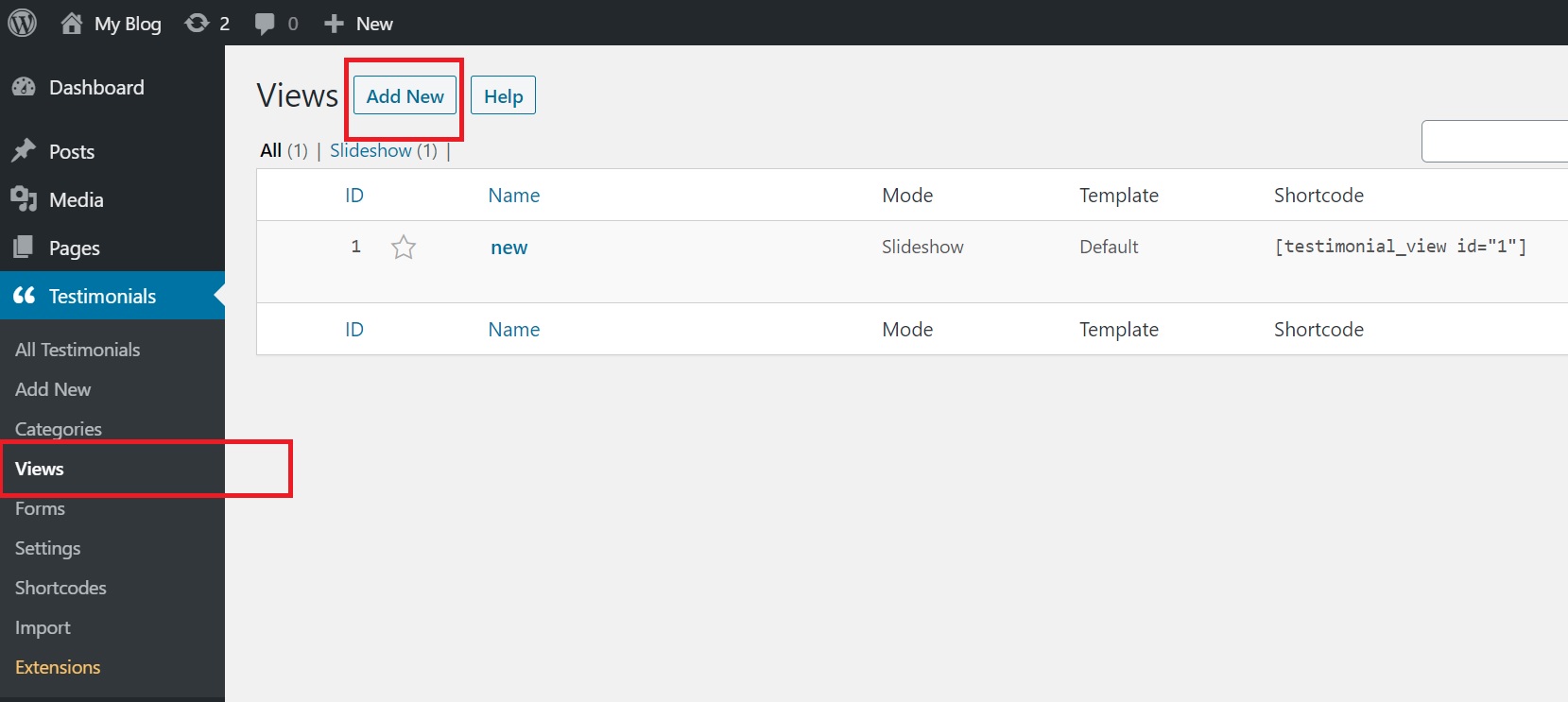 A new window will open with all the configurations. Now, let's create a custom testimonial slider! First, choose the Slideshow mode: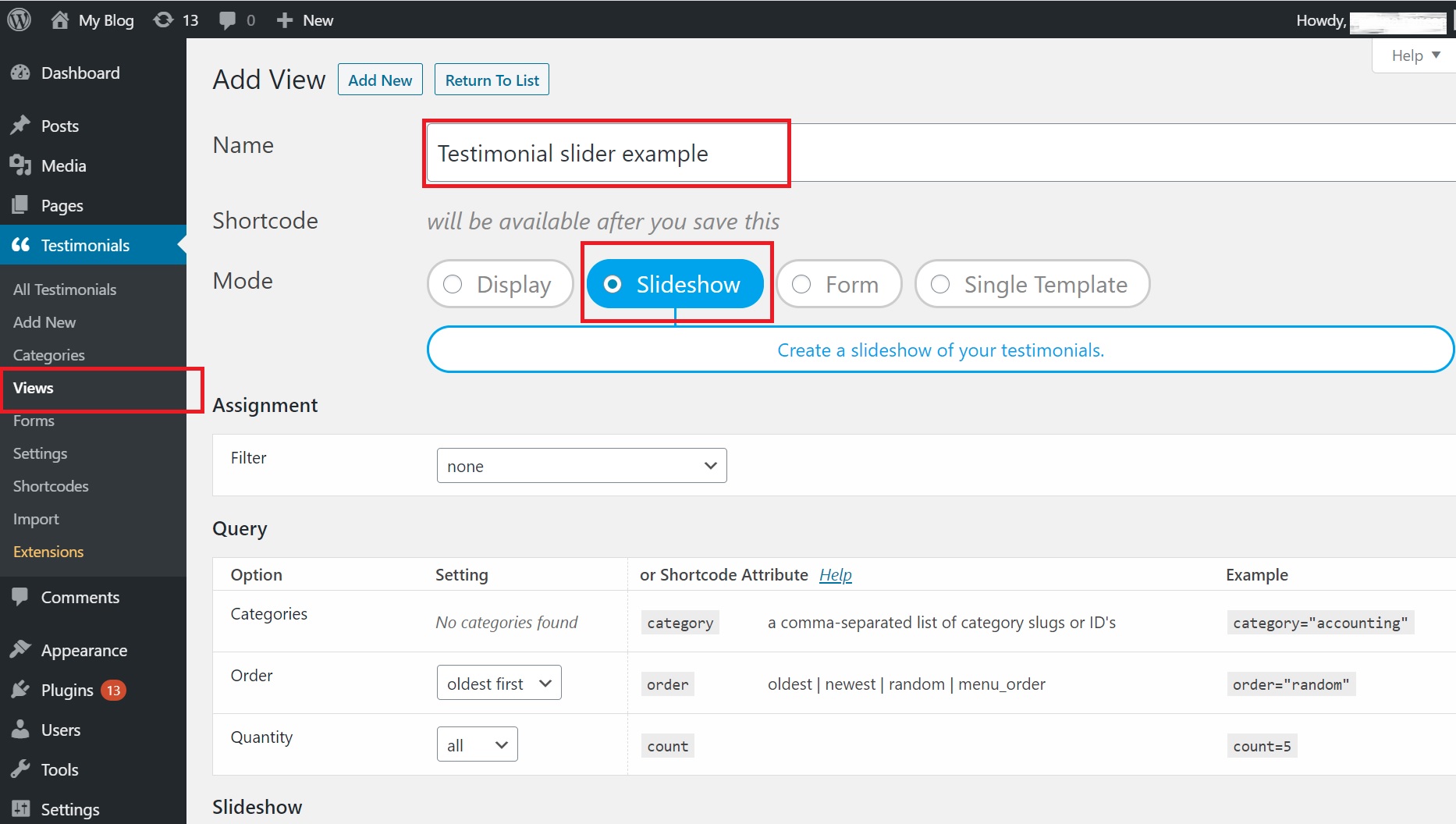 In this section, you can design your testimonial slider. Configure the slideshow to your liking: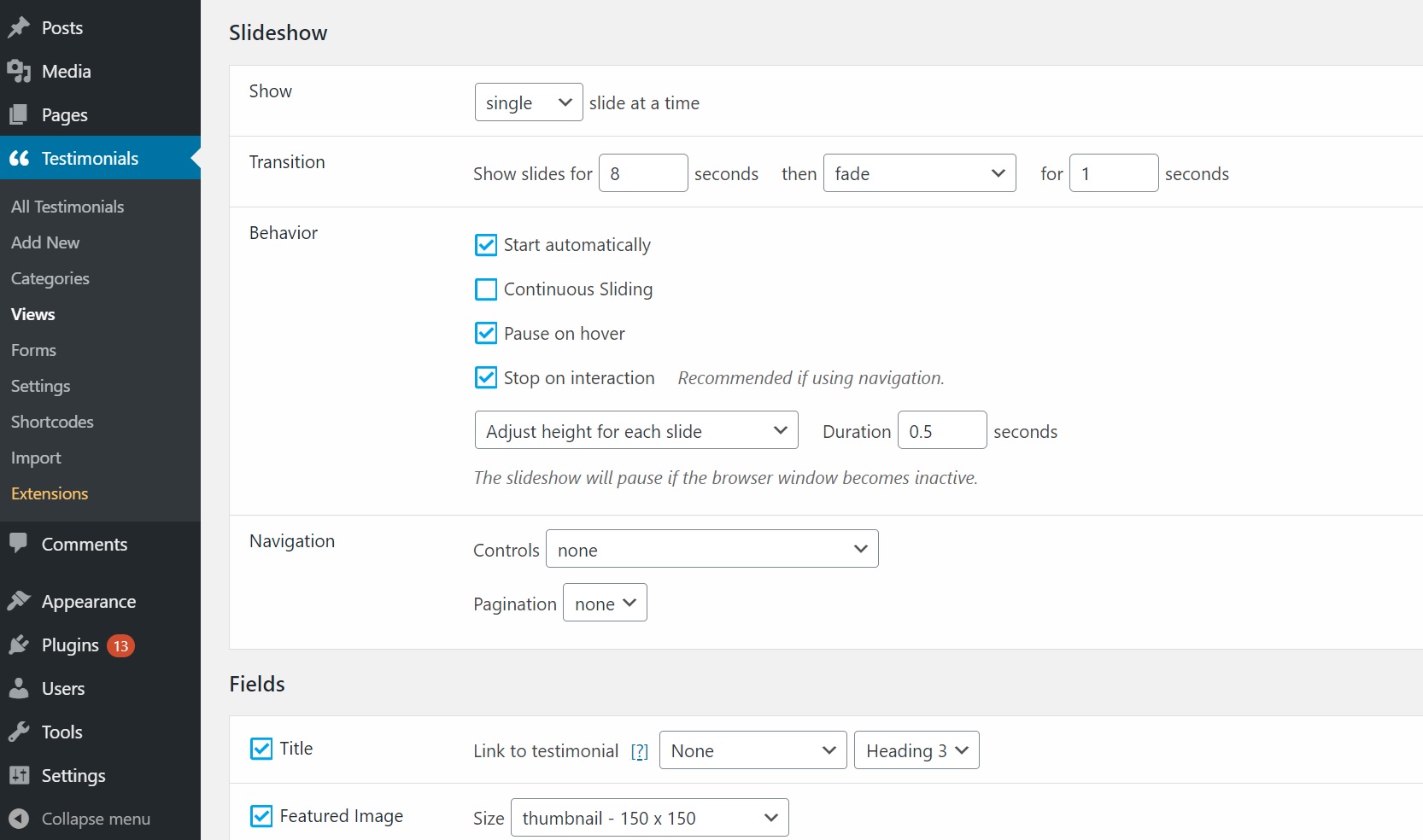 Strong Testimonials has a plethora of settings to tweak. You can choose:
in which order to display testimonials (random, newest, oldest first);
the number of testimonials to be displayed;
how many seconds are the slides shown;
to display the featured image or not;
the template for the slider (there are 10 templates available plus an unstyled template for CSS experts);
what fields are displayed in the testimonial slider (company name, full name of the customer, etc.);
and much more;
Once you are happy with your testimonial slider, hit the Save Changes button at the bottom of the page.
And the best part, Strong Testimonials is a WordPress plugin that helps you create a video testimonial slider as well. Go to Custom fields and tick the Video box.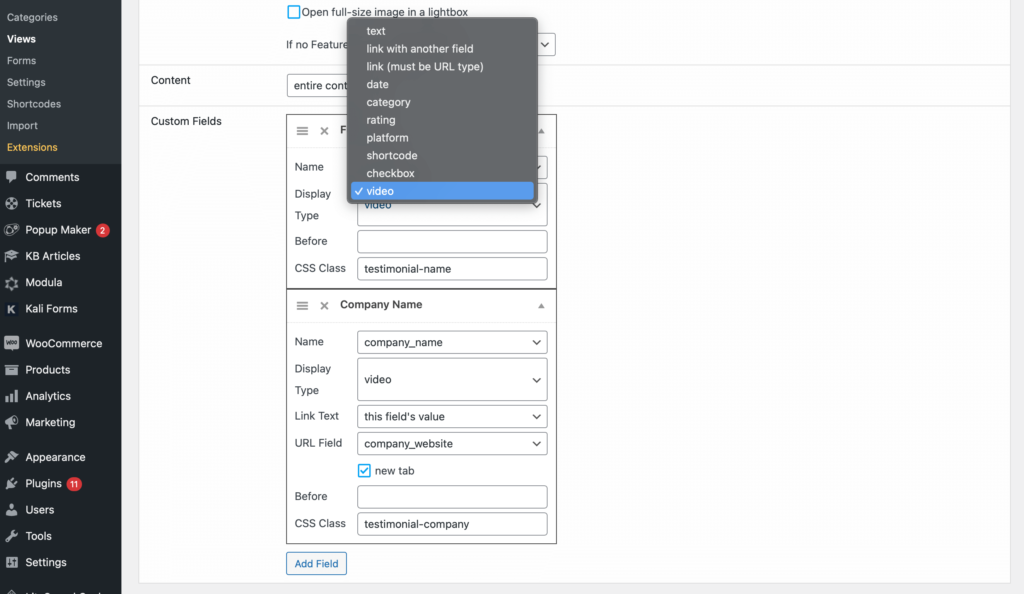 Do you want to create a WordPress review slider? Well, besides creating your testimonials manually, you can also import reviews from Google, Facebook, Yelp, Zomato, and WooCommerce. Yes, you read that right! You can add Google reviews to your WordPress slider.
---
How to add a testimonial slider in WordPress
A shortcode will be generated after you click on Save Changes. You can find it at the top of your Edit View page: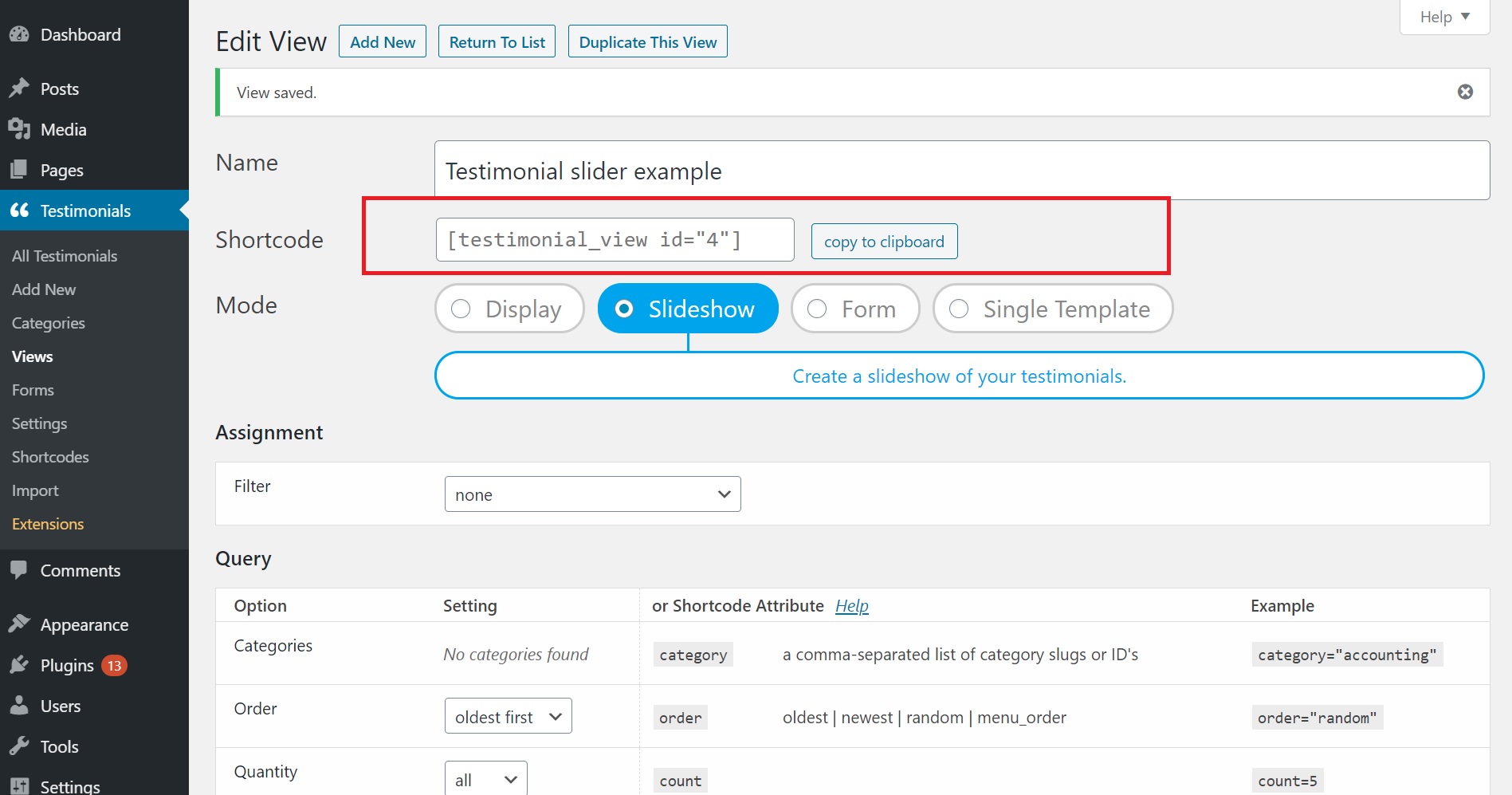 You can also find it if you go back to Views and look for the view name you want in the list. The shortcode is the one in the right: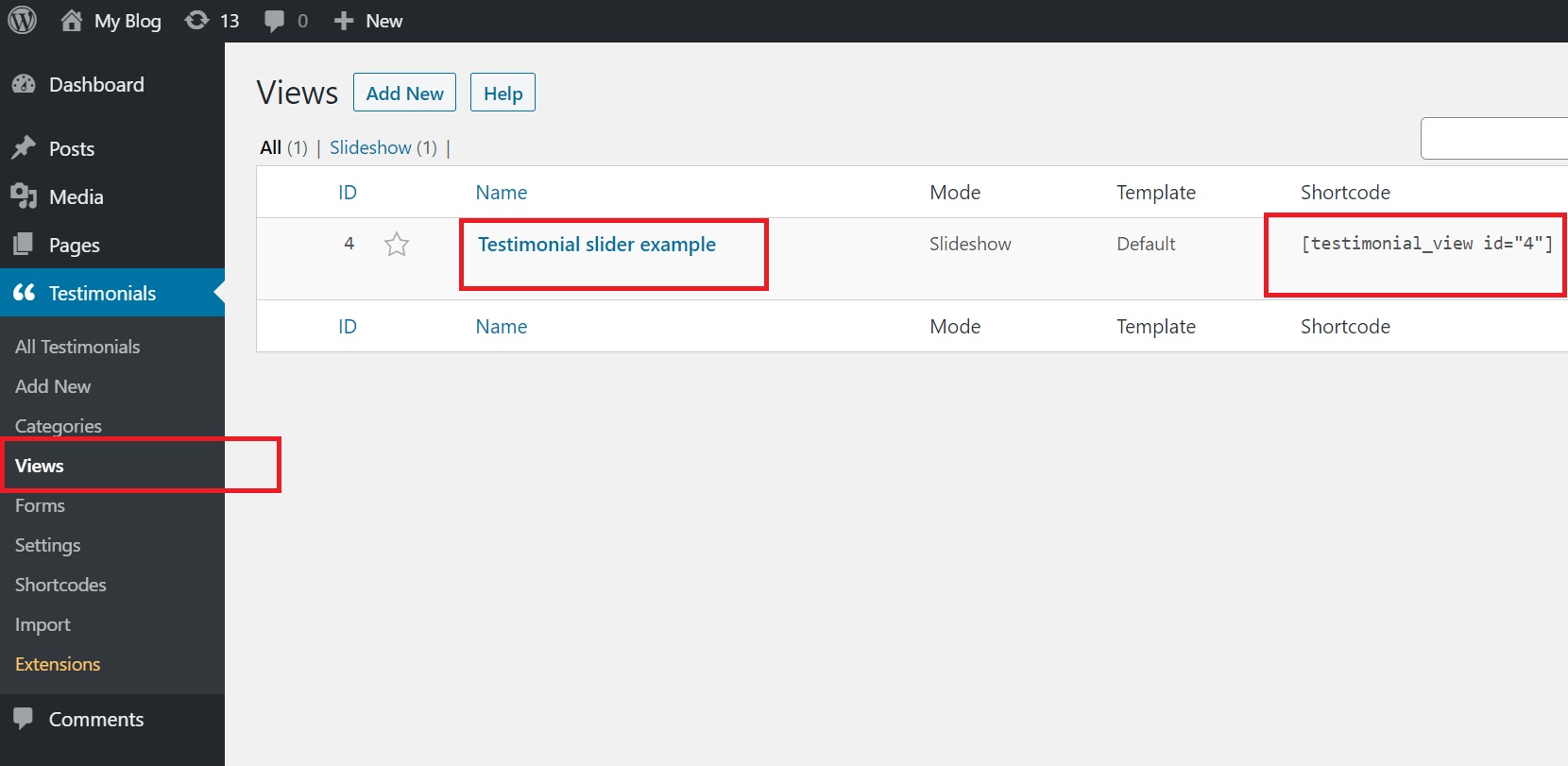 You have to copy the shortcode and simply paste it in the body of the page or post you want to display the slider on. Here's an example: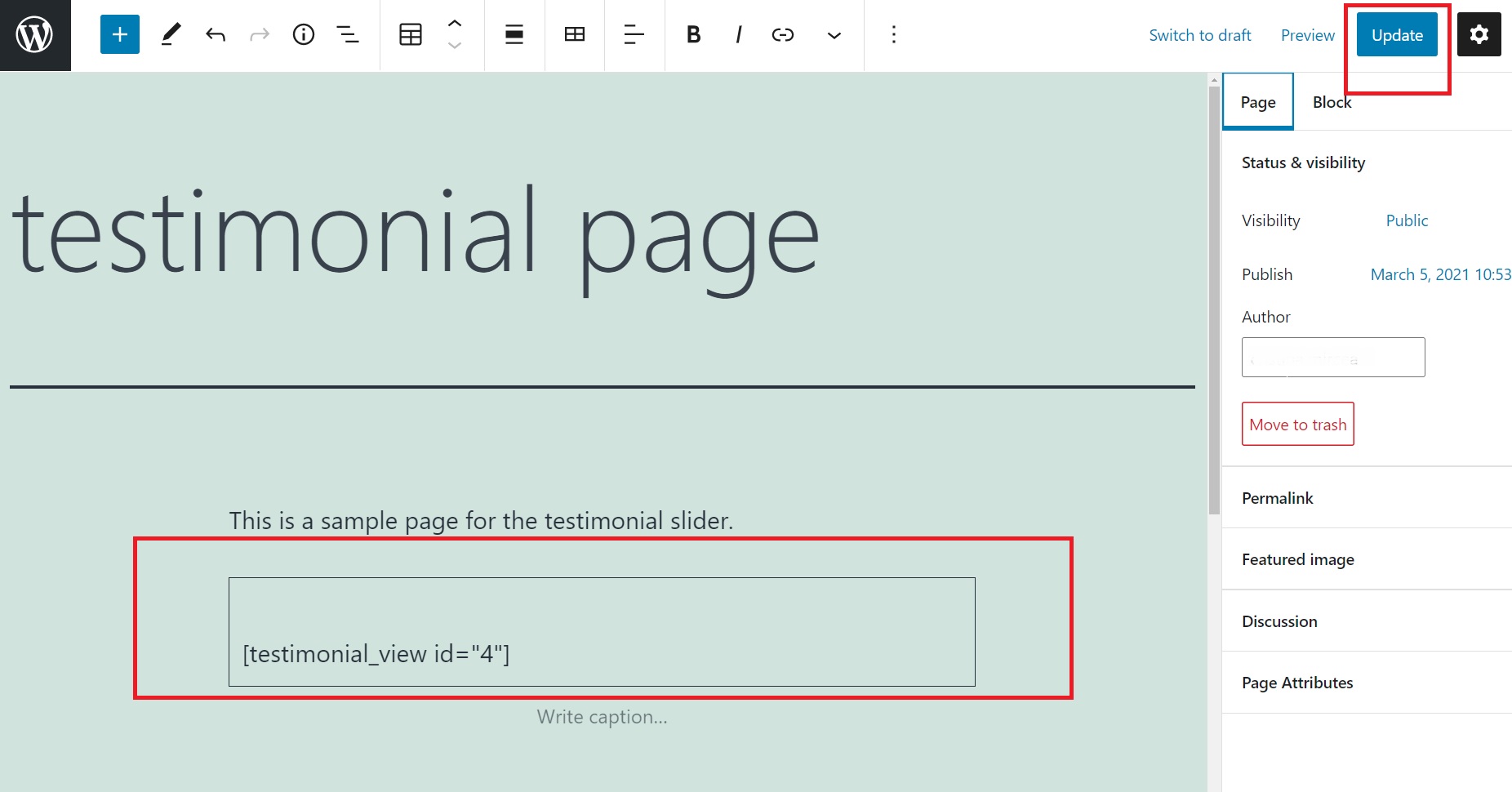 After you paste the shortcode in the body, go to the top-right of the page and hit the Update button.
Congratulations, you've just created your slider!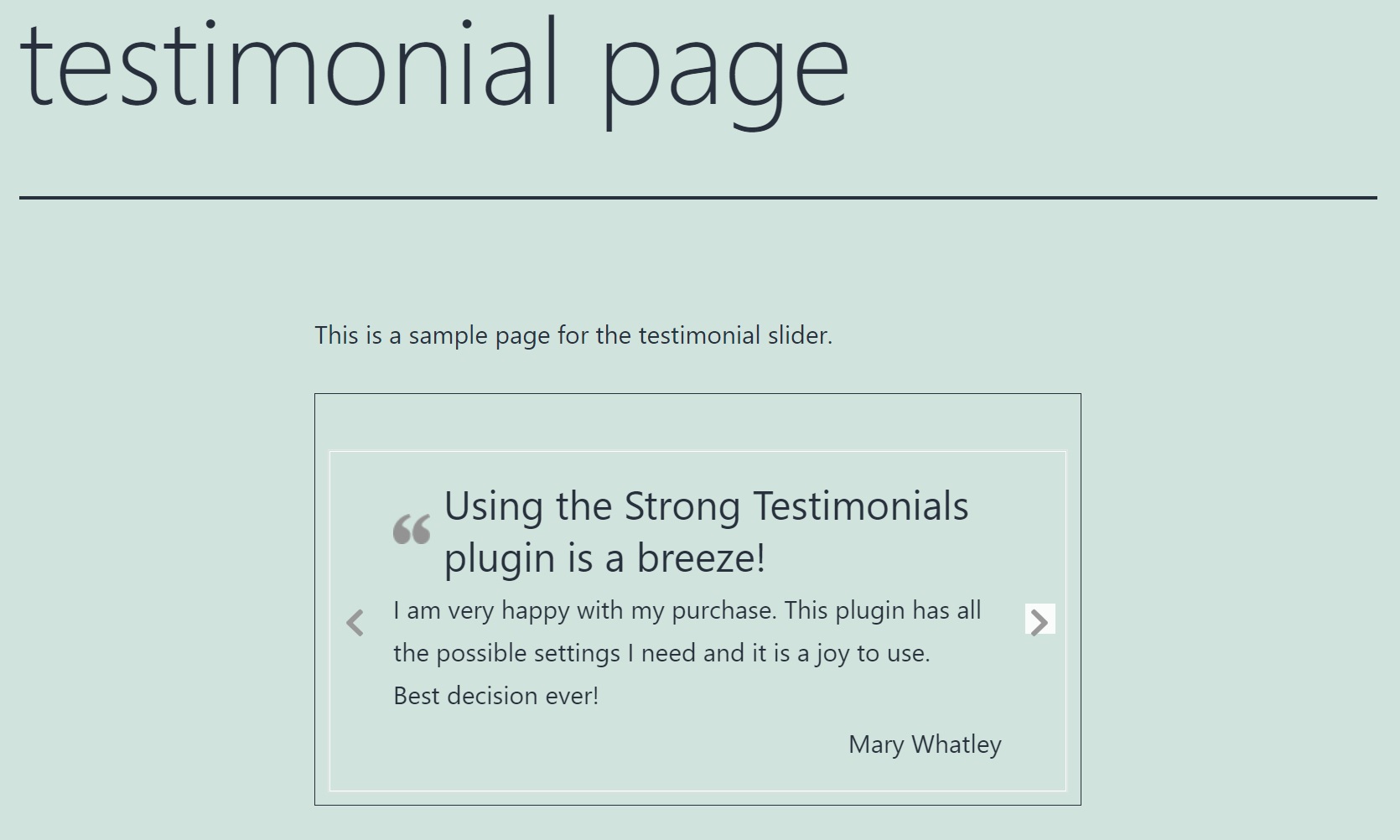 We just scratched the surface in terms of features and possibilities offered by Strong Testimonials. There are so many more you can do with this plugin. So make sure you check all its features, including the Forms, Testimonial Categories, available extensions and so on.
---
Summary
So there you have it! Your beginner guide on how to create and display testimonial sliders on your WordPress site, in the easiest possible way.
Let's recap the essentials:
customer testimonials are a valuable marketing tool that can increase your revenue with over 60%;
more than 90% of all consumers trust testimonials as much as the recommendations of their loved ones;
the most visually appealing and convenient way to display your testimonials is to use a testimonial slider;
the easiest way to create a testimonial slider on your WordPress site is with a plugin;
🏆 And as far as the best WordPress testimonial slider plugin goes, we definitely recommend Strong Testimonials. This plugin strikes the perfect balance between user-friendliness and functionality.