Testimonials from previous or current customers are essential for creating a reputation, especially if you start building your brand. Since they have previously used the product or service, clients are the ideal brand ambassadors and promoters. They can relate better to your services or products than celebrities paying to support your brand. So, to increase your sales, you have to learn where to place testimonials on your website.
In short, this article will show you where to put customer feedback testimonials on a website and how to use testimonials on your website. After reading this blog post, you will also know how to organize client testimonials on your website.
---
---
Why adding testimonials on your website
You may have wondered why you should add testimonials in specific places on your website, not just in the reviews section of your product or services page. If you are not sure about this, trust me, testimonials are way more powerful than you may think.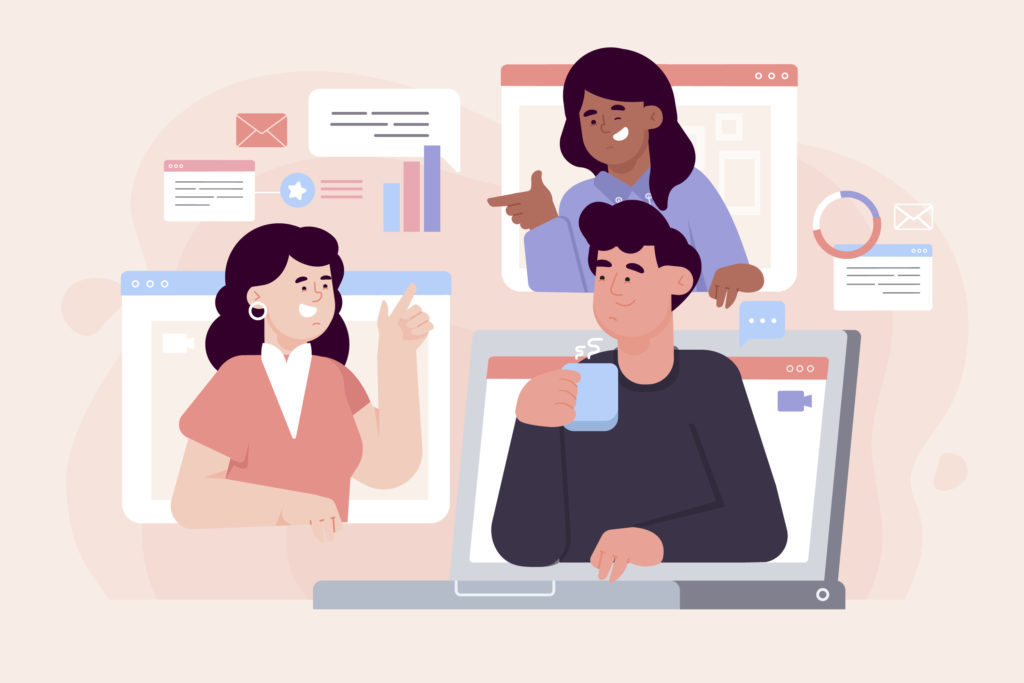 Below, I will present a few of the many reasons you should add testimonials in the right spots.
Testimonials help you build trust — Simply getting a customer testimonial section on your website will be enough to gain visitors' interest. Why? Because testimonials demonstrate that you have clients and, as a result, you have a real company, not an online scam. Testimonials are positive or negative feedback from previous clients. So, the more testimonials you receive, the more likely your visitors will believe you have a trustworthy company.
Testimonials act like referrals — For a good cause, people tend to trust other customers over companies. Few people would trust a company because they believe their only aim is to take their profits. Customer testimonials act as recommendations, convincing potential customers that they can trust your business.
Testimonials explain why to buy from you — The goods and services offered by a company may not always be obvious. Some products and services can, in particular, be used in a variety of ways. Because of that, your customer's testimonials will provide details about how your goods or services operate to your website's visitors. So, your clients can describe how they used your goods or services to satisfy their needs, which is a good thing.
Testimonials help create an emotional relationship — It's way harder for visitors to relate with the company's CEO than to communicate with other clients. It's easier for them to relate to your brand if they can relate with the customers through your testimonials. When it comes to converting potential clients, such an emotional connection can be a valuable weapon. Make sure to provide the names and photos of the clients who gave the testimonials so the guests can engage with them on a more emotional level.
---
How an efficient client testimonial should look like

Short but convincing — The quality of your words is more significant than the length in customer testimonials. Use brief but compelling feedback. Your possible clients need to know that you are trustworthy. If you have to make a long story, instead, you can link to a website, so the visitors can browse it if they want to know more.
A photo of the actual client — Research has shown how effective people's pictures are on a site and your customer testimonials. A picture proves the authenticity of the testimonial. Those are not just some words but written by an actual person.
Warm language — This is the only part of the website where you can be as creative as you want. The testimonials should be from real people who talk in a variety of ways. Your honesty is reflected in the raw reviews. As long as it is relevant, publish your clients' testimonials word by word. Allow your prospects to read the testimonials of your customers' voices, not yours.
Visually Appealing — Visual appeal is as essential as the accuracy of the words in the testimonials. Strong Testimonials offers a variety of styles that help you better represent the company. Strong Testimonials styles include Star Ratings, Grid Layout, Masonry Layout, and many more!
Offer credits — You are saying that the statements are from your clients; you must prove your claim with evidence of their credentials. If you want your testimonials to be true and credible, anonymity is not an option. Include their first and last name, as well as their job title and organization. You want to demonstrate to your potential customers that these are genuine testimonials from real people!
---
Where to place testimonials on your website
Using testimonials at key points along the clients' browsing journey can persuade them to take action. If you don't know what section of the website should testimonials go under, don't worry! Here are five places you don't want to miss:
---
1. HomePage
It's normal to see many testimonials on a website homepage and with good purpose. The homepage receives the most traffic on your website, so if you put the constructive feedback from your customers, users can see it even if they don't go any further. In reality, seeing constructive feedback also encourages them to dig deeper.
---
2. Below your product or service
If a consumer is considering purchasing one of your products, a testimonial could be the last push they need. In reality, 88% of internet users trust testimonials or recommendations as much as a friend or family member's advice. Why not have favorable feedback on the product or service accounts so that they will make buying decisions. And testimonials don't have to take away from the product information; you can easily insert them into the page.
---
3. Near CTAs
Call-to-actions like contact or registration buttons are now a cue for visitors to convert. They rarely offer any explanation. A button might not instantly persuade a skeptical user to buy something, but they are likely to click if they already realize that another user has a really positive experience.
---
4. Dedicated page for testimonials
If you have plenty of testimonials, a testimonial section page is a good idea – particularly if famous individuals and businesses have provided the reviews. Creating a customer testimonials page where businesses themselves are highlighted will also inspire customers to give you more valid reviews. A good layout is the secret to a testimonial website, displaying the content so that it is readable and absorbable.
---
5. Hero slider/ image
A great way to include remarkable testimonials is to add them to the homepage in a slider. Doing so, you don't need a special space for testimonials, so it serves multiple purposes. For instance, the hero image or the slider can also include a CTA, an image, or even both.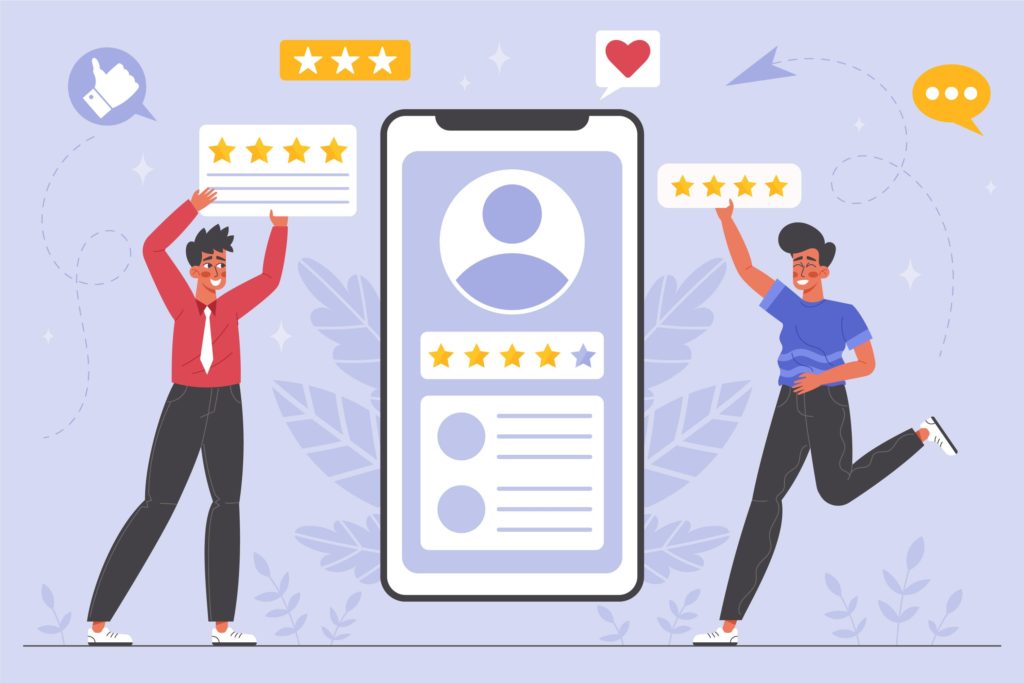 ---
6. Contact page
Usually, when people are searching for the contact page, it's not for a good reason. Maybe they were unsatisfied with the product/ service or need clarification for any aspect regarding your business. It's a brilliant idea to testimonials specifically related to your brand so that the concerned customers will read about other clients' opinions about how amazing your brand is.
---
7. In the sidebar
Imagine this — you are on a website reading about the advantages of using a product and its benefits. But, you are a bit suspicious because you are not sure if it is as good as the owner is saying since nobody will criticize their own fruit. But, when you look on the sidebar and see how satisfied other customers were with the product or service you are wondering about buying or not, it definitely influences your decision for good.
Having testimonials that reflects the quality of your goods on the sidebar of your website will help skeptical customers to make a purchasing decision.
---
8. Exit intent-popups
When a visitor arrives on your homepage, scrolls down to see your most recent blog articles or featured goods, and because he or she finds nothing of interest, drags the mouse toward the browser's X button in the corner. This is when the exit-intent popup comes in handy. Displaying testimonials that present the astonishing benefits or examples of how it helped your goods other people will probably make the visitor change his/ her mind and give your brand a second chance.
9. Below blog posts
Just as in the sidebar, after a visitor reads your blog post and knows about what you are trying to sell and its benefits, feedback from satisfied customers who already bought your product can positively impact their next decision — whether to buy it or not.
---
10. Landing pages
An excellent landing page's purpose is to boost conversion rates so that you can achieve your marketing or business growth targets. A landing page can be a separate page built for a special campaign, sale, or product, or it can be your homepage or another page within your website.
So, posting testimonials on a landing page is crucial because if you use it as a campaign, this page will be the first thing that your potential customers will see.
---
How to add testimonials to your website
The best way to create a testimonial is with a plugin. If you don't know how to add WordPress plugins to your website, check this link on installing a WordPress plugin.
With that being said, what plugin should you use? The answer is pretty simple:
Strong Testimonials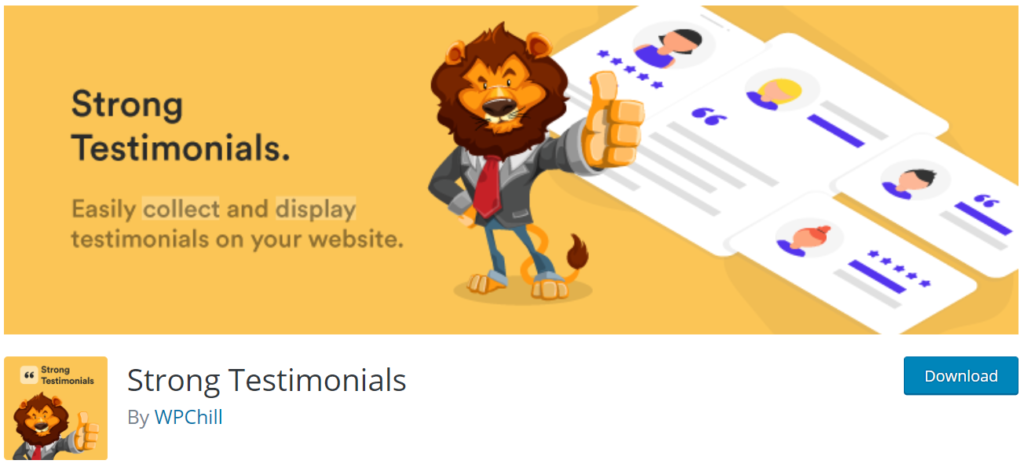 If you are looking for the perfect mix between usability and features, then Strong Testimonials is the key.
Therefore, if you want to give a shot at the premium version, the plan starts from only $49 per year for one site. The most premium version you can buy is at $149 per year and is for unlimited sites.
The best thing about this plugin is that it's extremely easy to use, while still being a super powerful plugin. Strong Testimonials is extremely customizable and includes several useful extensions, such as:
Shortcodes and widgets functionalities;
Useful extensions to collect and display testimonials from external sources;
Many layouts (masonry, grid, columns) and templates available (widget, small, bold, modern, minimalist, card, and others);
Custom fields (text, email, URL, video URL, video upload).
Read more about the latest features here.
---
Final Thoughts
Customer testimonials are an essential marketing tool for your business, so you'd better add some on your website. It has been scientifically proven that you will increase sales if you place testimonials on your website in the right places. If the existent customers were satisfied, a potential customer is even more likely to use your services or purchase your product because you placed testimonials correctly.
The positions where we place testimonials on our website are way more important than we might think. To sum up, learning about all the key spots and adding our testimonials strategically will skyrocket our sales.