Are you looking for an easy way to import Capterra reviews on your website to show off your business's glowing reputation? Want to personalize the appearance of Capterra reviews on your WordPress website to match your branding and design preferences? 🤔
If that sounds like you, then welcome! You have questions, and we have answers! We love curious people, and at our core, we are committed to helping individuals like you and providing solutions to your queries. 🤗
To cut it short, we have a great solution that is effective, time-efficient, and easy to implement 🚀. But how can importing Capterra reviews on your website be beneficial?
About Capterra
Capterra is a powerful review platform that connects businesses with technology buyers worldwide. Its credibility lies in its manual review-check process, which ensures that every published review is authentic and posted by an actual human.
Furthermore, Capterra's ability to compare similar products side by side and analyze their respective features makes it highly accessible and helpful for users who have to make buying decisions.
Are you ready to tap into the power of Capterra? Want to showcase feedback on your website?
Sounds good? Let's get started!
---
---
Essential Plugin
Strong Testimonials
What plugin can we use to add Capterra reviews to our website? The answer? Strong Testimonials.
With 100000+ active installations and a whopping 400+ 5-star ratings 🚀, Strong Testimonials is the number one choice for displaying testimonials.
An easy-to-navigate dashboard packed with plenty of customization options that make creating and displaying testimonials smooth sailing for users of all levels.
Why settle for a subpar testimonials plugin when you can have the best? Try Strong Testimonials and see how this plugin can take your website to the next level!
---
How to Import Capterra reviews in your WordPress website
Configuring Strong Testimonials Pro and the Import extension
The Capterra Import is a pro feature in Strong Testimonials Plus or Business plans. Before accessing the extension, you must set up the Strong Testimonials pro plugin in your WordPress admin dashboard.
You'll need to activate the Strong Testimonials Lite plugin. Do that now, as the Pro version cannot function without the lite version.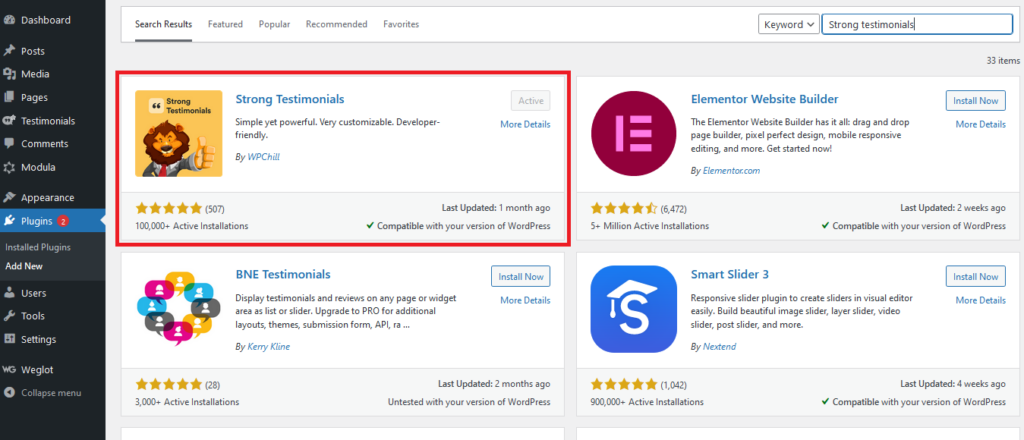 Not sure how to get your hands on the pro version? No worries, we've got you covered! Check out our quick guide on purchasing and activating the Pro version.
Once you've purchased either the Plus or Business plan, the next step is installing and activating the Strong Testimonials External Platform Importer.
There are a couple of ways to do this! One option is downloading the extension zip directly from your Strong Testimonials account dashboard.
Log in, open the Downloads section, and look for the Strong Testimonials External Platform Importer. Download it, head to your WordPress dashboard, and install and activate the extension from the Plugins tab.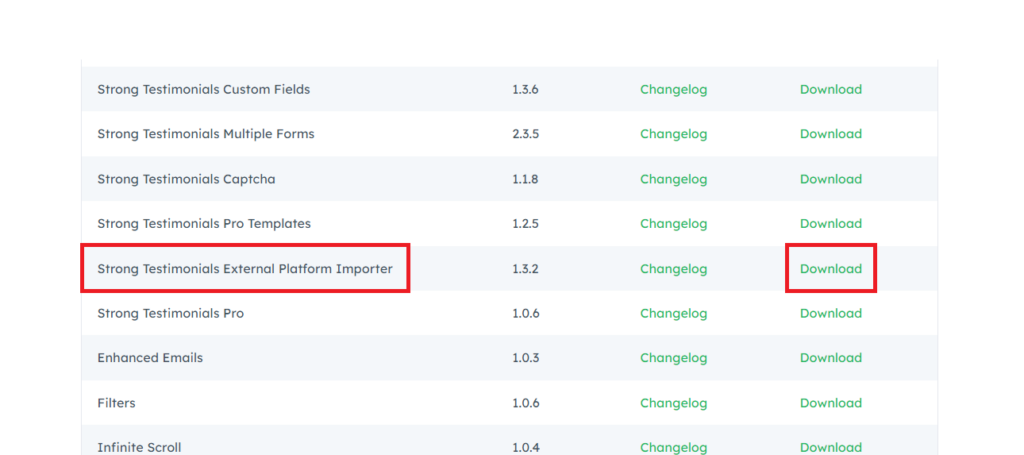 Alternatively, you can activate the extension directly from the WordPress dashboard.
Scroll to the Testimonials tab, select Extensions, and look for the Strong Testimonials External Platform Importer. Please install and activate it, and you're good to go! 😀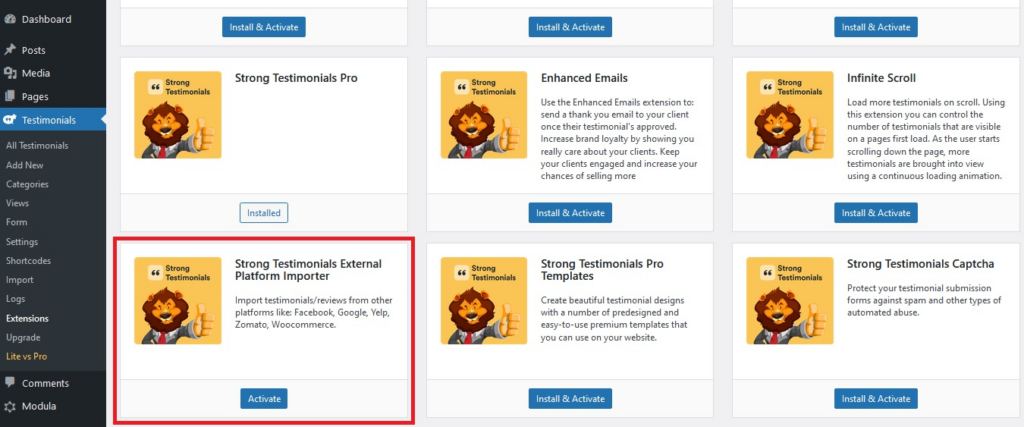 General options
If you want to fine-tune your reviews, it's worth looking at some of the General options available under the Settings tab..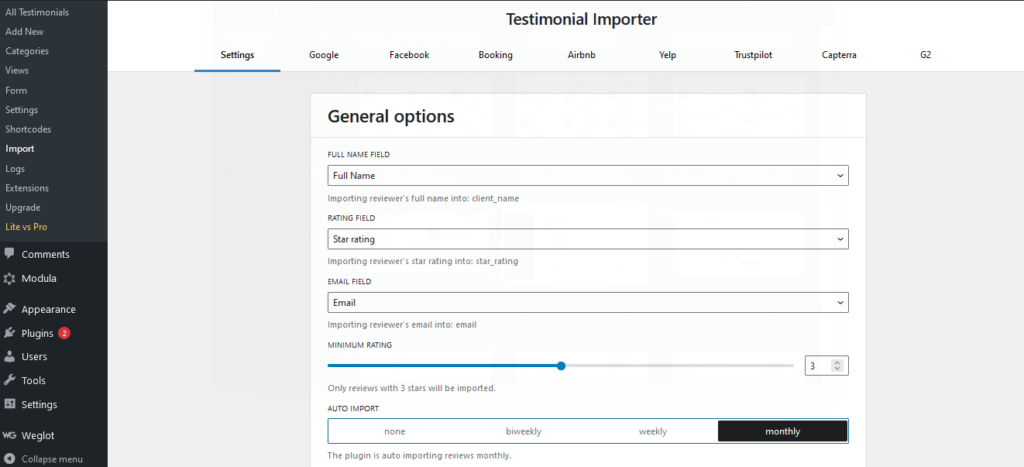 Name Field: Due to the nature of businesses listed on Capterra, you can get feedback from a wide range of reviewers, including solopreneurs, and small and large businesses, so pick a choice between publishing the reviewer's name or the company's name.
Rating: Want to convey ratings to a global audience in a universally recognized way that doesn't require translation? Capterra provides a visual way via stars to declare your ratings on the platform, so why not also import it on your website?
Email: Capterra keeps this reviewer's information private, but you can keep or ignore this field, so make a selection.
Minimum rating: Worried about importing bad reviews from Capterra? Worry not! You can set a threshold to import only the top-ranked reviews for your website.
Auto Import: Set a frequency (Weekly, Bi-weekly, or monthly) to auto-import the latest Capterra reviews that would be automatically displayed without having you look at them.
Setup your Capterra pages
If your customers have left reviews on Capterra, you can make those reviews visible on your WordPress website. How do you do that? The answer is easier than you think.
Visit the Capterra tab under the Testimonial Importer; you can put the link to your Capterra pages here.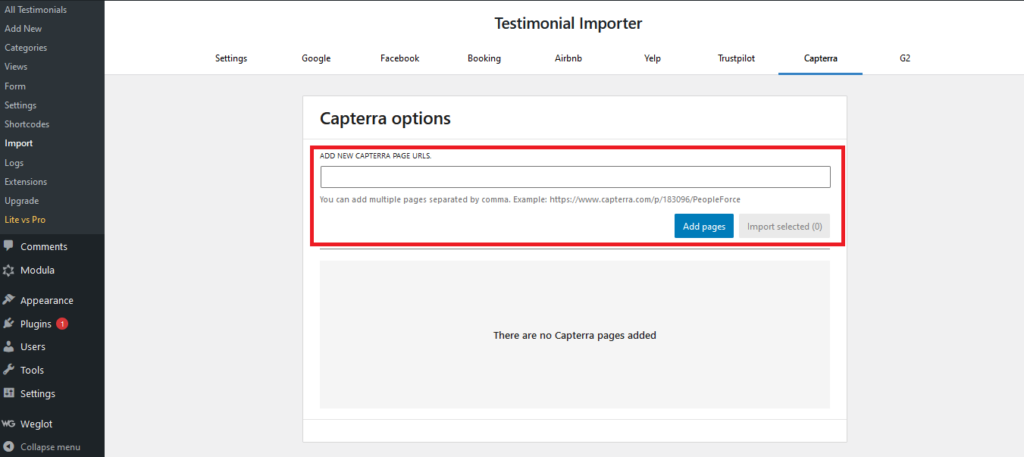 Once you have listed the URLs, you can choose the Add pages to make them available for Import. In case of no error, your pages would appear in a boxed-shape tab with details of each loaded page.
Import to your pages
You must select individual pages and click IMPORT NOW separately to initiate the import of testimonials. The Import status would switch between various stages.
Pending: The process is currently at a standstill.
Waiting to start: The process is underway, but the connection with Capterra has yet to commence.
Running: A link to retrieve the testimonials from your Capterra pages is in progress.
Testimonials gathered: The process of collecting the testimonials has been completed.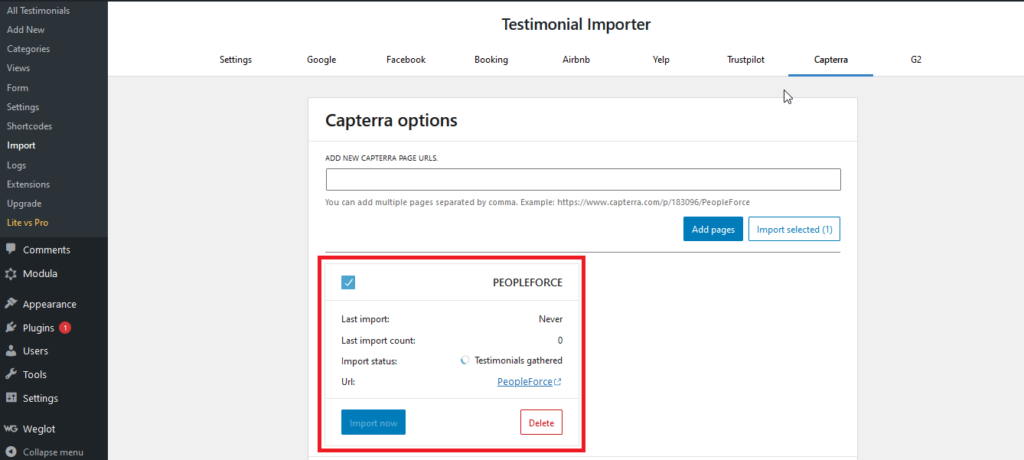 Imported: The gathered testimonials have been imported into your website and are now accessible via the All Testimonials tab!
That concludes the import process! 🙂 If you've assigned a view to your testimonials, you should already see the imported reviews displayed on your website. And don't worry if you're not completely satisfied with any aspect of the reviews – you have complete control over them.
Any new reviews will be automatically imported onto your website thanks to the auto-import feature you set up in the General options. Alternatively, you can manually import it, as explained in this article.
In addition, you can delete any Capterra page that was previously linked by simply clicking the DELETE button located on the Capterra tab under Testimonials Importer.
And that's not all! – many other options are available for customizing your Capterra reviews even further. Check out the Strong Testimonials tab to explore a wide range of settings and configurations that can help your testimonials shine!
---
We're done here!
In a nutshell, importing customer reviews onto your website can make a massive difference in the success of your business. And if you're a WordPress user, the Strong Testimonials plugin is the perfect tool for showcasing your customers' feedback quickly and hassle-free.
You can create a comprehensive collection of customer testimonials by importing reviews from various sources, including Capterra.
Upgrade to Strong Testimonials Pro today, import your Capterra reviews, and reap the rewards. 🚀