The definition of marketing is to give your clients the information they need to make an informed purchasing decision. Everything has to be focused on that specific objective, from the content you write to your selected photos. The best marketing strategy you can adopt right now is to display Google reviews on your WordPress website.
Let's see why this is the best marketing strategy. Firstly, marketing has progressed throughout time, moving away from the traditional way of advertising. Instead, it's basically turned into a channel of communication between you and the folks you're attempting to help. People no longer want to be "sold to" – at least not in the manner they once did.
This is why testimonials from customers are so crucial. Instead of just believing your word, it allows potential clients to hear from other real customers about why the decision they're about to make is the right one. By doing so, they will see how the product or service you are selling will make a positive difference in their lives.
---
With that being said, in this article, we will present you:
Facts about testimonials;
How to filter in testimonials from Google to WordPress;
Best tool for adding google reviews to WordPress.
---
---
Facts about testimonials
Customer testimonials are useful tools for increasing website conversions while also establishing trust and authenticity. Case studies have been produced, survey findings have been discussed, and there has been a lot of discussion on the influence client testimonials may have on a firm.
Here are seven of the most eye-opening customer testimonial statistics:
Big influence over purchasing decisions — Another fascinating aspect regarding customer testimonials is that they have a big impact on the customers' purchasing decisions. According to one study, when asked how important reading online reviews was before purchasing a product, 38% of respondents said "very important," and 19 percent said "extremely important." In addition, according to a 2014 survey, shoppers spend 31% more with firms that have positive customer feedback. The statistics speak for themselves. Sign up for the Spectoos testimonial platform now to drastically enhance your sales.
Boost CTR (click-through rate) — Online marketers who are constantly looking for ways to boost their click-through rates concentrate on reviews and testimonials. For example, a company discovered that 5-star ratings increased search click-through rates by 28% in the search engines. Additionally, switching from a 3-star to a 5-star rating resulted in a 25% increase in clicks.
Increase conversions — Customer testimonials have a proven track record of increasing website conversions. For one of its clients, Power Reviews set out to assess the influence of consumer reviews. All goods were classified as high or low price points for the study to compare the conversion rates between the two groups. Despite strong conversion rates for low-cost products in general, the results were fascinating: pricey products that received customer evaluations experienced a 380% rise in conversion rate than a 190% rise for lower-cost products.
---
What is the best way to add Google testimonials to your WordPress website
Now that we established what testimonials are and their impact on the business, it's time to implement what we have learned. Plugins are the best tool to display Google reviews on your WordPress website because they are easy to use and don't need any coding skills. So without any further ado, let's look at the best testimonial builder plugin:
---
Strong Testimonials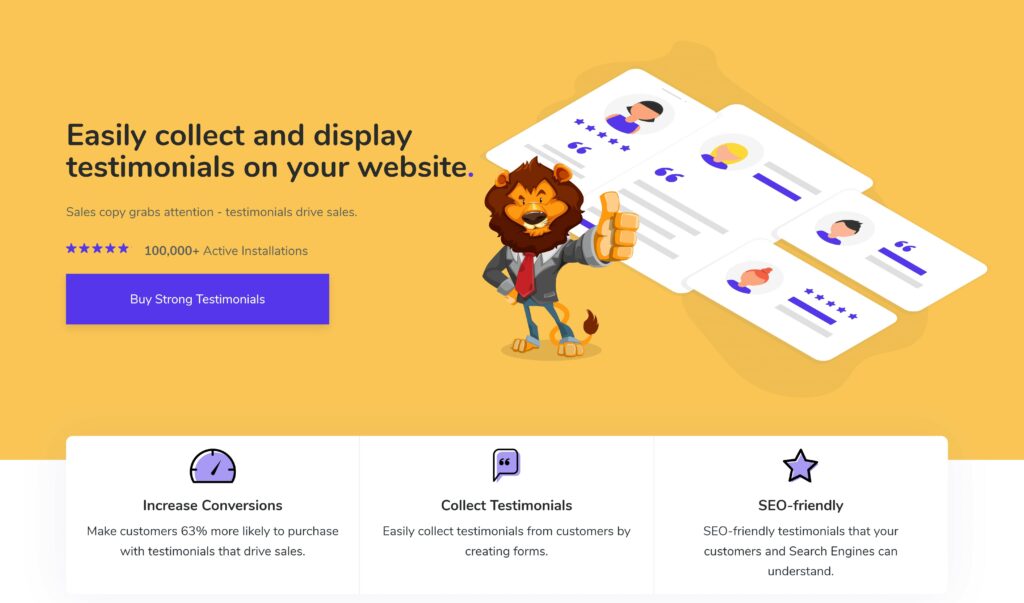 If you're looking for a good mix of usability and functionality, Strong Testimonials is the way to go.
If you wish to test out the premium version, a one-site plan starts at only $49 a year. The most expensive membership edition is $149 a year and offers limitless websites plus a handful of additional benefits.
The nicest thing about this plugin is how easy it is to use while being really effective. Strong Testimonials is very configurable, and it includes a variety of helpful extensions, such as:
Shortcodes and widgets functionalities;
Useful extensions to collect and display testimonials from external sources;
Many layouts (masonry, grid, columns) and templates available (widget, small, bold, modern, minimalist, card, and others);
Custom fields (text, email, URL, video URL, video upload).
---
How to add google reviews to WordPress
First things first, you must have a valid Google API key to access and import Google reviews. To generate one, visit the Google Cloud Platform Console.
Click the project drop-down and select or create the project for which you want to add an API key.
After that, click on the menu button and select APIs & Services > Credentials.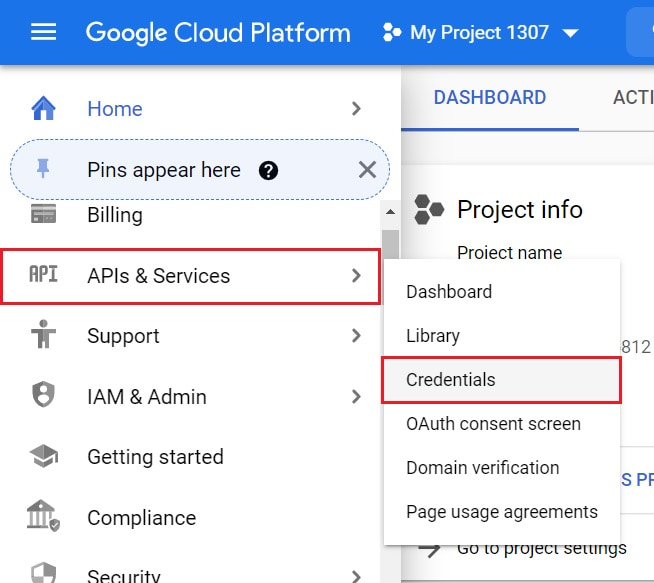 After you are redirected to the Credentials page, click on Create credentials > API key.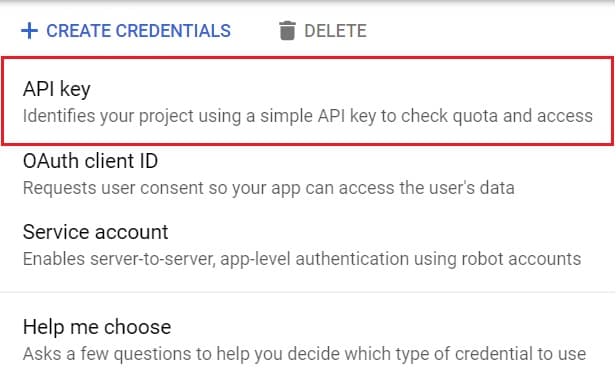 Your freshly created API key is displayed in the generated window. Close the window. The new API key is available under API keys on the Credentials page. After that, paste the API key into the plugin's settings.
Next, go to your WordPress menu > Testimonials > Import > Google and paste the API key.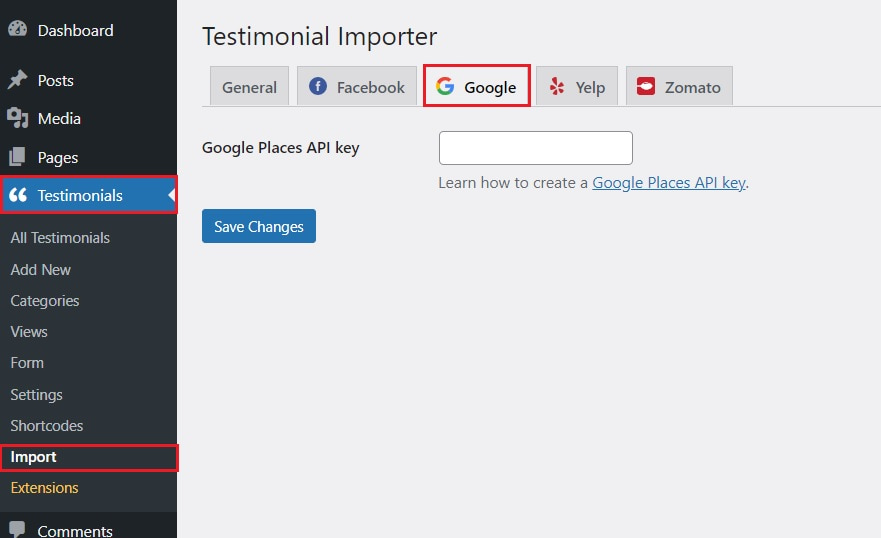 Don't forget to make sure that your project has Maps Javascript API and Places API enabled. To do so, go to APIs & Services > Library.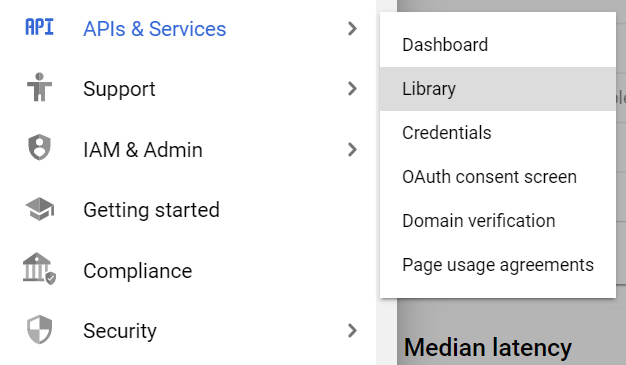 If you want to boost your website's reputation and trustworthiness, presenting user feedback from Google is a terrific approach to do it. It's pretty simple to start displaying Google reviews on your WordPress website using this testimonial builder plugin. Moreover, if you upgrade to the premium version, you'll have more features and functionalities at your disposal.
How to add testimonials to your WordPress website from different platforms
Yes, with the help of Strong Testimonials, you can not only display Google reviews to your WordPress website but from other platforms as well. To do so, go to the WordPress menu > Testimonials > Import. Let's take a look at all of them: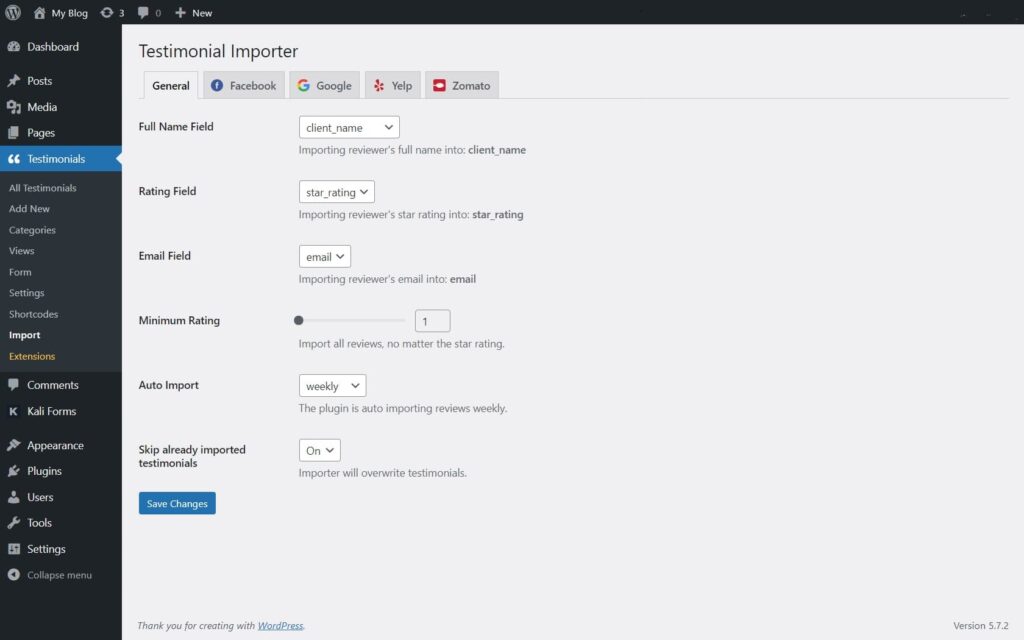 Facebook — The process of importing reviews from Facebook to your website is pretty straightforward. Click on Connect to Facebook and follow the steps. The plugin will import reviews from these Facebook pages when you click Import Reviews. By clicking the Connect to Facebook button again and repeating the process, you can add pages from additional Facebook accounts. By hitting the Trash symbol, you can easily erase pages you don't intend to import from. After you are done importing, make sure you click on the Save Changes button; otherwise, the pages you've added won't be saved. When auto-importing reviews, the Facebook pages you've saved will be used.
Yelp — To import any Yelp reviews, you will need an API key. Therefore, you must first create an app with Yelp to have access to a Yelp API key. Get one from here. The plugin will import reviews from the chosen site when you click the Import Reviews button.
Zomato — To import reviews from Zomato, again, you will need an API Key. In order to use the API, you must obtain an API key from Zomato. This key is unique to each user/developer. Please keep the key confidential as any misuse might result in termination of access of the key to the API. After that, you'll have to follow a "baby difficulty" step-by-step process.
---
Summary
To sum up, after finding out what testimonials are, their benefits, and how to display Google reviews on your WordPress website, it's clear that feedback from clients is essential for any website. By importing reviews from Google or any other platform helps you build credibility among clients and give the certitude that your products/ services and your company are worthy of trust.