How To Display Google Reviews To Your WordPress Website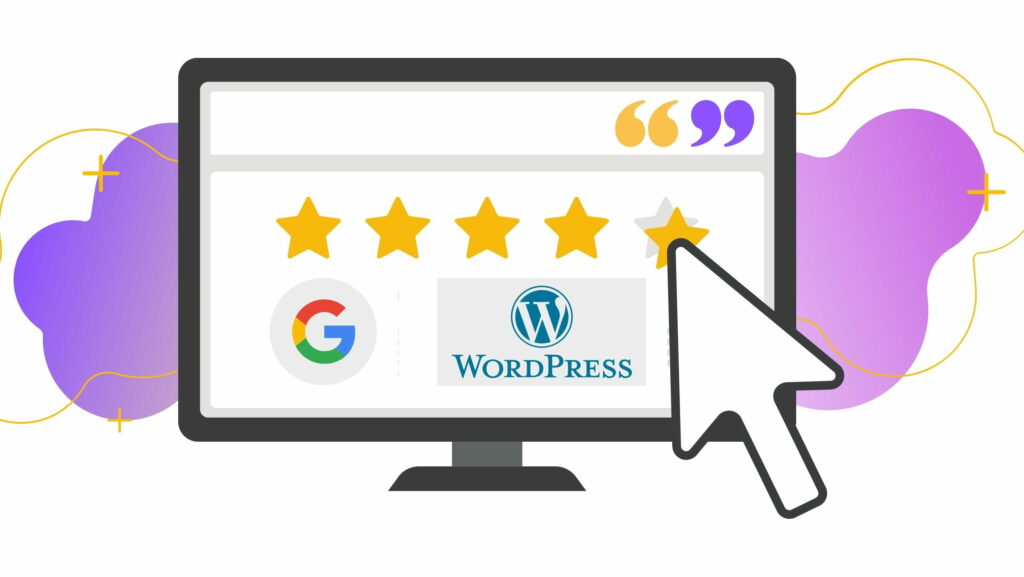 Some people don't import Google reviews. They miss out on so many good praises about their service or product. No praise means no potential customers and therefore no conversion.
But fear not. We might have the perfect solution for you. Let's take a closer look at why it's necessary to import Google reviews and how easy it is to do that with Strong Testimonials.
---
---
Some business owners seem to struggle when it comes to displaying a large variety of reviews from Google on their websites. You also get business owners that might think that's too complicated to import Google reviews to their Wordpress website. Here are just some of the few common mistakes we've seen:
1.❌ You're stuck with manual input – Some plugins only allow manual import. It will take you forever to manually add all of your Google reviews to your website if you have a large number of them. Not to mention the human error is a thing and you can easily mistype or accidentally leave out important parts.
2.❌ Other tools don't help you import Google reviews – Most online tools have very limited functionalities or a complete lack of them, to begin with.
3.❌ You waste time with manual updating – Some other plugins that do allow you to import Google reviews might not let you automatically update in case you have new and fresh reviews. This will make you waste precious time on checking for updates and manually keeping them up to date.
---
Reason to display Google reviews on your website
Firstly, let's back up the value of online reviews with some eye-popping data:
We already know that Google favors trustworthy businesses, and regular and good reviews are one method to determine who wins. While there are many other review sites, the exposure of Google reviews in search results is helping Google become the fastest-growing review platform.
This is why reviews from customers are so crucial. Instead of just believing your word, it allows potential clients to hear from other real customers about why the decision they're about to make is the right one. By doing so, they will see how the product or service you are selling will make a positive difference in their lives.
There's also a multitude of WordPress Google reviews plugins. It's up to you to see which ones are more suitable for your business type and needs. But let's see how easy it is to display Google reviews with Strong Testimonials.
---
Step 1. Enable Google billing
First things first, before utilizing the Google Places API to retrieve reviews, users must enable billing on their Google accounts.
Because regular use of the plugin falls inside the free use quota, enabling billing on the Google Cloud Platform should not result in any actual charges. Nonetheless, to import your reviews over time, you must enable billing for your Google account.
Step 2. Getting the Google API key
You must have a valid Google API key to access and import Google reviews. To generate one, visit the Google Cloud Platform Console.
Click the project drop-down and select or create the project for which you want to add an API key.
After that, click on the menu button and select APIs & Services > Credentials.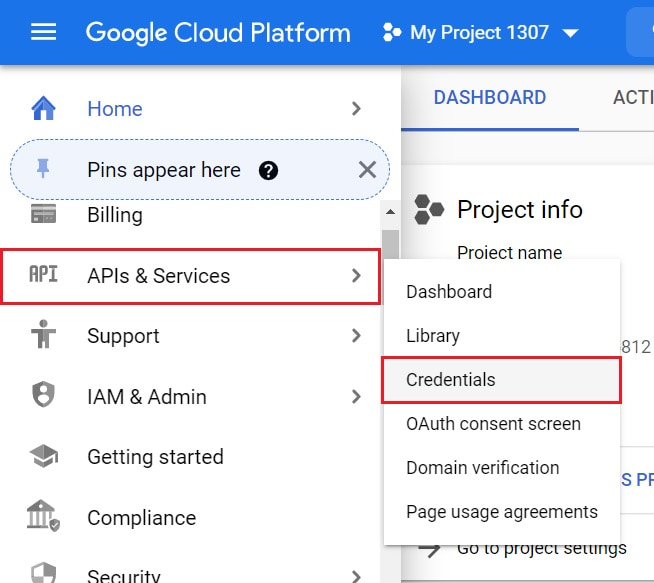 After you are redirected to the Credentials page, click on Create credentials > API key.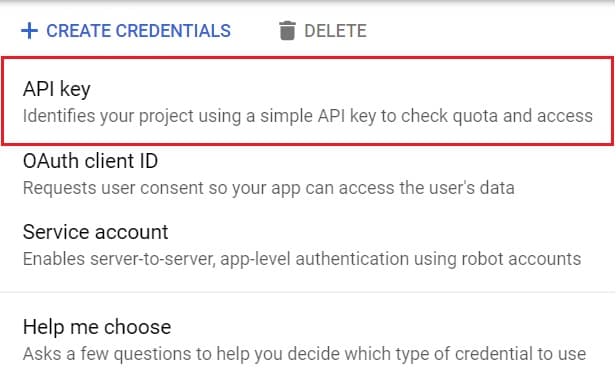 Your freshly created API key is displayed in the generated window. Close the window. The new API key is available under API keys on the Credentials page. After that, paste the API key into the plugin's settings.
Next, go to your WordPress menu > Testimonials > Import > Google and paste the API key.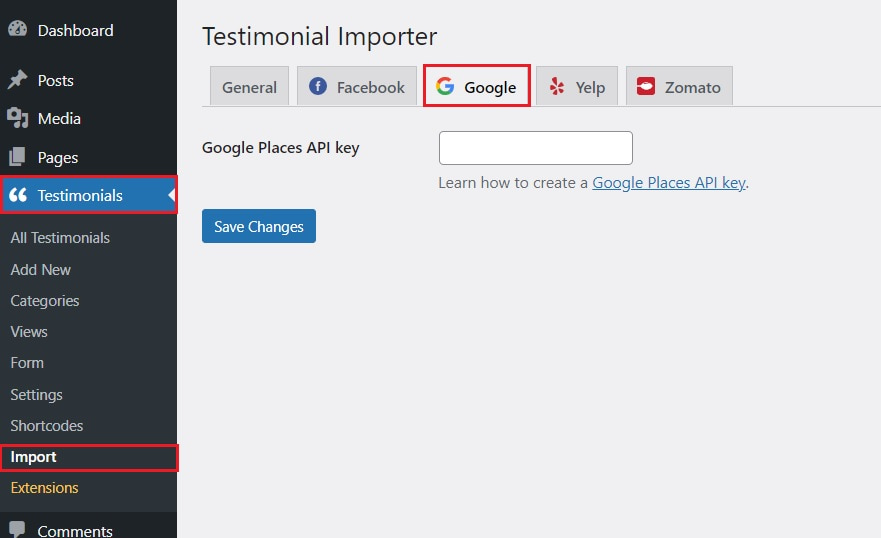 Don't forget to make sure that your project has Maps Javascript API and Places API enabled. To do so, go to APIs & Services > Library.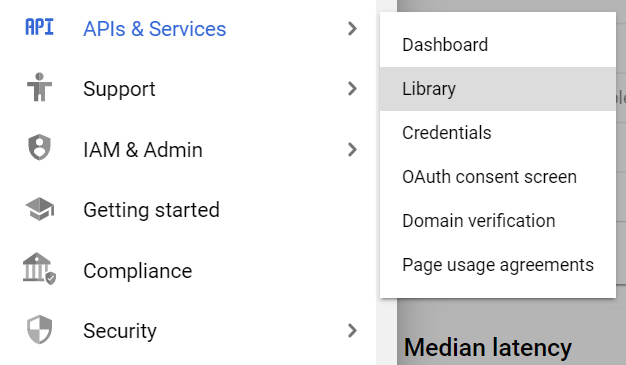 If you want to boost your website's reputation and trustworthiness, presenting user feedback from Google is a terrific approach to do it. It's pretty simple to start displaying Google reviews on your WordPress website using this testimonial builder plugin. Moreover, if you upgrade to the premium version, you'll have more features and functionalities at your disposal.
Furthermore, a single API call from Google only returns five reviews. However, if you utilize the auto-import function, the number of reviews from a particular location will grow over time.
Step 3. Setting up Google Reviews on your website
The Location Lookup field will show up once you've supplied a valid API key.
Start by entering a Google Location's name or address, then choose it from the list. You will have a new location added.
The plugin will import reviews from the chosen location when you click the Import Reviews button.
By repeating the procedure, you may add more Google locations. By selecting the Trash button, you may also delete sites from which you no longer wish to import reviews.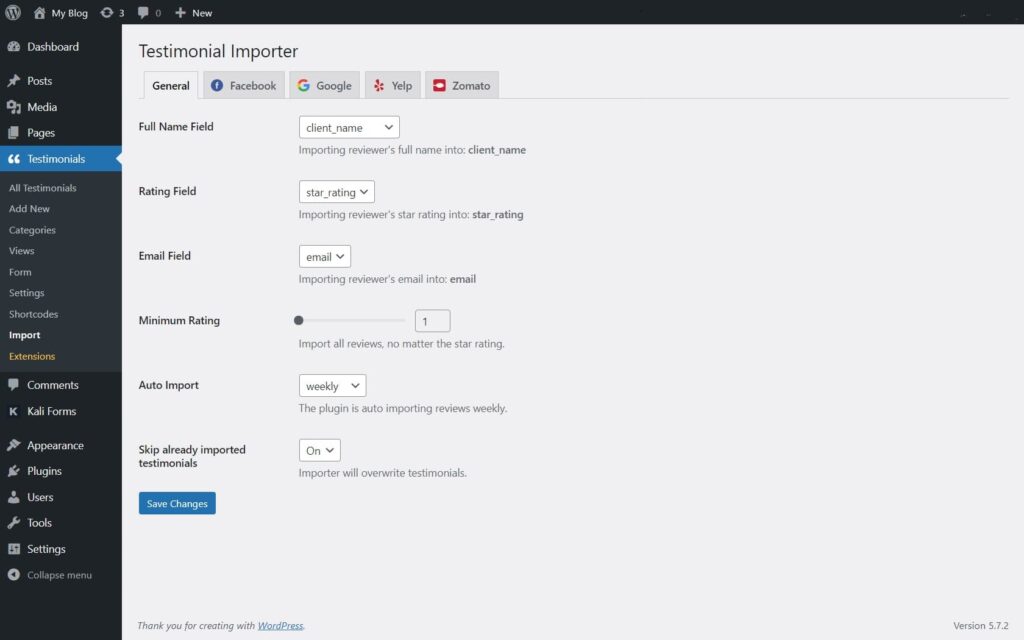 After you've completed importing, make sure to click the Save Changes button, otherwise, the places you've added won't be preserved. When auto-importing reviews, the Google locations you've stored will be utilized.
Go to Testimonials -> All Testimonials to see your freshly imported testimonials.
---
So, what can I do using Strong Testimonials?
Easy to use Google reviews importing system – Strong Testimonials can be used by anyone to automatically import Google reviews. It also saves you the trouble of manually importing and the trouble you might get yourself into because of human errors.
Collect everything – As a business, every single review goes towards a potential conversion rate increase. Especially if it comes from Google.
Keep it up to date – Save time by utilizing the plugin's automatic scanner feature. The feature allows you to sit back while it scans and verifies once a day if you have new reviews on Google. You can use the extra time for planning other business tactics.
---
Conclusion
By importing reviews from Google or any other platform helps you build credibility among clients and give the certitude that your products/ services and your company are worthy of trust. All you have to do now is follow the simple steps outlined, and your Google reviews will appear on your website.
You can make use of this functionality by getting our Plus Pricing Plan. So what are you waiting for? Get Strong Testimonials and all it has to offer now at an amazing price! 😁