Hey there! If you're reading this, chances are you're a business owner who has received some fantastic reviews on G2 and is battling to showcase them on your website. Well, if you're like most people, you dread the manual labor of copy-pasting G2 reviews onto your website. 😔
Say goodbye to those tedious days because we have a fantastic tool to resolve it once and for all enter – Strong Testimonials!
Picture this: you're building your own Avengers team. Your G2 reviews are like the Iron Man of your website, Strong Testimonials is your trusty Captain America, and WordPress is your mighty Thor. When you bring these superheroes together, they form an unbeatable team that can take on anything! 🔥
In this article, we'll show you how to leverage Strong Testimonials to import and create an impressive showcase of your G2 reviews onto your WordPress website.
So, what are you waiting for? It's time to take your testimonials page from drab to fab in a few clicks.
---
---
Two cents on G2
Do you know what's cooler than a polar bear in shades? G2. It is the ultimate hub for business software and services! With over 80 million annual users, G2 is like the Grand Central Station of the tech world – where everyone meets to find the best tools for their business.
What sets G2 apart are its incredible features. Take the comparison grid, for instance – it is like a personal shopper for software, helping you find your perfect match among the options available. And if you're looking for something specific, the filtering feature is like a laser pointer to help narrow your search.
If you're short on time, the review search feature helps you find relevant reviews without trawling through everything. And here's something pretty cool – G2 offers Amazon gift cards to encourage users to rate the software they've used so we can term it a win-win.
To maintain transparency and authenticity, G2 also has a review inspection feature that verifies the legitimacy of reviews to ensure you're not being misled by false information whenever you are on this platform. What more could you ask for?
So if you want to be the tech hero in your office, skip the sketchy coworker recommendations and head straight to G2.
---
Our hammer for the cause
Strong Testimonials
Do your website's testimonials make your customers want to hit snooze instead of "buy now"? Well, it's time to wake them up with a shot of Strong Testimonials – the ultimate plugin that takes up bland testimonials and makes them look eye-catching, memorable, and dynamic.
What makes Strong Testimonials so impressive? Well, it's the most popular plugin in its category – a trusted tool for 100,000+ website owners. And it's no surprise, given its unique features like professionally designed templates, MailChimp integration, and multiple collection forms, to name a few.
Something of particular interest for us is the Import Testimonials functionality. With just a few clicks, you can quickly bring in reviews from external platforms like G2, and boom! All your customer feedback is organized and displayed in one place.
And let's not forget about the customization options. You can get creative with the colors, fonts, and layout to match your brand's personality and style.
In short, if you want your website to stand out with impressive testimonials that speak volumes about your brand, Strong Testimonials is the perfect sidekick. So why wait? Try it out today and see the difference it can make!
---
Importing G2 reviews with Strong Testimonials on your WordPress website
We'll walk you through the complete process of importing G2 reviews. Just keep your eyes on the prize, follow the steps, and watch as your page populates with new and glowing reviews in no time. 🚀
So, are you ready to make your website shine brighter than a supernova with sparkling G2 reviews? Awesome!!
Configuring Strong Testimonials Pro and the Import extension
First, you'll need the Import extension, which isn't available in the free version of Strong Testimonials. Don't worry; you can unlock this magical add-on by purchasing an annual or lifetime subscription for a Plus or Business plan.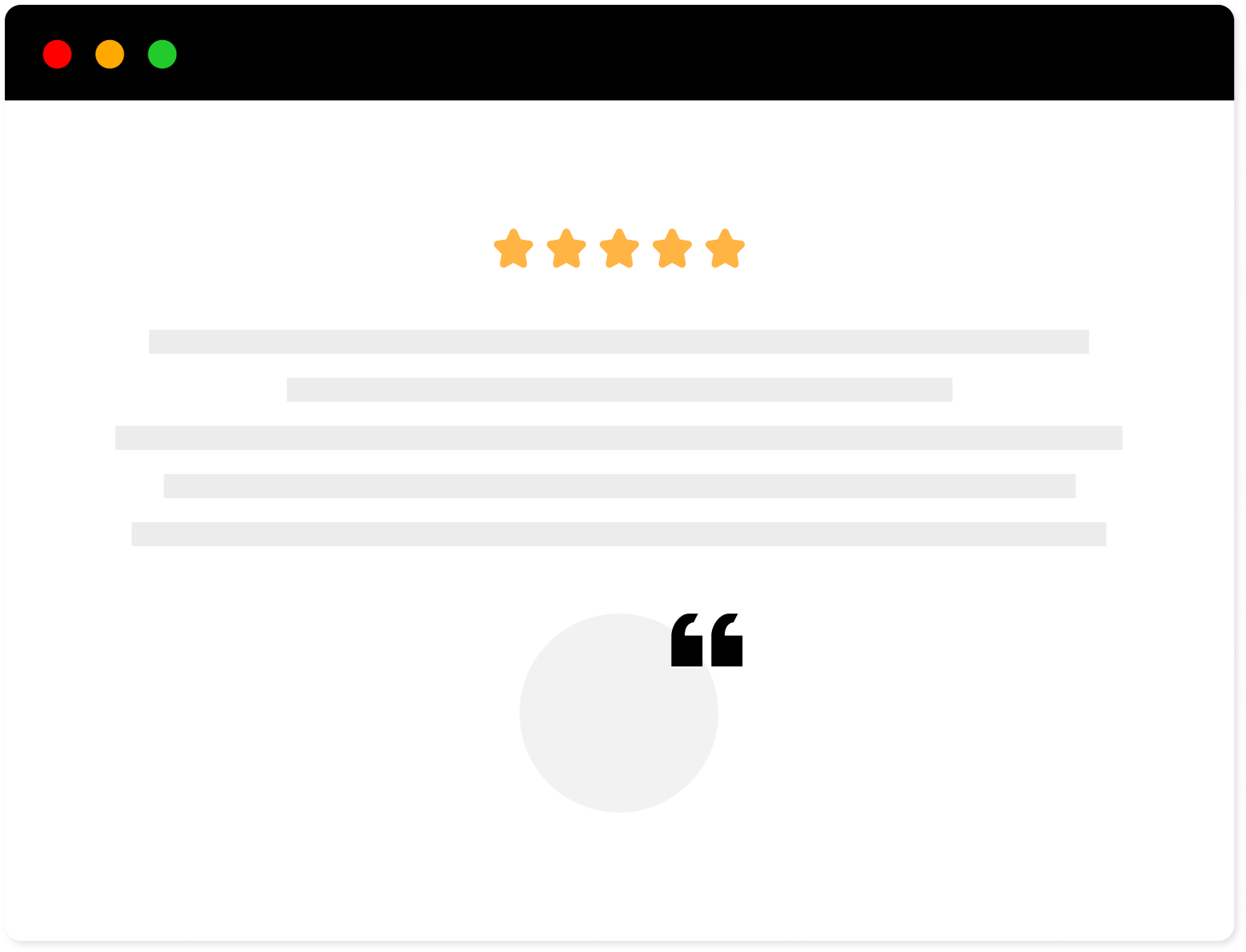 Strong Testimonials Plugin
We've built the #1 WordPress plugin for collecting, managing, and displaying testimonials. Drive more sales by leveraging your existing user audience.
But wait! You'll still need Strong Testimonials lite installed and activated on your WordPress dashboard for the extension to work wonders. It's like the foundation of a killer outfit – you must have it before you can bling.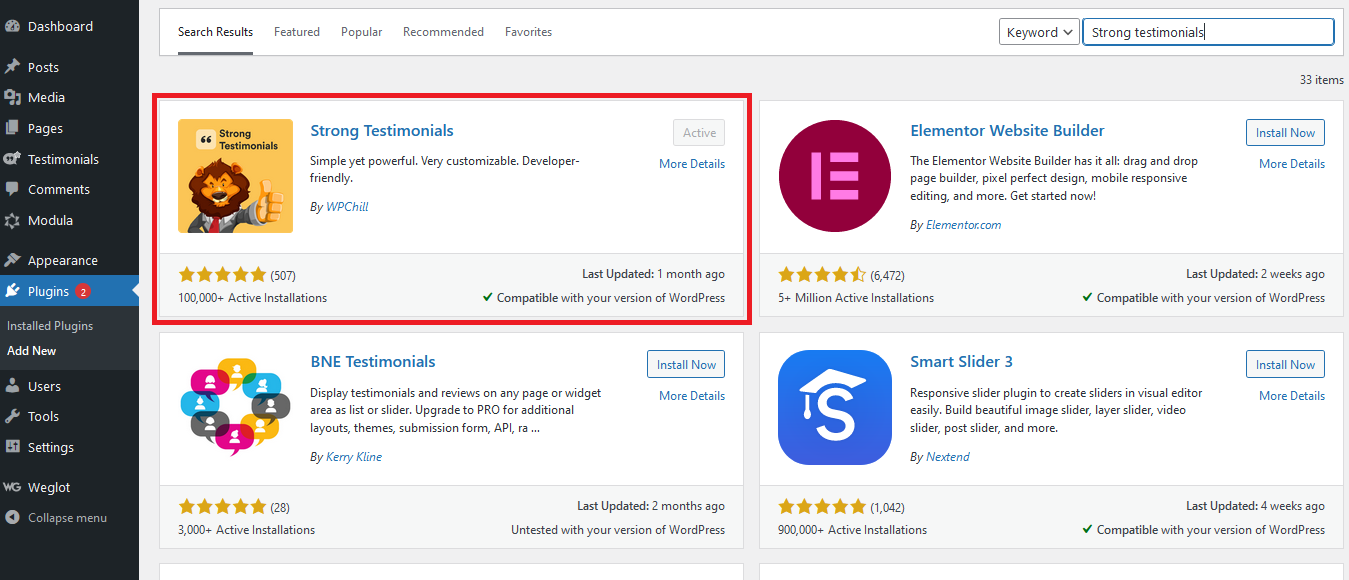 Next, it's time to get Strong Testimonials pro up and running. Please install and activate it to prepare for the grand finale: activating the Import extension.
To get your hands on the extension, hover over the Testimonials tab and click on Extensions. In the new window, please search for the Strong Testimonials External Platform Importer and hit the install & activate button under it.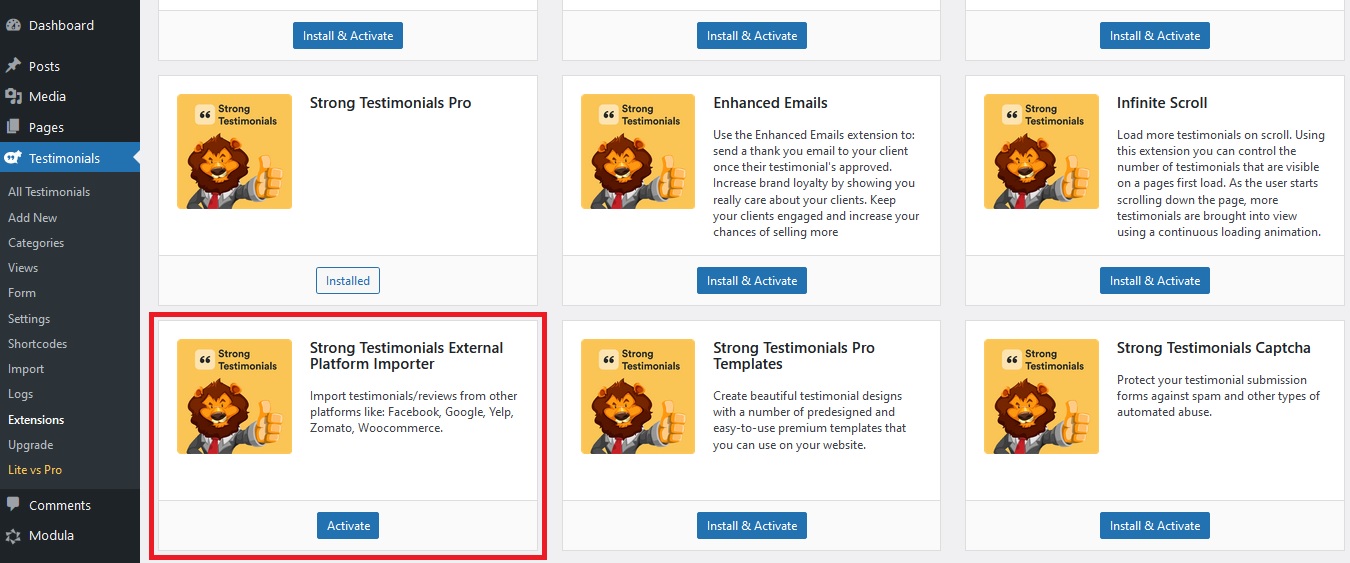 Once done, an Import tab would start to show up. And with that, we are done with setting up our tools.
General Options
Before you dive headfirst into importing everything in sight from G2, take a moment to check out the General Options accessible via Testimonials > Import > Settings. These options let you choose which testimonials to import and assist with customizing the importing settings.
Name Field: G2 is heavily focused on B2B reviews. That's why you need to look into the option to display the company's or the individual's name.
Rating: Analytics dashboard on G2 portrays the star ratings, but do you need to attach that detail to your testimonials? Well, it is entirely at your discretion to decide.
Email: This is an optional field. You cannot import it because G2 doesn't publicly display or provide this information. And we recommend leaving it as Nil (–).
Minimum rating: Are you curious to find a way to pull only the top-ranked reviews and publish them? Well, use the minimum rating scale to your advantage.
Auto Import: If you want to keep your testimonial page updated, you can use the Auto Import feature on G2 to present the latest reviews from your clients on a weekly, bi-weekly, or monthly basis.
Take a look at this guide to learn more about the General options. Make sure to save the changes after making the selections.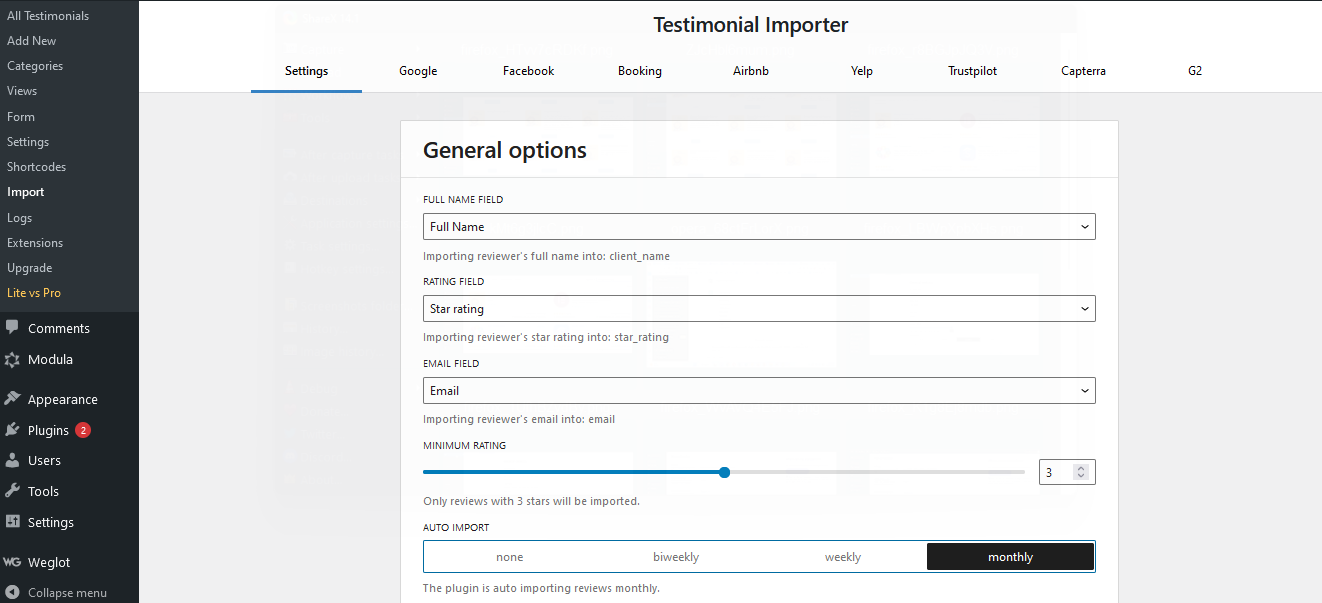 Have a look at this guide to get a better understanding of each option.
Import from G2
Open the G2 importer tab on your WordPress dashboard: Testimonials > Import > G2.
In the Add new G2 product slugs field, add the slug of your website/service in the proper format (place a comma between each slug in case of multiple entries) and click the Add Pages button to load them underneath with import details for the page(s).
Checkmark the top-right box on the Import tab, and begin the process by clicking the Import Now button. You will see that the status will transition between various stages, and if the system returns no error, you will get a final confirmation with Imported status in the end.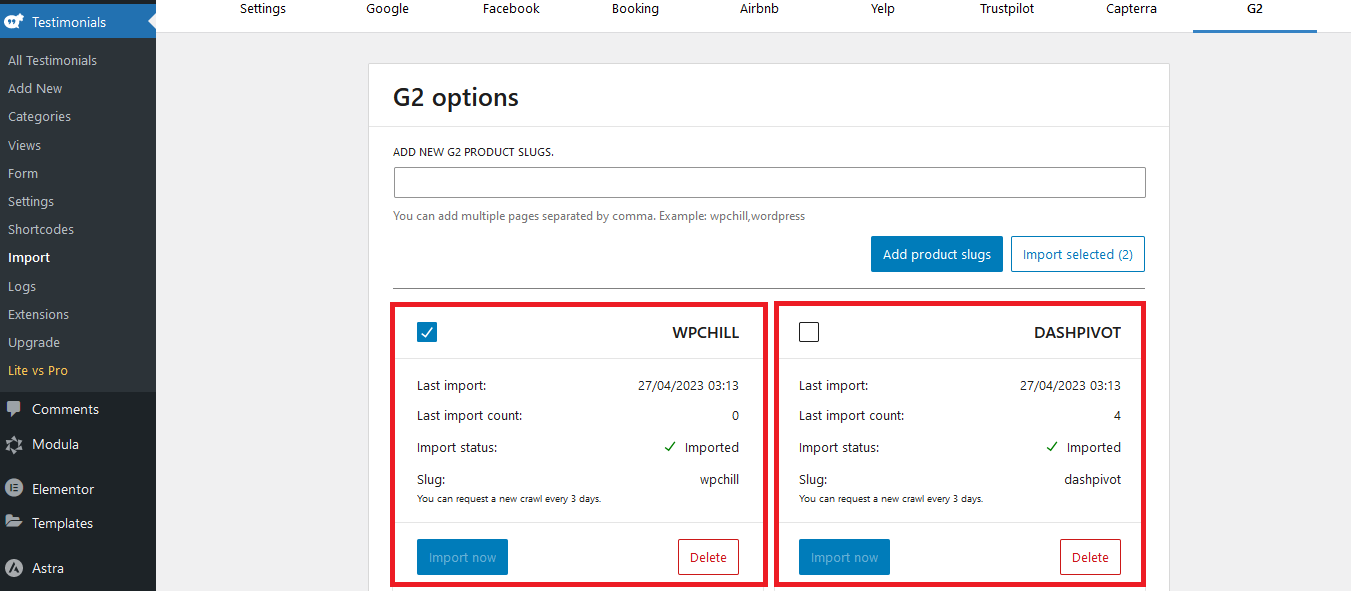 After a successful import, your testimonials should already be listed in the WordPress dashboard. If there are no reviews for a company, the Import count would be 0.
You must create a view in Display or Slideshow mode to publish testimonials on the WordPress website. For that, go to Dashboard > Testimonials > Views > Add New. Save it once you have selected the preferred options while creating a new view.
Copy the shortcode and paste it on the Testimonials page on your website, and that's it; your G2 reviews are ready to be viewed by the world 🙂.
---
Bye for now!!
Well, goodbyes are always hard. But let's not get too sentimental now; we'll stay connected, right? 👀
Towards the end, we will reinstate that importing G2 reviews with Strong Testimonials on a WordPress website is a no-brainer for any business looking to up its game. However, remember to stay aligned with the outlined steps in the guide to make the process smooth sailing.
If you're looking for a way to capitalize on your G2 reviews, choose Strong Testimonials. It's a wise investment that can result in big rewards, like having your cheering squad in the form of happy customers. So give your business the boost it deserves with Strong Testimonials.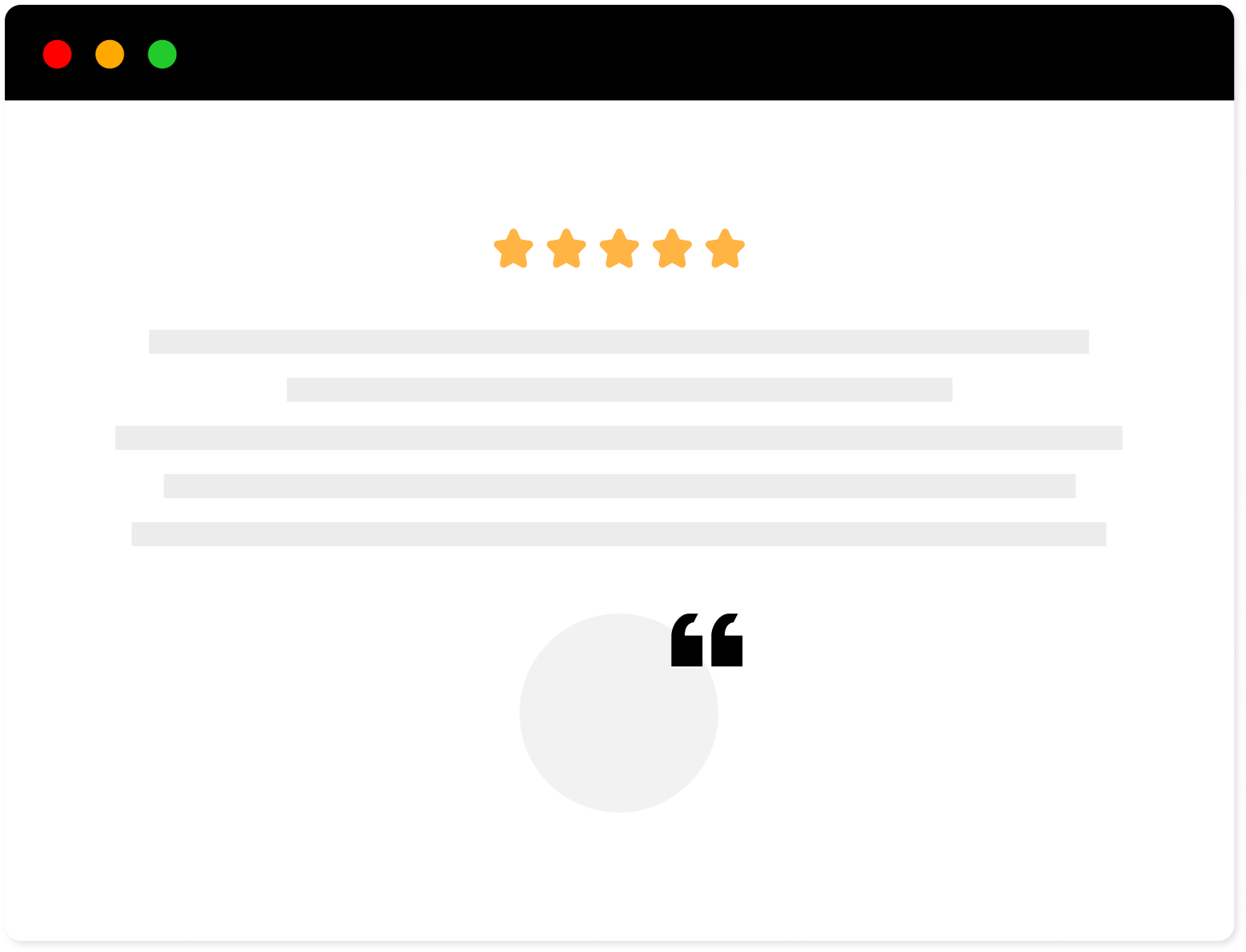 Strong Testimonials Plugin
We've built the #1 WordPress plugin for collecting, managing, and displaying testimonials. Drive more sales by leveraging your existing user audience.