How To Import Yelp Reviews To A WordPress Website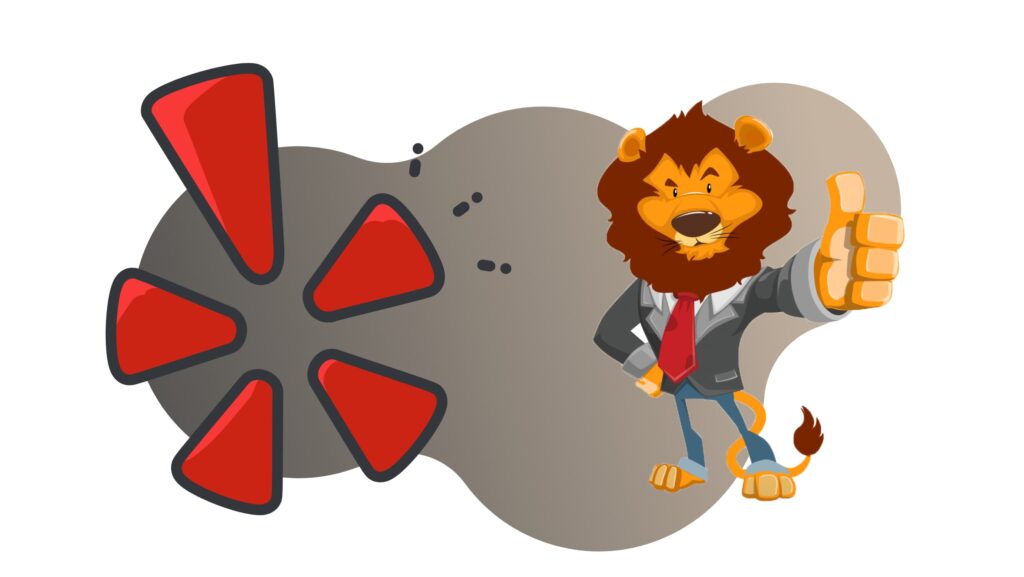 Adding reviews is a great way to engage visitors to your website. After all, the majority of people trust online reviews before making any decision. A good way to do this is to show Yelp reviews on your WordPress website.
Yelp reviews are consumer feedback about restaurants, brands, services, lifestyle products, hospitals, doctors, and more. More and more people import Yelp to WordPress.
---
---
Some business owners seem to struggle when it comes to displaying a large variety of reviews from Yelp on their websites. You also get business owners that never thought of Yelp or even ask " How can I import Yelp reviews to my website?" and might think that's too complicated to import Yelp reviews to wordpress. Some even ask "Can you display Yelp reviews on your website?" not knowing if it's even possible, to begin with.
Here are just some of the few common mistakes we've seen:
1.❌ Other plugins only allow you to add reviews manually – it's very time-consuming and human error comes into play. You may accidentally swap people's reviews or leave out certain important parts.
2.❌ Some didn't even implement Yelp importing – you miss out on stellar reviews that might convince your future clients to make a purchase. If you don't use all review channels, including Yelp ones, you won't be seeing your profit bar go up anytime soon.
3.❌ You may find yourself coming back and updating them regularly – whenever you have new reviews on Yelp, you have to come back and manually update to add them on your website which is very time-consuming as well.
---
Reason to display Yelp reviews on your website
"Can I display Yelp reviews on my website?" is the first question most business owners should ask themselves. This is a sign that you're on the right track and you recognize and acknowledge the importance of the platform.
Customers frequently provide favorable reviews on social media platforms like Google, Facebook, and Yelp. Combined with client testimonials on your website, these comments can be utilized as social proof to increase trust and conversions.
Normally, you'd have to install numerous WordPress plugins to show reviews from various social media networks. Each plugin has its own set of features, and some of them may overlap with each other.
Strong Testimonials is a great option because it's an all-in-one solution for displaying testimonials from all platforms.
Let's look at how easy it is to display reviews from Yelp in WordPress.
Businesses that don't show Yelp reviews on their WordPress website are truly missing out on a gold mine. Take a look at this survey conducted by SurveyMonkey and Yelp. 97 percent of customers spend money with a business they find on Yelp, with 51 percent doing so within a day and 90 percent doing so within a week. So why shouldn't you display Yelp reviews on your website?
In our opinion, any business strategy should involve using a WordPress plugin to show Google, Facebook, and Yelp review feeds. The more channels you add the better.
Don't know how to import Yelp reviews? It's way easier than you might think. Read below on how to import and display Yelp reviews on your website.
---
Step 1: Importing Yelp reviews to your WordPress website
By default, WordPress doesn't provide functionality for importing Yelp reviews to your website. But, the Strong Testimonials plugin comes with various features, including the ability to add and keep up to date outstanding Yelp reviews.
There are many ways you can collect and display testimonials.
In today's article, we will assume you already have it installed and activated. If not, we have multiple guides you can check out to get you started.
You don't need to be a tech geek to embed Yelp reviews on wordpress. Using the plugin's Importer extension, you can import wordpress Yelp reviews including Facebook, Google, Yelp, Zomato, and Woocommerce.
Go to Testimonials > Import > Yelp after activating the plugin.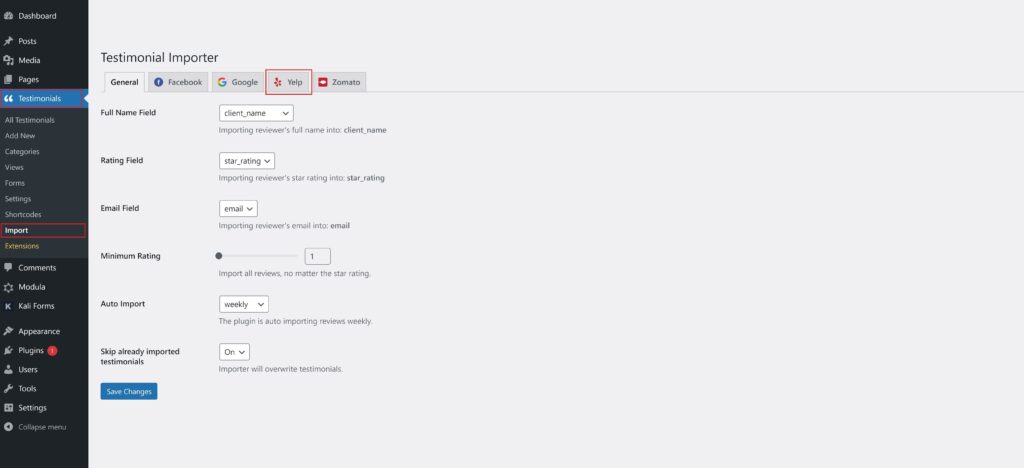 ---
Step 2: Getting the API Key from Yelp
To import any Yelp reviews, you will need an API key. You must first create an app with Yelp to have access to a Yelp API key. The steps for making an app are as follows:
Firstly, go to the Create App page.
Fill out the details about your app in the create new app form, then agree to the Yelp API Terms of Use and Display Requirements. After that, press the Submit button.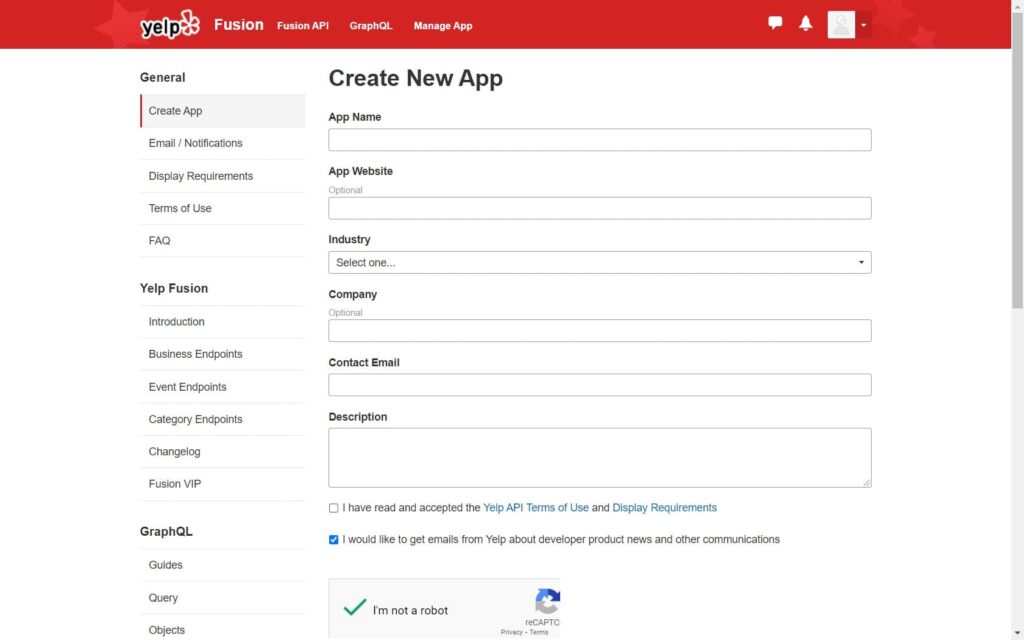 After that, copy and paste the newly generated API Key into the plugin settings.

Right after that, the Business Page URL field will appear like so:

Paste in a Yelp Business Page URL like https://www.yelp.ie/biz/the-boxty-house-dublin?osq=Restaurants > the plugin will add the new location.
The plugin will import reviews from the chosen site when you click the Import Reviews button. By repeating the process, you can add more Yelp locations.
If you click on the Trash button, you will delete the locations you no longer wish to import reviews.
---
Step 3: Setting up your Yelp reviews
After you are done importing, make sure to click on Save Changes; otherwise, the plugin won't preserve the places you've added when you will utilize the auto-importing function.
❗❗In a single API request, Yelp only delivers three reviews. However, if you activate the auto-import option, the number of reviews from a place will grow over time.❗❗
You will post these testimonies in their own testimonial category. For example, the plugin will place the Yelp reviews from 'The Boxty House,' under a testimonial category called 'The Boxty House,' which will belong to 'Yelp Reviews.'
And that's how you import Yelp reviews on your WordPress website in just three steps!
---
So, what can I do using Strong Testimonials?
You can easily import Yelp reviews – With Strong Testimonials, anyone can add Yelp reviews to WordPress. You also don't have to worry about human errors.
Gather all feedback in one place – Every little bit helps and including reviews from such a huge and respectable reviews website such as Yelp, you will see an increase of revenue in no time.
Strong Testimonials imports your Yelp reviews automatically – The plugin verifies and scans once a day if you have new reviews on Yelp. It automatically adds them to your website. This way, you get to focus more on your marketing strategy, customer service or any other area that can help your business grow.
---
Conclusion
As we have seen, it's not hard to add Yelp reviews to your WordPress website. All you have to do is follow the straightforward process presented, and you will have the reviews you needed on your site. It saves you so much time with our automation features.
You can make use of this functionality by getting our Plus Pricing Plan. So what are you waiting for? Get Strong Testimonials and all it has to offer now at an amazing price! 😁