For your products, services, and business, reviews are among the most effective kinds of social proof. They're such powerful marketing assets that you should use them in as many ways as possible. You may accomplish this in several ways, including directly integrating detailed reviews from sites like Facebook onto your website.
This article will teach you the importance of importing reviews and how to embed Facebook reviews on your WordPress website.
---
---
There's no doubt that a lot of people utilize Facebook to display business results and to collect testimonials. But what to do when you want to increase conversions even more? What to do when you want to showcase the reviews in a different way?
Here are just some of the few common mistakes we've seen from a multitude of online businesses:
1.❌ They manually add them – a total waste of precious time. We cannot stress enough how many teams we've seen that manually add Facebook reviews to their website, word by word, sometimes with errors. On top of that, it makes your business look unprofessional.
2.❌ They don't even consider Facebook reviews – You might be sitting on a gold mine and you don't even know that. It's well known that by not utilizing all of the social media platforms, including Facebook, to collect and import reviews into your website you won't be seeing a conversion rate increase anytime soon.
3.❌ They update reviews manually as well – what happens when you land new reviews? Are you going to check them every 10 minutes? Are you going to waste even more time adding new reviews?
---
Reason to display Facebook reviews on your website
Facebook has a monthly user base of almost 2.9 billion people. It is undeniably a beneficial platform for digital marketing. Why do you believe Facebook Marketplace has surpassed Craigslist in popularity? Instead of utilizing a disguised email address, you can really SEE who is selling their things.
An internet review is as essential as a personal recommendation for nearly 9 out of 10 customers, and the numbers don't lie:
Customers are more inclined to spend 31% more on a company that has received "great" ratings.
Positive evaluations help 72 percent of people trust a local business more.
If a local business gets at least a 4-star rating, 92 percent of users will utilize it.
Only after reading a good review will 72% of consumers take action.
Embedding the reviews on your website is a simple process. Keep reading and see how easy it is to use Strong Testimonials for this task.
---
Step 1. Connecting to Facebook
We'll presume you already have the plugin installed and active for today's post. If not, we offer a number of instructions to help you get started.
It's very easy to import Facebook reviews and with Strong Testimonials, anyone can do it.
After activating the plugin, go to Testimonials > Import > Facebook.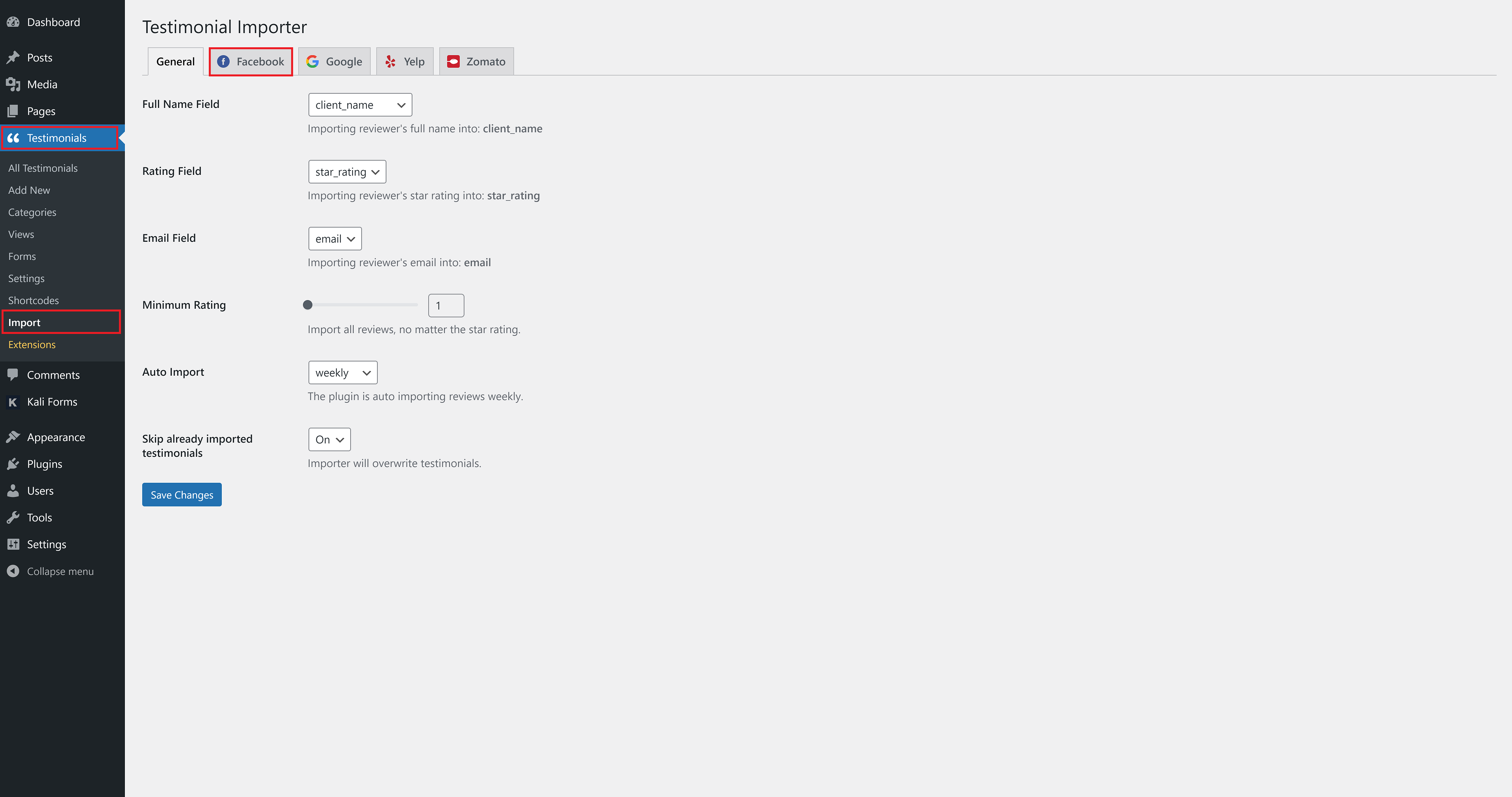 Connect to your Facebook pages by clicking the Connect to Facebook button. After that, you will be asked to log into Facebook and choose which Facebook pages you wish to integrate and pull the reviews from.

Step 2. Importing Facebook testimonials to your WordPress website
Once you've established the connection to your Facebook account, the plugin will import reviews from these Facebook sites once you click Import Reviews button.
But what if you created more pages on Facebook after this or you want to connect to a different account? By selecting the Connect to Facebook button again and continuing the process, you may add other pages from different Facebook accounts.
This also leads us to another point: what if I accidentally connected to the wrong Facebook page? Strong Testimonials thought about this one as well. By clicking the Trash button, you may remove pages that you no longer want to import.
Step 3. Setting up your Facebook reviews on your website
After you've completed importing and established which Facebook pages you want to import reviews from, make sure you click the Save Changes button. If you forget to do that, the pages you've added won't be stored.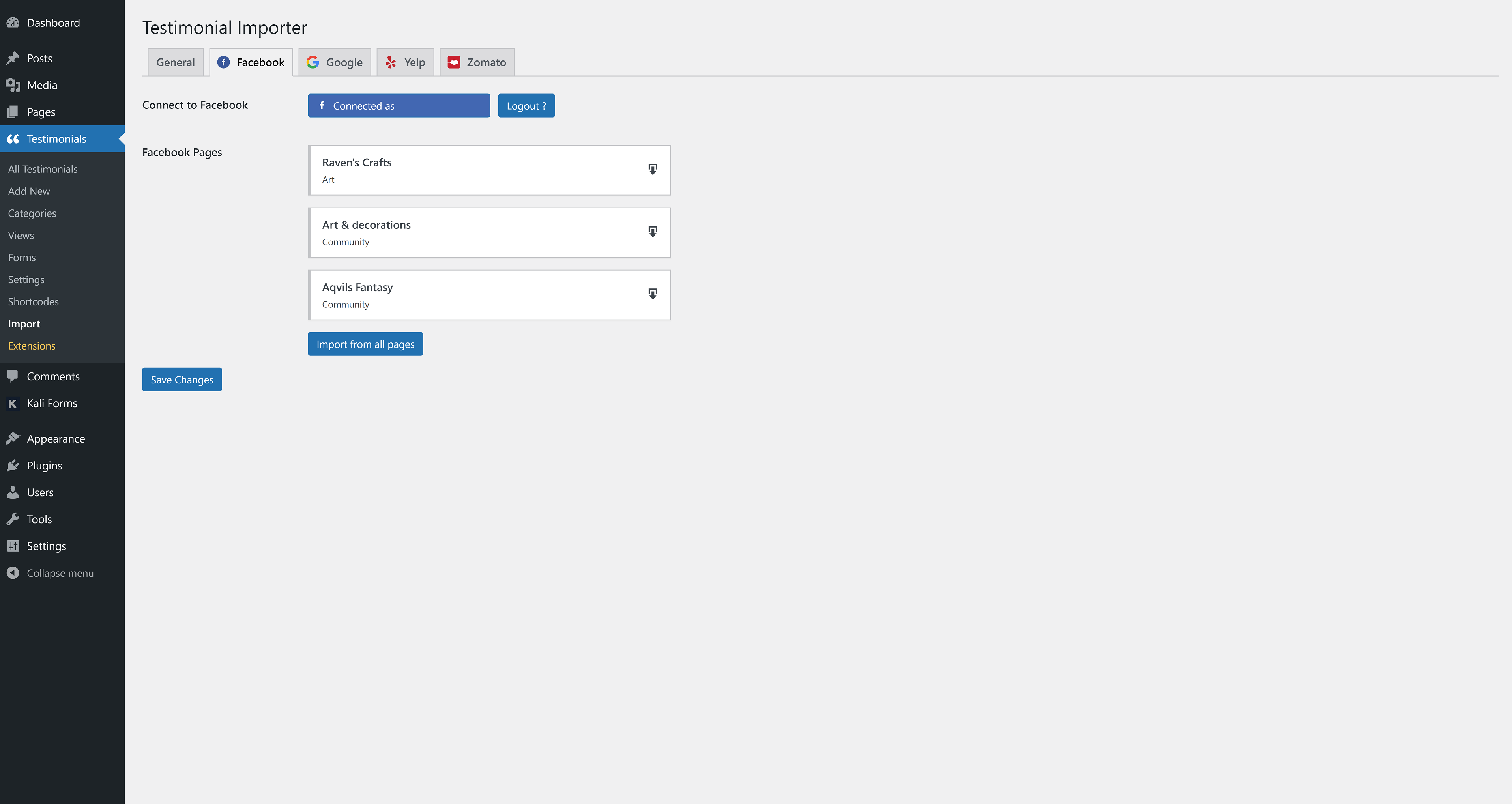 This step is crucial because the Facebook pages that you have saved will be used when auto-importing reviews.
Once you successfully saved it, go to Testimonials -> All Testimonials to see your freshly imported testimonials.
These testimonials will be organized into several testimonial categories. Reviews from a 'Rock Band' page, for instance, will be included in a 'Rock Band' testimonial category, which will be a child of 'Facebook Reviews.'
As a side note, you can also import reviews from other platforms such as Google, Yelp, Zomato, and WooCommerce.
---
So, what can I do using Strong Testimonials?
You can import Facebook reviews in 3 clicks – Using Strong Testimonials you have the luxury of importing Facebook reviews with no hassle at all. No matter the length of the review, Strong Testimonials will import it fully and correctly.
Bring it all together – Gather everything from all platforms and you will soon see a conversion rate increase.
Constant update – Our smart plugin scans every day and checks if you have new reviews on Facebook. It helps you save a lot of time and you can direct your focus on more important tasks.
---
Conclusion
To sum up, this plugin made the process of importing Facebook reviews to WordPress way easier than any other plugin out there. Connect to Facebook, select the desired pages you want to link with Strong Testimonials, and click Import. It is as easy as that!
Furthermore, you can utilize this feature if you subscribe to our Plus Pricing Plan. So, what are you waiting for? Get Strong Testimonials and everything it has to offer right now at a great price! 😁