How To Import Facebook Reviews To Your WordPress Website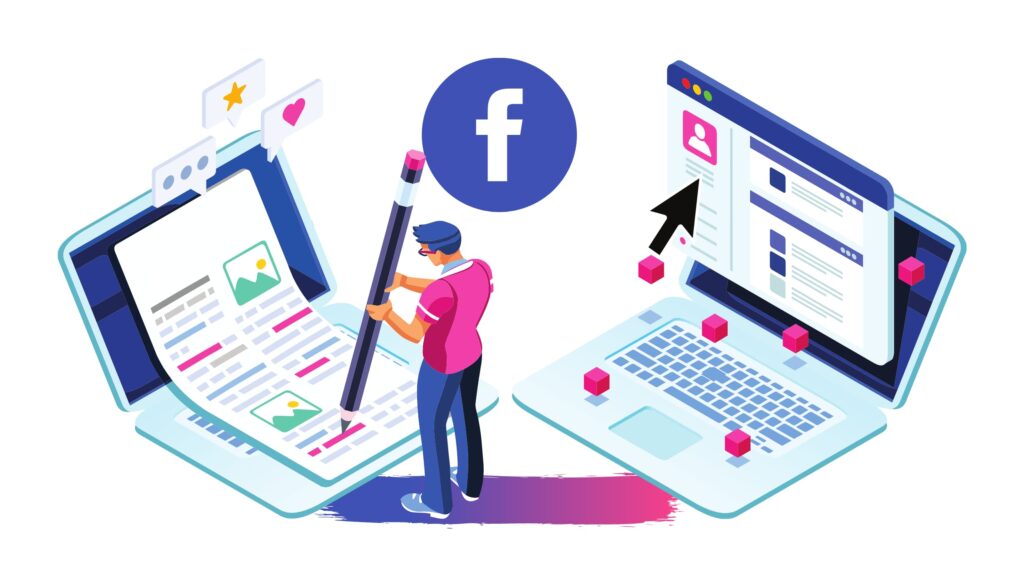 For your products, services, and business, reviews are among the most effective kinds of social proof. They're such powerful marketing assets that you should use them in as many ways as possible. You may accomplish this in several ways, including directly integrating detailed reviews from sites like Facebook onto your website.
This article will teach you the importance of importing online reviews and how to embed Facebook reviews on your WordPress site.
---
---
There's no doubt that a lot of people utilize Facebook to display business results and to collect testimonials. But what to do when you want to increase conversions even more? What to do when you want to showcase the online reviews in a different way?
Here are just some of the few common mistakes we've seen from a multitude of online businesses that display reviews online:
1.❌ They manually add them – a total waste of precious time. We cannot stress enough how many teams we've seen that manually add Facebook reviews to their website, word by word, sometimes with errors. On top of that, it makes your business look unprofessional.
2.❌ They don't even consider Facebook reviews – You might be sitting on a gold mine and you don't even know that. It's well known that by not utilizing all of the social media platforms, including Facebook, to collect and import reviews into your website you won't be seeing a conversion rate increase anytime soon.
3.❌ They update reviews manually as well – what happens when you land new reviews? Are you going to check them every 10 minutes? Are you going to waste even more time adding new reviews?
---
Reasons why users trust other Facebook users
Some people ask "Can I import my Facebook reviews?" and the answer is "Definitely!". And you really should!
Facebook has a monthly user base of almost 2.9 billion people. It is undeniably a beneficial platform for digital marketing since it connects you with so many potential leads and customers. Instead of utilizing a disguised email address, you can really SEE who is selling their things and, therefore, any testimonial or review that comes from there has a high credibility score. That's why it's a great strategy to make use of them and import testimonials from Facebook in WordPress.
An internet review is as essential as a personal recommendation for nearly 9 out of 10 customers, and the numbers don't lie:
Customers are more inclined to spend 31% more on a company that has received "great" ratings.
Positive evaluations help 72 percent of people trust a local business more.
If a local business gets at least a 4-star ratings, 92 percent of users will utilize it.
Only after reading a good review will 72% of consumers take action.
Importing the online reviews on your website is a simple process. Keep reading and see how easy it is to use Strong Testimonials for this task.
Reasons to import Facebook reviews to WordPress
You have the option of ignoring what people are saying about your business on Facebook, or you may use both the praise and the criticism to your benefit.
Embrace the review process by leveraging customer input instead of fearing what others have to say about your company. This bravery will verify your goods or service and establish a trustworthy relationship between your customer and your brand.
With that in mind, let's explore why you should import your Facebook page reviews to Wordpress:
✅The more reviews, the more people will purchase from you
Social media marketing, particularly on Facebook, can help you acquire visibility by engaging with potential prospects and informing them about your business. It also has a significant impact on future potential customers. Not only the customers that might pop up within a month but even 5 years down the line from now, being a constant flow of income.
In 2017, 86 percent of businesses relied on Facebook for marketing purposes (over 200 million small businesses).
In addition, reviews are 2x more significant than loyalty when picking a local business and 7x more important than traditional marketing.
✅Information for non-Facebook users
It's understandable if not everyone has a Facebook account. Especially if you put a lot of effort into your Facebook page and some people can't see the reviews.
So, what if you want to share this success with individuals who haven't yet joined your Facebook page? You import Facebook reviews to your WordPress site. Simple as that.
✅Don't rely on screenshots of Facebook reviews
If you decide to import Facebook reviews to your WordPress website, don't take the easy way out to just snap a screenshot of a testimonial and display it on the website.
Suppose you try the screenshot or copy-and-paste techniques to include Facebook reviews on your website. In that case, you'll probably lose authenticity, and people will label you (or your company) as lazy, unbothered, or deceiving.
✅You gain extra content
If you repurpose blog posts, why not repurpose your valuable Facebook reviews as well? Customer reviews are available for almost any product or service. Therefore, if you don't have them on your site, you're already losing in front of your competitors.
Consider displaying your Facebook ratings immediately on your homepage if customers access your website through a search engine.
✅Hook in your customers for longer
You want customers to spend as much time as possible on your website, and if they have to go to Facebook to read customer reviews, there's a good chance they'll be distracted by ads from competitors.
Your chances of getting a buyer increase dramatically when you import Facebook reviews to your WordPress site. It all comes down to the user experience!
It would be a great idea to integrate some negative reviews as well. In this scenario, you can explain how you solved the customer complaints and show that you value feedback greatly. You can make use of a review slider to make it more compact and save space. And when it comes to long reviews, save them for case studies.
---
Get customers to write Facebook reviews
Let's say you have already finished setting up your Facebook business page. The next step is you'll have to start gathering feedback. There are several methods for collecting Facebook reviews, and we compiled a short checklist.
Encourage your customers to check in to your business on Facebook – Visitors who have recently checked in to a location are frequently prompted to leave a review on Facebook.
Send a Facebook review invitation email – Sending an email to new customers (and existing ones) asking them to review you on social media will quickly increase your review count.
Write a Facebook post to request reviews from your fans – By engaging your fan following with a Facebook post, you may tap into their strength and persuade them to offer you evaluations.
---
How to display Facebook reviews on a website
There are actually 2 ways you can do this. You either embed Facebook reviews directly into your website or use a plugin to import the reviews.
To embed Facebook reviews it's fairly easy. All you need to do is head over to the Reviews tab on your Facebook business page and locate the review you want to display on your website. Choose the option "Embed" from the three dots in the top-right corner, and you will receive a code. Paste that code into your CMS editor (WordPress, Squarespace, etc.) where you think it belongs on the website.
The downside of embedding is that you constantly have to do manual labor. To save time and energy it's best if you use a plugin that's dedicated to importing Facebook reviews to your WordPress website directly. Strong Testimonials can help you achieve that in no time.
---
Choose the display space carefully
There are plenty of areas on your website to showcase the reviews. Here are our suggestions to where are the best places to display Facebook reviews on your website:
On your homepage, highlight positive reviews. Occasionally alternate single reviews or show a feed of carefully selected reviews.
Include reviews on your About us page. Choose the ones that will assist your company in positioning itself as a partner. Make use of the reviews in a way that encourages audience interaction and create a Facebook reviews feed.
Showcase reviews about your products or services on a detailed dedicated page to show viewers how your offerings function in the wild. Make use of review sliders or carousels.
Use reviews to demonstrate that you're paying attention. Consider displaying a few negative reviews that you've worked to fix. Demonstrate to your audience that you're eager to listen and adapt to their needs.
---
Importing Facebook reviews
If you're wondering how to import Facebook reviews into a website, fear not, we are here to help. You don't need to pull a lot out of your pocket for a simple Facebook reviews widget.
Strong Testimonials comes with a free version that you can find in the WordPress repository. You can make use of the free version, as well as our premium one. Strong Testimonials is not just a Facebook reviews plugin. There's much more to it and you can do a lot of things with it.
Before you get started, you might want to read this guide on installing Strong Testimonials.
Step 1. Connecting to Facebook
We'll presume you already have the plugin installed and active for today's post. If not, we offer a number of instructions to help you get started.
It's very easy to import Facebook reviews and with Strong Testimonials, anyone can do it.
After activating the plugin, go to Testimonials > Import > Facebook.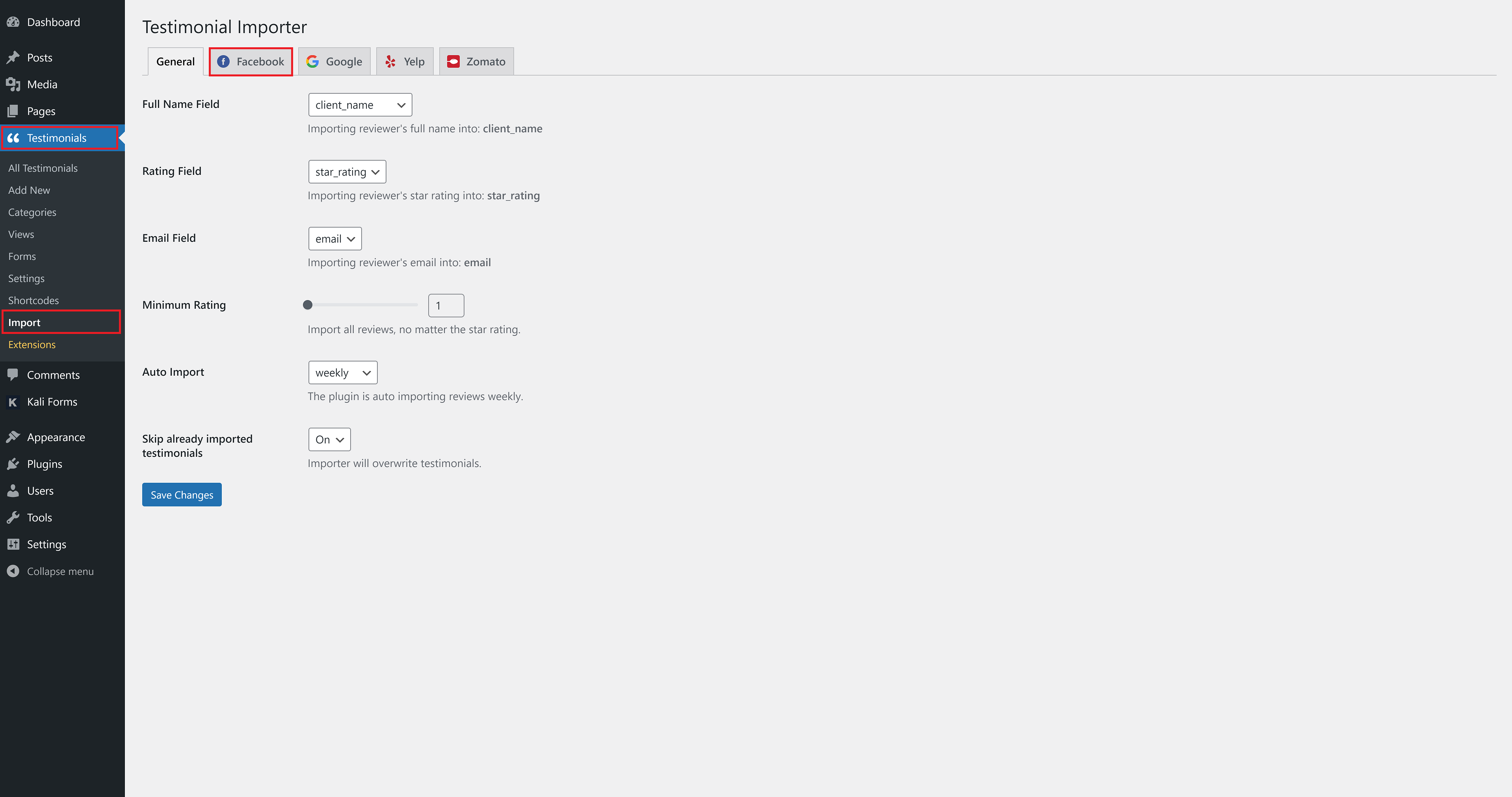 Connect to your Facebook pages by clicking the Connect to Facebook button. After that, you will be asked to log into Facebook and choose which business pages you wish to integrate and pull the reviews from.

Step 2. Importing Facebook testimonials to your WordPress website
Once you've established the connection to your Facebook account, the plugin will import reviews from these Facebook sites once you click the Import Reviews button.
But what if you created more pages on Facebook after this or you want to connect to a different account? By selecting the Connect to Facebook button again and continuing the process, you may add other pages from different Facebook accounts.
This also leads us to another point: what if I accidentally connected to the wrong Facebook page? Strong Testimonials thought about this one as well. By clicking the Trash button, you may remove pages that you no longer want to import.
Step 3. Setting up your Facebook reviews on your website
After you've completed importing and established which business pages you want to import reviews from, make sure you click the Save Changes button. If you forget to do that, the pages you've added won't be stored.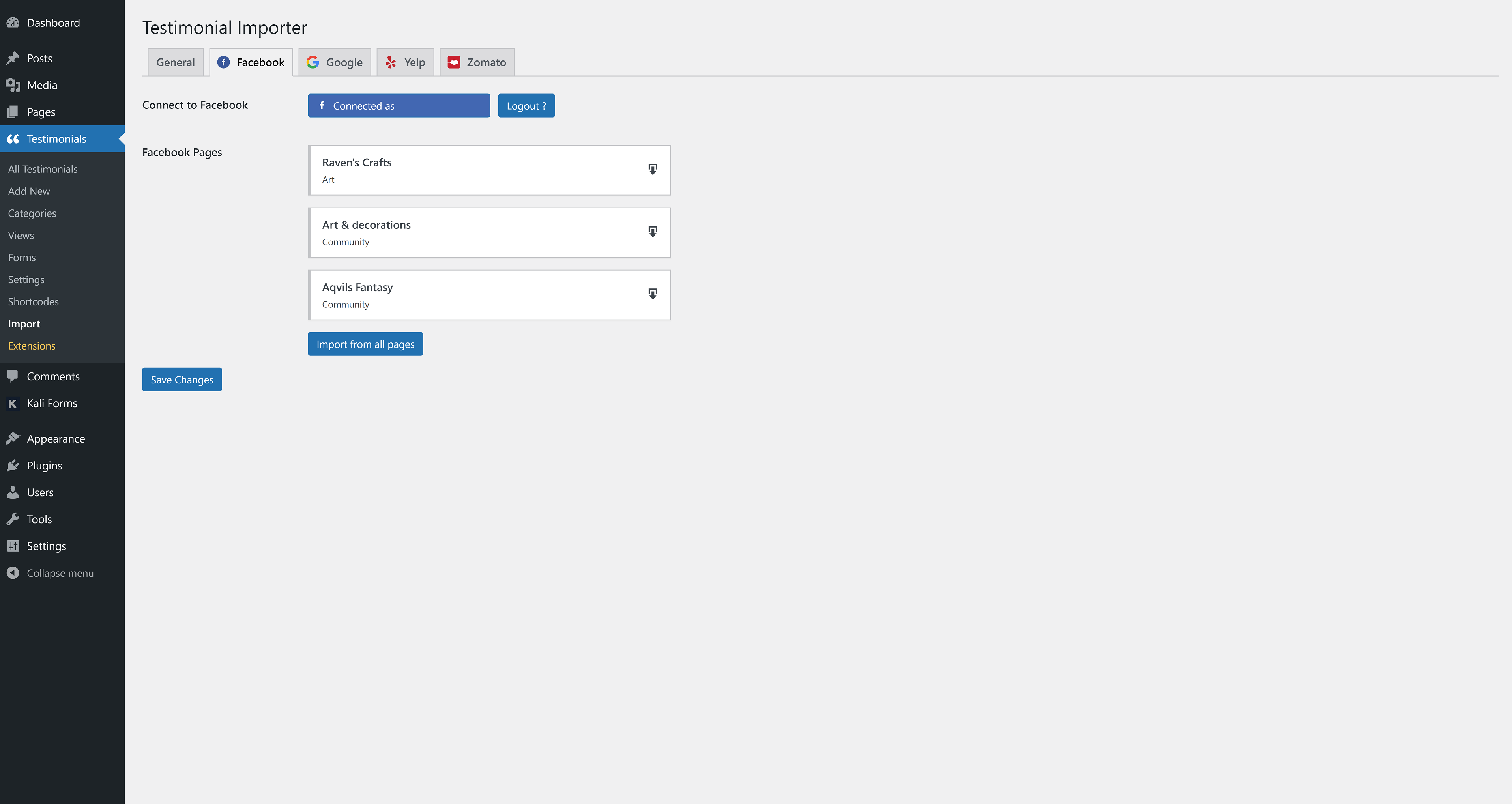 This step is crucial because the business pages that you have saved will be used when auto-importing reviews.
Once you successfully saved it, go to Testimonials -> All Testimonials to see your freshly imported testimonials.
These testimonials will be organized into several testimonial categories. Reviews from a 'Rock Band' page, for instance, will be included in a 'Rock Band' testimonial category, which will be a child of 'Facebook Reviews.'
As a side note, you can also import reviews from other platforms using Testimonial Importer extension. Google reviews, Yelp reviews, Zomato reviews, and WooCommerce reviews are all extremely useful for leveraging your business.
---
So, what can I do using Strong Testimonials?
You can import Facebook reviews in 3 clicks – Using Strong Testimonials you have the luxury of importing Facebook reviews with no hassle at all. No matter the length of the review, Strong Testimonials will import it fully and correctly.
Bring it all together – Gather everything from all platforms and you will soon see a conversion rate increase.
Constant update – Our smart plugin scans every day and checks if you have new reviews on Facebook. It helps you save a lot of time and you can direct your focus on more important tasks.
---
Conclusion
To sum up, this plugin made the process of importing Facebook reviews to WordPress way easier than any other plugin out there. Connect to Facebook, select the desired pages you want to link with Strong Testimonials, and click Import. It is as easy as that!
Furthermore, you can utilize this feature if you subscribe to our Plus Pricing Plan. So, what are you waiting for? Get Strong Testimonials and everything it has to offer right now at a great price! 😁