The value of testimonials is undeniable. They're an amazing way to build authenticity and trust. In addition to this, and perhaps most importantly, they increase conversion rates. Are you looking for the best testimonial plugins for your WordPress site? Well, in this article, we're going to take a look at the best free and premium WordPress testimonial plugins available…
Without further ado – let's jump right in and take a look at the testimonial plugins your business needs.
| | | | | |
| --- | --- | --- | --- | --- |
| Testimonial Plugin | Best for… | Free/Premium version | From $/year | Review |
| ♟️ Strong Testimonials | Creating and publishing custom testimonial submission forms. | Free/Premium version | $49 – $129 | Read More |
| ♟️ Testimonial Rotator | Setting up testimonials using custom fields and star-ratings. | Free version | ❌ | Read More |
| ♟️ Easy Testimonials | Changing what information is displayed in testimonials. | Free/Premium version | $99 – $599 | Read More |
| ♟️ Testimonials Widget | Setting up custom categories and tags for your testimonials. | Free/Premium version | $29 – $239 | Read More |
| ♟️ Testimonial Basics | Those who don't need many customization options. | Free version | ❌ | Read More |
---
Benefits of using testimonials 👀
Customer testimonials build trust – A happy customer will bring you other customers. If a client has a positive experience with your product, he will write a constructive review on your page.
A constructive testimonial will create credibility – A good testimonial will overcome skepticism and convince your visitors to buy your product.
They are a great sales pitch technique – Reading a positive review from other customers will give the necessary confidence that your product will be the right choice.
Some of them will explain the benefits of your services – Not only do they bring an excellent reputation to your services, but they are also effective in explaining the benefits of using them.
Some of them will explain how your services work – Some visitors will need an additional explanation about how your product works, so they will find this information in testimonials.
---
🛠 Features to look for in a testimonial plugin
When it comes to testimonials, you need an easy way to collect and showcase them. You can input testimonials by yourself or asking customers to do it manually, but why bother when there are specialized tools for displaying testimonials on your website?
Well, this is where testimonial plugins come in. With the right tool, you can set up automatic emails that will be sent to your clients for requesting a testimonial. How amazing is that?
However, depending on your specific requirements, here's what to look for in a testimonial plugin:
The kind of information you can collect;
The possibility to add custom form fields;
If you can add a title to testimonials;
If customers can add their name and job function;
The chance to add a star-rating;
The functionality to control spam testimonials;
Pre-designed templates;
The opportunity to change layouts, colors, fonts, etc.
Now that you know what to look for in these stunning tools, let's see what 5 of the best WordPress testimonial plugins can provide.
---
♟️ Strong Testimonials
100,000+ Active Installations

FREE AND PREMIUM – STARTING FROM $49/YEAR
We may be ever so slightly biased but Strong Testimonials is the most downloaded WordPress testimonial plugin available.
Showcasing and customizing testimonials has never been easier than it is with Strong Testimonials. If flexibility is what you're looking for then you'll absolutely love our custom fields and custom properties extensions because together they make it easy to go above and beyond traditional star ratings and collect additional information.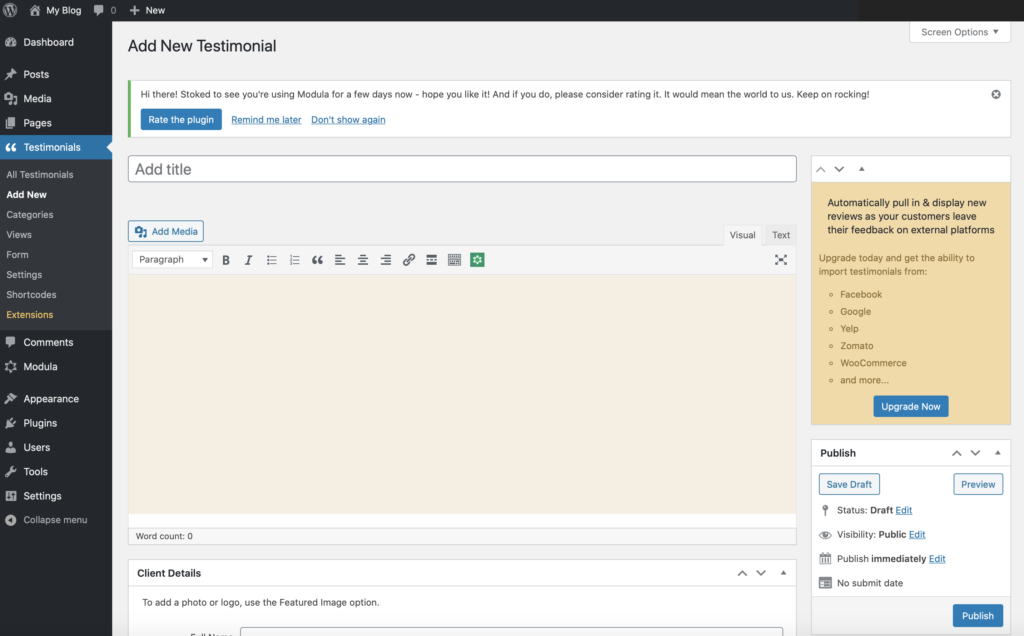 In addition to this, all customers have access to our dedicated support. So that in the unlikely event that they run into any issues, they can get the help they need by searching in our documentation section.
---
💰Pricing
Strong Testimonials is a plugin that comes with a free plan and four pricing plans – Basic, Plus, Business, and Agency. As you can see in the table above, each plan supports a different number of sites. However, if you choose the Agency plan, you can benefit from Strong Testimonials' features on unlimited sites.
Each plan also provides different features like spam control, enhanced emails, filters, role management, and external platform importer. The more you pay, the more you get. Also, Strong Testimonials offer a 14-day money-back guarantee if you are not happy with your plan.
But let's dig into the most needed features that a testimonial plugin should offer.
---
🚀 What are the best features?
Country Selector: This will allow your customers to select their country when submitting testimonials.
SEO-friendly Markup: Properly configure Schema.org Markup for your testimonials.
Custom Properties: Change properties of the testimonial post type: labels, permalink structure, admin options, and post editor features.
Advanced Views: Customize testimonials beyond the traditional star ratings with the Advanced Views extension.
Assignment: Assign testimonials to custom post types for easier management and filtering.
Multiple Forms: Easily collect testimonials from customers by creating and customizing multiple forms at once.
Custom Form Fields: Do more with the Custom Fields extension by both collecting and displaying additional information.
---
👍 Advantages
– Enables visitors to submit testimonials;
– You can create custom styles for your testimonials;
– You will be able to add testimonials using shortcodes or widgets.
👎 Disadvantages
– You'll probably need some documentation before using it.
Strong Testimonials Review – 4.8/5 ⭐⭐⭐⭐⭐
---
♟️ Testimonial Rotator
60.000+ Active Installations

Testimonial Rotator is one of the simplest and most affordable WordPress testimonial plugins in the market. Don't believe us?
This unique testimonial plugin lets you create a testimonial and testimonial custom post type. From there, you can assign one or more testimonials to rotators for display on the frontend of your website.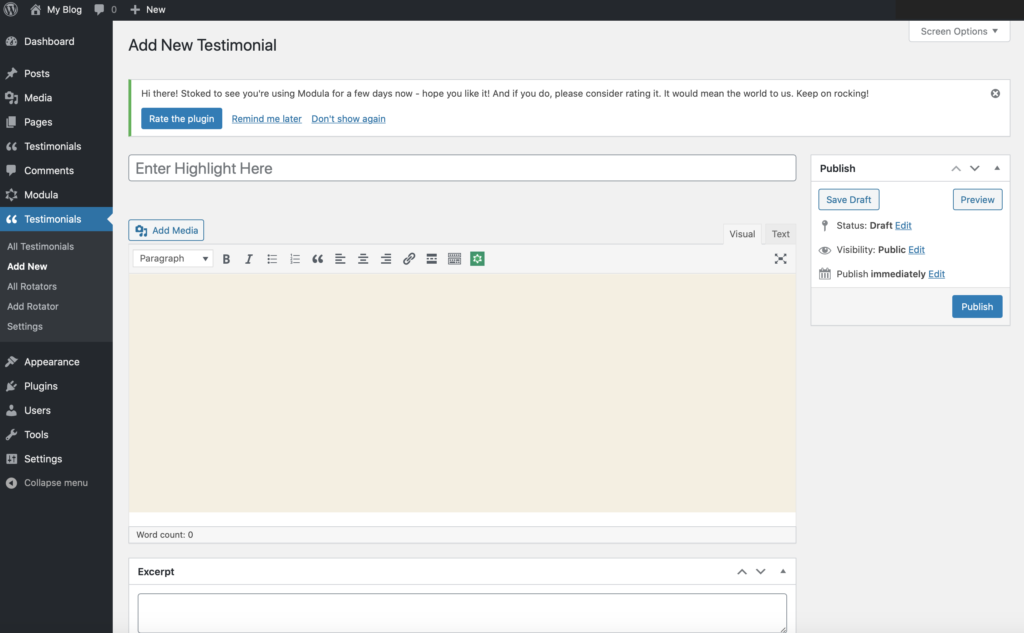 And the greatest part? You maintain full control over which rotators get which testimonials. In fact, you can assign the same testimonial to multiple rotators that appear throughout your site if you want. You can choose from one of five free testimonial themes that help you display your satisfied reviews in a visually appealing way.
---
💰 Pricing
Are you looking for a free plugin to make it easier to manage testimonials on your site? Look no further. We found the perfect solution for you: Testimonial Rotator. It is super easy, responsive, and allows you to create a testimonial rotator custom post type. There's more. Testimonial Rotator includes a Widget and Shortcode to display your testimonials. Wonderful!
---
🚀 What are the best features?
Display testimonials using in a widget area or using a shortcode;
Customize the next and previous arrows;
Showcase author information ad star ratings, complete with schema markup for getting rich snippets;
Create custom templates or use the pre-designed ones;
Display pagination in list format;
Randomize testimonials;
Change transition effects, image sizes, and a number of testimonials.
👍 Advantages
– You can compile testimonials in rotators;
– You will be able to integrate the Gravity Forms plugin to enable user testimonial submission.
👎 Disadvantages
– Testimonials cannot be displayed as grids.
Testimonial Rotator Review – 4.3/5 ⭐⭐⭐⭐⭐
---
♟️ Easy Testimonials
30.000+ Active Installations

FREE AND PREMIUM – STARTING FROM 99/YEAR
Easy Testimonials is an easy to use plugin that not only plays well with Gutenberg, but comes with 5 custom Gutenberg blocks, making insertion of testimonials on your WordPress site a breeze.
To start showcasing testimonials as a slider, list, or slideshow, all you have to do is manually enter them in your WordPress dashboard using the intuitive interface.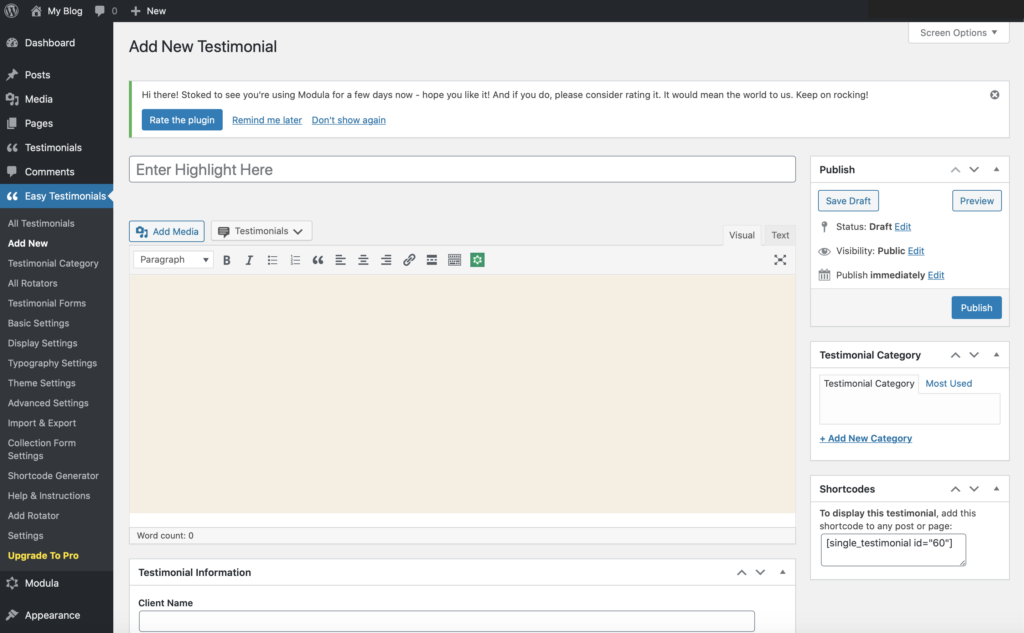 You can add testimonials to your site's sidebars, any widget area, and on posts or pages using the shortcode generator. And since Easy Testimonials supports images, you can manually add images or integrate the plugin with the Gravatar service to display review author images. This is great for personalizing your social proof and instilling trust in prospective customers.
Lastly, include testimonial excerpts, link reviews to specific webpages (such as a product page), and organize your testimonials based on assigned categories for easier review management.
---
💰 Pricing
Easy Testimonials is one of the great WordPress testimonial plugins that are suitable for both beginners and professionals. That's why it offers a free plan and three pricing plans – Personal, Business, and Agency. Depending on your website's purpose, you can choose the pricing plan.
Well, the Personal, Business, and Agency plans differ regarding the supported sites. So, how many sites do you own, and how many WordPress testimonial plugins do you need? If you are not satisfied with your purchase, you will receive a full refund by contacting Easy Testimonials within 30 days.
---
🚀 What are the best features?
Frontend testimonial collection forms;
Spam prevention;
Email notifications;
100+ designer themes;
Advanced transitions like scrolling, flipping, and tilting;
Carousel testimonial display;
Font styling;
Export functionality.
👍 Advantages
– It provides 5 Gutenberg blocks for displaying testimonials individually, in a list, randomly, in a grid, or in a slideshow;
– You can link testimonials to a specific page on your website.
👎 Disadvantages
– The pricing plans are higher compared to other testimonial plugins.
Easy Testimonials Review – 3.9/5 ⭐⭐⭐⭐⭐
---
♟️ Testimonials Widget
30.000+ Active Installations

FREE AND PREMIUM – STARTING FROM $29/SINGLE SITE LICENSE
Despite its name, Testimonials Widget is a flexible WordPress plugin that gives you the power to display testimonials anywhere on your website.
You can randomly showcase slide or list portfolios, quotes, reviews, or text with a mixture of images and video content too to show site visitors what others have to say about your business. And since you can insert reviews via shortcode, theme functions, or widgets, rest assured no matter where people land on your site they'll see your social proof.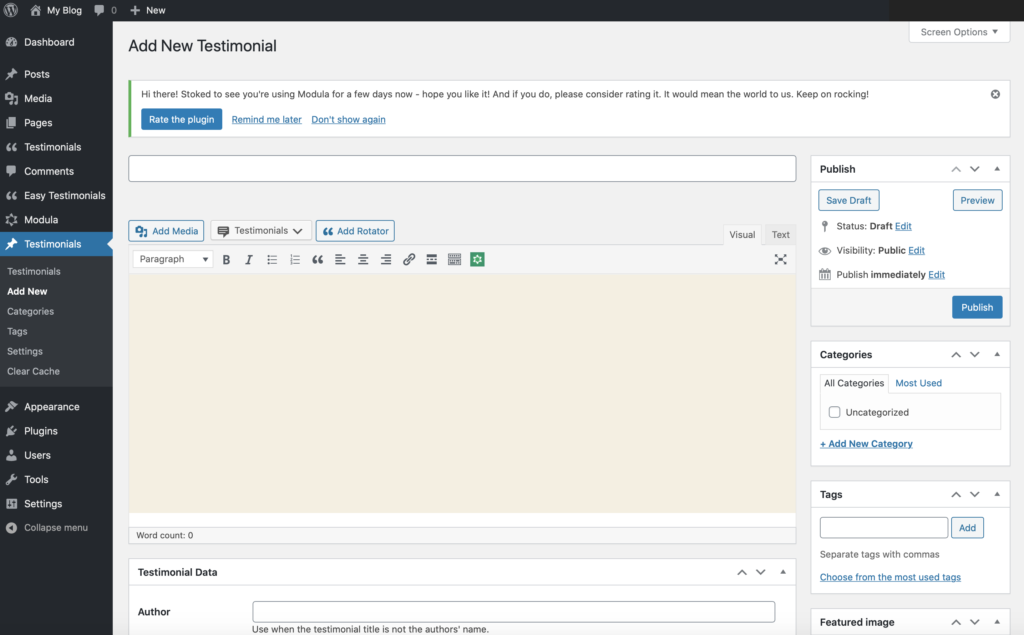 One of the most unique features of this plugin is the fact that you can display different testimonials on different pages by filtering them based on WordPress tags, categories, or post IDs. And if you want, you can showcase testimonials in a carousel with either a fade or slide transition, adding to the visual appeal.
---
💰 Pricing
| | |
| --- | --- |
| What you pay/year | Supported sites |
| $29.99 | Single site license |
| $59.99 | 3 site license |
| $119.99 | 10 site license |
| $239.99 | Unlimited sites license |
Testimonials Widget is one of the full-features WordPress testimonial plugins with forms, schema, ratings, lists, shortcodes, sliders, and widgets. You can take advantage of all these features by choosing the PRO version of this plugin. The PRO version offers four pricing plans – one with a single site license, one with 3 site license, another with 10 site licenses, and the last one with unlimited site licenses.
It also offers powerful features that will make your testimonials look impressive, so let's see what this WordPress testimonial plugin is capable of.
---
🚀 What are the best features?
Free support;
5-star rating system;
'Read More' links and excerpts;
RSS feeds – URL slug 'testimonials' is the default but is customizable otherwise;
User-submitted testimonials – Front-end entry form for user-supplied testimonials;
Testimonial counts – Shortcodes and theme functions for testimonials count and testimonial link list;
Built-in caching – Caching of testimonials queries and content to decrease server load time improve page loading speed;
Sticky testimonials for implied importance in listings;
Easy search by title, excerpt, content, or meta fields.
👍 Advantages
– You can filter testimonials by category, tag, or post ID;
– This plugin supports carousel, slideshows, fade or slide transitions.
👎 Disadvantages
– It is not easy-to-use because it doesn't have pre-designed styles for you to choose from.
Testimonials Widget Review – 4.3/5 ⭐⭐⭐⭐⭐
---
♟️ Testimonial Basics
6.000+ Active Installations

Testimonial Basics is a full-featured WordPress testimonial plugin that has every feature you could ever need to display what happy people are saying about your brand.
The neat thing about this plugin, as opposed to many other testimonial solutions for WordPress, is that it comes with a built-in testimonial collection form.
Each input form requires site visitors to leave a testimonial, name, and email. There are, however, optional fields such as testimonial title, location, and website. Adding to that, there are two customizable input fields for asking things like company name or occupation if you want.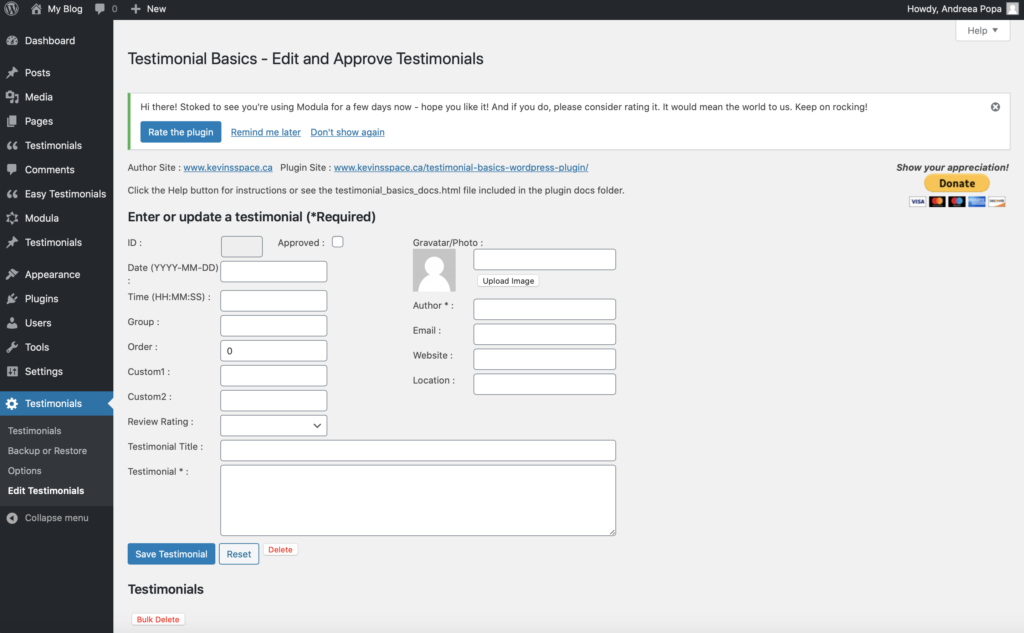 You can display positive reviews in an widget area or within your site's content. Plus, you can group testimonials for separate display throughout your site. And to protect your collection forms from spam submissions, take advantage of the built-in reCAPTCHA functionality.
When it comes to customizing your brand's testimonials, there's no shortage of choices. For example, customize the color scheme, choose from 4 layouts for content testimonials and 6 for widget ones, and even pick from 9 web-friendly fonts.
---
💰 Pricing
What we can say about the core features provided by Testimonial Basics is that they are 100% free. As its name, this WordPress testimonial plugin offers basic features that suit for users who don't need many customization options for their testimonials. The impressive part of Testimonial Basics is that user-submitted testimonials use Gravatar to fetch customers' photo. But let's highlight its features in the next section.
---
🚀 What are the best features?
Backup and restore testimonials;
5-star rating system optional Google snippet/scheme markup;
Easy dashboard for editing and approving testimonial submissions;
Gravatar support;
Pagination function (3, 5, or 10 per page);
Translation into French, Dutch, German, and Spanish;
Optional GDPR opt-in button;
Group testimonials for separate display.
👍 Advantages
– This plugin includes a sidebar widget, multiple display styles, and a feedback form to collect testimonials from customers;
– It provides easy-to-use forms for collecting testimonials.
👎 Disadvantages
– It doesn't provide many customization options.
Testimonials Basics Review – 4.7/5 ⭐⭐⭐⭐⭐
---
🏆 The Verdict
And there you have it! 5 of the very best WordPress testimonial plugins in the market that can help you display powerful social proof on your website in an effort to grow your brand. However, you should stick to one.
🥇 We are here to help you in the battle of choosing the most suitable testimonial plugin for your website, so we recommend Strong Testimonial. It has the most and the best features, the price is affordable, and it is easy-to-use. Give it a try!
Have you used any of the above-mentioned WordPress testimonial plugins? If so, we'd love to hear all about it in the comments below!