Adding testimonials to your WordPress site through Elementor is fun and easy to do. Customer testimonials make your business more trust-worthy, which, over time, increases your conversions.
Testimonials are a useful marketing tool because they represent a social proof. Consumers like to find out the opinions of others before buying something. More than 90% of them trust customer testimonials just like they trust the advice of their friends and family, according to multiple case studies.
Elementor is one of the most popular WordPress page builders available and for good reason. Its drag-and-drop interface is extremely user-friendly and the plugin comes packed with useful features.
In this post, we are going to teach how to add testimonials to your website with Elementor, using Strong Testimonials.
---
---
Is Elementor any good?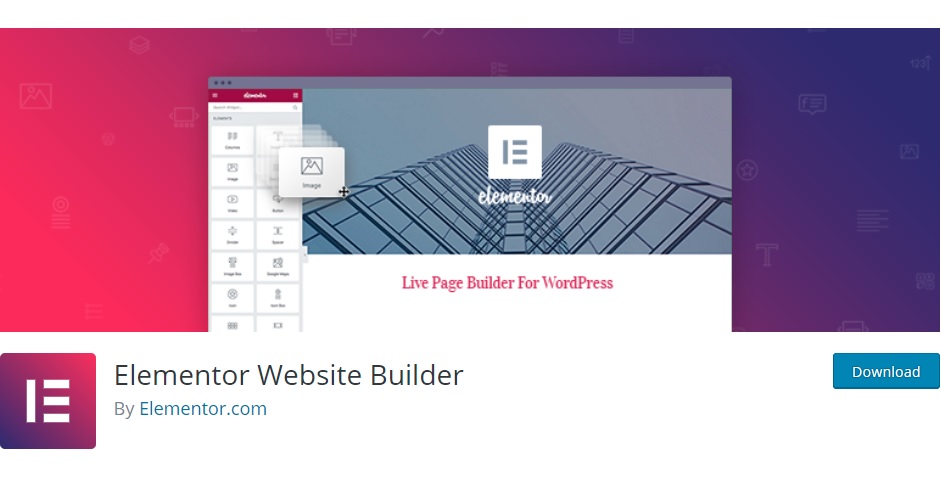 Elementor is one of the most commonly used WordPress website builders. The plugin has millions of active installations (5+ million so far) and a perfect 5-star rating.
It is not your ordinary WordPress page builder, but one of the most user-friendly and feature-rich ones out there.
Elementor comes with a live editing interface. What that means is that you can see in real-time everything you do on your site.
Here are the most notable benefits of Elementor:
drag-and-drop website builder which is very straightforward and easy to use. You don't need to know any code;
live design: you simultaneously see what the front-end looks like as you are editing;
the plugin comes with a generous free version;
Elementor is compatible with all the WordPress themes;
it comes with 300+ blocks and 100+ WordPress templates;
WooCommerce builder included with the Pro version;
motion effects (also with the Pro version);
fully responsive;
shortcode functionality;
multi-language support (translated into 50+ languages);
If you want to upgrade to the Pro version and get the full functionality, plans start at $49 per year for 1 site.
---
Why use Strong Testimonials to add testimonials on your site?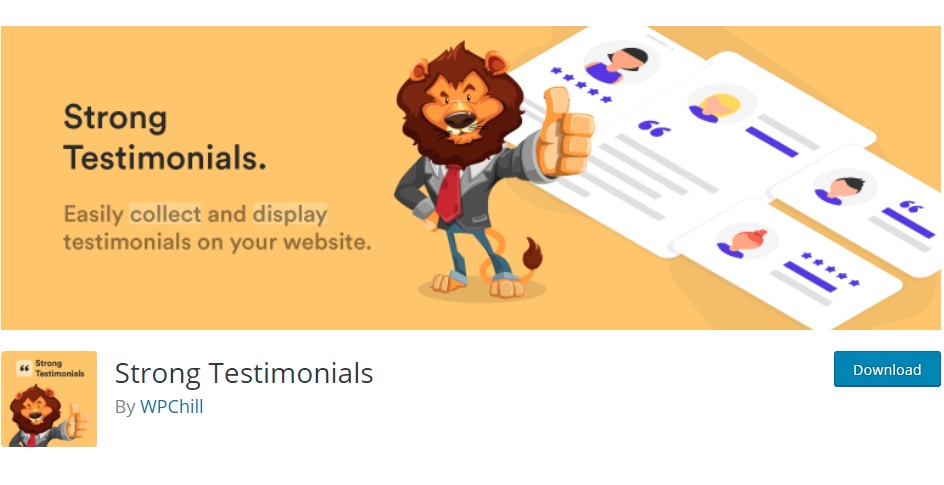 Strong Testimonials is definitely a tough competitor to beat when it comes to WordPress testimonial plugins. It is incredibly easy to use and it doesn't compromise on features either. The plugin comes with both a free version and a pro one.
The most affordable plan is only $29, billed once per year until you cancel.
Strong Testimonials is highly customizable and includes several useful extensions.
For instance, there's the Strong Testimonial Importer extension (available with the Pro version). The extension allows you to import testimonials and reviews from external platforms such as Facebook, Google, Yelp, Zomato, WooCommerce.
Strong Testimonials core features:
it comes with multiple layouts (masonry, grid, columns) and templates (card, elegant, minimalist, modern, bold, small widget and others);
multiple useful extensions;
shortcode and widget functionality;
custom fields (text, email, URL, video URL, video upload and more);
continuous improvement and updates;
Strong Testimonials makes it easy and convenient to add testimonials to your WordPress site no matter what page builder you use. The plugin works great with Elementor as well, thanks to its shortcode functionality.
Next, we'll show you how to add testimonials to your WordPress website with Strong Testimonials and Elementor.
---
How to add testimonials in WordPress via Elementor?
The first thing you need to do is install and activate both plugins. You can learn how to do that in this guide, so make sure you read it entirely.
The next step is to add your testimonials via Strong Testimonials to the page you want. Here's a beginner's guide on how to add testimonials with Strong Testimonials. The guide shows you how to create a testimonial slider, but you can also choose the Display mode in Views, instead of Slideshow. The process is the same, with the difference that your testimonials will be displayed in a list or a grid.
Once you are finished with the slideshow, list or grid, a shortcode will be generated at the top of the page: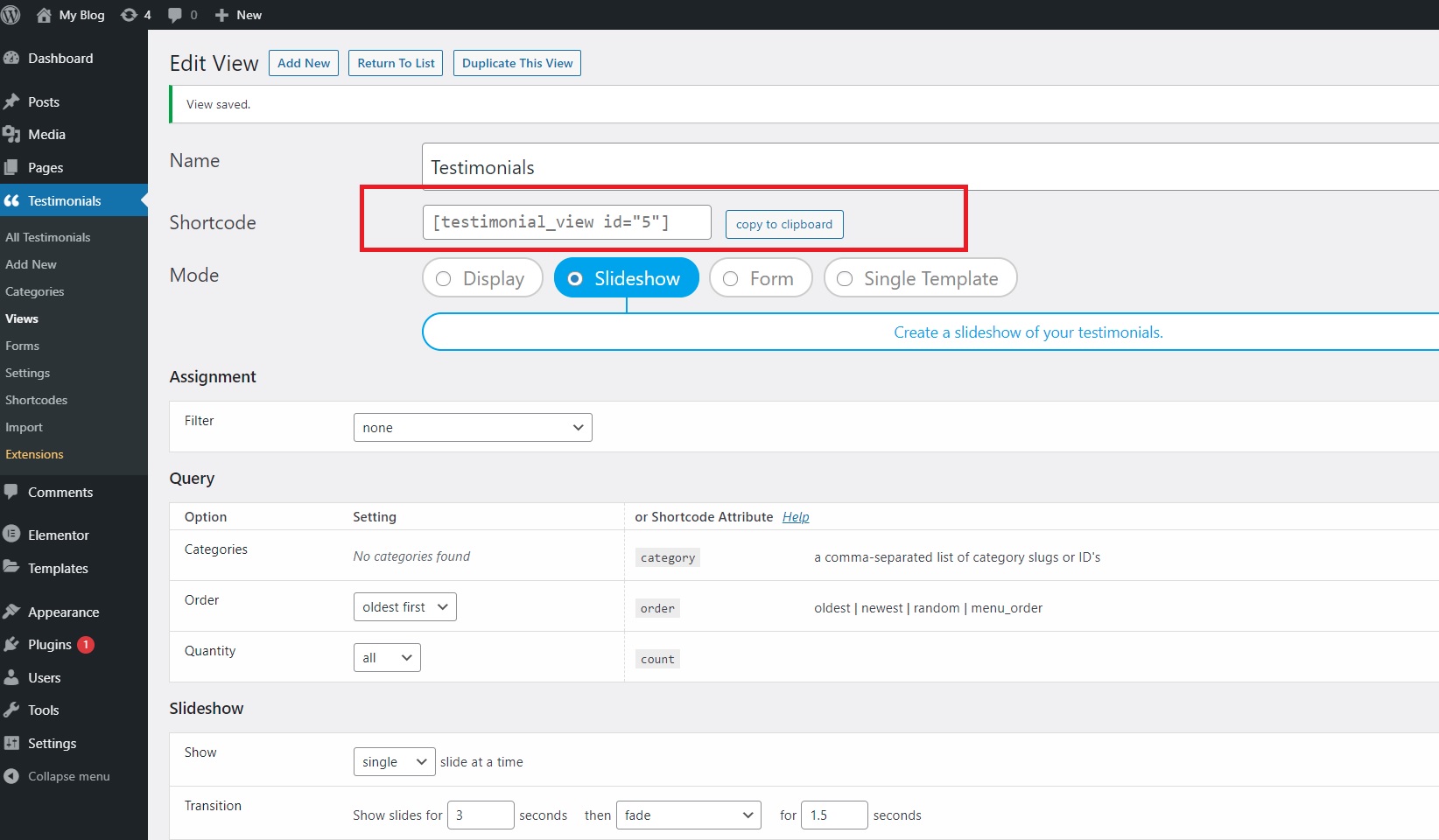 You have to copy that shortcode. Next, go to the page where you want to display the testimonials. In your Elementor interface, in the left sidebar, search for the "Shortcode" widget: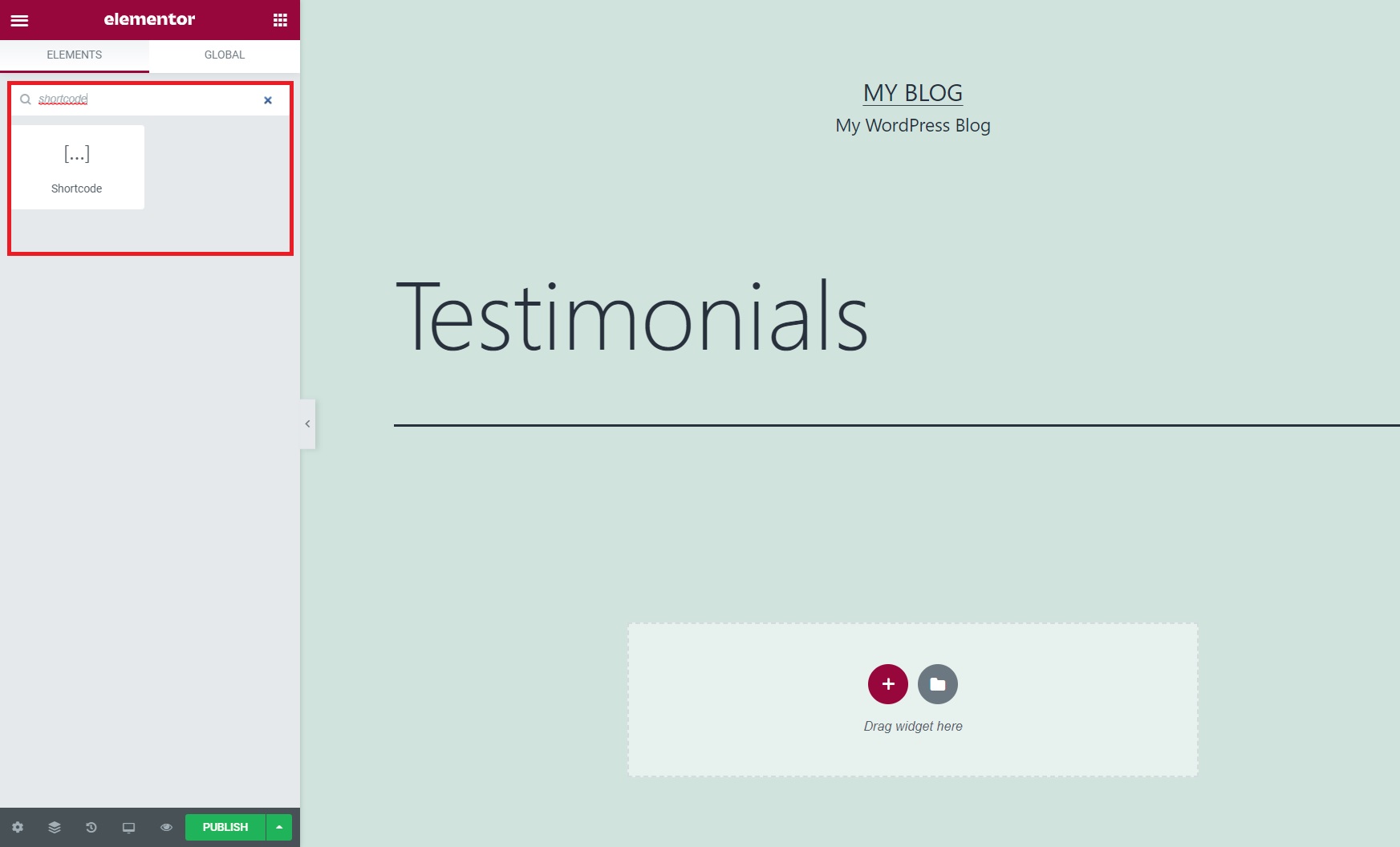 You can also find the widget by scrolling down through the widgets in the General category: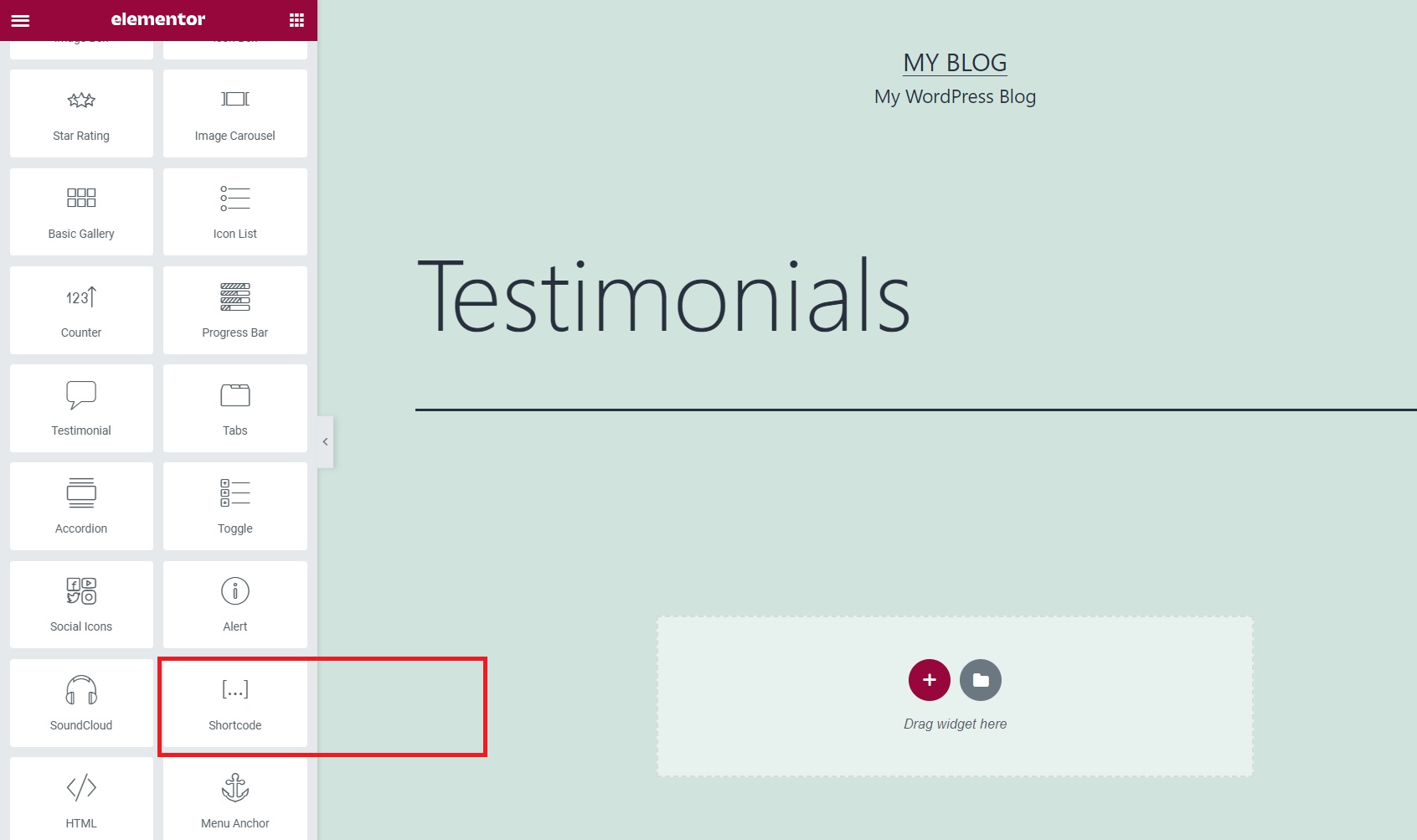 Drag the Shortcode widget to the right side, in the "Drag widget here" rectangle area. Once you do so, you can paste the shortcode in the left: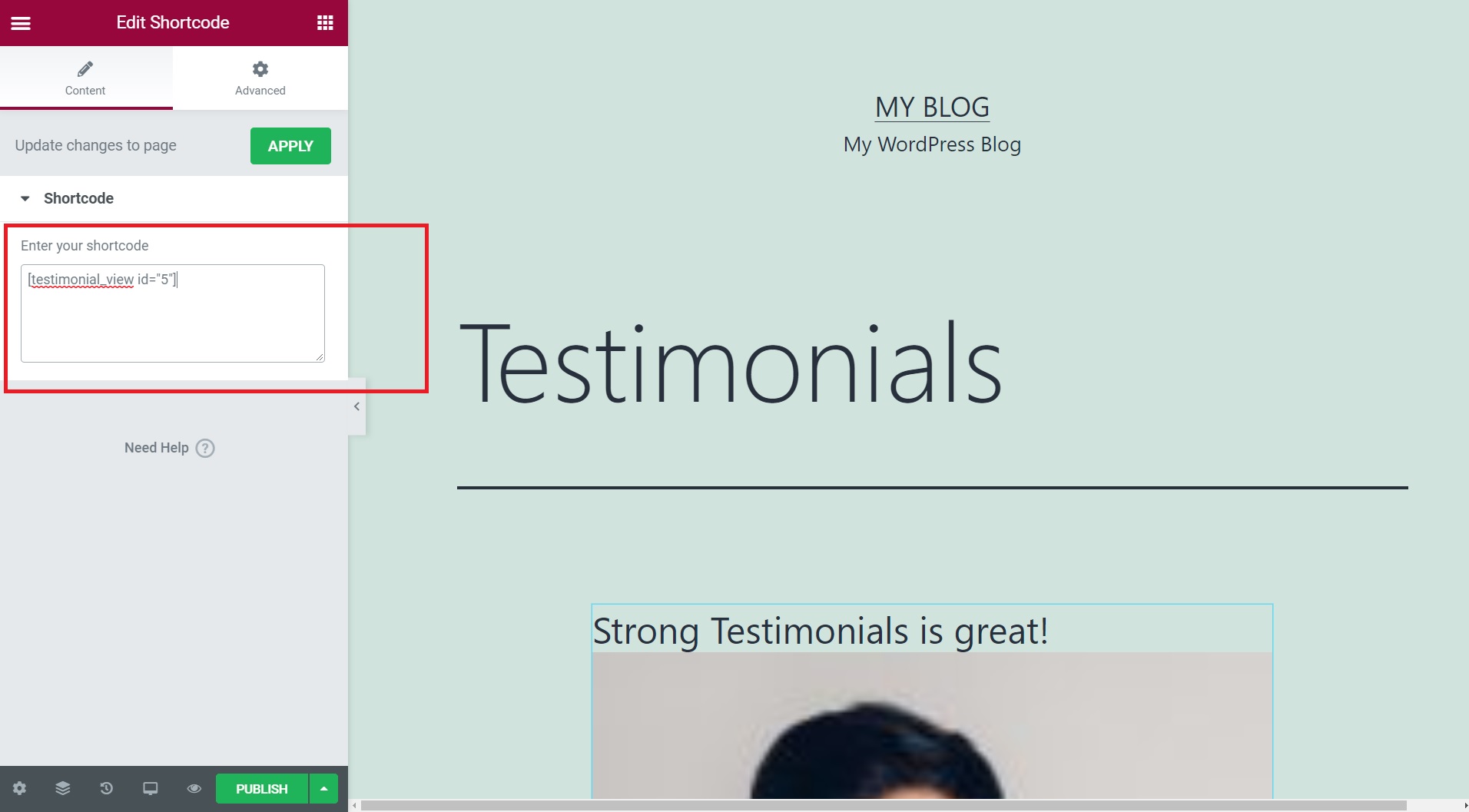 Then hit the Apply button above the shortcode and after that the Publish button at the bottom.
Now you can go see your testimonials page, to check out the result. Here's an example:
---
Strong Testimonials customization features
Of course, you can customize your testimonials in a myriad of ways, as the example above is just a basic, default one. Make sure you browse through all the features of the plugin. Strong Testimonials lets you choose between 11 templates for both the 'Display' and the 'Slideshow' modes:
default (also available with the free version of the plugin);
card;
elegant;
minimalist;
side;
table;
modern;
bold;
small widget;
simple;
unstyled (if you are CSS-savvy);
Moreover, you can also:
choose different backgrounds;
add an excerpt of your testimonial;
change the type of navigation;
add custom fields such as full name, company website or name, post date and more;
opt for several transition types;
choose between 4 layout types and more;
In addition, you can adjust the size of the featured image, the duration of each slide and transition, how many testimonials to display at once and much more.
To wrap up, there are so many customizations available for your testimonials in Strong Testimonials. All you have to do is put your creativity at work and test various options.
---
Conclusion
Thanks to its shortcode feature, Strong Testimonials lets you easily add testimonials to your WordPress site, regardless of your page builder.
Once your testimonials are created in Strong Testimonials, all you have to do is copy-paste the generated shortcode in Elementor. It is literally a 1 minute job that requires no special skills.
So get to work and start using social proof in your business. Boost your website traffic and generate more sales with beautifully crafted customer testimonials.