Do you know how to add a customer testimonial request form to your website? Testimonials are valuable marketing tools that can really boost your conversion rate.
But sometimes you have to ask for them, because not all clients offer them at their own initiative.
This guide will teach you one of the easiest way to add testimonial request forms to your WordPress website. So keep on reading!
---
---
Can testimonials really help your business?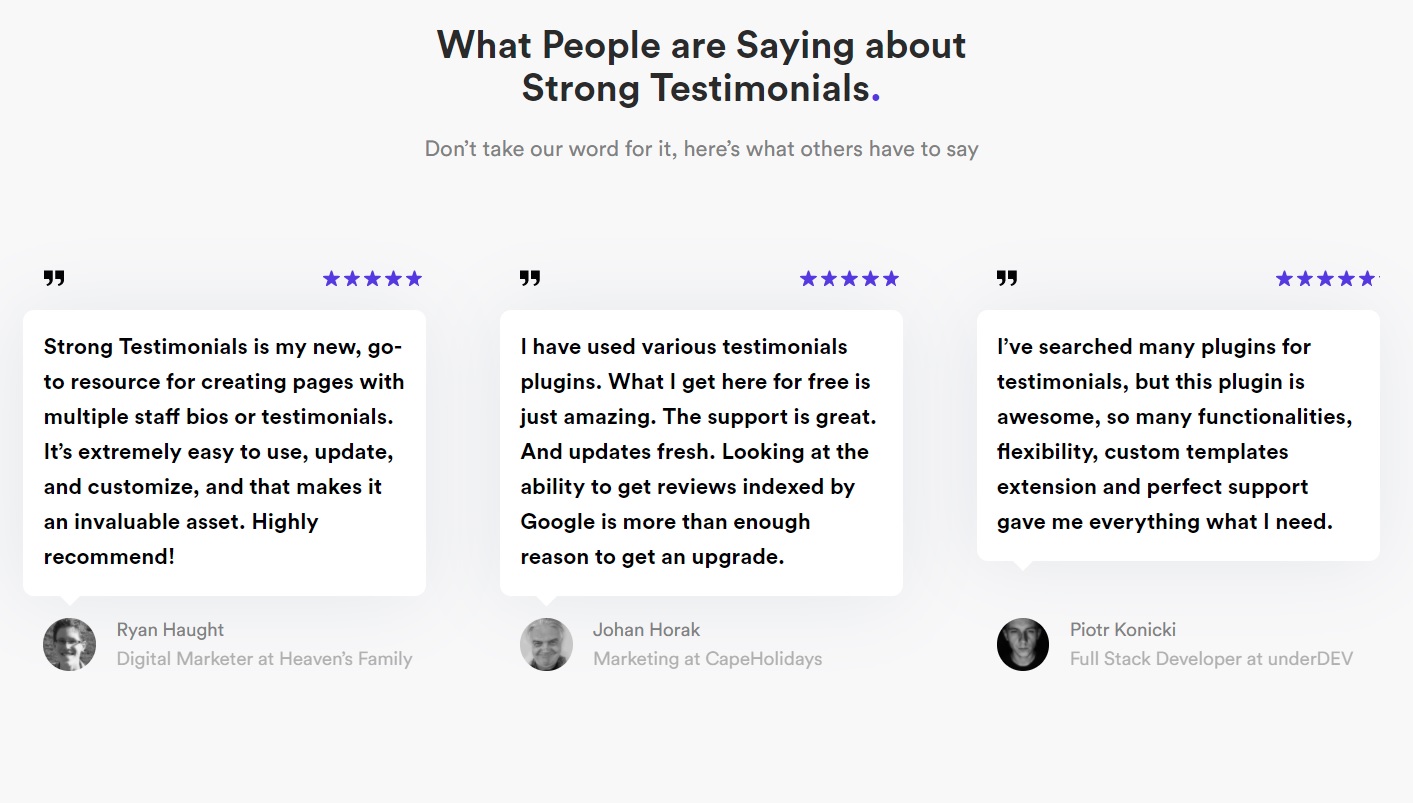 Customer testimonials are the shared buying experiences of happy customers. Other words for client testimonials are positive reviews and social proof.
People are easily influenced by the opinion of others. When someone says good things about a product or service and shares their pleasant experience with the item, others will start to desire it and believe in its quality. That means new customers for you!
Multiple case studies have shown that consumers are more likely to buy a product or service with good reviews and higher ratings. Just think about your process when you want to purchase something. Don't you read the reviews for that product before you buy?
In fact, case studies show that customer testimonials influence over 90% of all buyers. The same percentage of consumers trusts testimonials as much as the opinion of close friends and family.
Moreover, research shows that businesses can notice an increase of over 60% in revenue when they use testimonials to promote themselves.
However, people don't always think to leave you a testimonial. Sometimes you have to ask them to do so. How to ask for a testimonial, you say? There are plenty of ways. Here are some of the most common approaches.
---
How do I add a testimonial request form to my WordPress website?
One of the most commonly used ways to ask for a client testimonial is to use your own website. You can add a customer testimonial request form to your WordPress site in a few easy steps. This way, customers who visit your site, will see the request form and might be more eager to leave a testimonial.
There are plenty of testimonial request form templates you can go with. They can include only basic fields such as name and the customer's testimonial or you can add fields for:
featured image;
the customer's age;
occupation;
customer's website;
a star rating and more;
The easiest way to add a testimonial form to your WordPress site is to use a plugin. Most of them are easy to use and require no coding skills on your part. If you are just getting started with WordPress, you can read our guide on how to install a WordPress plugin.
---
Why should you use the Strong Testimonials plugin to add testimonial forms?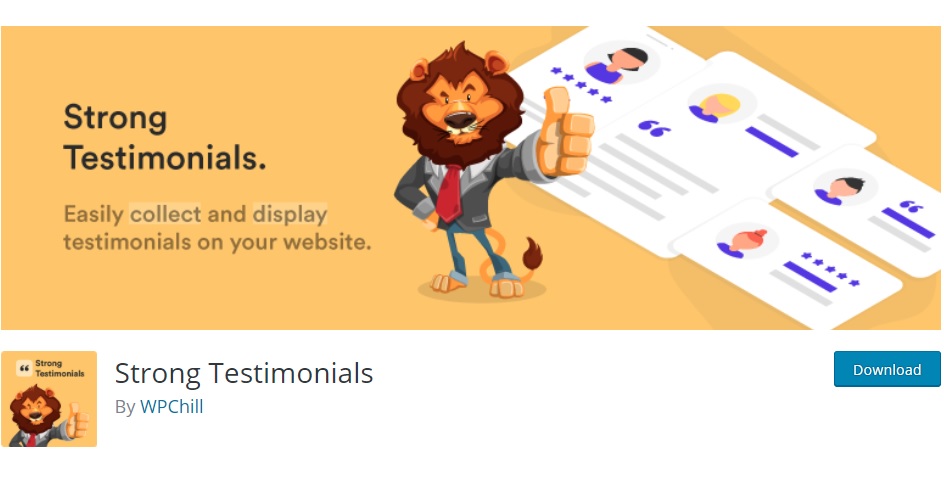 The WordPress repository contains over 50,000 plugins. That is why it can be daunting to choose one, unless you do your homework first.
We are here to help you and let you know that Strong Testimonials is about the best testimonial plugin you can find. The reason for that is that it combines perfectly user-friendliness with feature richness. So it is no wonder that it has a perfect 5 star rating and over 100,000 active installations so far.
Strong Testimonials has a free version you can install from the WordPress repository and also a Pro one, if you want to benefit from al the useful addons of the plugin. Plans start at $49 per year for 1 site.
Core features of Strong Testimonials:
shortcodes;
a variety of useful extensions;
several pre-made layouts and templates for your testimonials;
custom fields for your testimonials, so that you can add a photo, video, text, star rating and more;
intuitive interface;
regular updates;
you can collect testimonials from third-party platforms with the Strong Testimonial Importer extension and more;
---
---
How to add a testimonial request form to your WordPress site using Strong Testimonials
As we've already mentioned it, Strong Testimonials makes it very easy to add a customer testimonial form on your site. There are two steps you need to take:
---
Step 1 – Customize your testimonial request form
After you install the plugin, you'll see in the left sidebar of your dashboard, under the name of "Testimonials".
The first step is to go to Testimonials – Forms: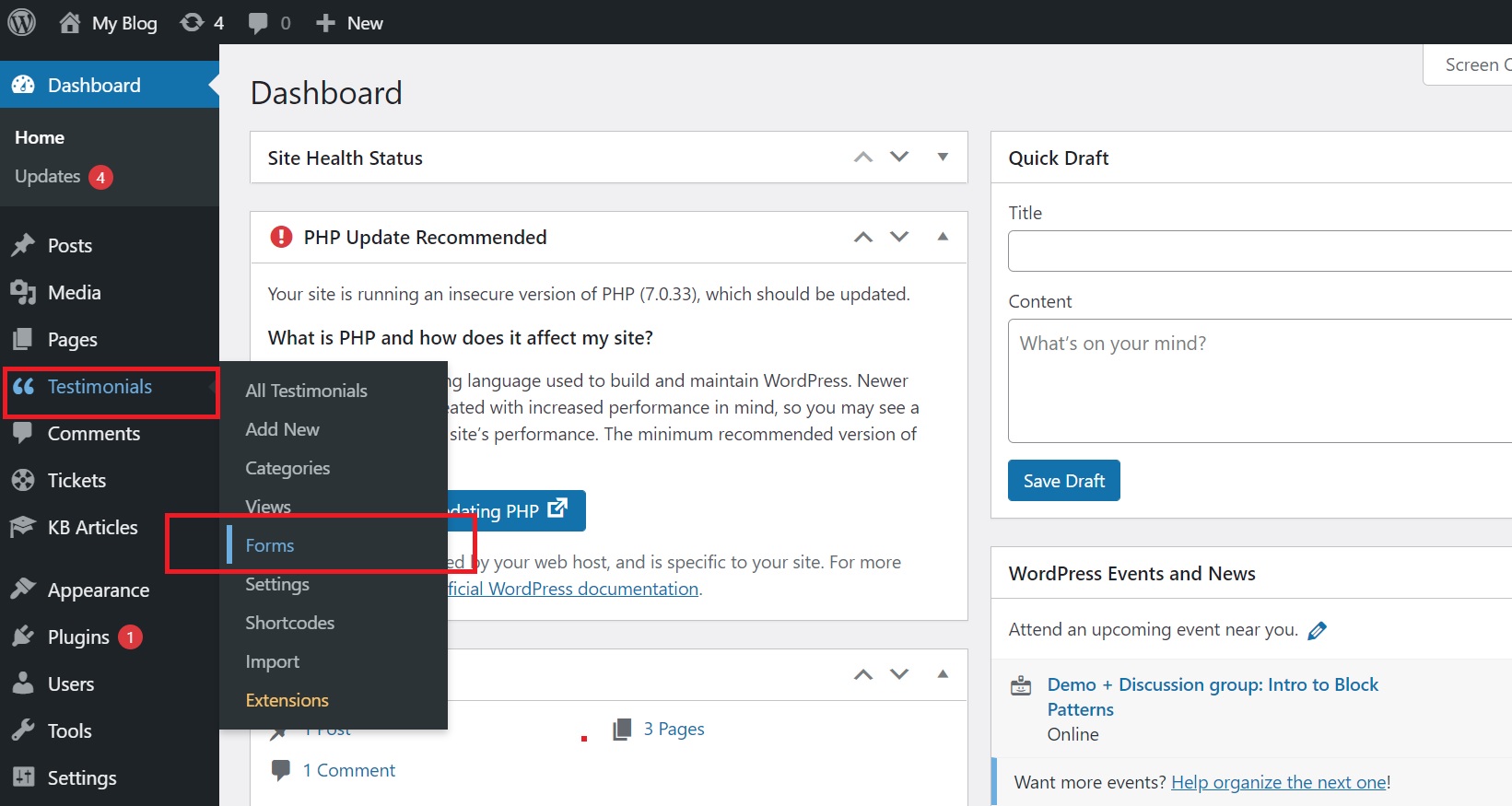 You'll see 3 types of forms displayed: default, minimal, custom form. These are testimonial request form templates. You can choose either of them, as all 3 can be further edited. You can add or remove fields, rearrange fields and more. Click on Duplicate on the form type you want:
After you click on "duplicate", a window will open with all the fields of the form. You can customize everything the way you want. Delete or add new fields, give them the name you want, rearrange fields, etc.
Once you are done with your testimonial form template, make sure you click on Save Changes: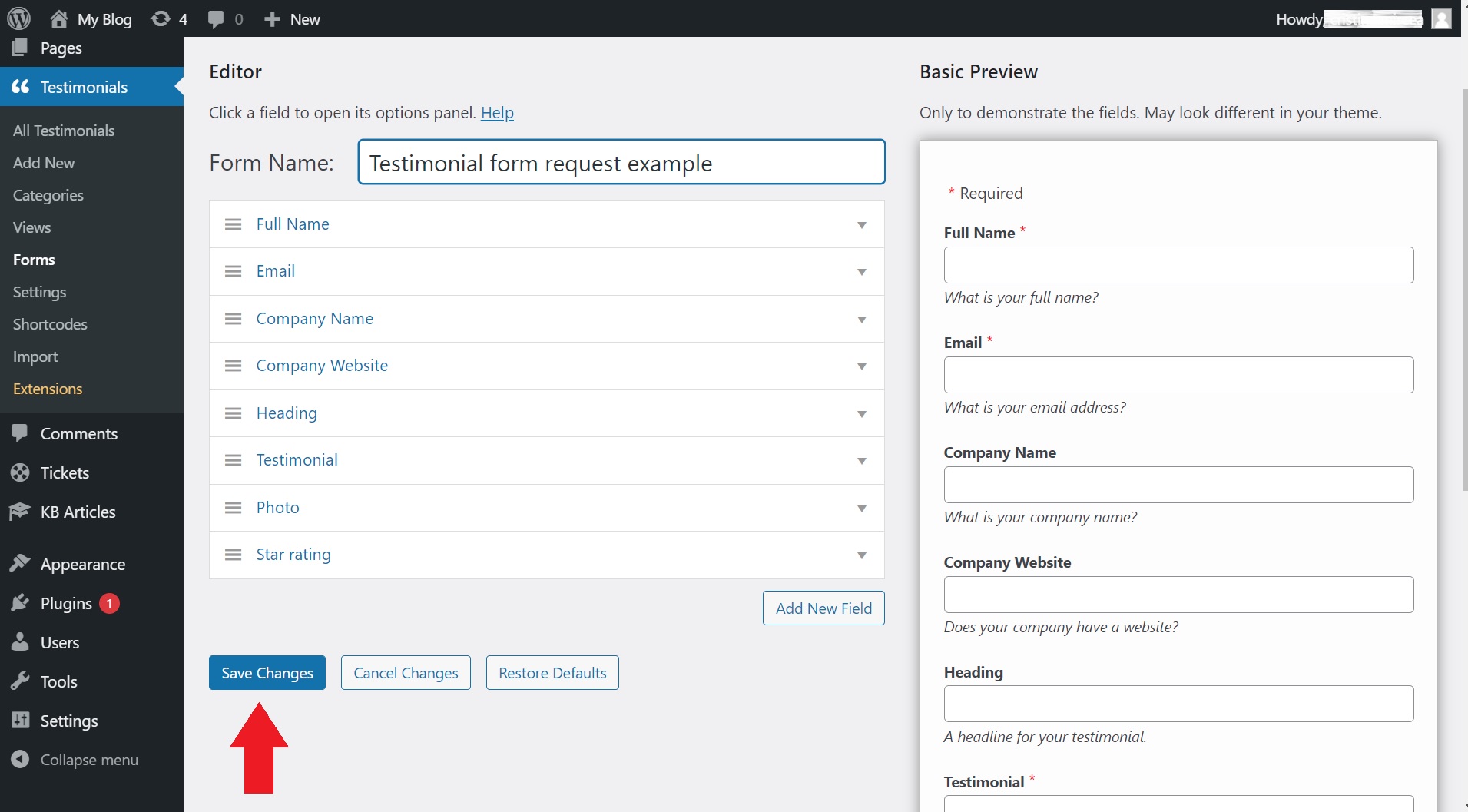 ---
Step 2 – Add the testimonial request form to your WordPress site
Now that you are pleased with your testimonial form design, it is time to display it on your website.
Go to the dashboard and from Testimonials, click on Views: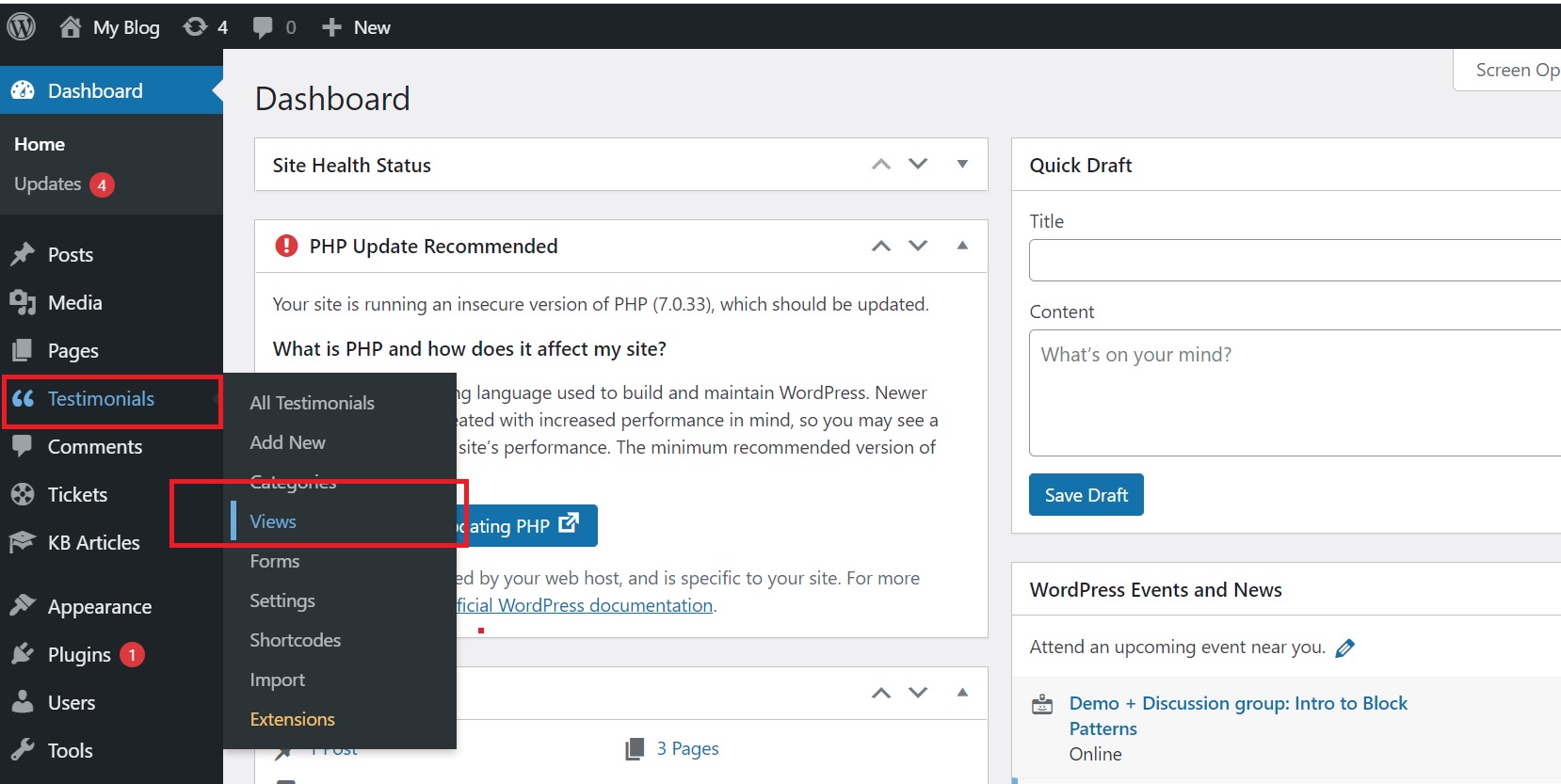 Next, in Views, click on the Add New button: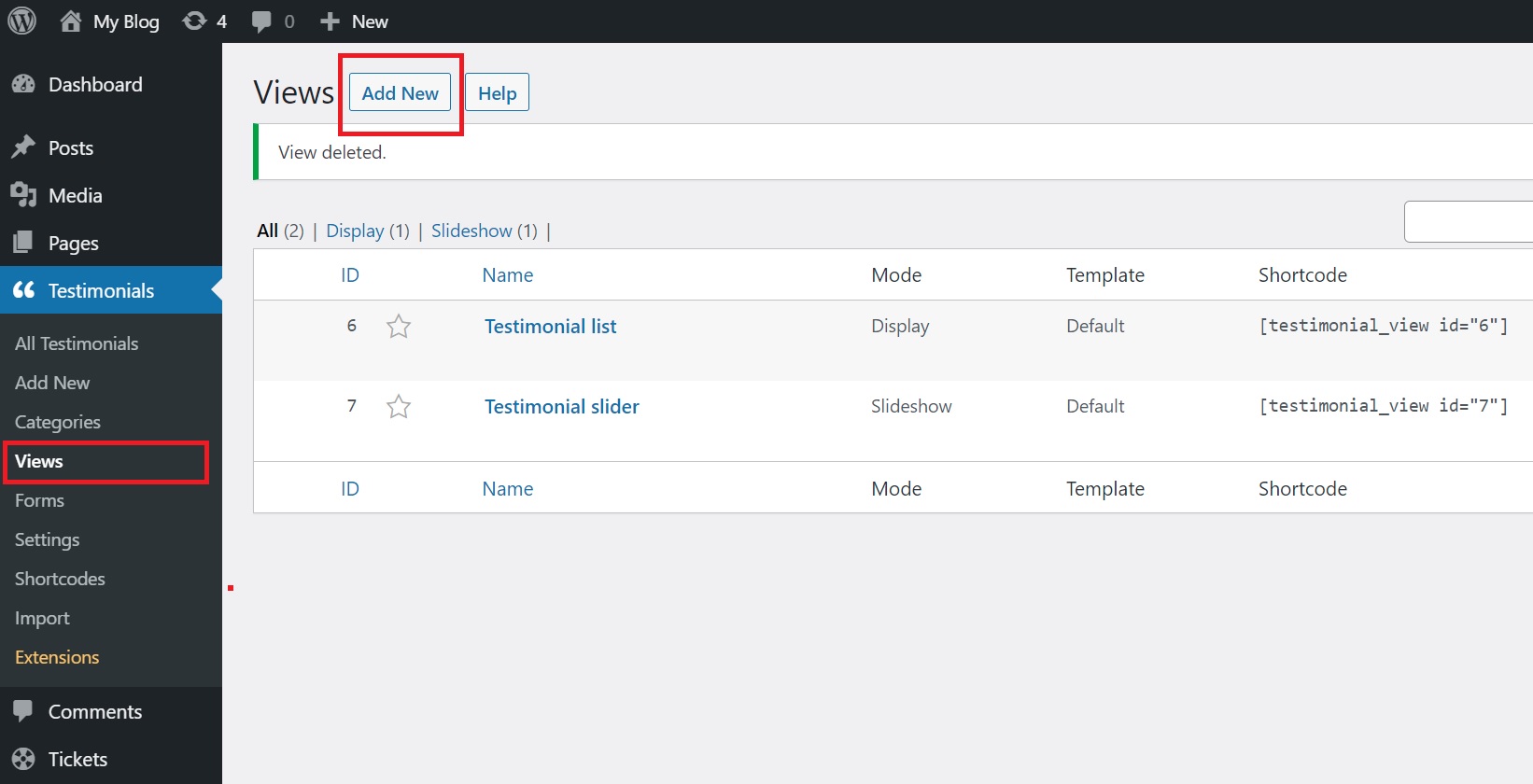 In the window that opens, click on the Form mode: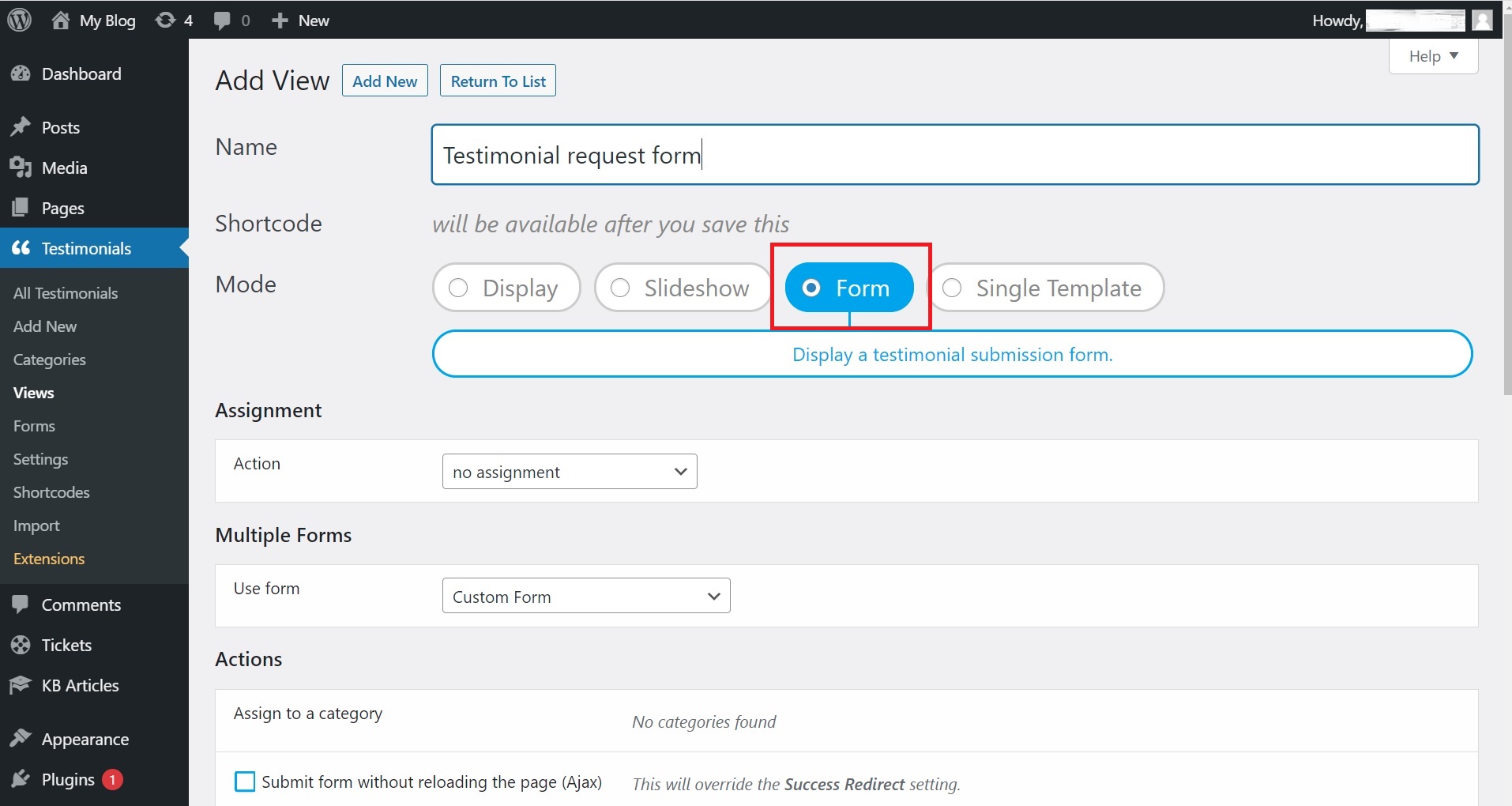 Go to "Multiple Forms" and select from the drop-down the form template you created in Step 1: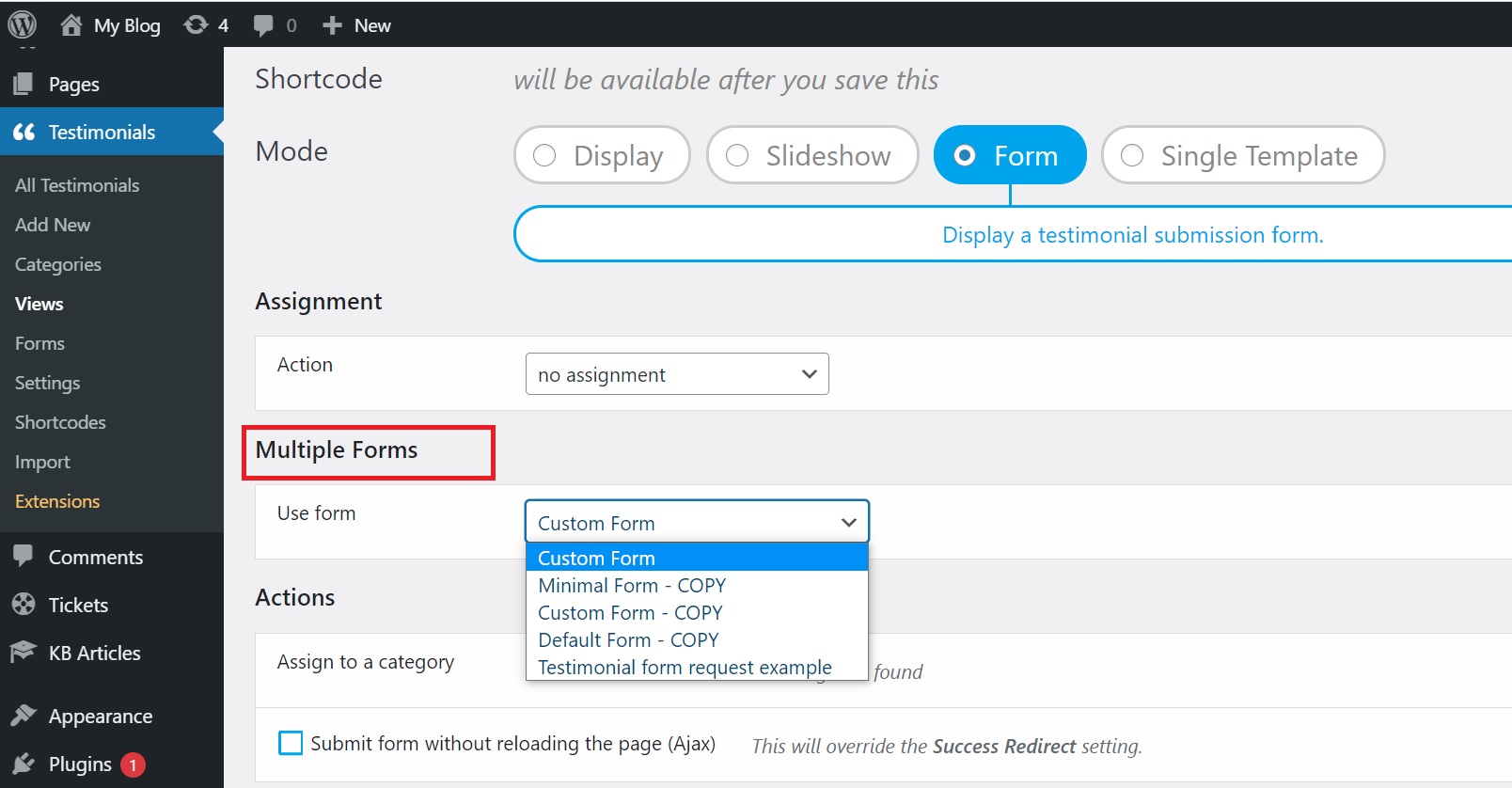 Next, if you scroll down, you'll also see other available settings: for the template, background, font of the form and more. Customize the form the way you want and then scroll all the way down and hit the Save Changes button.
After you do that, scroll back up and you'll see a shortcode that has been generated. Copy it: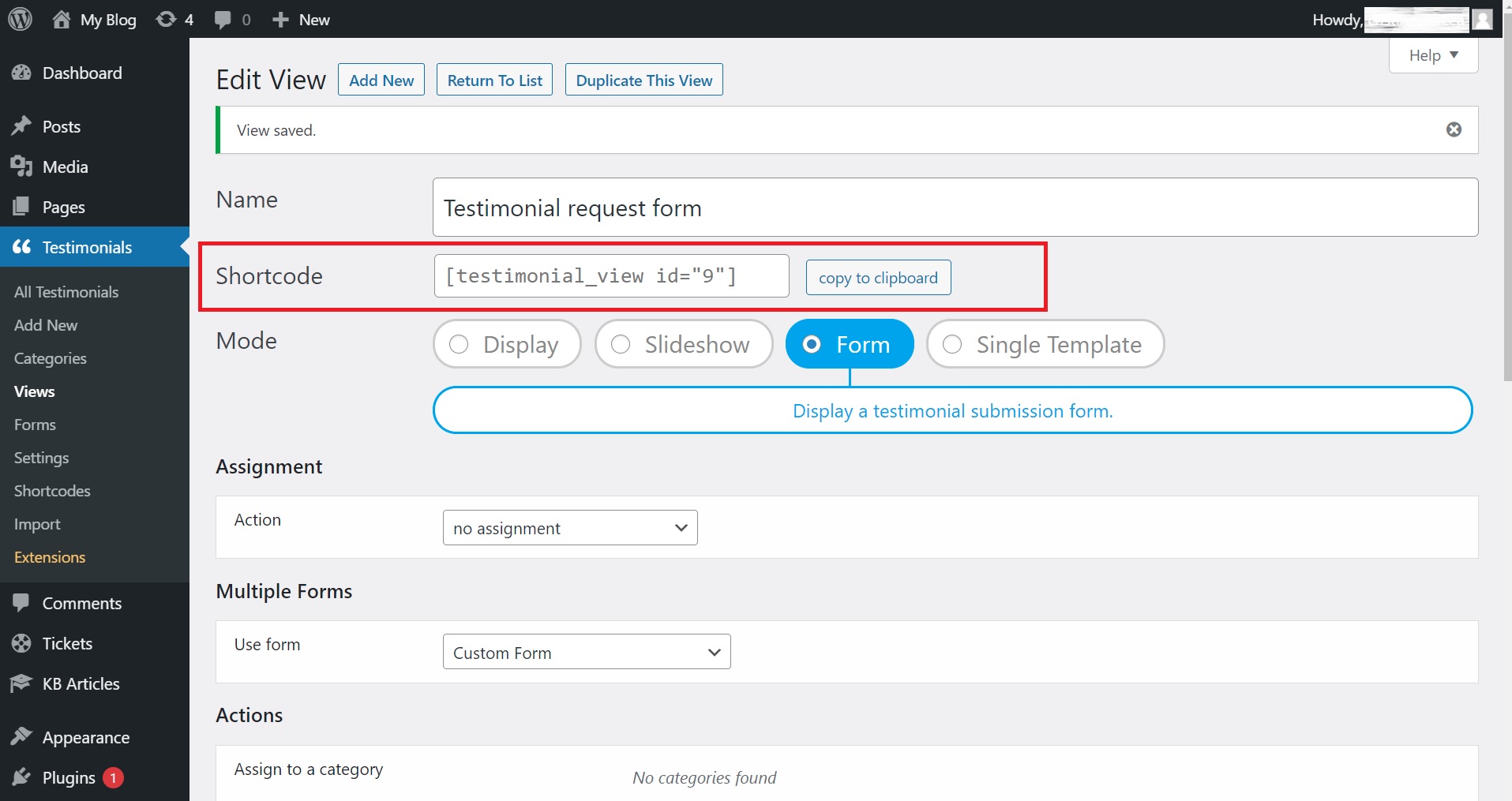 Congratulations, you're almost done! The last thing you need to do is go to the page where you want to display the testimonial form and paste the shortcode in the body of the page. Then, hit the Publish button from the top-right: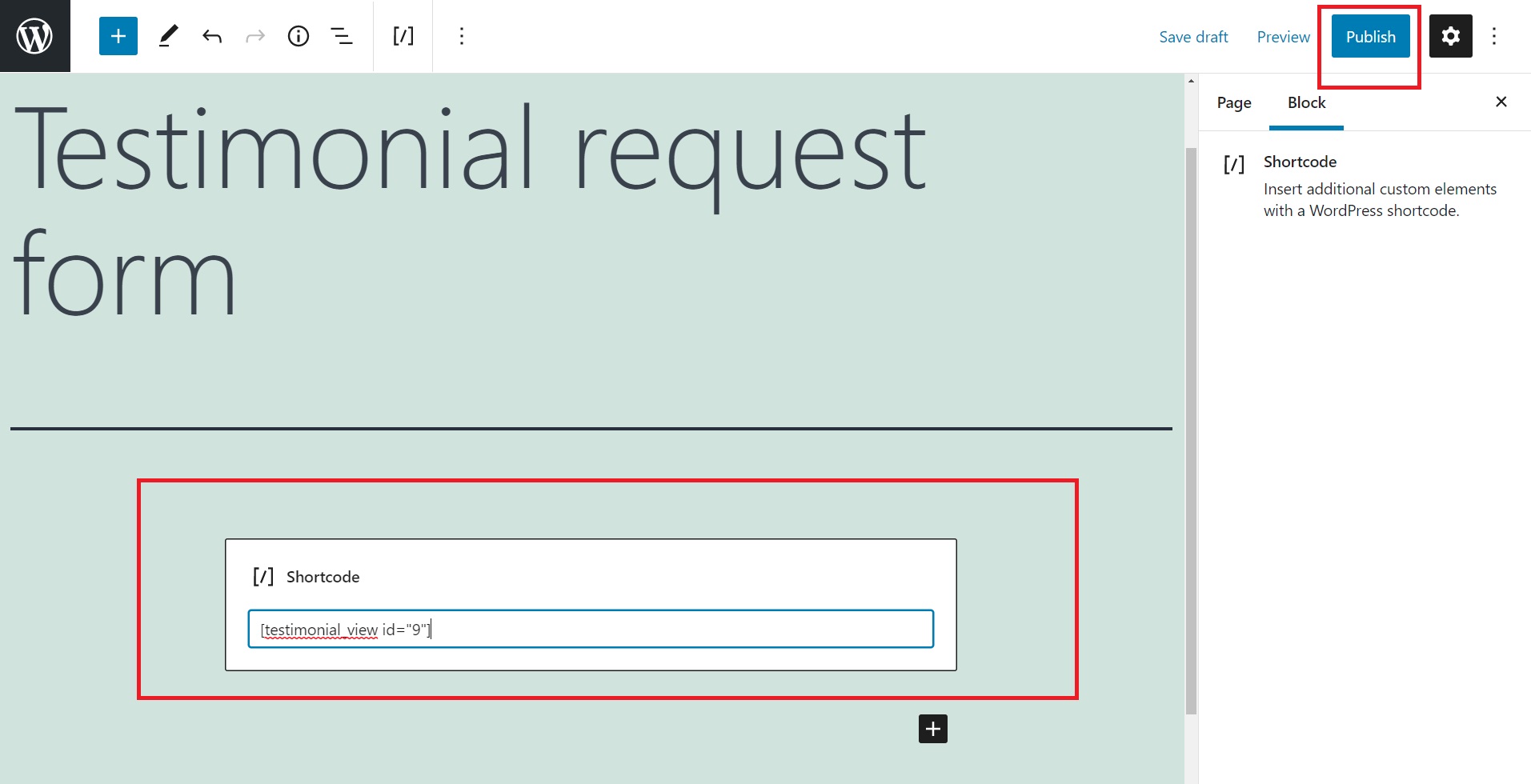 That's it! If you followed all the instructions correctly, you'll have to end up with a testimonial form like this (depending on your theme, customizations, etc.):
---
A last word
So, to wrap it up, customer testimonials are really useful for any type of business. They help you create social proof, get credibility and boost your conversions. However, sometimes you have to work a little to collect testimonials from your clients.
And it isn't the best option to send them to a third-party review website to leave a positive review.
The most convenient way to ask for a customer testimonial is to create and display a testimonial request form on your website. And Strong Testimonials is the best plugin to help you accomplish that.
It is a job that can be done with just a few mouse clicks and you don't need any special skills. The plugin offers everything you need to create and display personalized testimonial forms anywhere you want on your WordPress website.
---