Do You Know How To Ask For A Testimonial Via Email? Here's The Right Way!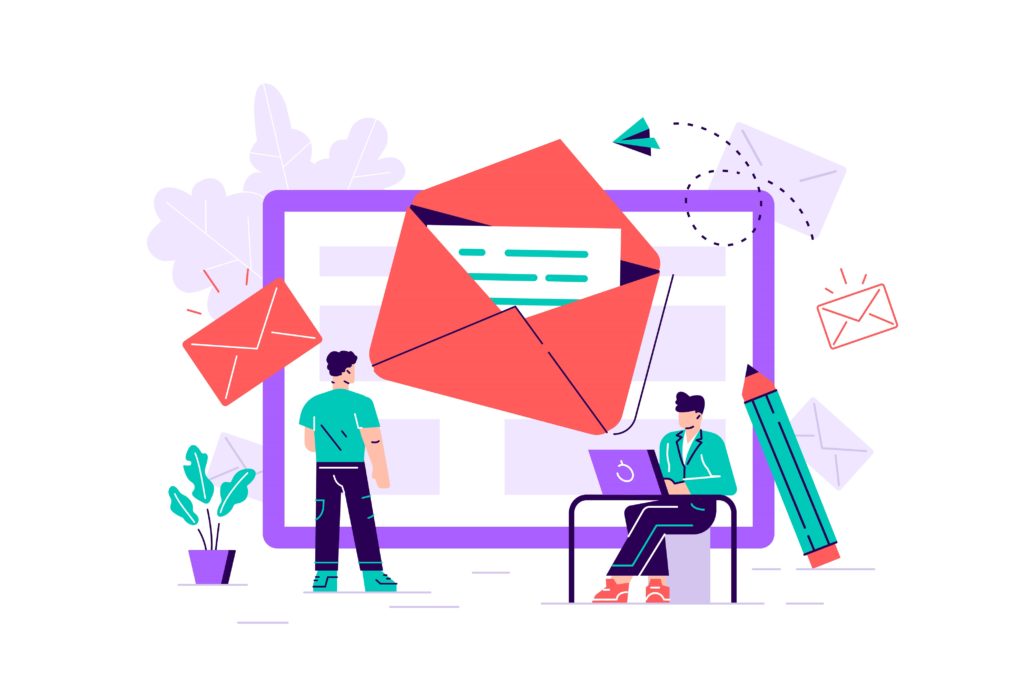 Emailing is still one of the most effective methods of communication. Knowing how to ask for a testimonial through email can have many positive effects on your business.
Customer testimonials and customer feedback in general are a great way to boost your business and generate more sales.
---
Here is what you can find in this post:
what are customer testimonials;
what is the difference between customer reviews and customer testimonials;
why is customer feedback important for any business;
how to write a testimonial request email and more;
---
---
What are testimonials?
A customer testimonial is a vote of confidence left by a costumer who's used your products or services. It represents their personal, positive experience with your business. They represent a social proof and can be extremely powerful.
In the best case scenario, you don't have to know how to ask for a testimonial. They will generate organically. When clients are happy with a product you sold them, they usually want to share their experience and praise your business.
All you have to do is collect them, get permission and display them on your website. If you have a WordPress website, you can install and use a plugin in order to do that.
We recommend Strong Testimonials, which is a very powerful, feature-rich plugin. It has both a free version and a premium one.
There are several types of testimonials you can use:
quote testimonials;
press testimonials;
influencer testimonials;
social media testimonials and more;
There are also several testimonial formats, but the most effective and useful ones are video testimonials and written testimonials.
Here are a few examples of quote testimonials, which tend to be the most popular ones: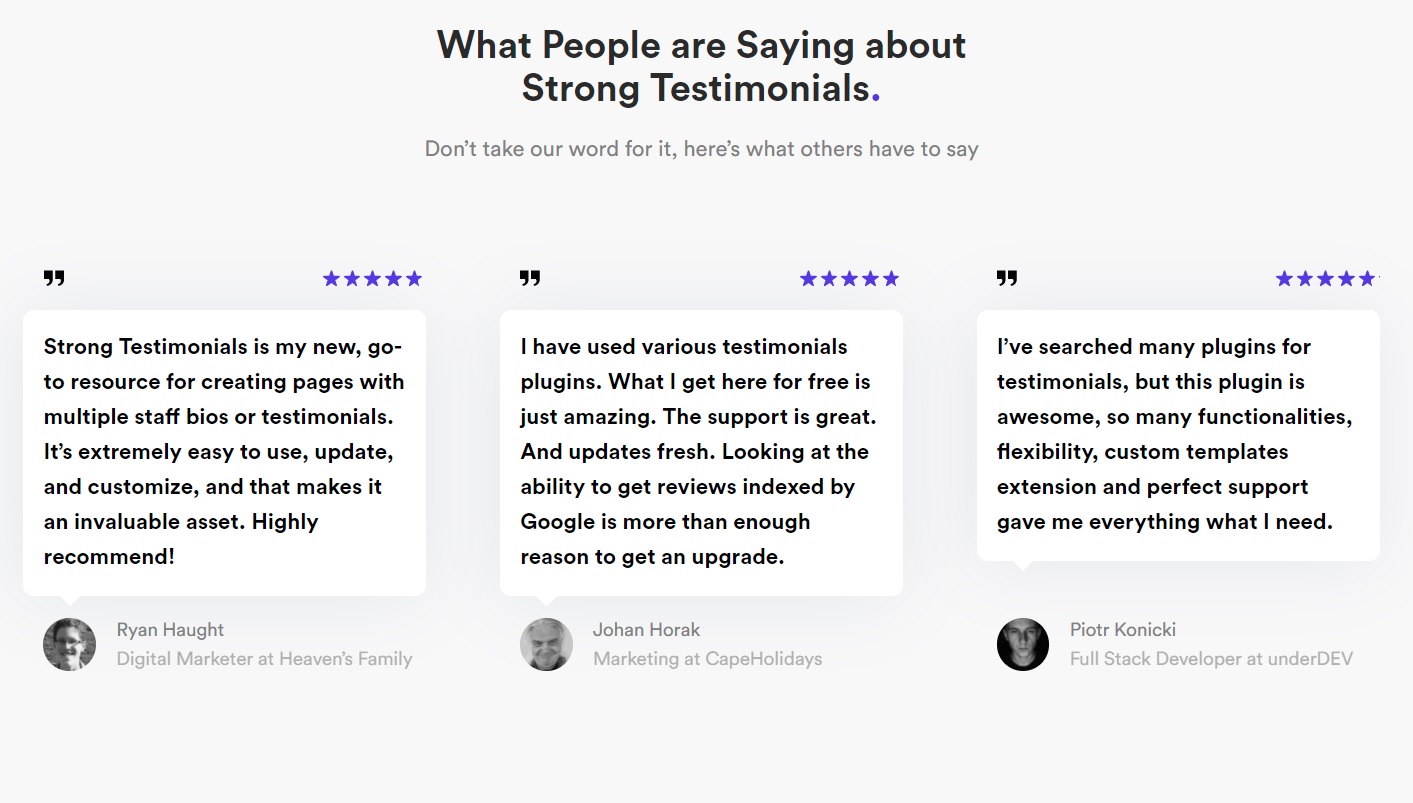 And here is another example: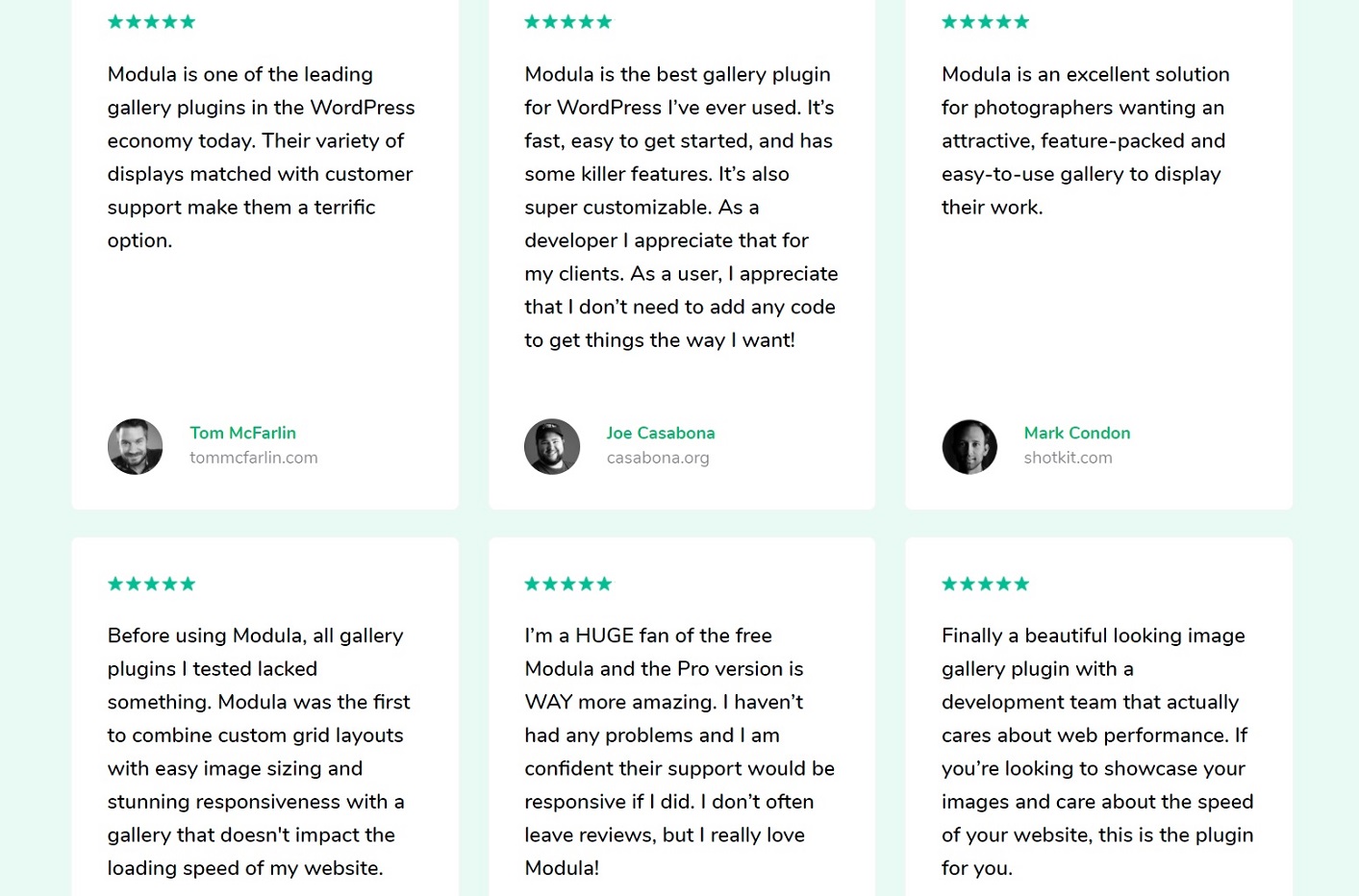 ---
Reviews vs testimonials
While there might be some confusion with these two terms, there are some clear differences between customer reviews and customer testimonials:
customer reviews can be positive or negative, while testimonials are always positive;
customer reviews are usually generated organically, but in most cases, you're the one asking for testimonials;
You can see examples of customer reviews all over the internet. People leave both positive and negative feedback on a company's website, on review websites (such as Google, Yelp), social media platforms and so on.
Just go on Amazon, eBay and the like and you'll find plenty of ratings and reviews for most of the items sold on those platforms.
Consumers leave feedback both when they are happy and disappointed with a product or service. However, they are usually quicker to express their displeasure.
But for you as a businessman, customer feedback is always useful. That is why you should always ask for feedback from your clients as often as you need to.
---
Why should you ask for customer feedback?
All businesses have the same purpose: to increase the number of sales and make profit. And in order to achieve that, you have to give your customers what they want.
Good and constant communication with your clients can help you shape and improve your business. Here's how customer feedback can be useful:
you can get to know your customers' expectations, preferences and needs;
improve your business and reduce shopping cart abandonment rate;
their feedback helps you measure customer satisfaction;
you can improve your brand's image by showing you value and respect the opinion of your clients;
you can let customers know about promotions or new product launches;
---
Customer review and testimonial statistics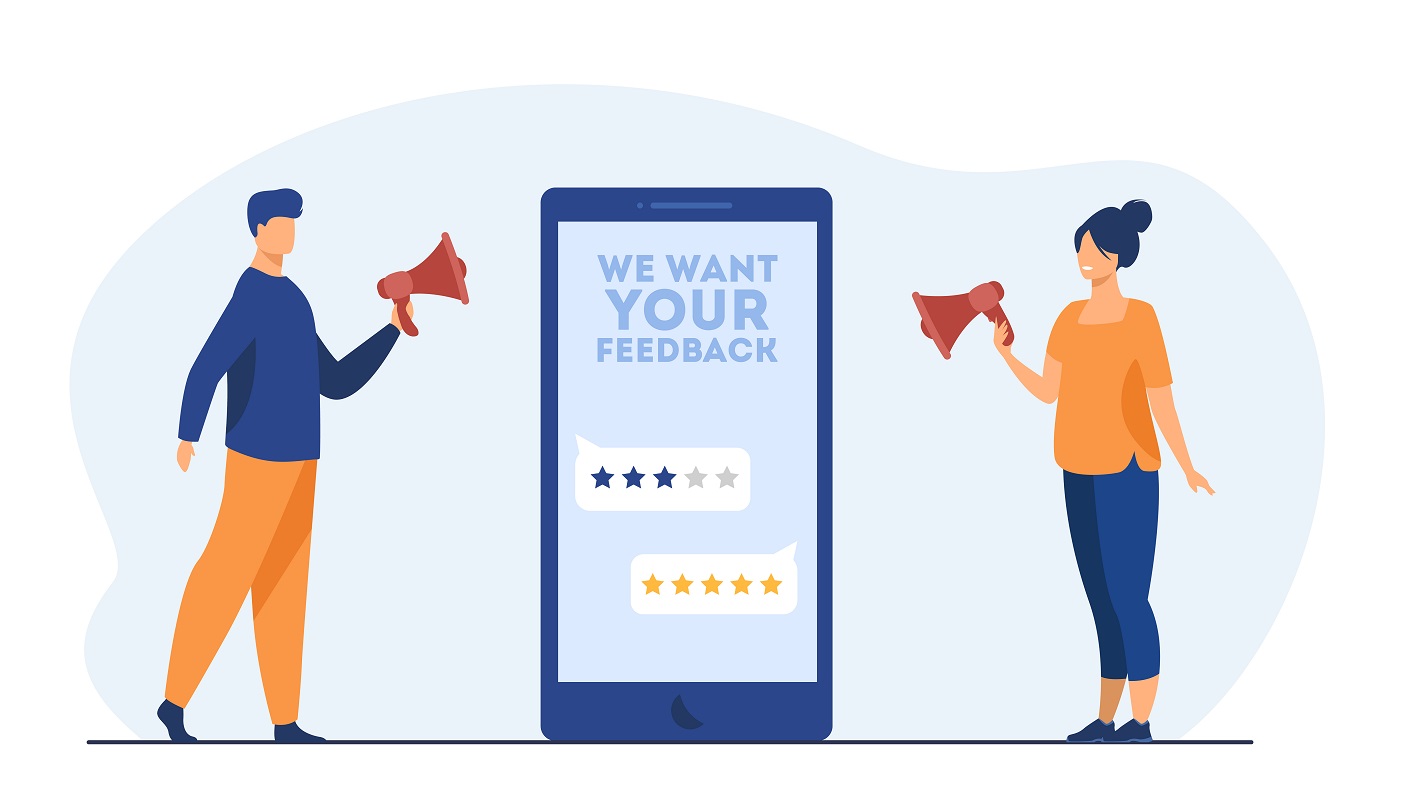 Customer reviews and testimonials are very effective marketing tools. Many case studies have come up with similar results and numbers that prove their importance:
more than 90% of all buyers read online reviews before they purchase a product;
a product with 5 reviews will have 270% more chances to be purchased than one without any reviews;
over 90% of consumers trust testimonials as much as they trust the advice and recommendation of a good friend or family member;
testimonials are very powerful and influence over 90% of all buyers when it comes to making a purchase; the more positive reviews a product has, the more sales it will have;
websites that have customer testimonials can see a increase of over 60% in their revenue;
Another important thing to know is that it is equally important to always reply to your customers and not ignore their feedback. You should always take time to respond, even if the reviews are positive or negative. And always thank your customers for their feedback.
---
How to ask for a testimonial from a client
So, we established that getting testimonials from your customers takes some initiative on your part. In most cases.
But not everyone is eager to share their personal thoughts and experience with your business. Some might simply not think about it and might need some motivation or asking. That is why you have to be proactive and pop the question yourself.
There are several ways to ask for testimonials from your clients. Here are the most common approaches:
you can send an email to customers asking for feedback;
ask them face to face;
ask them via phone;
add a testimonial page on your site;
leave a link to your testimonial page on the receipt;
use your social media platforms (Facebook, Twitter, Instagram, etc.) to ask them;
---
Why use email to communicate with your customers?
All the methods described above can work, but some might be more difficult than others to implement. But regardless of your business type, email communication remains one of the easiest and most effective ones available. Including when you want to ask for testimonials.
Here are some reasons why:
emails reach their recipient almost instantly anywhere in the world;
they can be sent for free (all you have to pay for is your internet and your device, and you most likely have those anyway);
you can send emails anytime you want, there are no restrictions;
emails are personal and create a bond with your customer;
you can easily send the same email to several recipients;
emails can be stored easily and you can keep a record of all your emails and replies;
So keep on reading if you want to learn how to write a testimonial request email.
---
How to ask for a testimonial in an email?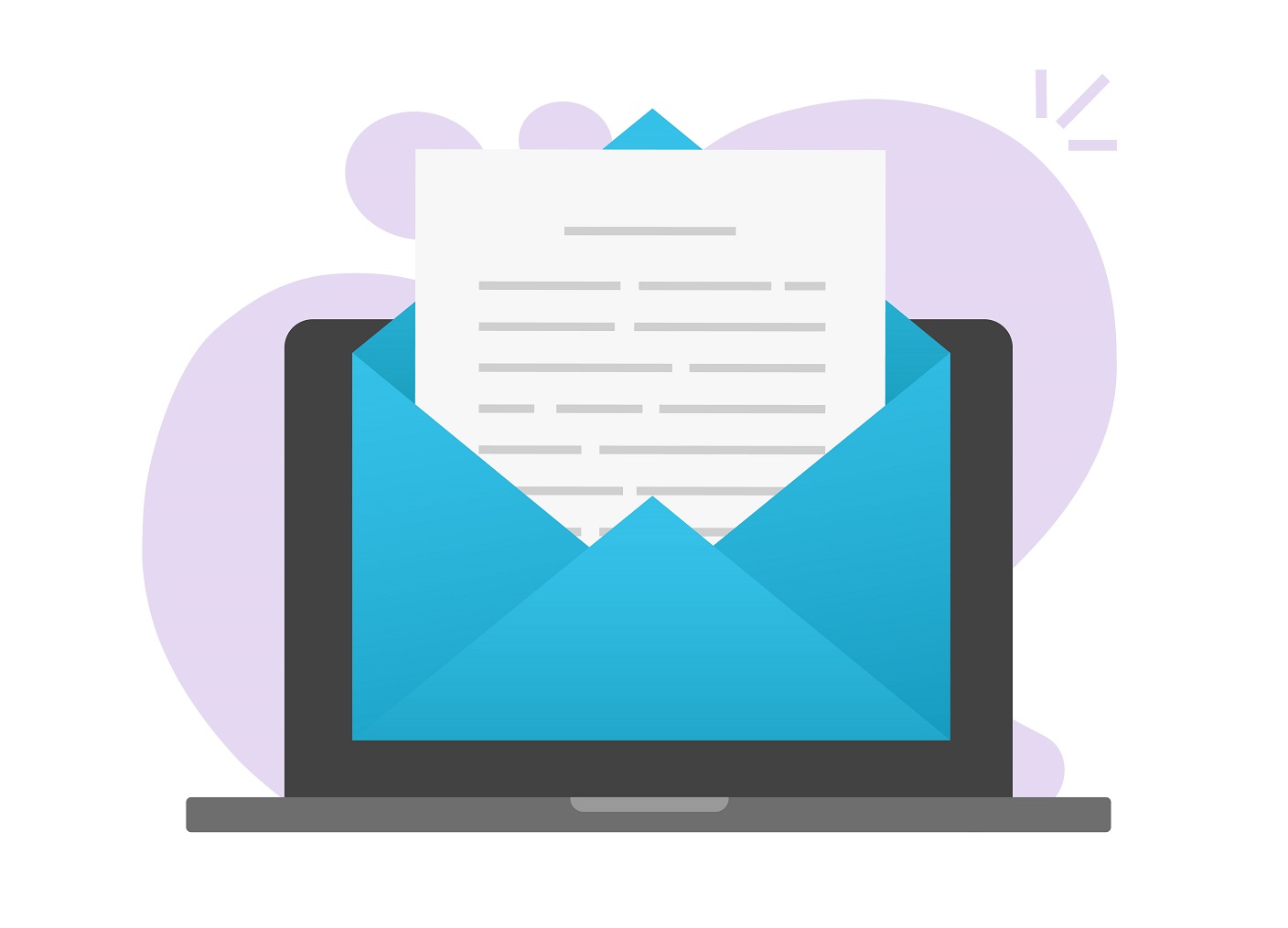 There are several factors you should consider when writing a testimonial request letter. All of them contribute to the success of your email. The more you pay attention to them, the more you increase your chances of getting the reply you want. Let's see what things to consider and how to set up an email asking for a testimonial!
---
When to ask a customer for a testimonial
Timing is essential when asking for a customer testimonial. The best time to send a request email for a testimonial is right after the sale.
When customers have just bought a product from you and they're happy with the purchase, the experience is fresh in their minds. That means they will be easier to convince. It will also be easier for them to describe their experience with your business.
If you ask them to leave a testimonial months away from their purchase, they might have a hard time remembering some aspects and the excitement will also be gone.
Also regarding timing, you should try to give them a friendly, polite "deadline" to write the testimonial. Otherwise, they might delay their reply, thinking it's not that important for anyone.
Here's an example of how to politely ask for feedback in an email, adding a deadline as well:
"If you can please help us with this by the end of …./until the ….., that would be great and we would really appreciate your effort."
---
Tone
The tone of your email is crucial if you want to get through to your recipient. In order to use the most appropriate language, you have to know your customers. It's not wise to use the same email template for all your requests.
That is why you have to do some research work before that and learn your audience. Get as many details as possible on your clients using tools like Facebook Audience Insights or Google Analytics.
Collect useful data about your clients: sex, age, location, language, interests, spending patterns and so on.
Research shows that most customers will fall into 4 main categories: impulsive, aggressive, caring and logical. This classification is not only useful to get to know them as buyers. It can also be helpful when drafting your email.
You have to adapt the tone of your testimonial request email accordingly, in order to get the best results.
😲 Impulsive
Tips:
try to be creative and atypical;
use strong, emphatic words;
😒 Aggressive
Tips:
focus on their interests and let them know how leaving feedback can benefit them in the future;
use a very polite tone with lots of praising words;
😇 Caring
Tips:
explain how their testimonial can help other people find the best product/service for their need;
if possible, stress all the environmental, social, etc. benefits of your products;
🤓 Logical
Tips:
use a clear, to the point tone, without useless embellishments and fluff;
Then there's another classification to consider. Should your email have a formal or a casual tone? If your client is another business, go with a professional, formal tone.
---
The subject line
The title is the first thing your readers will see. Its purpose is to grab attention and make them read on.
If the subject line of your testimonial request email is weak and uninspired, chances are your email will end up in spam or trash. And your goal is to obtain the exact opposite: higher open rates.
You can use internet tools to help you evaluate your email subject lines for review requests. For instance, CoSchedule and SubjectLine are both free to use.
Make sure you use powerful, interesting titles that arouse your customers' curiosity and make them want to open your email.
Here are some more tips to improve your subject lines:
use short titles (they will also look better on mobile devices);
use sentence cases instead of title cases, to make your subject line more personal and casual;
start with a 'thank' you in your subject line;
use a question in your subject line, to draw attention and make the reader curious;
try to personalize your email according to your customers, to establish a deeper connection;
if possible, use numbers, percentages, etc., to describe your company's success or stress the benefits for the consumer; it makes everything look more professional in the eyes of the reader;
use other testimonials you've already got, to praise your business and show how appreciated your products/services are. If you have press or influencer testimonials, that's even better;
And here are some examples of great subject lines and questions to ask for a testimonial:
'Your appreciation for us is insane!'
'We want to thank you!'
'Can you help us out?'
We really need your help!
Did you like our….(product)?
We value your opinion!
---
Motivation
Let's face it! Even if customers are happy with their purchase, that doesn't mean they have to shout it out loud. After all, they paid for the item, so it's only common sense to get what they paid for.
But when you make it worth their while, they'll be more motivated to help you out with your testimonial.
Try to offer them a small, symbolic gift or a moral incentive for their help. Make sure you lead with that in your email, too.
However, you should be careful not to make this look like you are paying them for their testimonial. This practice has become quite frowned upon.
You can simply motivate them by letting them know how their testimonial will inspire and help other people. Stress how they can make an altruistic gesture towards their peers.
You can even be honest and tell them how their positive feedback will help your business, too. (This approach will prove more effective for the caring type of customers).
---
Make it easy for them
If you want to send an email asking customers for testimonials, they may not do such a good job in writing/filming one by themselves. Or they might focus on the wrong/irrelevant aspects.
That is why you can help them out and show them what you want them to include in the testimonial. There are several ways to do that:
prepare a list of questions for them to answer about the product/service they purchased and their experience with it. Try to avoid questions that can be answered with a single word or 'yes or no' questions. Ask specific questions instead;
when possible, use the before-during-after approach. Ask your customer to share their problem and the reason why they needed your product or service. Then, they should share their actual experience with your business and close with an "after use" conclusion;
provide a sample testimonial to make their job easier and let them fill in the blanks;
give them examples of other positive reviews and testimonials;
be flexible when it comes to format. They might not be willing to record a video testimonial, but they might accept to leave you a written or audio one;
---
Customer details
One of the most important aspects of testimonials is to make them trustworthy. The internet is full of fake testimonials and reviews, so consumers have become more suspicious and skeptical when it comes to them.
In order to make your testimonial trustworthy, they have to convey authenticity and include some human elements.
That is why you should ask your customers to also include as many details about them as possible:
full name
headshot
age
location
People like to be able to verify the trustworthiness of the information. They dig up details about others on the internet, browse their social media profile and so on.
Video testimonials are very effective in that regard because you can actually see the face of the person leaving the testimonial.
---
Other tips
Here are some other tips to consider when sending testimonial request emails to your customers.
You can use your email to try and generate new customers for your business. You can start by thanking your client for doing business with you and then ask them if they have any acquaintances that can also use your product/service. In other words, try to get customer referrals from your existing, satisfied customer.
Try to get your testimonial on Google. You can ask your customers if they'd be willing to also submit the testimonial for you on Google. Of course, you have to make sure you have a Google My Business account.
Polish the testimonial. Even if you convince your customers to leave you a testimonial, that doesn't mean they are all born writers. So it is okay to do some minor editing and get rid of any typos, grammar errors and so on.
Just make sure you don't alter your customer's message in any way and always show them the edited version before posting it anywhere. You can check out some testimonial email examples to adapt them for each customer relationship.
---
What about after you get your testimonial?
There is another aspect to consider, which is not part of the testimonial request email, but it is equally important for customer retention.
You have to always remember to follow up with a thank you email, after you've received the testimonial from your customer.
In fact, you should thank your clients for all their involvement with your company: when they make a purchase, when they leave feedback on their own (be it positive or negative) and after they leave a testimonial.
By doing so, you show your customers you really appreciate their input and it gets you closer to them. And that helps you build a good reputation and makes your customers happy to do business with you in the future as well.
---
Summary
So there you have it! This wraps up our guide on how to ask for a testimonial by email.
Here are some quick conclusions to send you off with:
customer feedback, in general, is very useful for growing and improving your business;
testimonials are great marketing tools that help you generate more sales;
emailing is one of the most effective and convenient methods of communication, so you should also use them for your testimonial requests;
there are some essential tips you should follow when it comes to composing your request via email. Everything matters: your timing, tone, the email subject line, and so on;
never forget to thank your customers, both when they use your business and when they leave you feedback or testimonial.