Best Customer Testimonial Types Guaranteed To Boost Your Conversions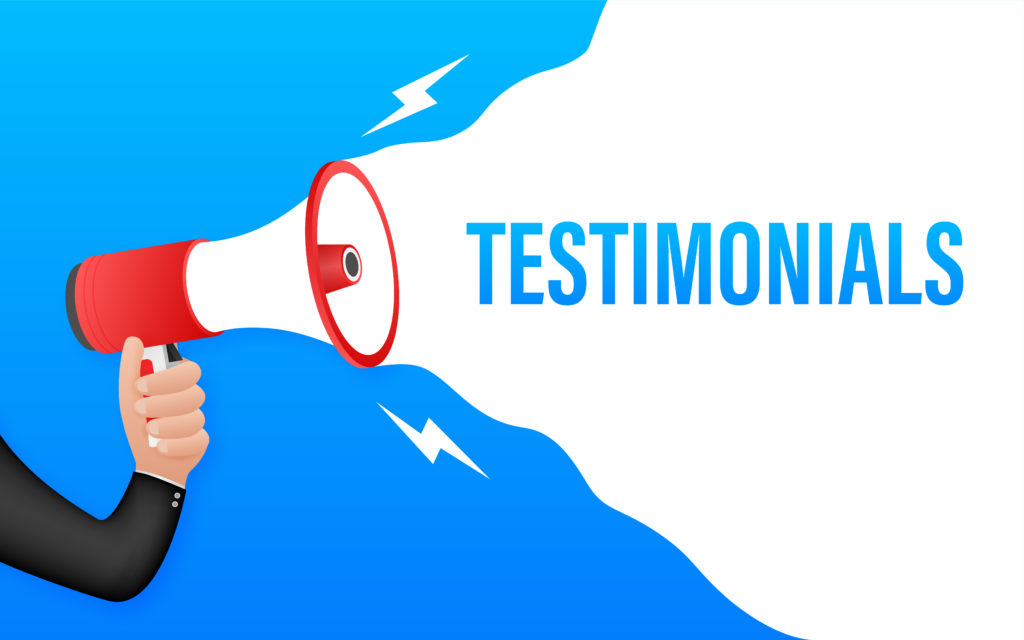 There are various customer testimonial types you can use to grow your business. When used right, testimonials can be a very powerful marketing tool that can considerably increase your conversion rates.
Testimonial advertising is one of the most effective marketing strategies, both in terms of cost and results.
Customer testimonials can be short, long, put in a video, audio, or text format. You can showcase them on your website, on social media platforms, review sites, or other third-party websites. As long as they are sincere and visually appealing, they can have a great impact on your potential customers.
Here are some of the most commonly used types of customer testimonial:
Quote testimonials;
Influencer testimonials;
Social media testimonials;
Interview testimonials;
Press testimonials;
Case study testimonials;
Affiliate blog posts;
Video testimonials;
Mashup testimonials.
But, before diving into testimonial examples and describing them, let's acknowledge more information about testimonials.
---
---
What is a testimonial?
There are many tips and marketing strategies that can help you build and grow your business. Testimonial advertising is one of the most effective tools for winning customers and increasing your sales.
So what does "testimonial" mean and how we define a testimonial? A customer testimonial is a statement of a happy customer praising a certain product or service. It is basically a social proof, an endorsement of it.
There are several testimonial formats available: text, audio or video testimonials.
Similarly, there are several customer testimonial types you can use. We'll describe the most popular ones later in this article.
Some people might confuse testimonials with customer reviews. However, there are two main differences between the two:
Customer reviews are not always positive, while testimonials are always an expression of appreciation of the customer.
Testimonials are usually requested by the business owner.
---
How to request a testimonial from your customers?
There are various ways to ask your happy customers for a testimonial. Here are the most common approaches:
on your social media platform;
on your own website;
face to face;
on receipts (leave a link to your testimonial page on the receipt);
Regardless of the method you choose, you have to be tactful and persuasive. Start by thanking your customer for choosing your product or service. You should also let them know that you want to keep doing business together.
Motivate them to leave the testimonial by mentioning how they can help other people. They can inspire others by sharing their own pleasant experience with your product or service.
Timing is also essential when you ask your customers for a testimonial. Try to approach your customer right post-sale. This way, their memory is still fresh and they will be more inclined to help you. If they were satisfied with your product, of course.
---
What are the benefits of customer testimonials?
Testimonials are powerful sales tools because their main purpose is to convince people of the quality of what you're selling and convert them into customers.
Testimonial advertising is used everywhere and by anyone around you. By individuals, B2Cs (business-to-consumer) or B2Bs (business-to-business). You see them as testimonial ads on TV, on landing pages of websites, on social media platforms, review websites, newsletters, and so on.
So why use testimonials on your website? Here are some of their most important benefits:
according to several case studies, they increase your conversion rate or, in other words, they boost your sales, with over 60%;
testimonials build trust and credibility for your business, which makes them the perfect sales pitch strategy. More than 90% of all buyers are influenced by the positive online reviews they read about a certain product. Case studies also revealed that over 90% of all consumers trust testimonials as much as the opinion of a family member or close friend;
they are some of the most cost-effective marketing strategies you can use. In most cases, it won't cost you anything to request a testimonial from your customers. Advertising campaigns on the other hand, can get really pricey and don't always guarantee the same positive effects;
client testimonials help your prospective customers buy faster. When you collect and display all your testimonials in a single place, it is easier for them to find out everything they want about a certain product. That helps speed up their buying process;
they can work as a great description of your products or services. That saves you the trouble of coming up with one yourself;
testimonials can be motivating for your employees. They will be proud to be part of a business that is appreciated by so many people. Hence, you'll see an improvement in the quality of their work;
---
Testimonial examples – What are the most effective customer testimonial types to use in your business?
There are several different types of testimonials used in marketing. While all of them can be very persuasive, some might work better for your specific needs. Here are some widely used customer testimonial examples.
---
Quote testimonials
When it comes to popular customer testimonial types, the quote testimonial is number one. This is a written, direct opinion of a satisfied customer. It includes their personal experience with a certain product or service.
Here are some attributes of quote testimonials :
they can include the actual quotes or not, but they are always a direct, unmodified opinion of the customer;
they can be accompanied by the person's photo and in some cases, a star rating of the product;
sometimes a CTA (call-to-action) button is added after the testimonial, to encourage people to buy the product;
Here are some examples to get a better idea: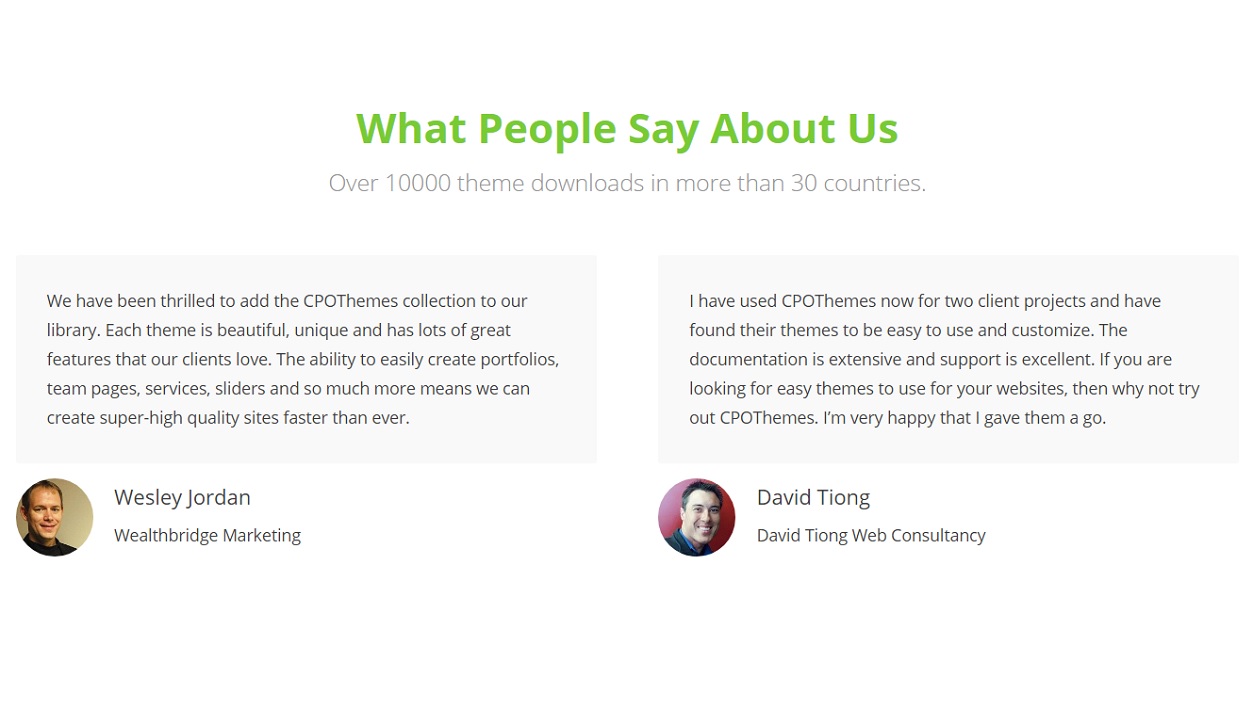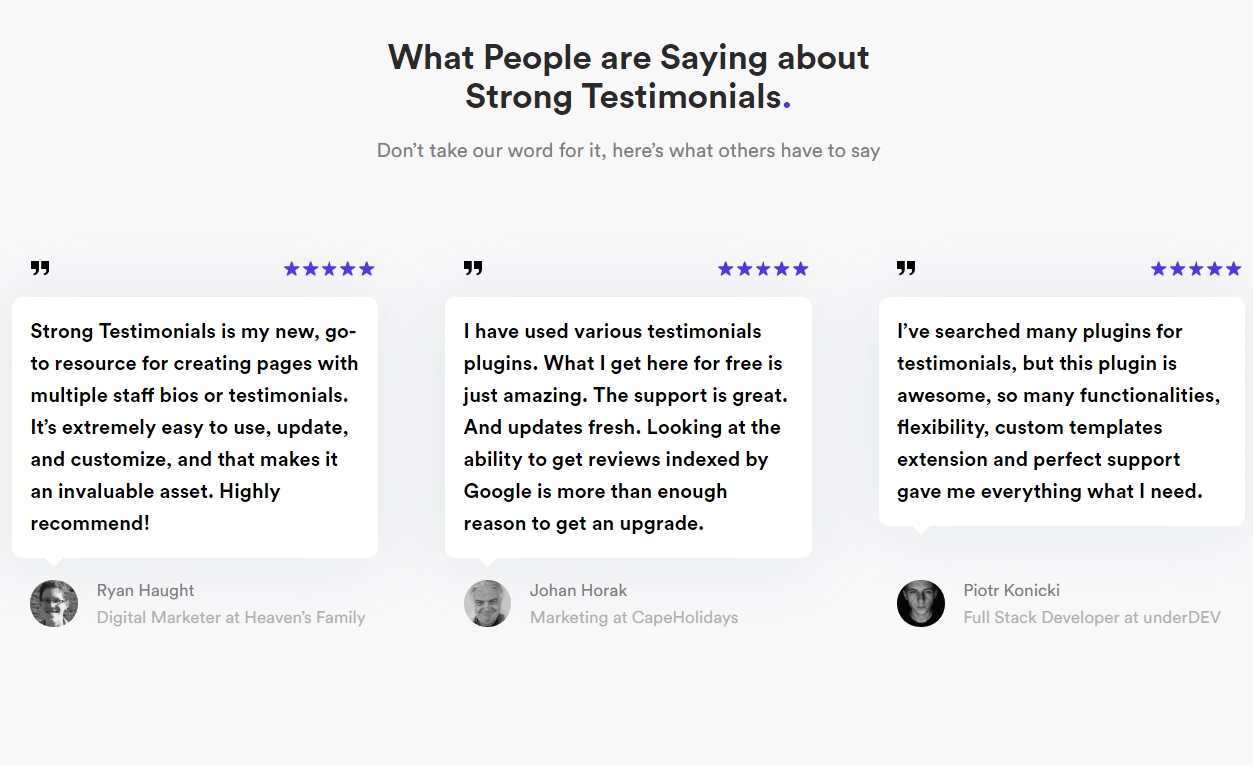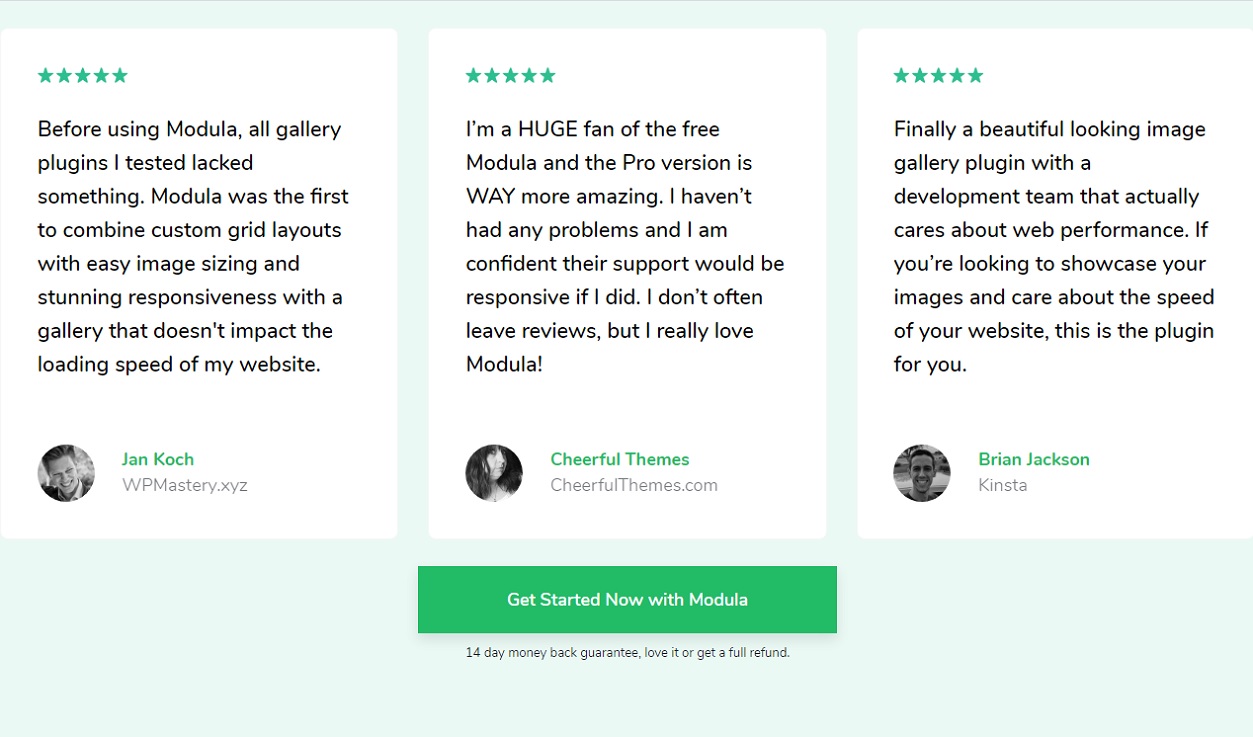 The quote testimonial may follow various approaches. It can be a simple description of the product they've purchased, emphasizing its benefits: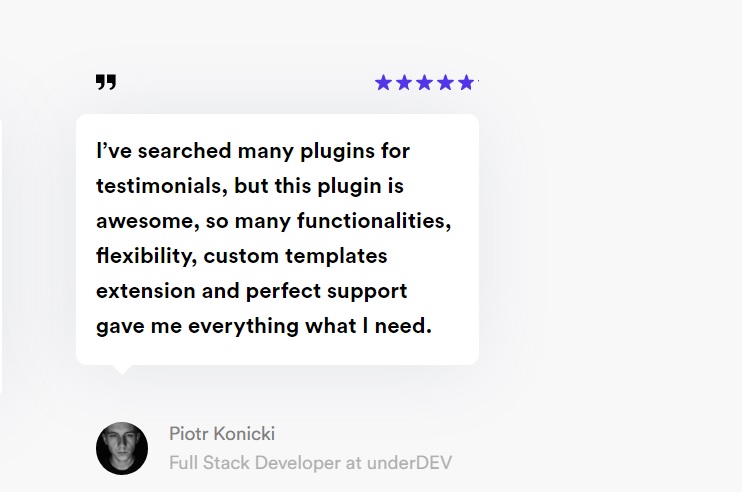 Another common approach is the problem and solution one. In this case, customers will share in the testimonial a problem they had. They'll explain their motivation for choosing your product and share how pleased they are with the results: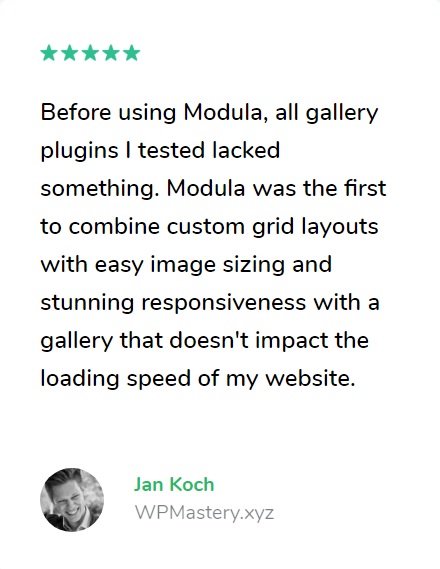 Customers can also tell you their personal success story. Clients share how using your product helped them achieve something they wanted. For instance, they managed to achieve the desired weight with a diet plan or product.
Here are some testimonial examples to see what it should look like: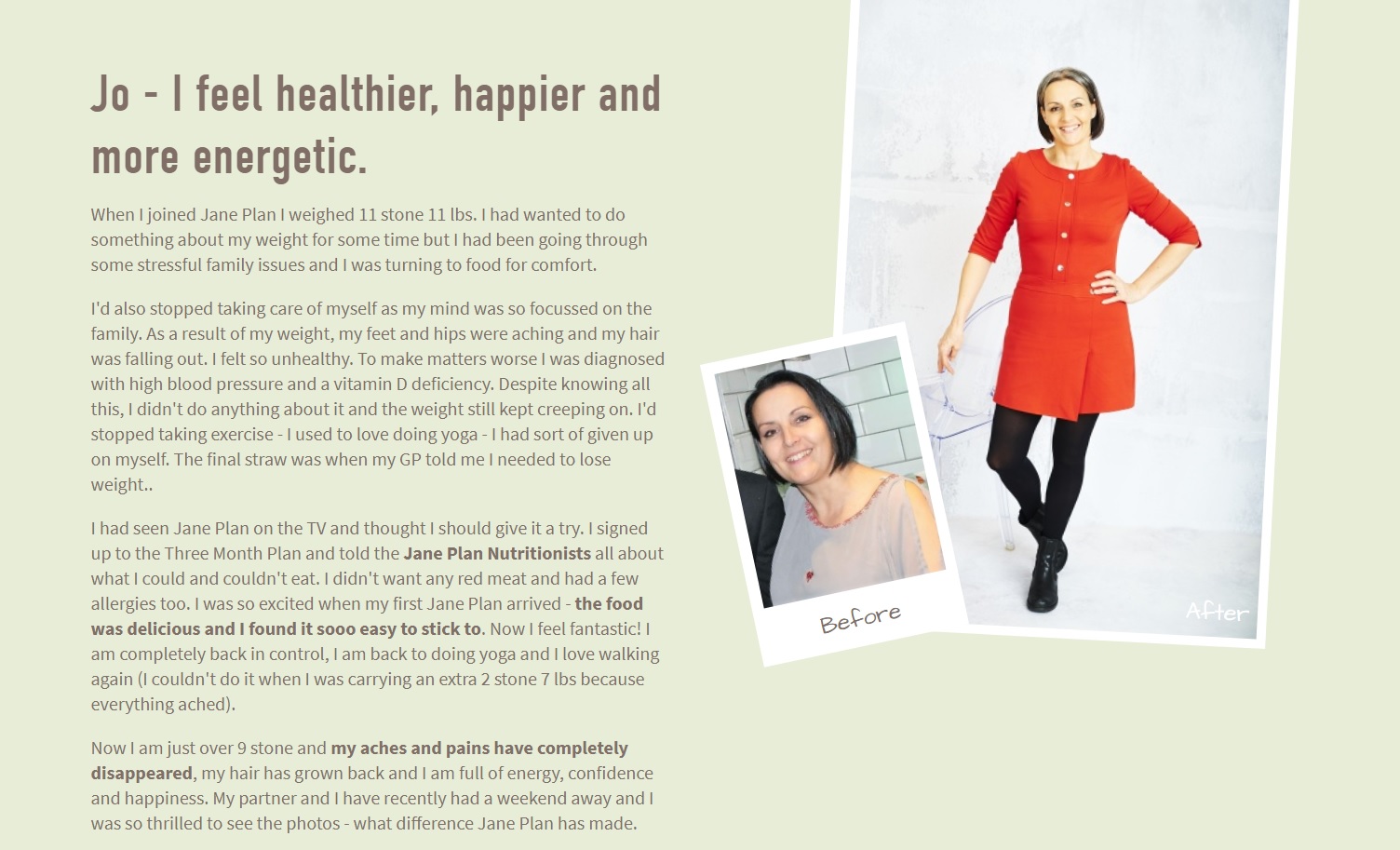 And let's take a look at another one:

---
Influencer testimonials
The influencer testimonial is also among the most effective customer testimonial types to consider. In this case, an authority in a certain industry/field of activity offers a vote of confidence by recommending your business.
If you are lucky, an influencer might use your product, be pleased with the results and share it on their own initiative. But in some cases, you have to pay the influencer for a testimonial.
This type of testimonial can have a great impact on your target audience, as long as you are choosing the right influencer as the voice of your business. It is very important to pick someone followed by your target audience.
A respected, well-known and loved influencer has the power to persuade consumers more than a celebrity. People relate better to them, because they feel closer to them.
Influencers are only renowned inside the circles in which they activate. But in those environments, they are an authority, people trust them and follow their advice.
---
Social media testimonials
The best testimonials are the ones that can bring you more customers. And social media platforms are very powerful in that regard.
Social media testimonials are recommendations posted on platforms such as Facebook, Twitter, Instagram, YouTube, etc. One of their biggest advantages is that you don't have to request them. They are as organic as it gets.
When someone likes your product, there's a big chance they'll share it on social media. All you have to do is collect them and display them on your testimonials page.
These testimonials convey more authenticity and credibility. People like to see who's behind the positive review. They can easily check out a profile with just a few mouse clicks.
Here are some examples:
Facebook posts (they can be posted on your Facebook's page or your customer's);
Instagram posts or stories;
YouTube videos;
Positive reviews in tweets;
---
Interview testimonials
The interview is one of the most "subtle" customer testimonial types. It is a longer type of testimonial but it can be very effective. It can offer extensive information about your products or services.
Customers are not even always aware that the interview is in fact a testimonial.
Interview testimonials can be in a text format, audio or video. If you want it to have a greater impact, you should aim for a video interview. One way to go is with a Q&A (question and answer) session. According to case studies, they are very engaging and effective.
The best way to go is to inform your customers ahead of time about the questions you're going to ask them. Make sure they get a general picture of the topics you're going to discuss. This way, they'll feel more relaxed and prepared.
---
Press testimonials
Even though this isn't among the most commonly used customer testimonial types, it can be a really effective one.
An example of a press testimonial is when a publication, TV channel, etc., makes a positive review about your business. For instance, a restaurant review.
This type of testimonial can be very useful because the press source may also have a website, popular social media accounts and so on. This ensures an extensive reach, which can only be good for your exposure.
Press testimonials can either be the idea of the publication, which will get in touch with you or you can request the testimonial yourself. The latter might cost you money.
---
Case studies testimonials
The best thing about case study testimonials is that they are longer, and your customers discuss a problem or a need they had and how you came up with solutions. So basically, your customers will create a more comprehensive testimonial about how you helped them and their experience with your company and services.
You can include written testimonials (blog posts), interview testimonials, or video testimonials by asking your customers for an honest review.
Whatever you choose, try to highlight the essential, namely how your product helped your customers. Then, you can take excerpts from the case study testimonials to share anywhere else on your website.
---
Affiliate blog posts
Speaking of case study testimonials, you can also ask your customers nicely to write a post on their blog about their experience with your services, information about your product, if they would recommend it, and so on.
This way, your customers will write a review of your product from their own perspective, and people will know that no one puts words in their mouth.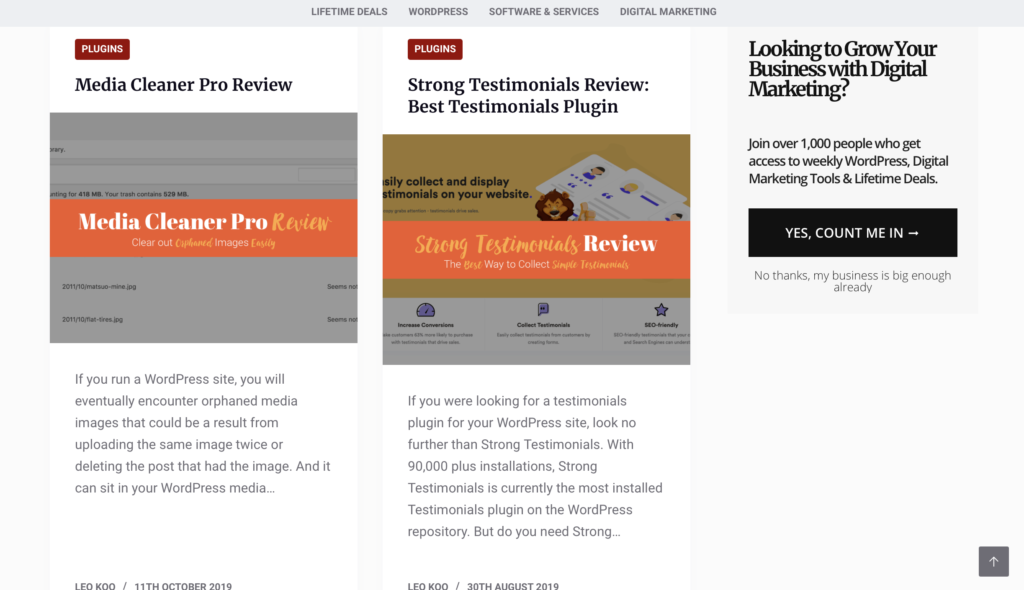 Moreover, you can always ask influencers to write a post or create a video by reviewing your services. This helps you gain more customers and make your services well-known.
---
Video testimonials
Videos have become one of the most important marketing tools. A HubSpot study on video marketing states that 78% of people watch online videos every week, and 55% view online videos every day. So, if you want to build trust and boost conversion rates, video testimonials are the perfect tool for your website.
Here's a video testimonial example from Apple:
As you can see, video testimonials can convey emotions, be more engaging, and most importantly, they can't be faked. There are a lot of tools to help you create the perfect video testimonial and then include it on your website.
---
Mashup testimonials
Mashup testimonials are audio or video snippets that brings together more individual quotes. You've probably seen TV commercials or heard radio ads where people give positive reviews of a product. This type of testimonial can also apply to podcasts.
So, make sure you create a long string composed of short testimonials from your customers to keep people interested by making smooth transitions.
If you want your mashup testimonial to be successful, set a theme for the entire string. Without a main theme, people may be confused and unable to understand what this testimonial purpose is. So, what do you sell? Is it a mashup testimonial to promote your services, or is your company celebrating a special event?
---
What makes a great customer testimonial?
While we focused more on the customer testimonial types in this blog post, there is more to a successful testimonial than its type.
Testimonial format
The format of the testimonial is an important aspect to consider. Written and video testimonials tend to be the most popular choices.
Text testimonials are a good option for shy customers and those who don't want to appear on camera. But if you can convince your client, definitely go with a testimonial video.
Case studies show that video testimonials have a greater impact, they create a deeper emotion with the viewer. They also stay longer with the viewer than written testimonials, which tend to be forgotten faster.
The length of the testimonial
Unless you opt for a customer interview for your testimonial, you should always go with shorter testimonials.
People get bored easily. Long texts might look daunting and can drive them away.
Instead of publishing just a few long testimonials, choose to display shorter ones. The more people to say good things about your business, the better.
The content of the testimonial
This is essentially the most important aspect of great testimonials.
The more authentic, sincere and relatable the testimonial, the more effective it will be. And the more it can increase conversions.
Make sure you encourage your customers to be direct, honest and personal. Convince them to share as many details as possible: full name, a photo of themselves.
Authenticity goes a long way as well, so if they have an interesting personal story to share, convince them to do so.
Ask them to use a friendly, informal tone, so others can better relate.
You should also edit grammar and spelling errors or rearrange the information in the testimonial, to make it more appealing. Just don't forget to send the final result to the customer before publishing it.
---
What tool to use to display customer testimonials?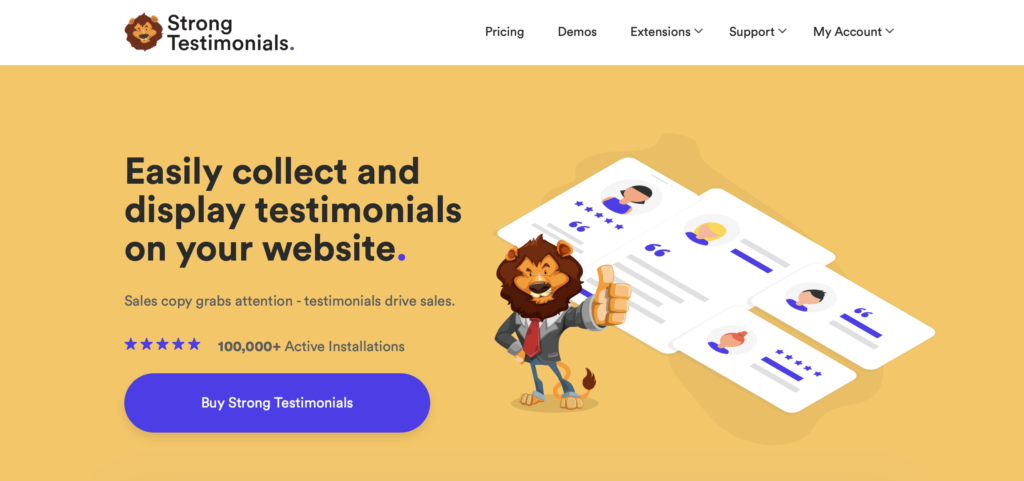 Whether you display quote testimonials, influencer testimonials, social testimonials, or any other kind, we have the perfect tool for you.
Strong Testimonials provides powerful features for collecting and displaying customer testimonials on your website. To make the user experience more simple, we added a lot of customizable functions from quotes, filters to fields, buttons, and so on.
Let's see some of the most powerful features:
Shortcode and widget functionality;
Useful extensions to collect and display testimonials from external sources;
Import reviews from Google, Yelp, WooCommerce, Zomato, or Facebook;
Custom fields ( email, URL, text, video upload, video URL);
Support for Schema markup;
Plenty of layouts (grid, columns, masonry) and templates available ( elegant, card, minimalist, bold, modern, small widget, and many others);
But there's more…
---
Summary
To sum up, testimonials represent a vote of confidence for your business. The biggest strengths of a successful testimonial are honesty, authenticity and its ability to convey empathy.
There are several customer testimonial types to choose from. While some are more effective than others, all testimonials can help you generate more sales.
🏆Quote testimonials are best if you want to get testimonials from your customers quickly and with a minimum effort. They are easy to obtain because they are the most convenient for your customers.
🏆 Press and influencer testimonials are a great option if you are willing to spend some money. That is not always a rule, but you might have to pay for them, if you are the one requesting the testimonial. But you get your money's worth because they have extensive reach and authority.
🏆 Social testimonials are best if you don't want to request testimonials. They are free and generated organically on social media platforms, which conveys more credibility. All you have to do is collect them and display them where you see fit.