Adding testimonials in Divi can be a quick and easy process. Client testimonials are a very powerful marketing tool. They create social proof and can work to your benefit. Consumers are heavily influenced by the opinion of their peers. When someone says good things about a product or service, others tend to like and want that product, too.
In fact, multiple case studies have confirmed that testimonials influence over 90% of all buyers. They trust customer testimonials as much as they trust the word of their family and friends.
There are plenty of ways to add testimonial pages to your WordPress site. However, we are going to focus on one of the easiest ones.
This post will teach you how to add testimonials to your website with the Divi builder from Elegant Themes.
---
---
Why use the Strong Testimonials plugin with your Divi builder?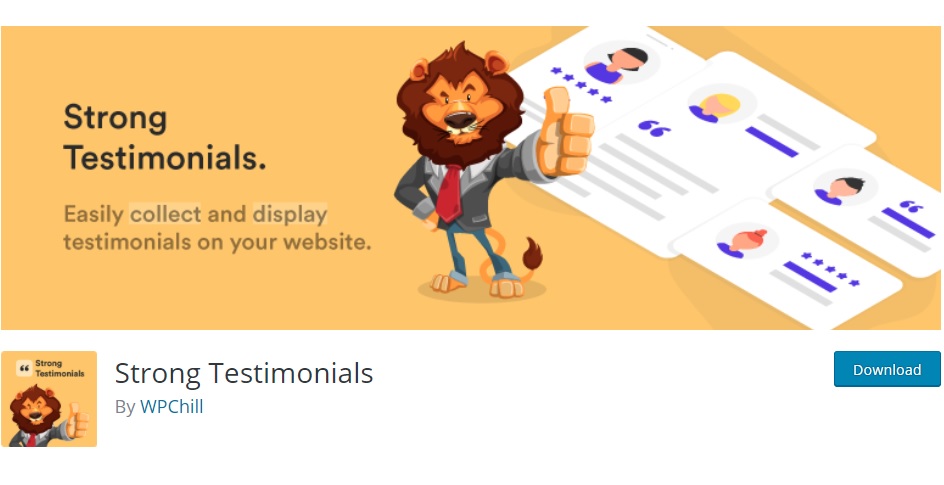 This guide teaches you how to easily add testimonials in the Divi page builder. And one of the easiest and rewarding ways to do that is to use the Strong Testimonials plugin with Divi.
Strong Testimonials is trusted by 100,000+ users and businesses and their number continues to grow. The plugin has a perfect 5 star rating and for good reasons! Strong Testimonials offers the perfect balance between user-friendliness and features. It is highly customizable while still providing a clean, straightforward interface.
Here are some of the most significant benefits of Strong Testimonials:
free and Pro versions available;
easy to use;
11 templates and 4 layouts to choose from for your testimonials display;
custom fields so that you can add customer details such as full name, company website, etc.;
multiple forms for collecting testimonials;
a lot of useful extensions;
shortcodes and so much more;
If you want to upgrade to the Pro version of the plugin, plans start at $29 per year.
---
How to add your testimonials with Strong Testimonials
The first thing you need to do is install and activate your plugins. In this case, your plugins are Divi and Strong Testimonials.
Divi is a premium plugin so you have to sign up for an Elegant Themes plan before you can download the plugin.
Strong Testimonials on the other hand also comes with a free version, so you can find it in the WordPress repository.
Before you get started, you might want to read our guide on how to install plugins in WordPress.
After you install and activate Strong Testimonials, you'll find it in the dashboard (left sidebar) under the name of "Testimonials".
---
Create the testimonials
To begin with, you have to first add your customers testimonials, using Strong Testimonials. We also have a beginner's guide on how to do that.
You add the testimonials just like you create a WordPress post. You go to the left sidebar and click on Testimonials – Add New. Fill in the fields. You can also add a feature image if you have one and the customer agrees to let you use it. When you finish filling in all the details, hit the Publish button on the right: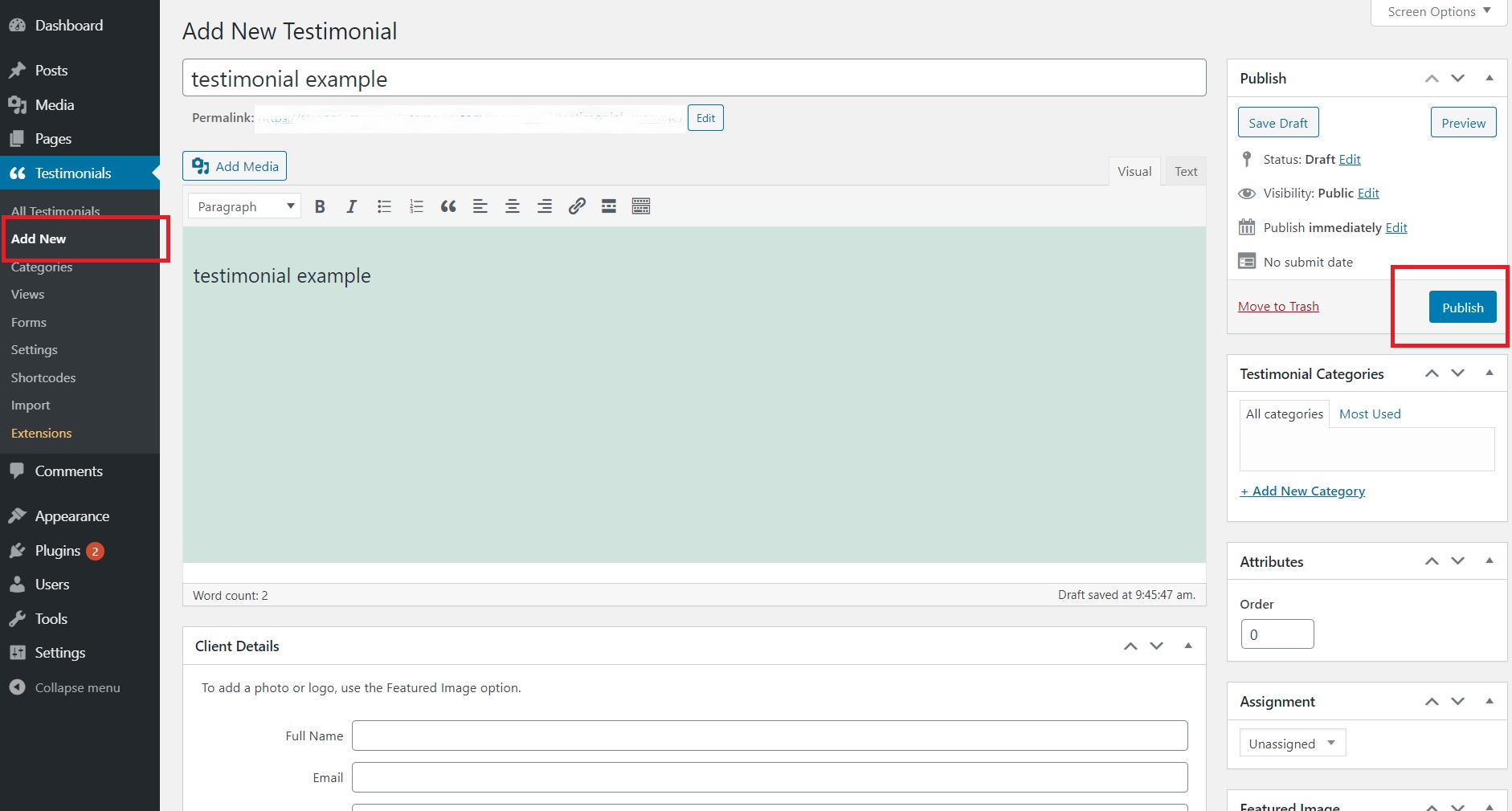 ---
Choose the display type of your Strong Testimonials testimonial
Now that you added the customer testimonials, it is time to work on their view. You can either create a simple, static page for your testimonials and display them in a list/grid, etc. or create a testimonial slider. We'll show you examples of both.
Create a testimonial list or grid in Strong Testimonial
The first step is to go to your dashboard and from Testimonials, this time you click on Views and Add New:
After you click on Add New, a window will open with all the available settings for your testimonial view.
Check the Display option on top to display your testimonials in a list or grid. Once you do that, you have to scroll down through all the available settings and customize the view the way you like it. There are lots of fields to be filled: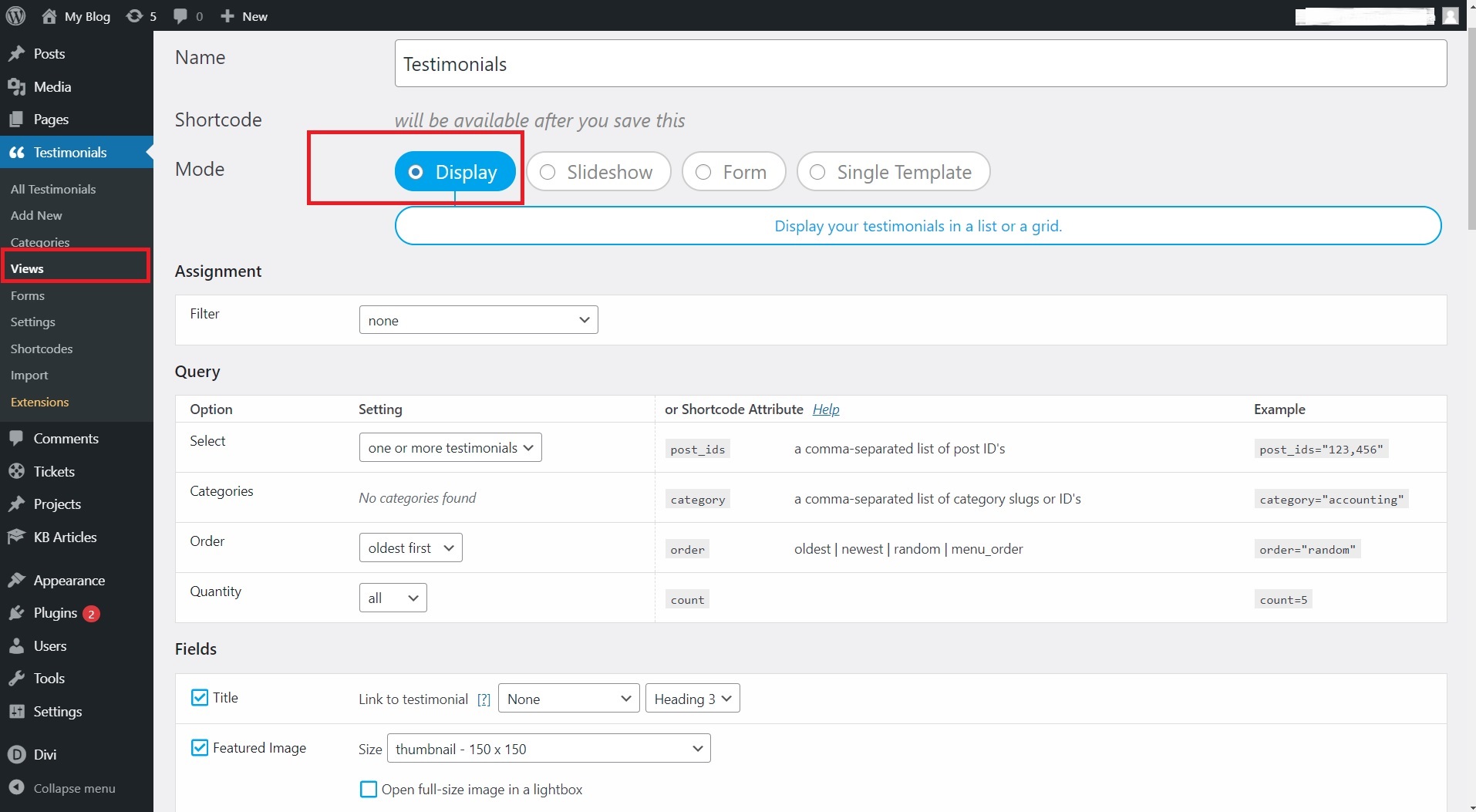 There are 11 templates to choose from: default, card, elegant, minimalist, side, table, modern, bold, small widget, simple and unstyled (this last one is for those who want to use CSS).
There are also 4 layouts available: normal, masonry, columns and grid.
You also have settings for the size of your featured image, for the background, the font color, custom fields (if you want to add details such as the client's full name, company name and website, etc.).
Next, when you are done with all the settings, scroll down to the bottom of the page and click on the Save Changes button. A shortcode will be generated after you do that and you can find it if you scroll back up at the top of the page: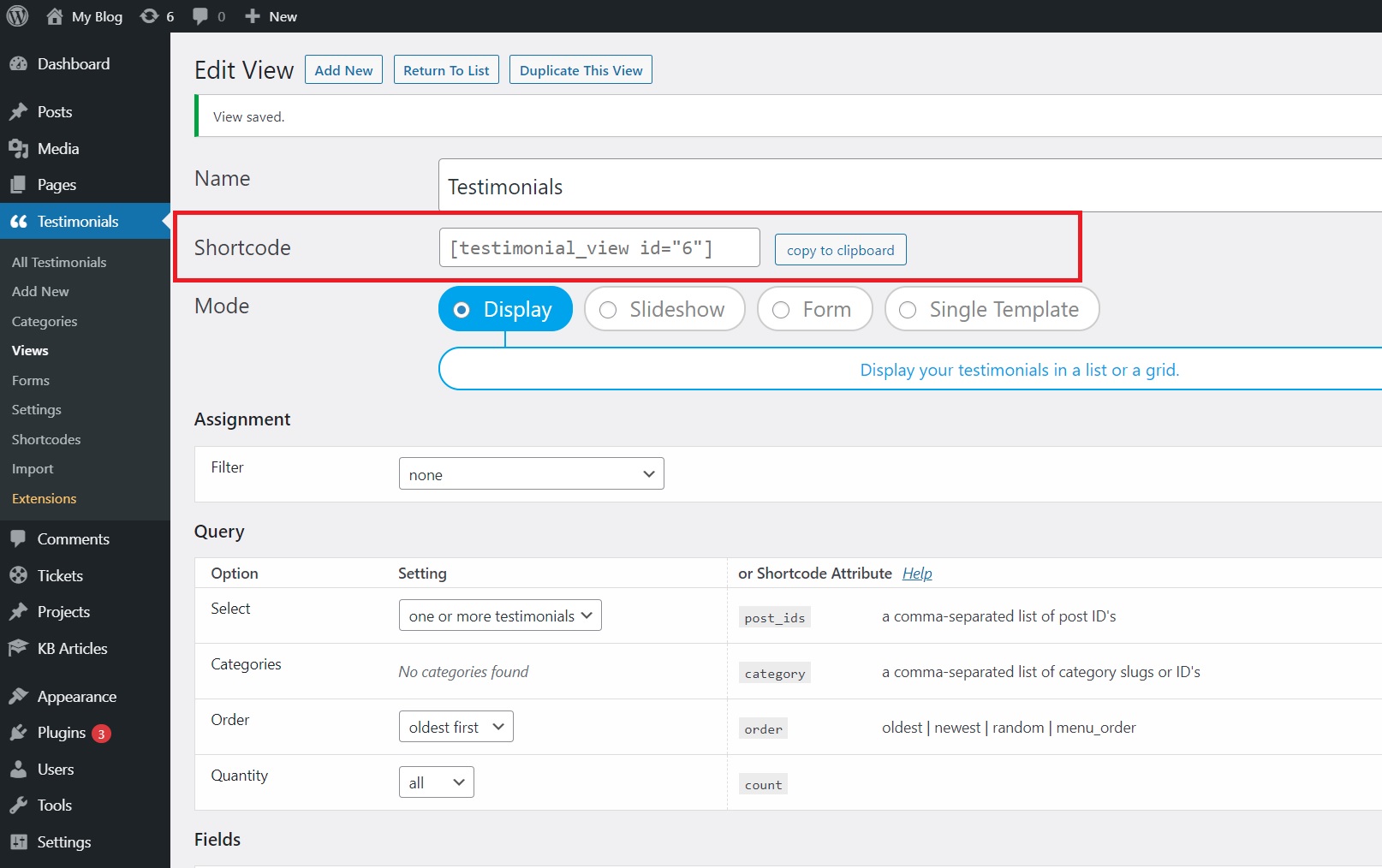 You have to copy that shortcode later to paste it in Divi, but will get to that step later. If you don't want to look for it again, you can copy it in a text file or something now, to save you time.
That's it for your testimonial grid or list! Let's move on!
Create a testimonial slider in Strong Testimonials
Next, we'll show you how to create a Divi testimonial slider with this plugin. The steps are pretty similar. You open the Views in Strong Testimonials and click on Add New. Only in this case, you check the second option, namely Slideshow: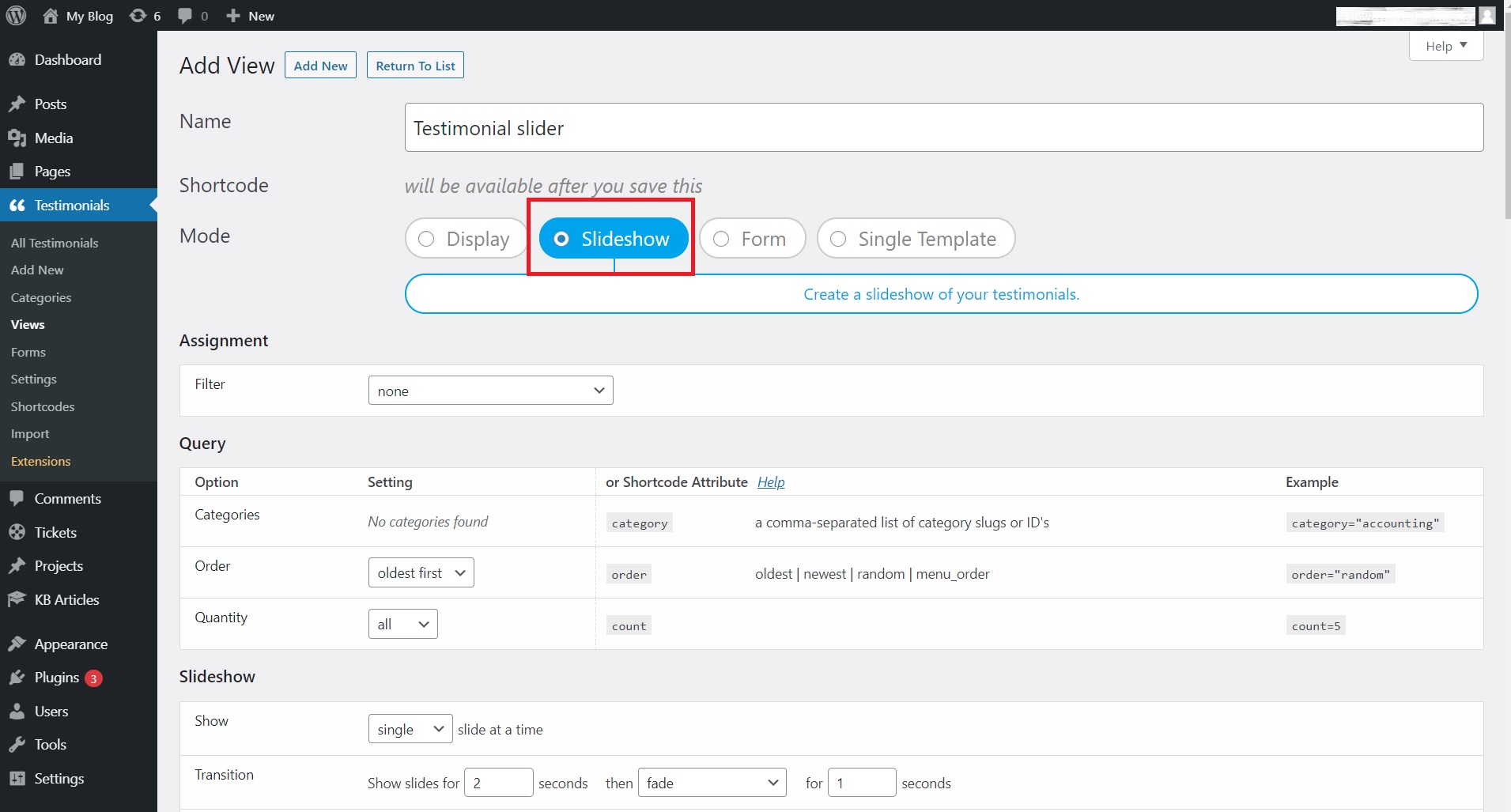 Similarly, you have multiple fields to fill and settings to adjust for your Divi slider. The same 11 templates are also available for the slideshow. You also have settings for the transition time, transition type and more.
Check all of them and create the testimonial slider view you want. When you are done, click the Save Changes button at the bottom of the page.
A shortcode will be generated in this case as well and you can copy it now or later from Testimonials – Views: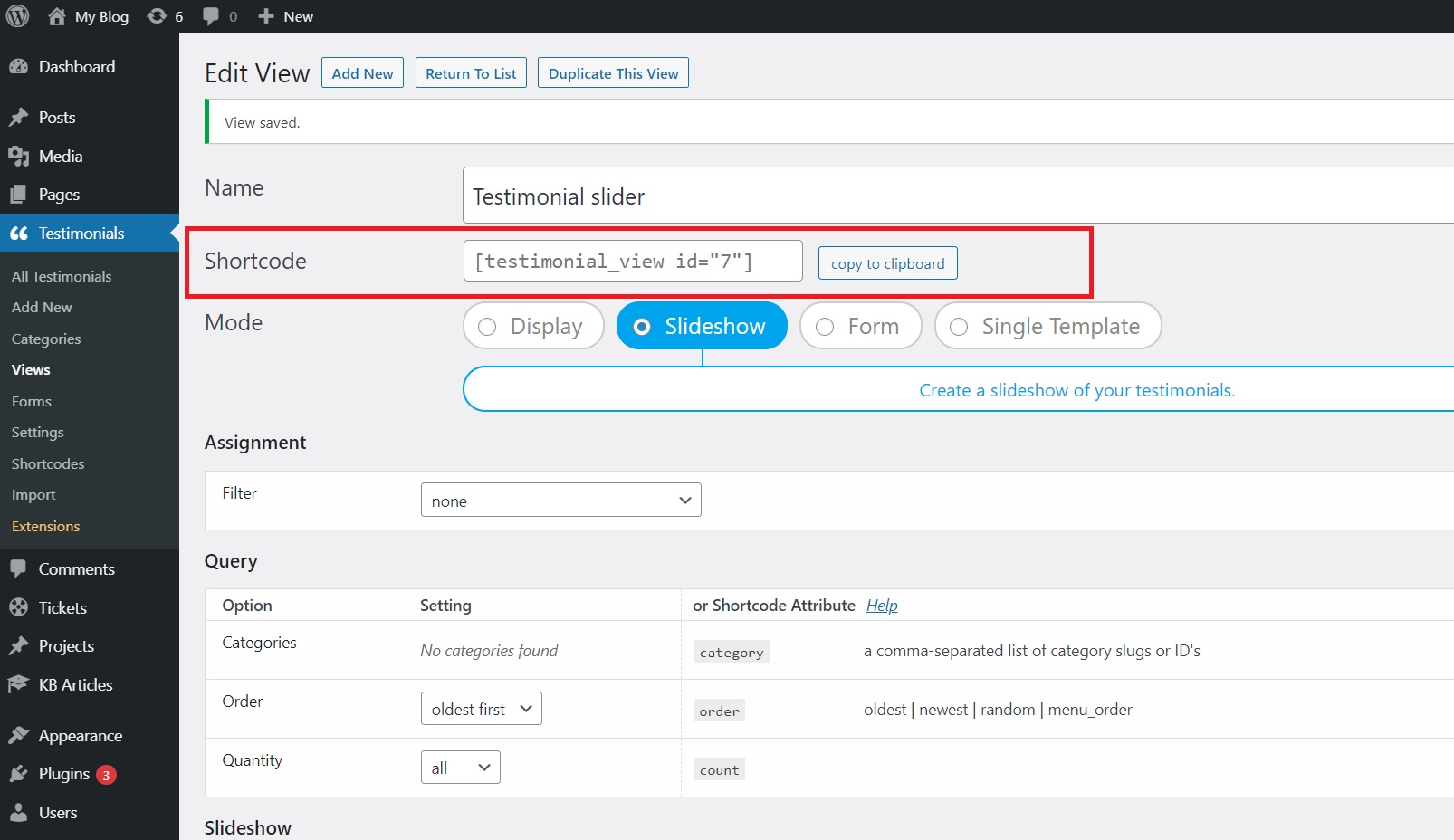 ---
How to use Strong Testimonials with Divi to display your testimonials
Now that your testimonial view is created (list/grid or slider), it is time to display the testimonials on your page, using the Divi builder.
Remember the shortcode that was generated when you created your view? All you have to do is copy it and paste it to the Divi page where you want to display your testimonials.
If you didn't copy the shortcode when it was generated, go back now to your dashboard – Testimonials – Views. Find the view that you want (based on the name you gave it) and copy its shortcode in the right. Here are some examples of shortcodes for our testimonial views: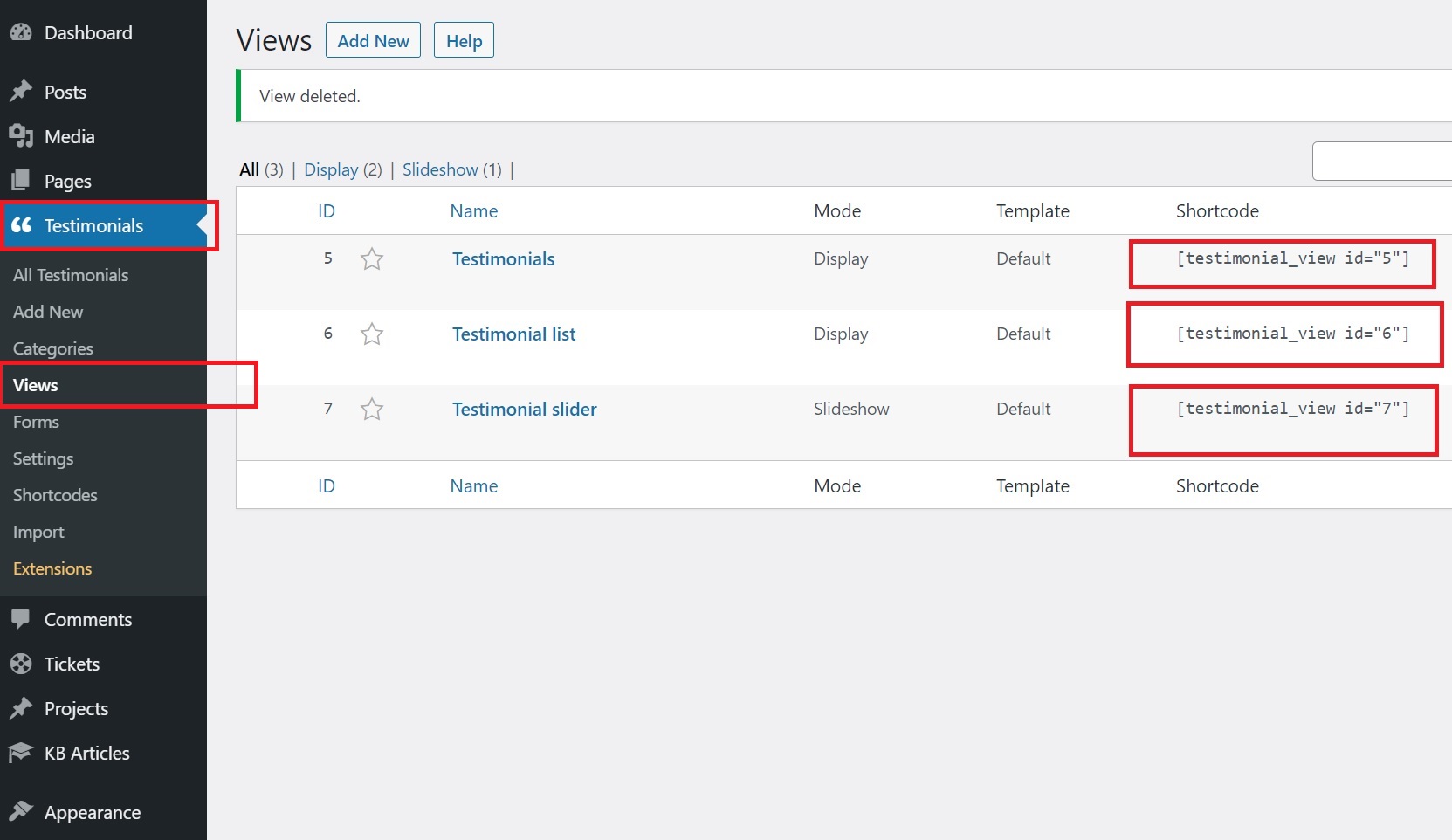 Copy the shortcode of the testimonial view you created earlier. Next, go to the page you want to display the testimonials on. Choose the "Edit with Divi" option to open it.
Once you are on the page, search for the Text module: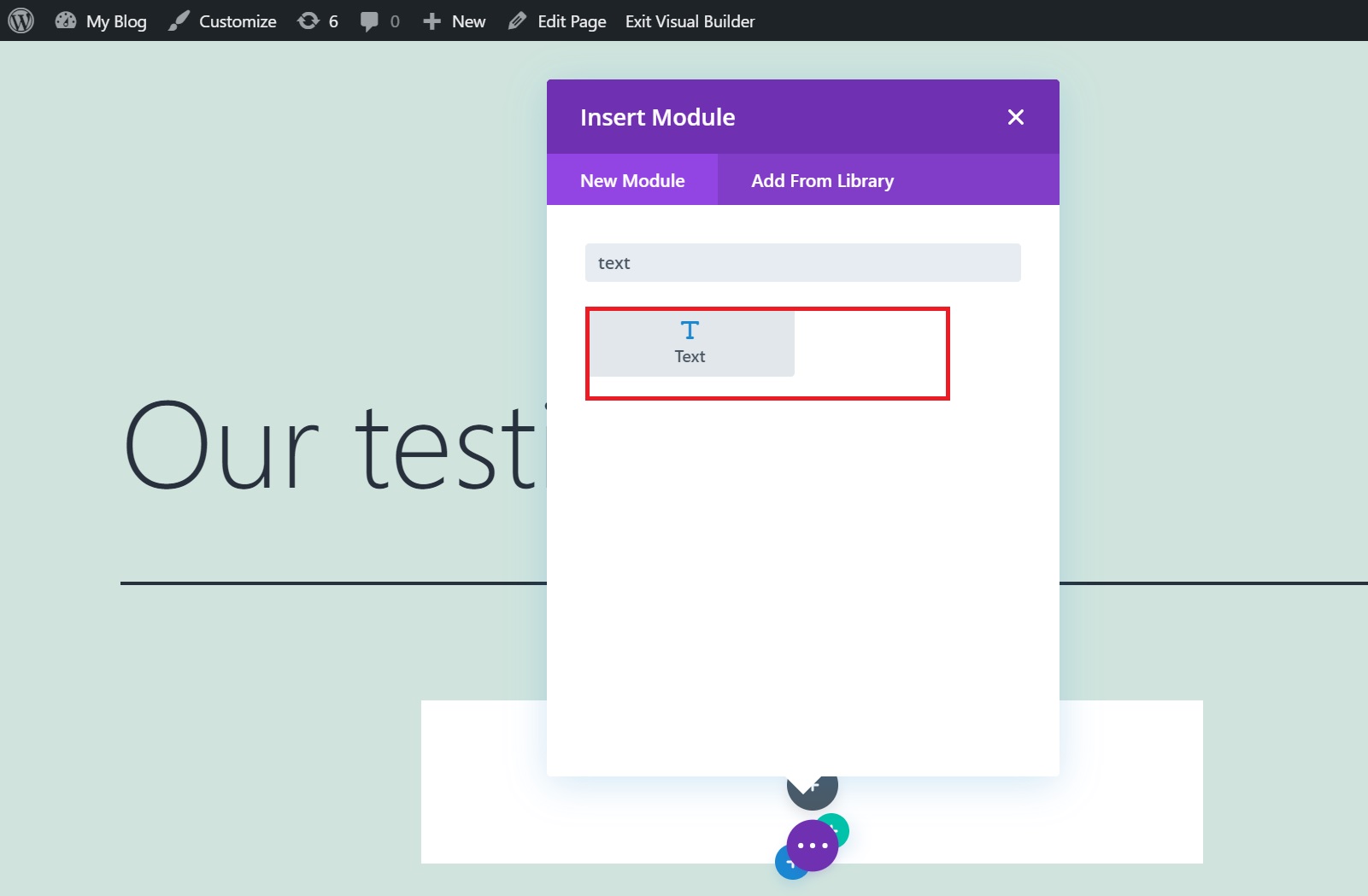 Click on the module. A window will open to the left. Make sure you delete the content in the body: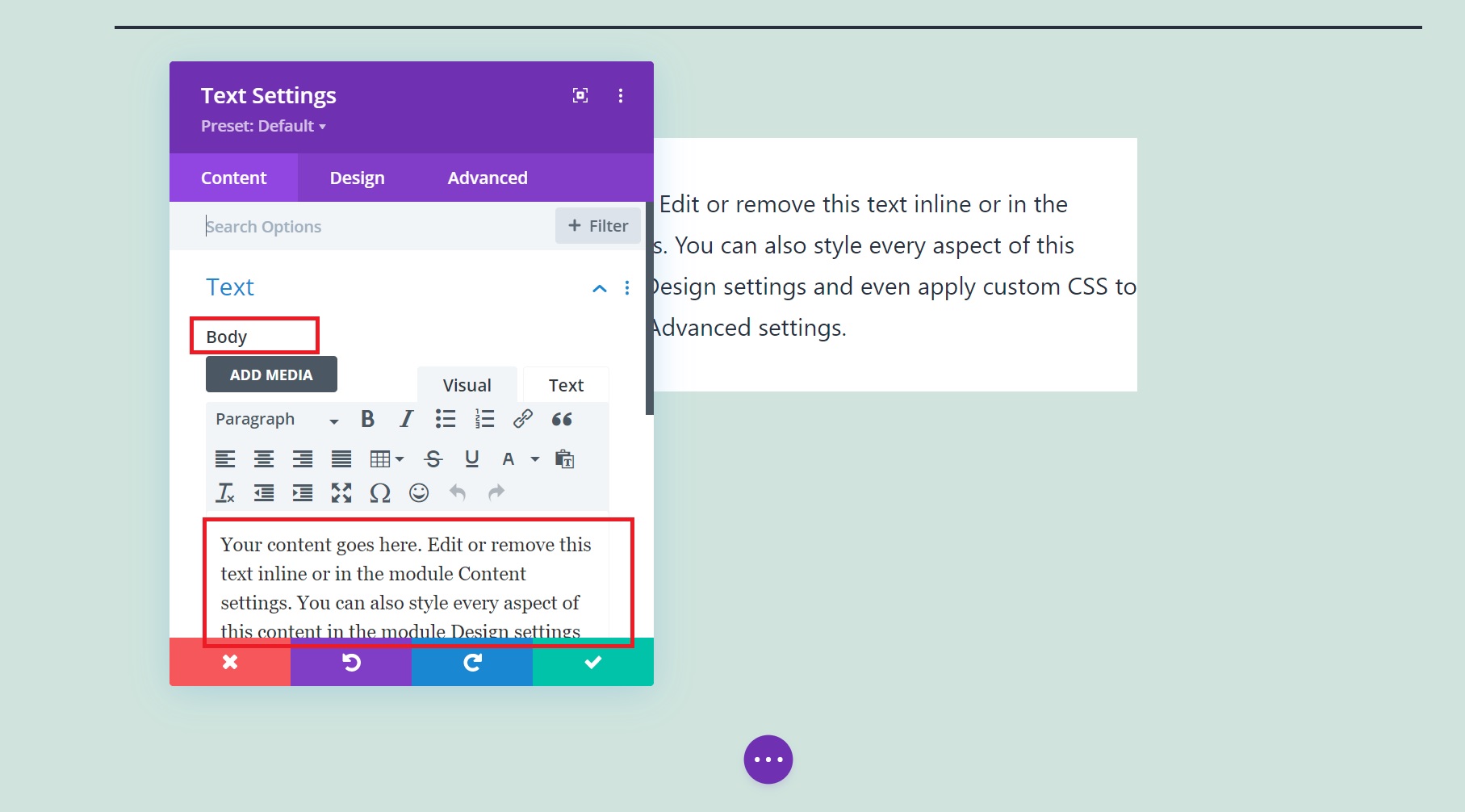 After you delete the content from the body, paste your shortcode in the body. Then, click on the green "checked" sign at the bottom/right: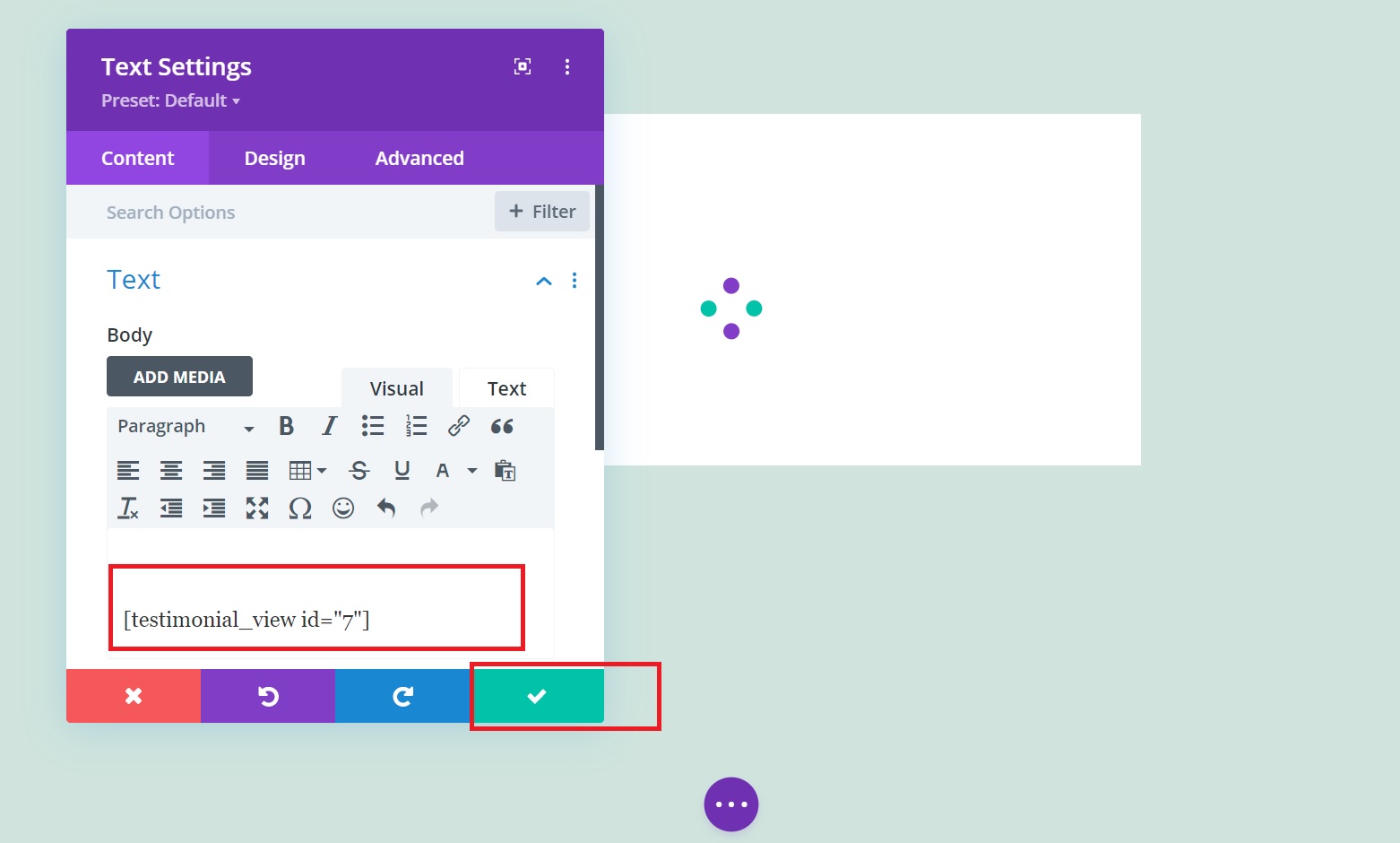 Before you click the ✅ button, you can also browse through all the available settings if you want to customize the content and design of the Divi testimonials. You can choose a background color, mess around with the fonts, colors, spacing, size of the text and much more.
After you are done with customizations, click on the 3 dots in the purple circle: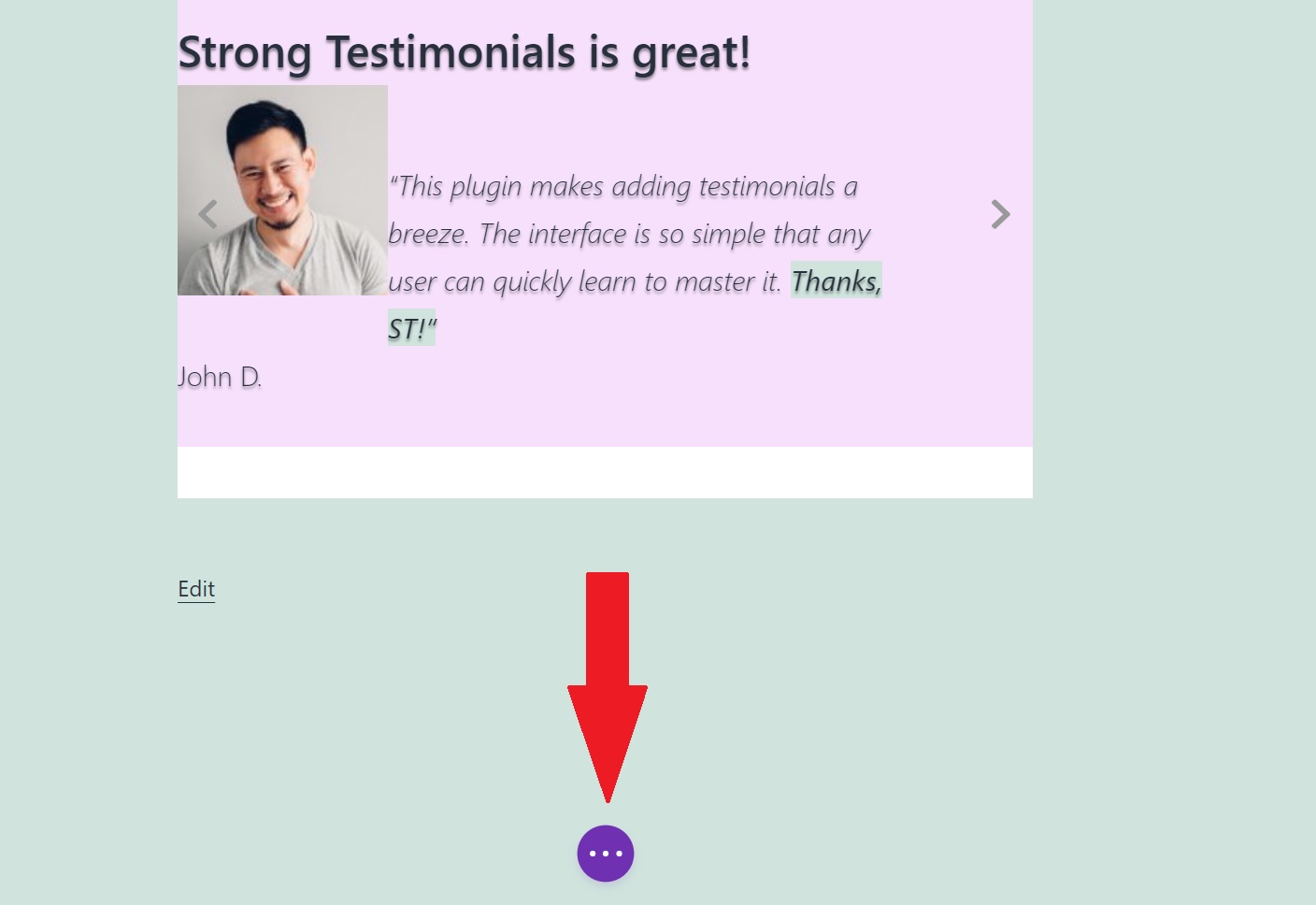 On the bottom-left side, you can see how the testimonial page design will look on different devices: desktop, tablet, phone.
From the bottom-right, you can publish the page by clicking on the green "Publish" button: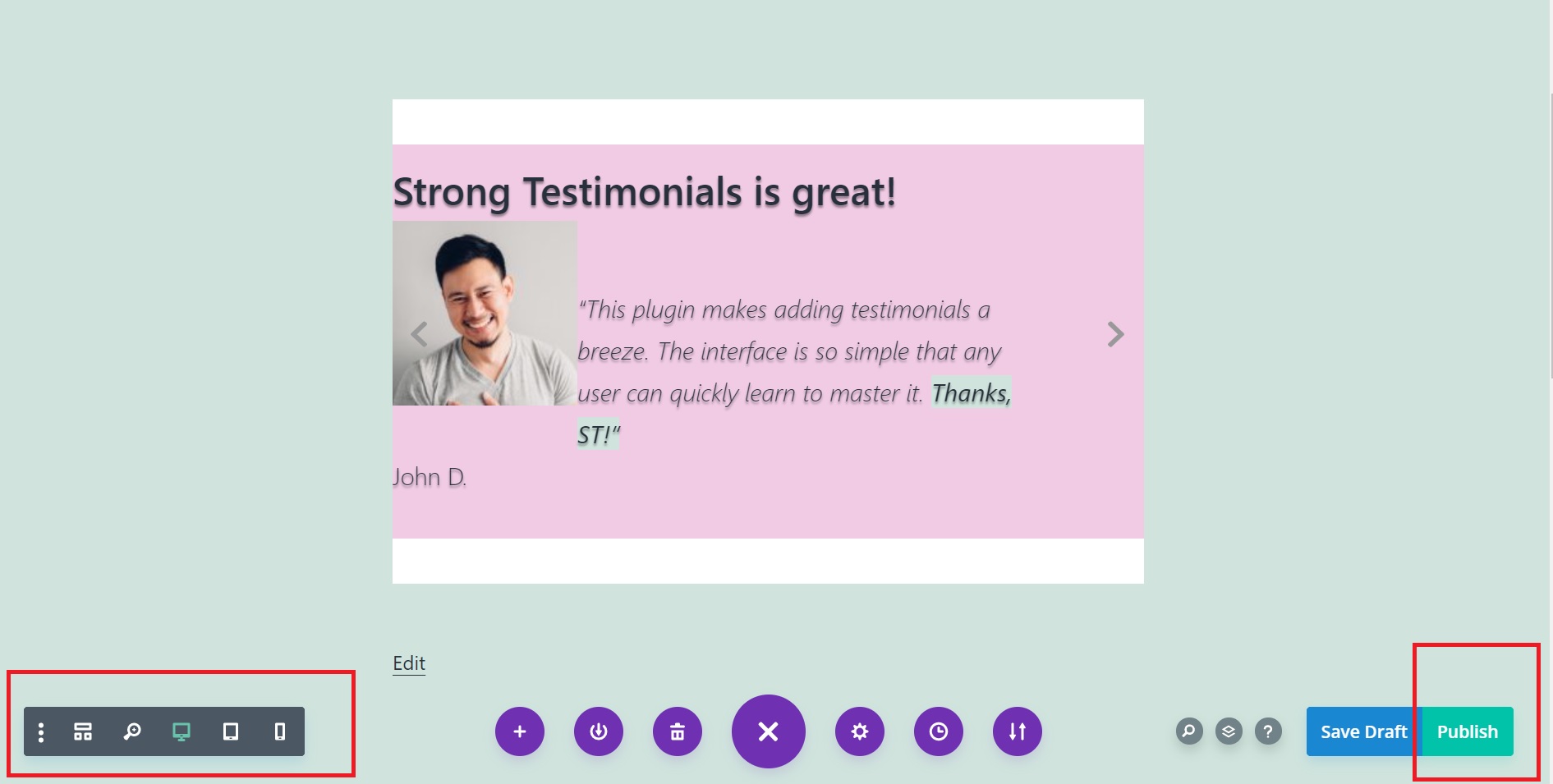 Here are two examples of testimonial pages created with Strong Testimonials and Divi:
And example number two: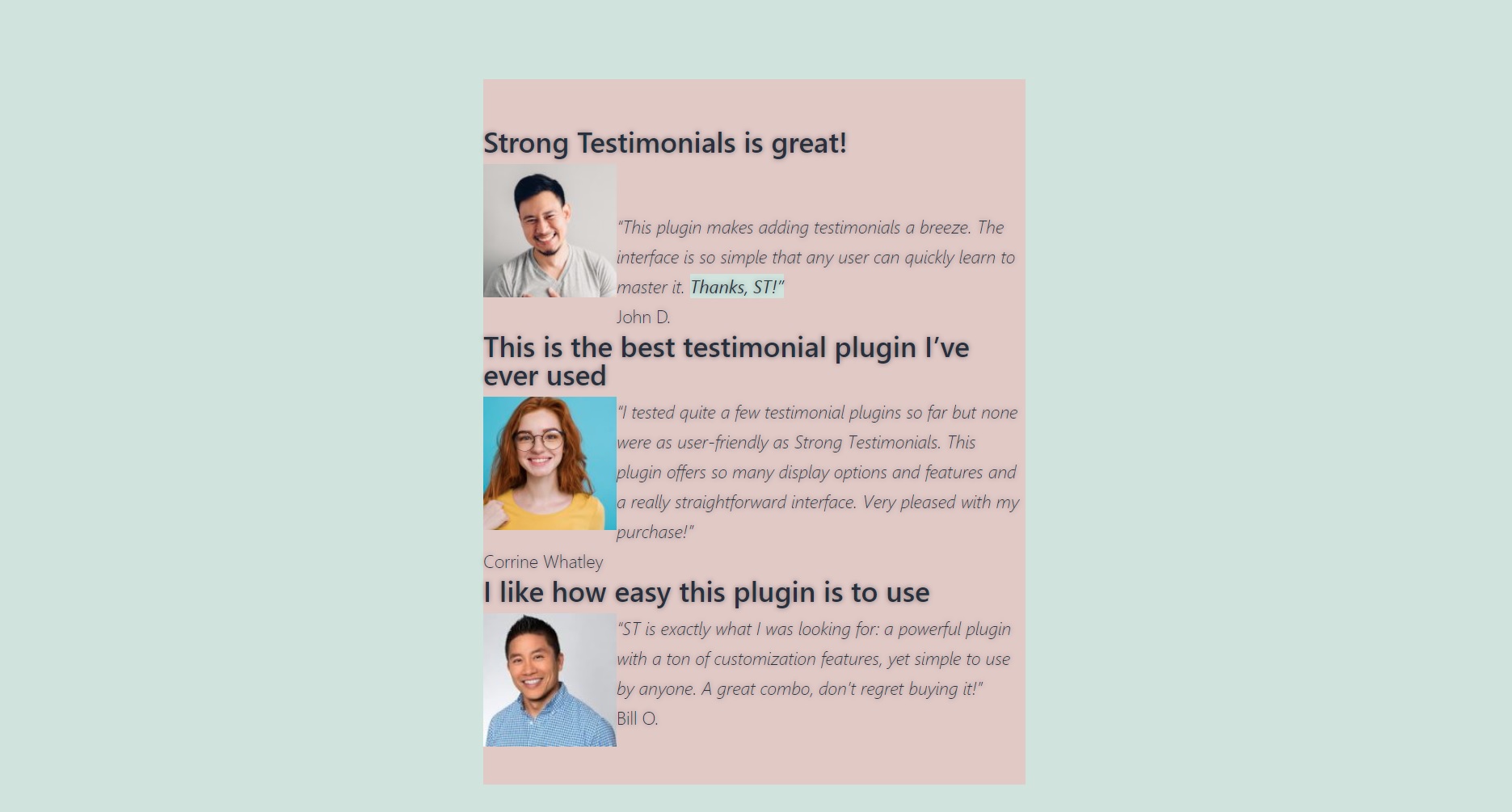 ---
Add the shortcode in the Code module
You can also add the testimonial shortcode using another module in Divi: the Code module. You can find it in the Divi modules: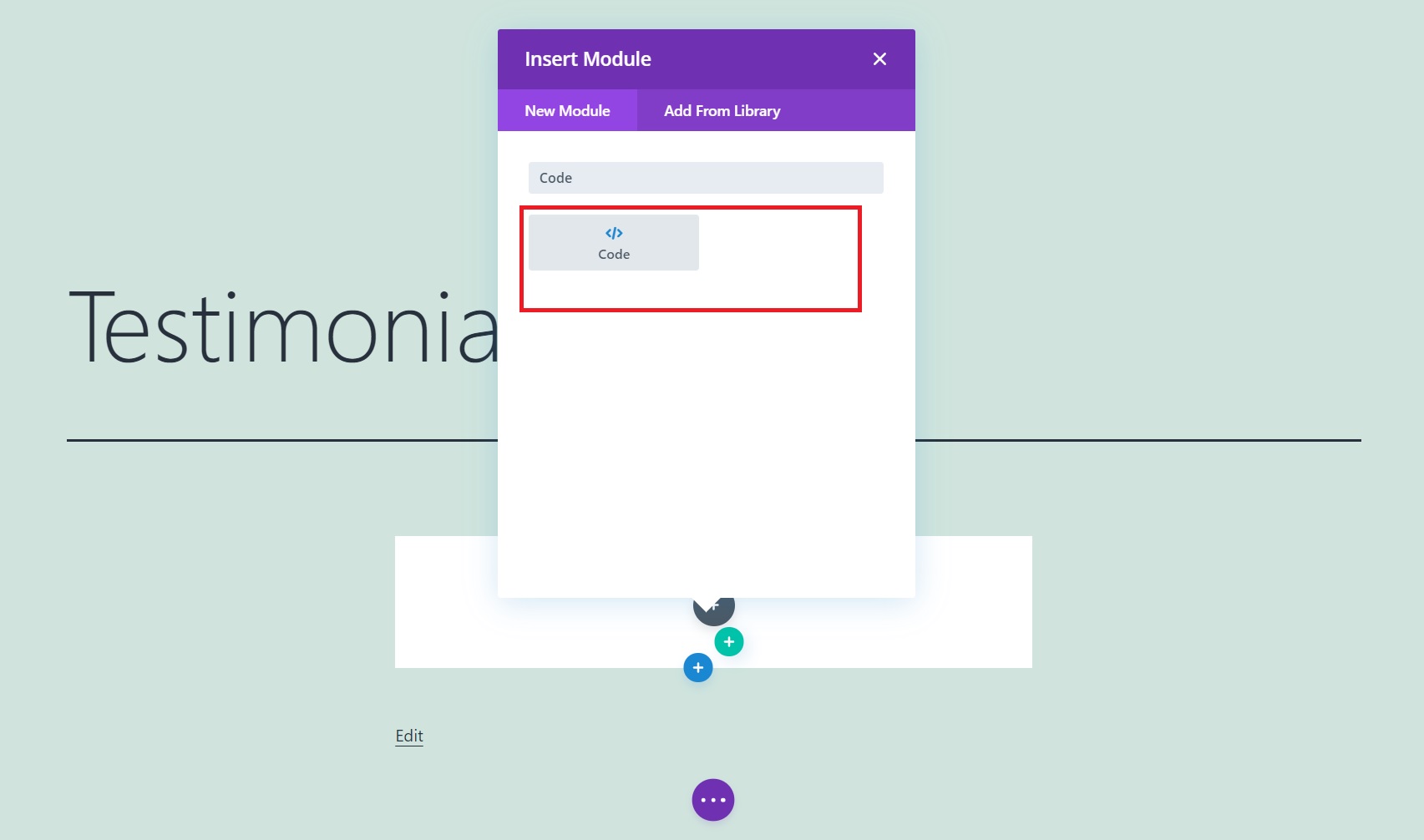 Once again, you have to click on it and paste the text in the window that opens: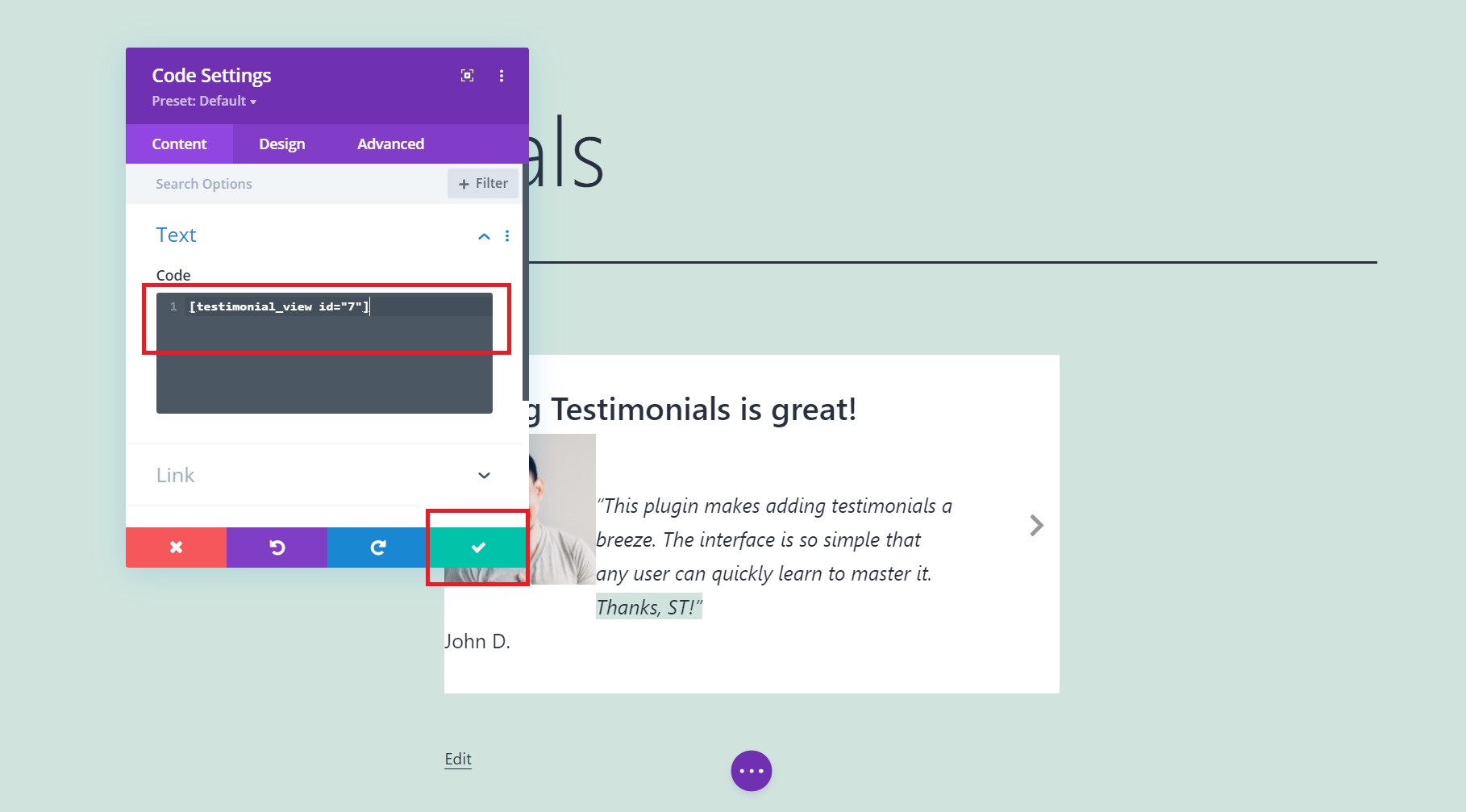 After that, click on the ✅ button and publish the page just like in the other case.
---
Conclusion
Strong Testimonials makes it very easy to add testimonials to your website, regardless of the page builder you are using (including Divi). You can also learn how to add testimonials in Beaver Builder and Elementor.
Customer testimonials add credibility to your business and increase your sales with more than 60%, according to several case studies. So don't waste any more time and start boosting your conversions now!