Do you want to learn how to add testimonials in Beaver Builder? We can teach you how to do it in a blink of an eye, so keep on reading!
Why would you add client testimonials to your website, you ask? Because they help you get more customers and generate more sales. Testimonials are a social proof . That means they have the power to influence other people's buying decisions. People trust the word of their peers. So when someone praises a product or service, others start to believe in its quality.
This guide will teach you one of the easiest ways to add customer testimonials in Beaver Builder.
---
---
Why use the WordPress Beaver Builder plugin?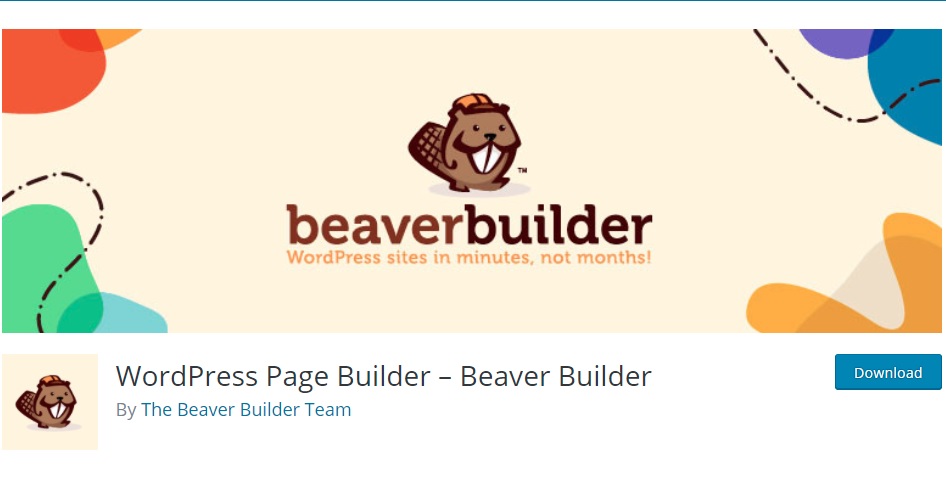 Beaver Builder is a user-friendly page builder. The plugin is module-based, meaning there are built-in modules for pretty much anything you want to create on your site: photo, audio, video, HTML, buttons and so on.
You can install the Beaver Builder page builder from the WordPress repository. The plugin comes with a free version and a pro one. If you opt for the paid version, plans start at $99 per year.
Here are some of the core features included with this page and website builder:
user-friendly drag-and-drop editor;
real-time preview of your changes;
more than 40 templates;
100 prebuilt rows;
multi-site support;
generous free version with modules for photo, audio, video, HTML, text editor;
---
How to easily add testimonials in Beaver Builder?
Okay, so you are a fan of Beaver Builder. You've already created beautiful pages with it and a testimonial page is next.
Customer testimonials are a social proof and have the power to convert a lot of potential customers into actual buyers. People tend to listen to the opinion of their peers and are heavily influenced by it. In fact, multiple case studies revealed that over 90% of all consumers trust client testimonials as much as they trust the opinion of their loved ones.
Customer testimonials can increase your revenue with more than 60%, so a testimonial page is a must for any business.
And one of the easiest ways to add testimonials to your Beaver Builder page is to use the Strong Testimonial plugin. Read this guide if you want to learn how to install a plugin in WordPress.
---
Why use the Strong Testimonials plugin to add your testimonials?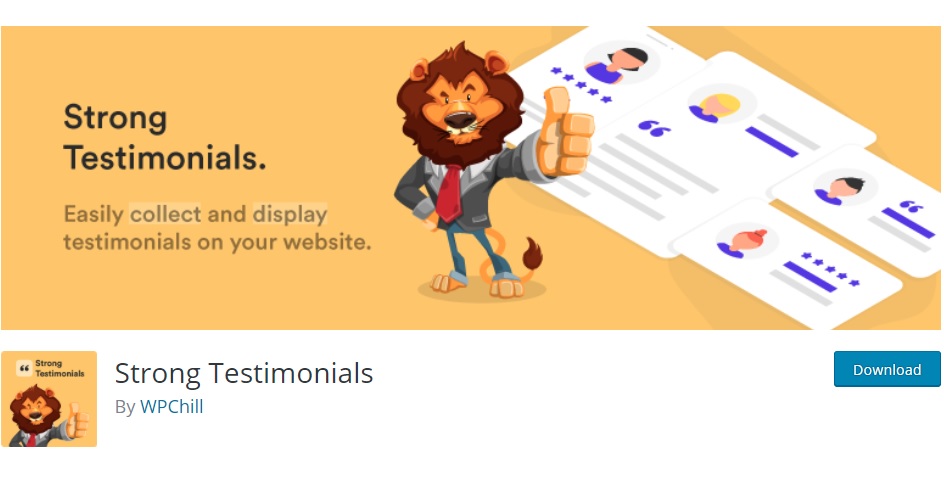 Strong Testimonials is one of the most powerful and user-friendly testimonial plugins available. It comes with a free and a pro version.
The premium version has plans that start at $29 per year, for 1 site.
What makes this testimonial plugin so popular is the fact that it has a very easy to use interface but it doesn't skimp on features either.
Strong Testimonials makes it easy to collect testimonials from third-party platforms and display them on your site. In order to do that, you have to use their Strong Testimonial Importer extension. There are other useful extensions available as well.
The plugin is very flexible and lets you customize your testimonials in various ways.
Adding a testimonial is very similar to adding a new post in WordPress. You add a title, the testimonial text in the body and, if possible, a featured image. That's all! You can use this step-by-step guide for exact details.
Once you add your testimonials, you can customize the way they're displayed: list/grid display or testimonials slideshow.
Here are the core features included with Strong Testimonials:
there are 11 templates available for your testimonial display modes;
4 layouts to choose from;
several available backgrounds;
add an excerpt of the testimonial;
custom fields in case you want to add the full name of the customer, their company website and more;
several sizes for your featured image;
slider settings such as transition time, automatic start, pause on hover, stop at interaction and others;
shortcode functionality;
multiple forms for collecting testimonials and much more;
---
How to use Strong Testimonials to add testimonials in Beaver Builder
So, now that you know how to add your testimonials in Strong Testimonials, you have to know how to use the plugin with Beaver Builder.
The process is really simple. All you have to do is use the shortcode generated in Strong Testimonials. Here's how you get that shortcode:
After you add your testimonials in ST, you have to go to the left sidebar in your WordPress dashboard. Go to Testimonials and choose Views, just like we explained in abovementioned guide:
You click on Add New and you customize the view for your testimonials.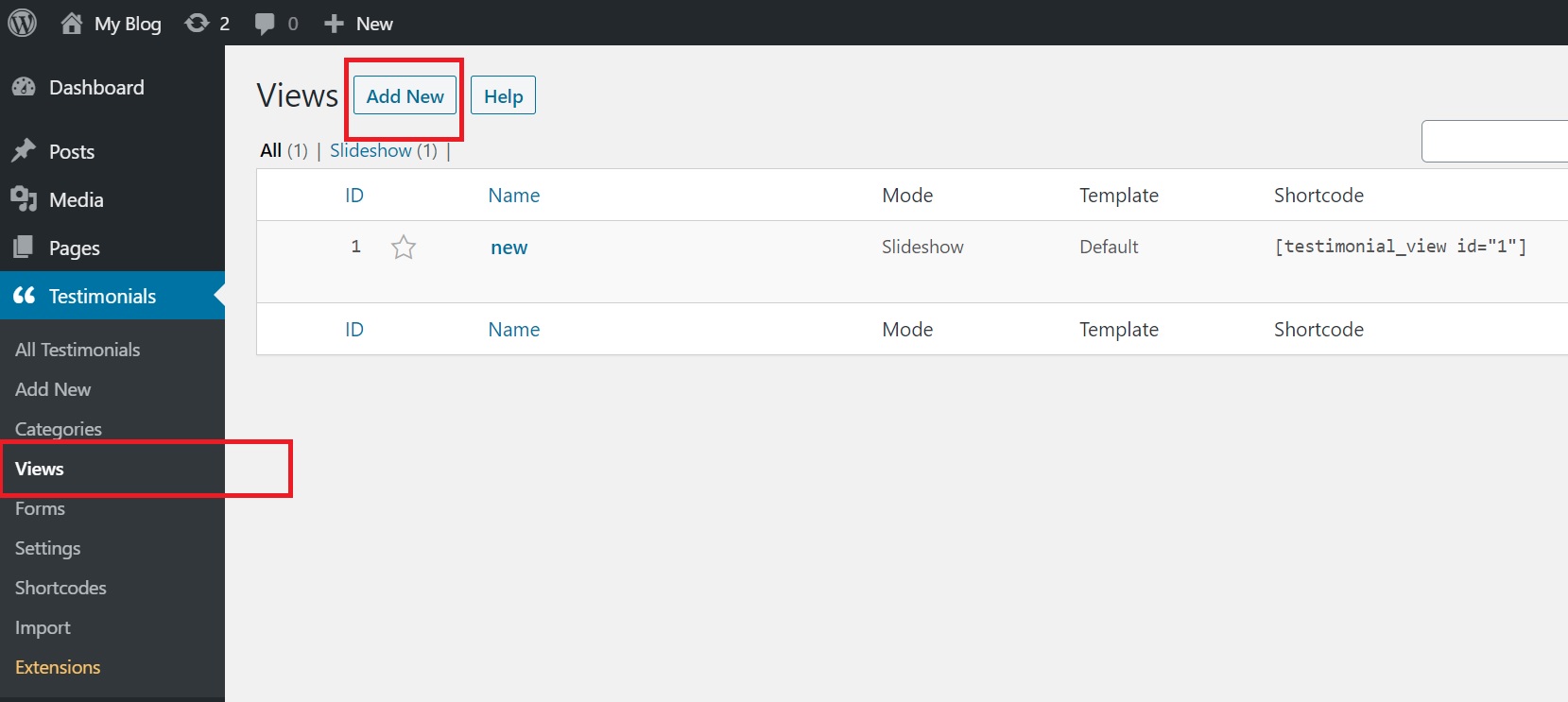 This is the point in which you can benefit from all those cool customization features we mentioned: choose your display mode, template, background and so on: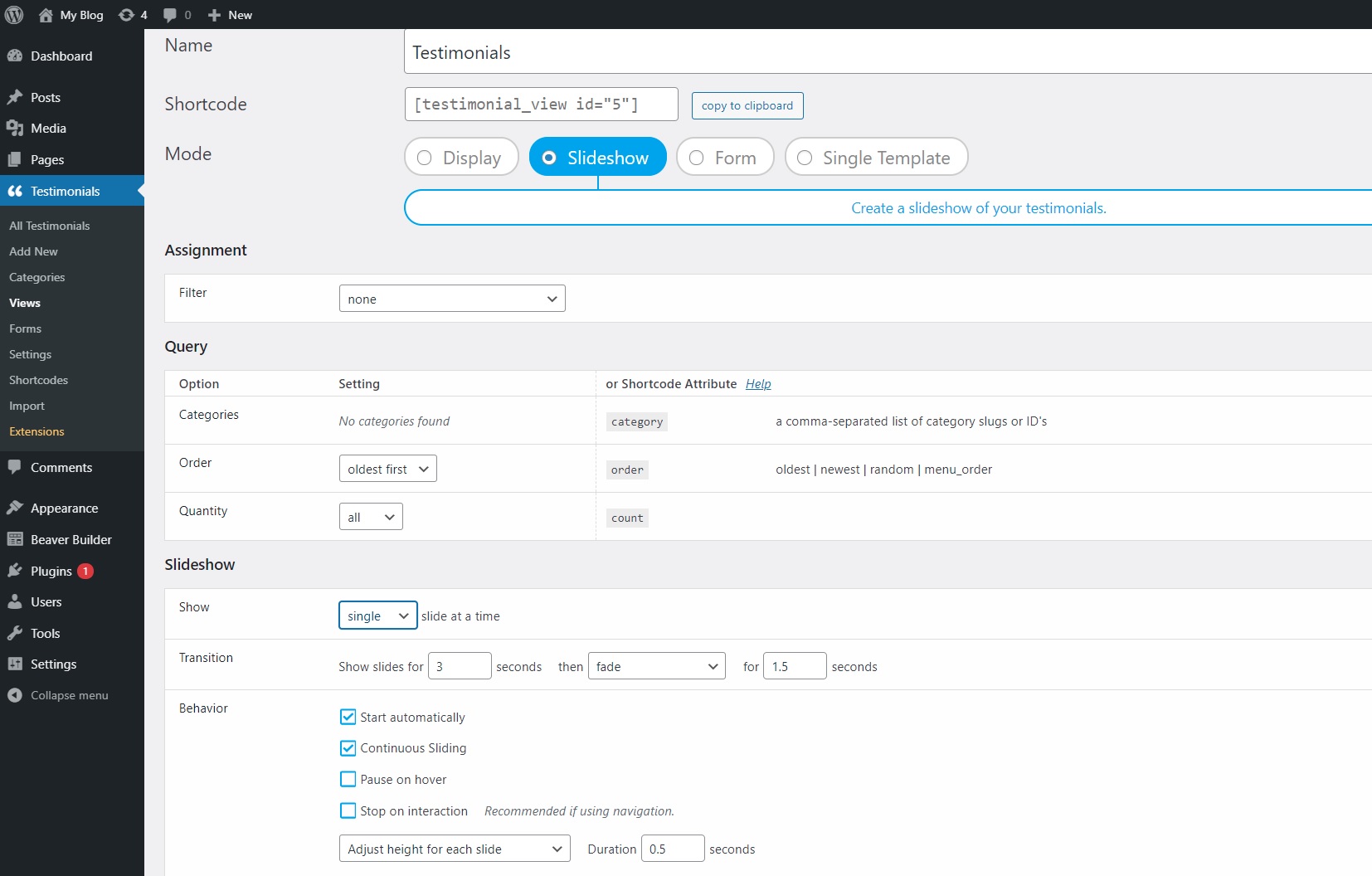 Choose the template you want: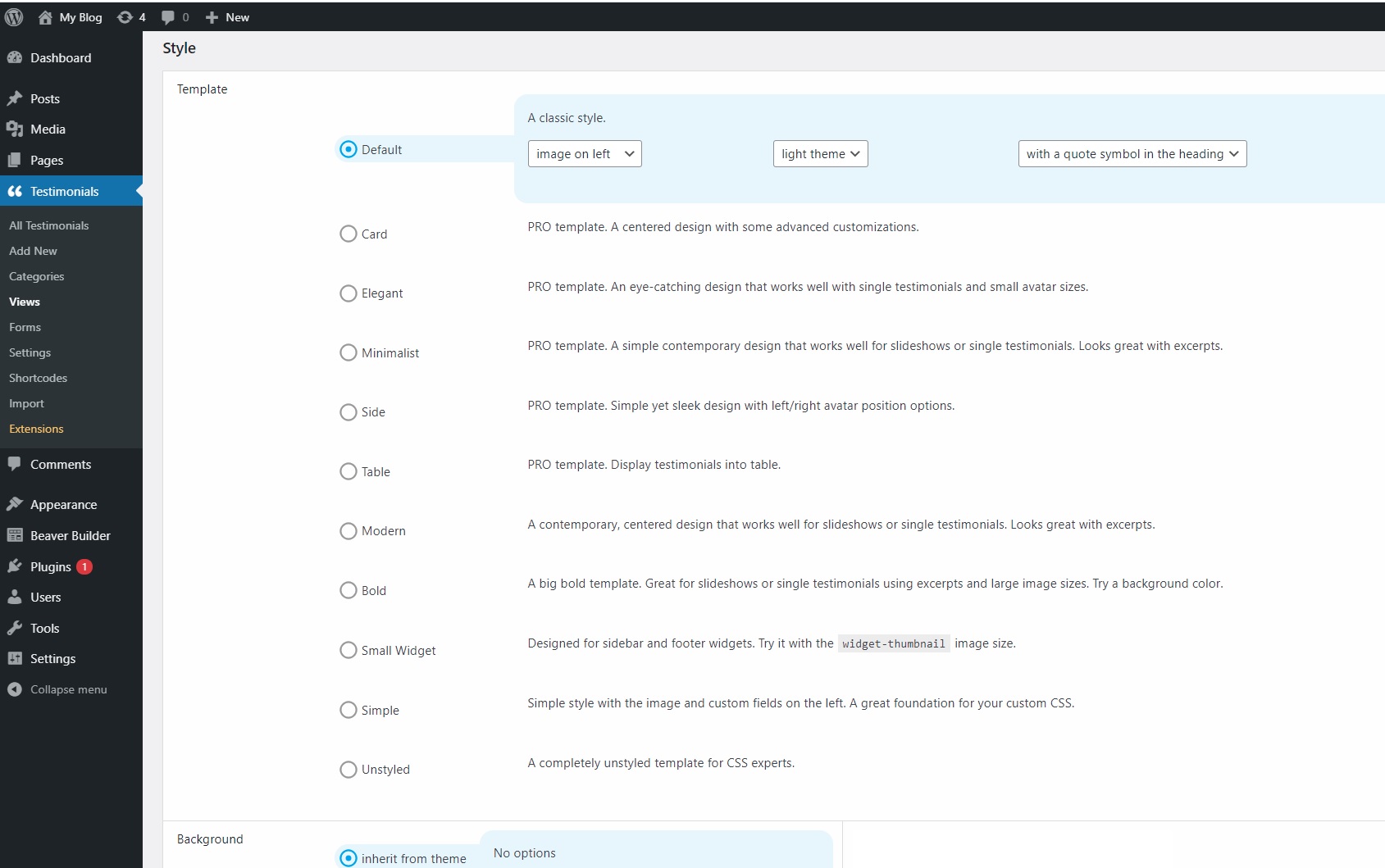 Once you are done with your customizations, click on the Save Changes button at the bottom of the page: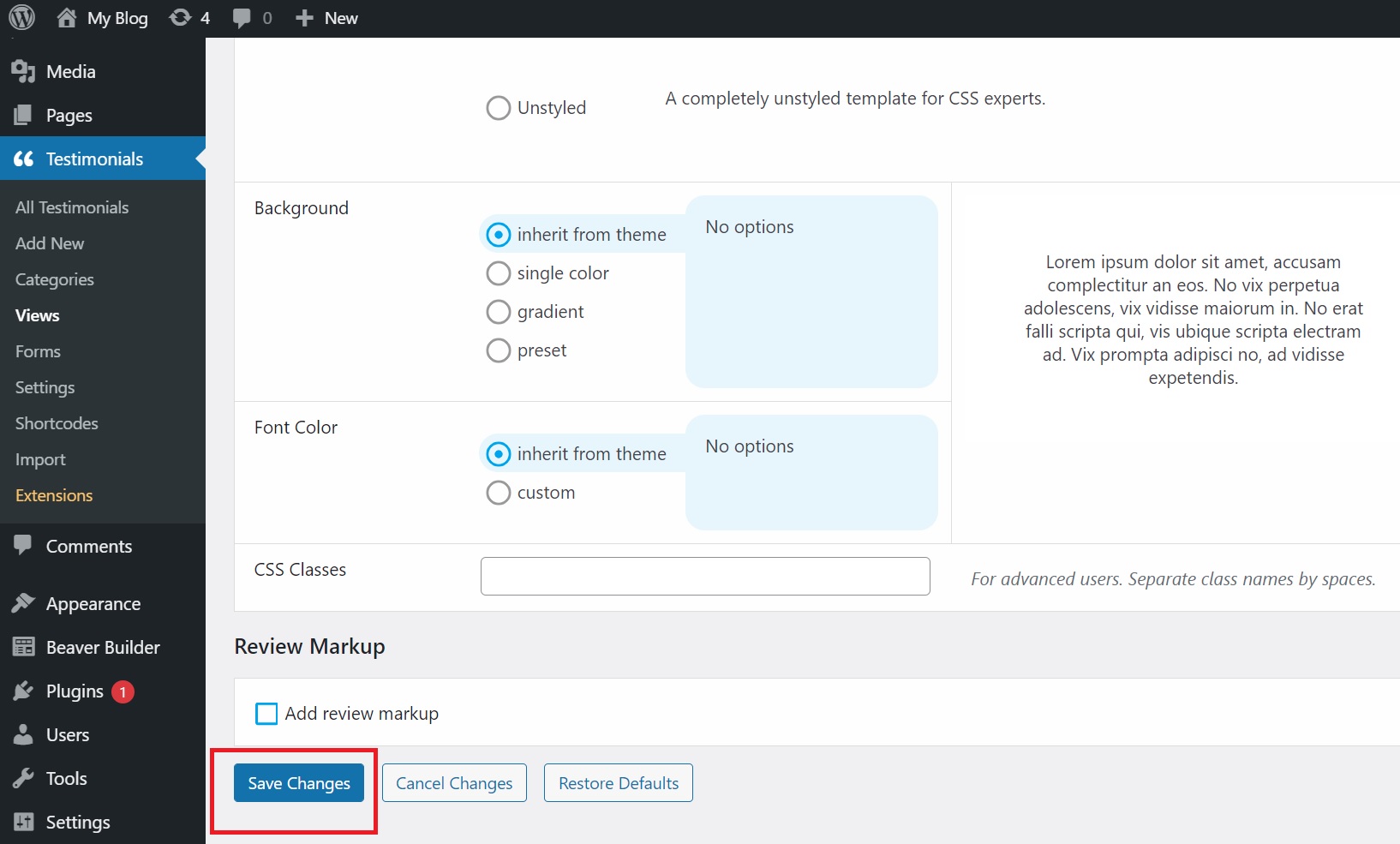 After that, scroll back at the top of the page and you'll see a shortcode that has been generated. Copy it: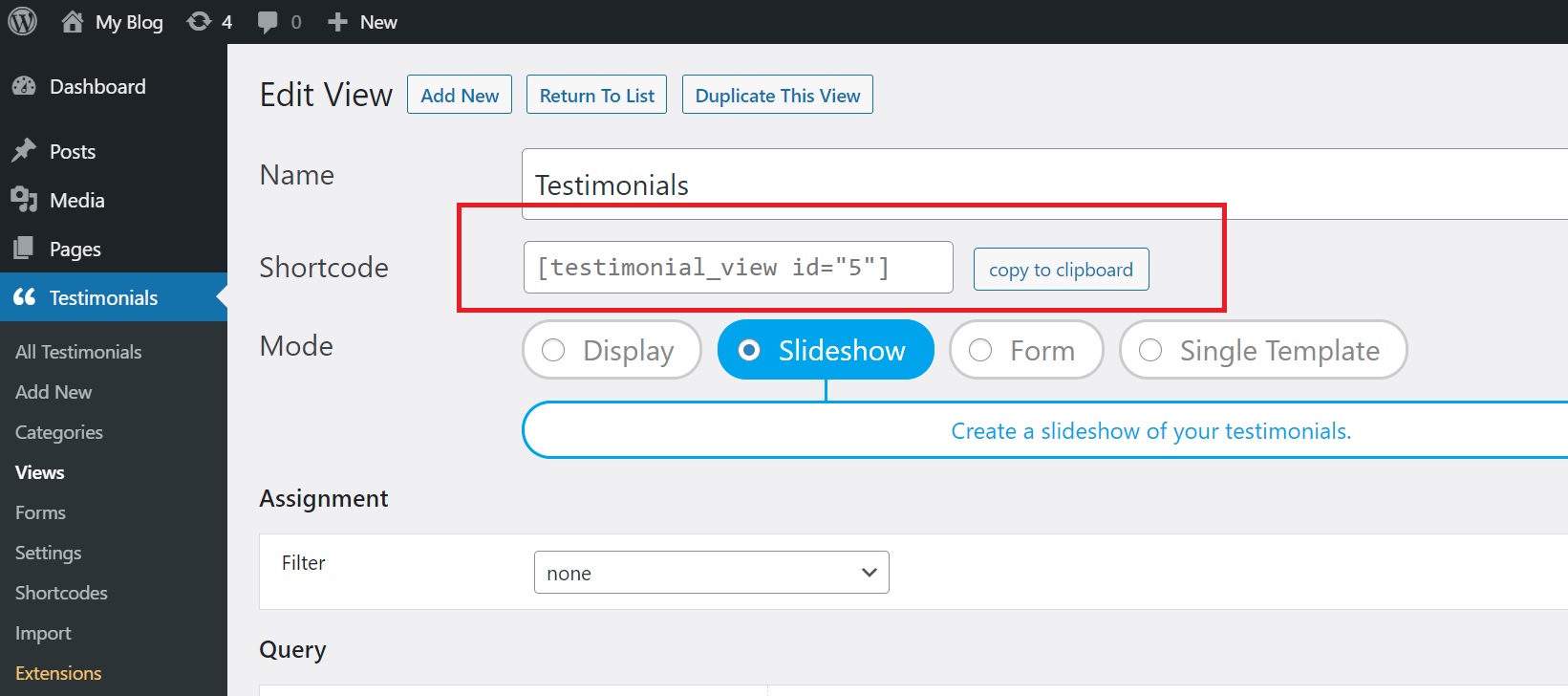 Next, go to the page you created in Beaver Builder, the page where you want to display the testimonials. Click on the + sign on the top-right, to open the window with Beaver Builder's modules and templates. Choose the HTML module and drag it on the page, in the square: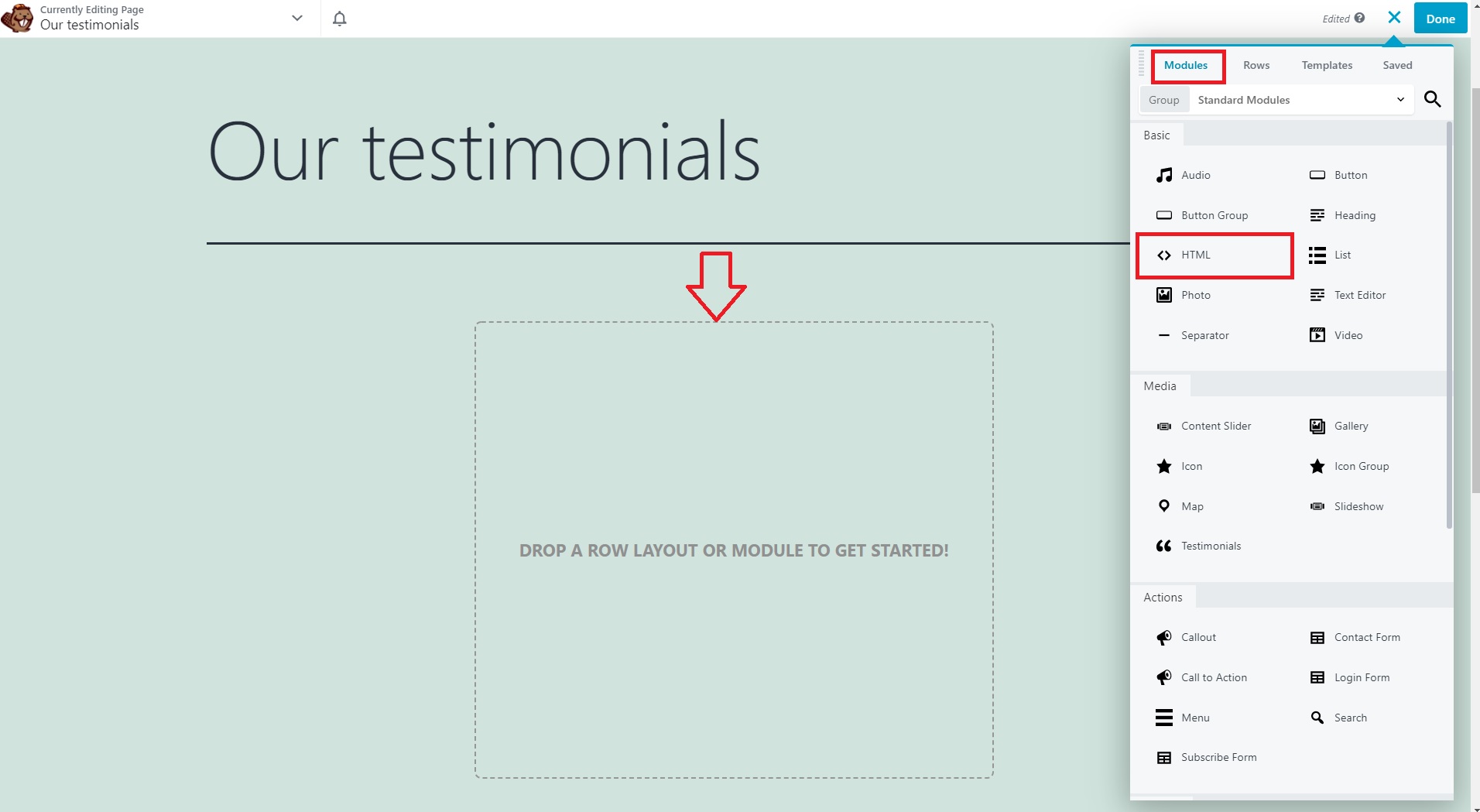 After you drop it, a new window will open to the left. You simply paste the Strong Testimonials shortcode there and hit the Save button: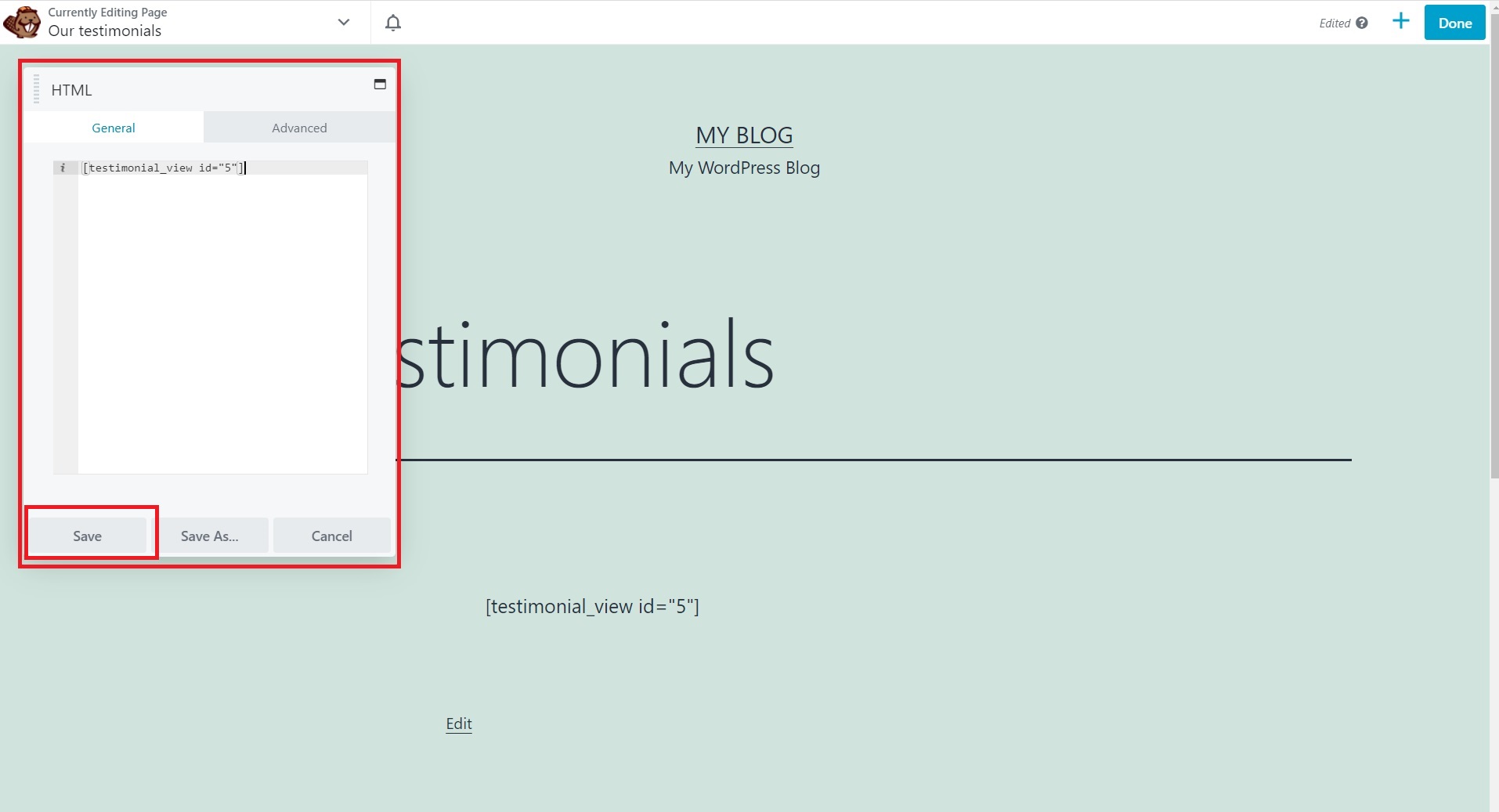 Next, all there's left for you to do is to hit the Done button in the top-right of the page and then the Publish button.
Your testimonials page is now live. Here's a simple testimonial slider we created in Beaver Builder, with the help of Strong Testimonials:
You can also paste the shortcode in another Beaver Builder module: the Text Editor module. The process is the same: you drag and drop the module on the page and then paste the shortcode in the window that opens in the left: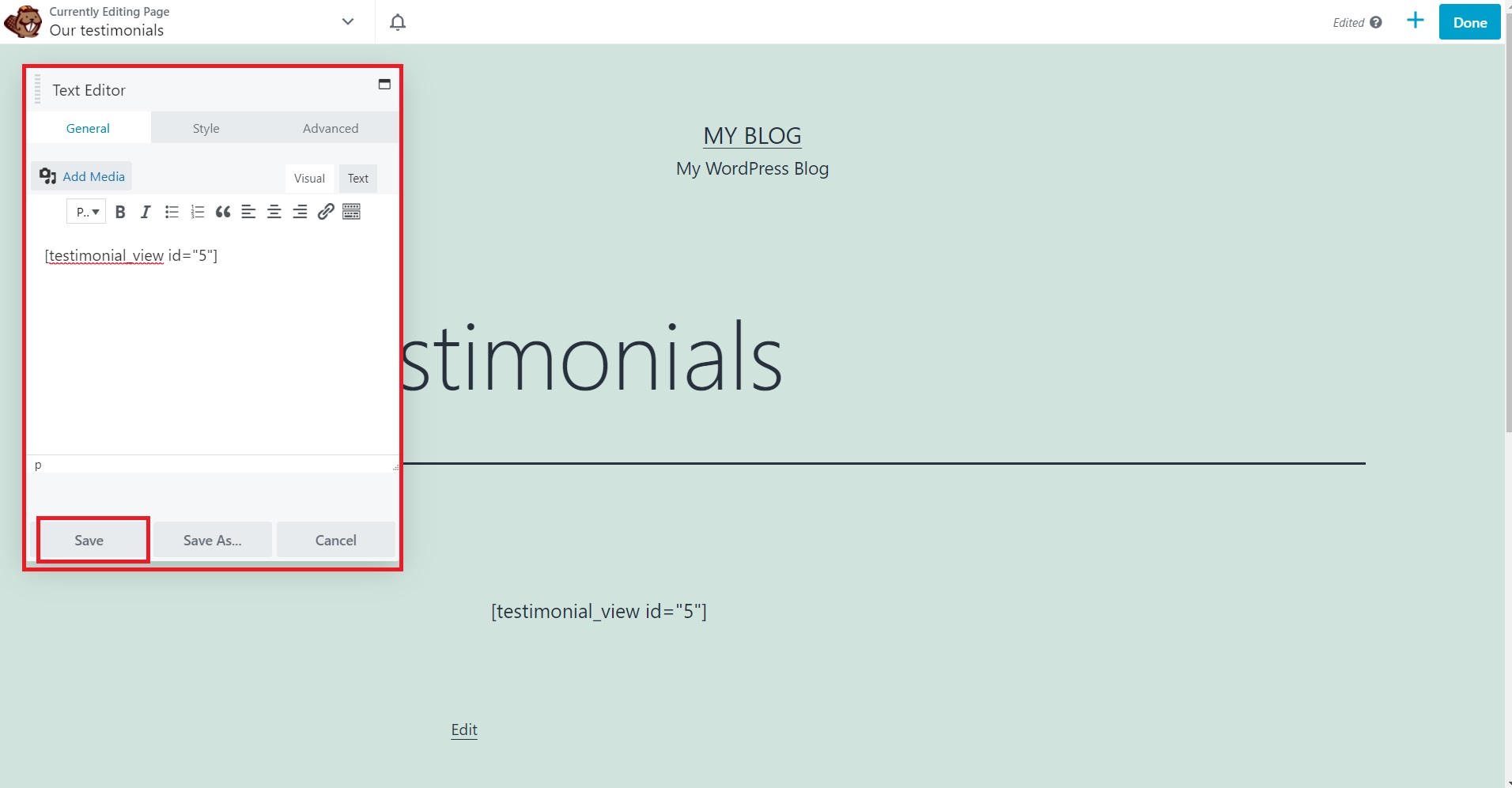 Similarly, once you paste it, you click the Save button, then Done and Publish. You'll obtain the same result as with the HTML module.
---
Conclusion
To wrap up, Strong Testimonials makes it really easy to add client testimonials in Beaver Builder. All you have to do is copy-paste a shortcode and you're done.
So take the first step towards boosting your conversion rate now. Install Strong Testimonials and attract more clients with beautiful testimonial pages that are fun and easy to create.