Can Your Visitors Filter Testimonials By Category? Our Add-On Says Yes!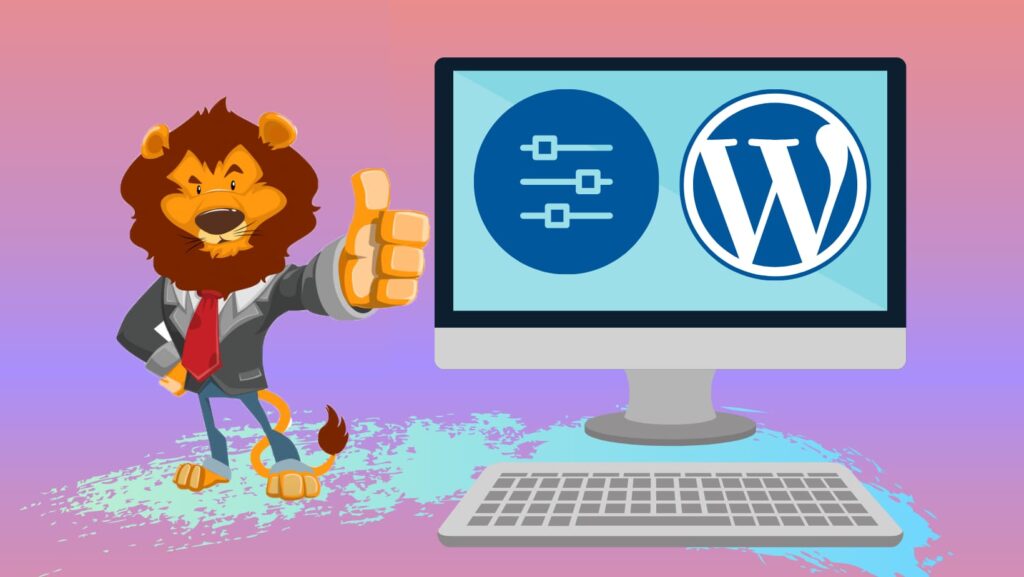 Your business is running perfectly, and you are getting tons of positive testimonials regarding the products or services you are providing. Are your testimonials, however, adequately divided into categories? With our filter add-on, you can filter the testimonials in any manner you want, making it simpler for visitors to discover what they're searching for.
With that being said, in this article, you will learn how to filter testimonials by category.
---
---
There's no doubt that a lot of people look through testimonials on a business profile in order to make a purchase decision. But what happens when you have a lot of testimonials and the customer can't filter them?
Here are just some of the few common mistakes we've seen from a multitude of businesses:
1. ❌ Most of them keep testimonials from all products/services together – If your testimonial page doesn't live up to your customer's expectations and deliver a memorable customer experience, they won't bother to check your products or shop from you.
2.❌ Customers waste time looking through all of the testimonials – You can lose a potential customer that doesn't have the patience to look through all testimonials just to find what he was looking for. People have a short attention span nowadays and the longer the customer takes looking through your testimonials (without finding something specific), the longer it will take for them to make a purchase decision.
3.❌ Businesses manually check all testimonials to find points to improve – As a business, you always have to check through a wall of text for what customers said (especially the negative feedback). It takes time to find something, time that you can actually use to fix the problems.
---
Reasons to filter your testimonials by category
Because customers have so many options these days, they are considerably more selective about spending their money. That is why testimonials are so crucial in the decision-making process.
Let's pretend that you are looking for the best gym equipment and your friend told you about this particular website that has everything you could ever need. You are pleased to see that the website is as amazing as you heard, but something bothers you.
The fact that all testimonials are in the same place and are not sorted slows you down because you have to scan everything before getting to what you need to hear or read. Having this in mind, let's look at a few reasons why you, as a business owner, should filter testimonials by category.
Accessibility — Having all testimonials sorted by categories like "Jackets" or "Pants" helps you and your potential clients find the specific reviews they are looking for. By filtering your testimonials, you will simplify visitors' process of finding what they want.
Clean look — Having your testimonials sorted by categories will make your website look cleaner and easier to navigate through.
Improves advertising — Having testimonials filtered into categories makes it easier to link them to marketing campaigns.
It's not just us that's saying that testimonials (good or bad) are essential. Take a look at these 2021 statistics:
---
Step 1: Enabling Filters
We'll presume you already have the plugin installed and active for today's post. If not, we offer a number of instructions to help you get started.
Firstly, go to Testimonials > Views, select a View.

After that, give a name to your new view, then scroll down to Filters and enable the function.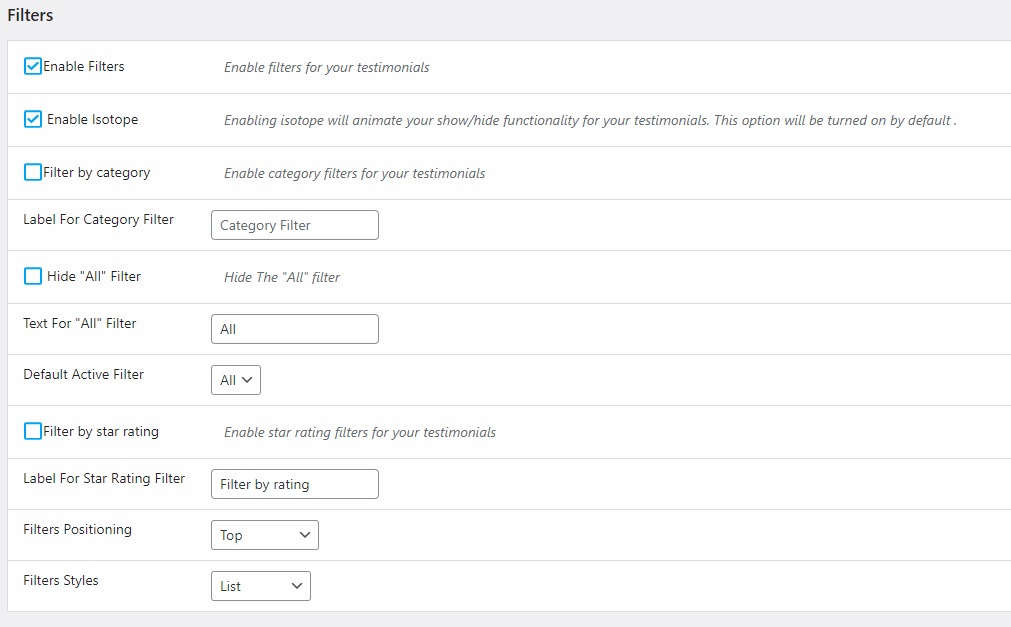 Step 2: Using the Filters function
As we can see above, there are plenty of options you can choose from. But what exactly is their purpose? Let's take a look at every one of them!
Isotope
This option is enabled by default, and we are recommending you leave it this way. Why? Because it creates an amazing effect when you change the category. It makes the transition smoother.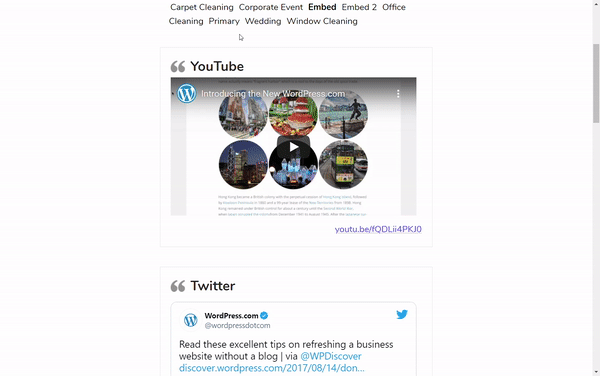 Filter Testimonials by category
You have a successful clothing business that ships products all over the world. Everyone is more than satisfied with the clothes' quality, so they decided to leave positive feedback.
Because of that, you decided to turn those reviews into testimonials and post them on your website. But there is a problem. Now, you have dozen of testimonials from different products on the same page, and it's baffling.
By enabling Filter by category and label each type, you will help yourself have an easier time using the website interface. Your clients will be pleased because they'll easily find the reviews for the specific product they want.
The "All" Filter
By this time, you filtered all of your testimonials by category, and your testimonial page is well structured. But some visitors might want to read what people are saying about you, your products, your brand.
Having an All button helps those curious visitors to get the information they need from happy clients. Moreover, you can make it look fancier by changing the "All" name.
Filter by star rating
You might want to display only those testimonials with five stars so the image of your business won't be speckled. Moreover, showing only those testimonials with 4 or 5 stars will encourage curious visitors to purchase.
However, it's a good idea also to leave some negative testimonials and respond to them accordingly. Consumers are more inclined to visit a business that reacts to bad reviews, according to 45 percent of respondents. Not only that but they will trust a business more if they see a mix of testimonials than if the business only had five-star ratings.
Step 3: Other options
On top of what we mentioned above, we also have some extra filter options you might find useful.
You can set the filters positioning: Top, Bottom, or Top/Bottom. Even the filter style can be changed to list or drop-down.
Thanks to the plugin's versatility, when creating a display or slideshow view, you may rearrange all of the fields to fit your needs.
In other words, you won't be restricted to a particular template and will have complete control over the elements of your testimonials as well as how they appear on your website.
Don't restrict yourself when it comes to testimonials by failing to consider all of the choices available in the testimonial view settings.
---
So, what can I do using Strong Testimonials?
1. Filter testimonials by category to help potential customers find what they need – Grouping types of testimonials according to the buyer's concerns (wind durability, quality, size, etc.) will help potential customers make a quick decision. Also, if you have more products or services on your website, make sure you divide your testimonials into categories for each product/service.
2. Filter your testimonials by products/services – If you have more products or services on your website, make sure you divide your testimonials into categories for each product/service
3. Filter testimonials by star rating – This allows you to perform a more targeted search to find out what customers enjoy about your company (5-star reviews) or what they'd like to see improved (1 and 2-star reviews)
---
Conclusion
Filtering testimonials is an excellent option that helps your visitors find the specific testimonials they are looking for. Strong Testimonials allows you to tailor the testimonials and play with the filter options depending on your website's style.
Furthermore, you can utilize this feature if you subscribe to our Business Plan. So, what are you waiting for? Get Strong Testimonials and everything it has to offer right now at a great price! 😁