Hey there! Want to know a secret? Customer reviews are like the Robin to your Batman in the business world. They're that dependable sidekick that always helps you out. Potential customers trust reviews more than your fancy slogans or flashy ads.
Lucky for you, I'm here to show you how to import customer reviews from Booking (you know, that huge travel website everyone uses) into your WordPress site using the Strong Testimonials plugin. Get ready to increase those sales and build trust with your customers!
To the Batmobile Robin. Ahem.
---
---
Why import Booking reviews into your WordPress website?
Booking is one of the biggest travel websites on the net. Offering loads of options for all kinds of travelers. And let's be honest; we all love checking out other travelers' reviews before booking our stay.
Did you know that displaying Booking reviews on your WordPress site can be super helpful? Here are a few reasons why you might want to consider importing those reviews into your website:
✔️ Establish credibility: For travel businesses, gaining the trust of potential guests is vital. One great way to do this is by showcasing genuine reviews from Booking, a reputable platform. By featuring these reviews on your website, you can prove the quality of your service and build a solid reputation – especially if you're a new or lesser-known business.
✔️ Save time and effort: Getting customer reviews on your website can be a real hassle. But fear not! The Strong Testimonials plugin simplifies things by letting you easily import reviews from Booking. Saving you time and effort, and the plugin even has customization options so you can filter and display reviews in a way that works best for your business..
✔️ Improve website traffic and engagement: Reviews on your website boost credibility, increase traffic, and engage visitors. They give potential guests valuable information to make informed booking decisions. Plus, you can encourage interaction by letting visitors leave their reviews or comments, which builds your brand and boosts your online presence.
---
Install and activate Strong Testimonials
Strong Testimonials is a powerful plugin that lets you easily import and display customer reviews on your WordPress site. The plugin is compatible with Booking and provides several customization options to make your review section look great.
To access the Booking importer, you need to have the Strong Testimonials Importer extension that comes with the Strong Testimonials Plus plan or higher.
Activating and installing the plugin is a straightforward process that follows the same steps as any other free WordPress plugin.
To install the free version of Strong Testimonials, check our documentation.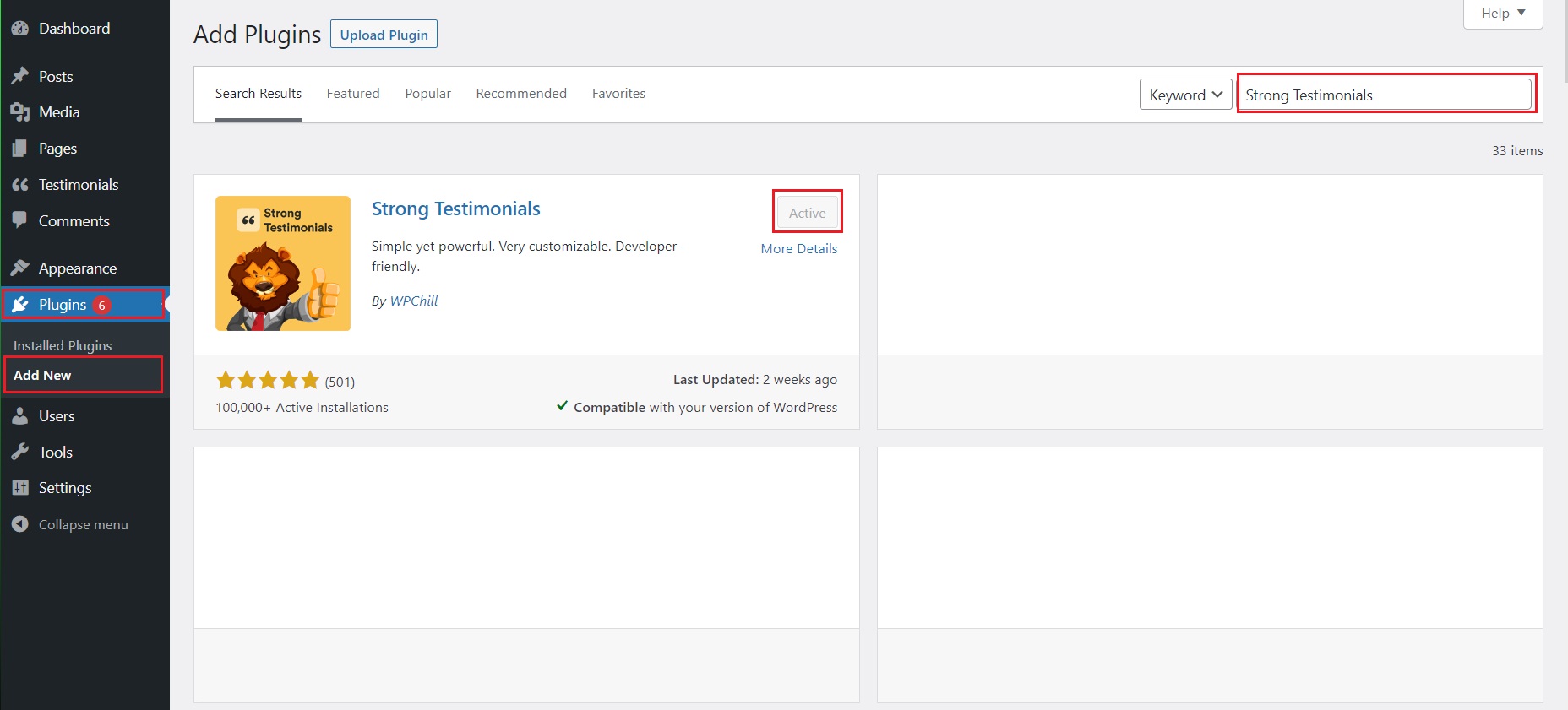 Once you purchase the Plus plan or higher, follow the steps in this guide to install and activate the Strong Testimonials Pro version.
Importing testimonials from Booking
Before getting to the actual importing part, it's essential to head over to Testimonials > Import > Settings tab. Here you will find various general options you can play around with.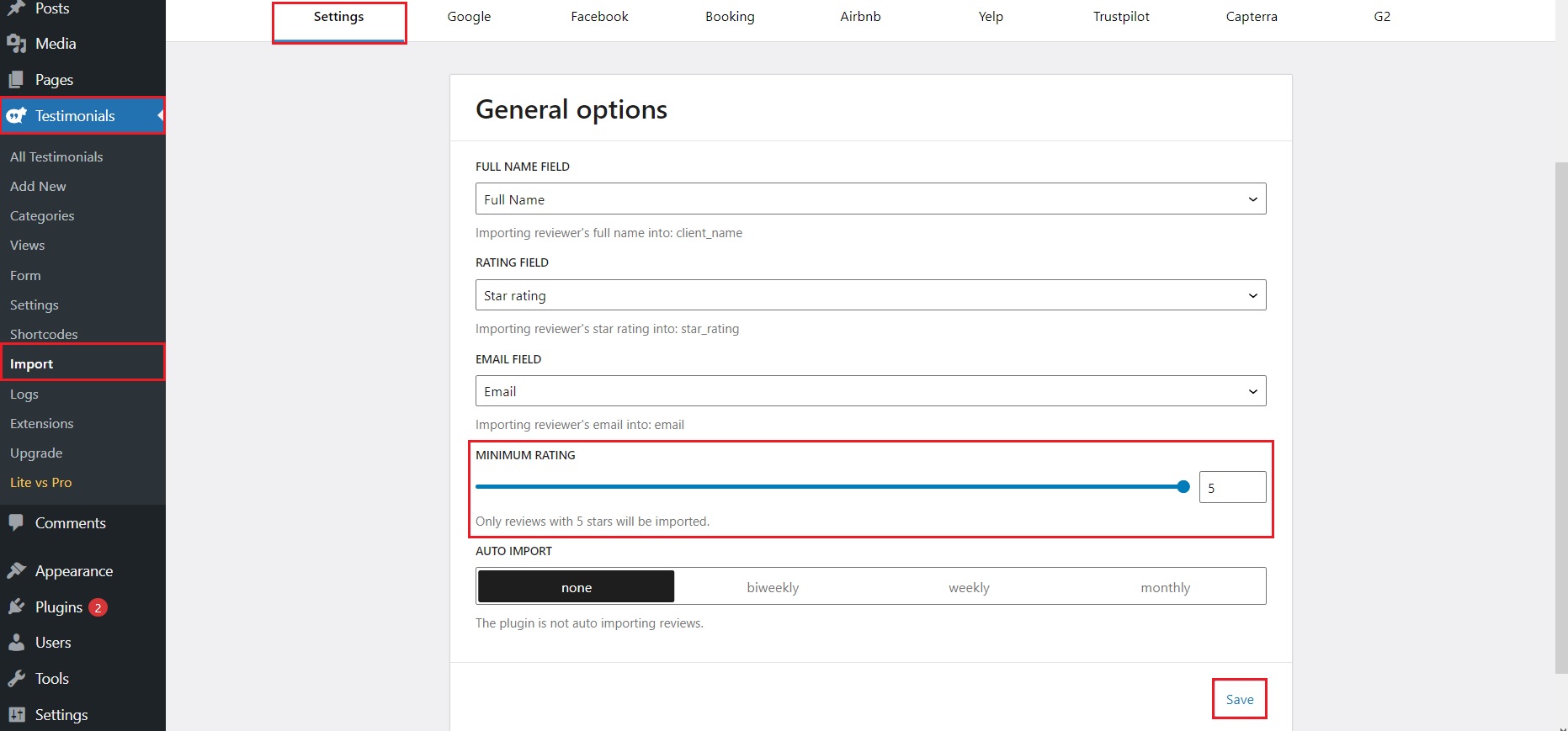 Full Name Field: none, Full Name, Company Name.
Rating Field: none, Star Rating.
Email Field: none, Email.
Minimum Rating: 1-5 (the value will determine what testimonials with that rating will be imported).
Auto Import: none, biweekly, weekly, monthly.
For a more detailed explanation on how these general settings work, make sure to check the documentation on that.
Don't forget to save the changes.
To import testimonials from your Booking listing into your website, head to your Dashboard > Testimonials > Booking tab.
Next, paste your Booking listing link into the text box and click the Add pages button.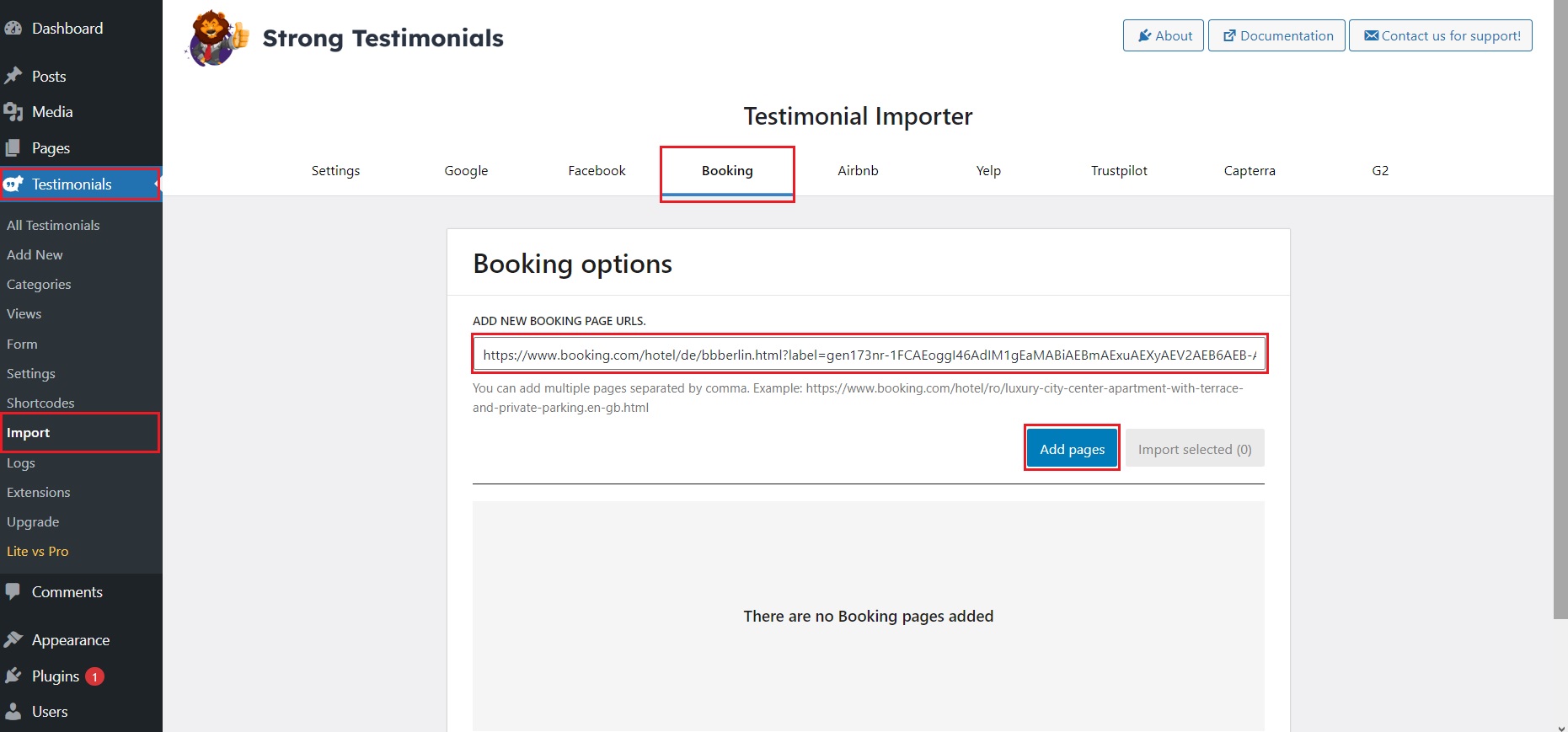 Tip: If you own multiple locations and want to import all of your testimonials across all of your listings, you can copy and paste all of the links and separate them by a comma.
Once you click the button, your listing will appear below. Click on the Import now button to begin the importing process.
You will see an import status while the plugin processes your request. Once it's finished, it will show ✔️Imported status.

⚠️ Note: You can make one pull request per link/listing every three days.
Once the import is finished, you can see your newly imported testimonials under Testimonials > All testimonials.
We currently have a minor issue with some testimonials from Trash coming back to life like a zombie and crawling back into the All Testimonials section. But we're assembling a task force with laser guns to deal with them.
Display the testimonials on your website
Once you have finished importing the Booking testimonials with our extension, it's time to display them on your website.
Before displaying, we first need to create a testimonial view. Go to Dashboard > Testimonials > Views > Add New.
You can select either the Display or the Slideshow view. Each comes with its individual settings and customizations.
After saving the changes, Strong Testimonials will generate a shortcode for your view.

Block Editor and Strong Testimonials are like peanut butter and jelly – they work together perfectly! Click the "+" icon, find the Strong Testimonials View, select your preferred testimonial view, and hit Publish or Update. Easy peasy testimonial squeezy!

And there you have it! Your newly imported Booking testimonials are live on your website.
---
Wrapping up…
Importing reviews from Booking into your WordPress site using the Strong Testimonials plugin is a great way to showcase positive customer reviews and increase your listing's credibility.
With this step-by-step guide, you can easily import reviews and customize the display to make it look great on your website. Remember to encourage customers to leave reviews on Booking to continue to build your online reputation.
If you haven't tried Strong Testimonials yet, now's the time to try it and see the results for yourself!