Testimonials are essentially 5-star reviews. The Review Markup add-on for Strong Testimonials will help search engines identify your testimonials as reviews in search results.
Within the review markup, you can include rating markup to encourage search engines to display rich snippets – whether or not you use a star rating field on your testimonials.
Aggregate rating example

An individual review example

Configure Review Markup
After installing and activating the plugin, go to Testimonials Settings Review Markup to configure your markup.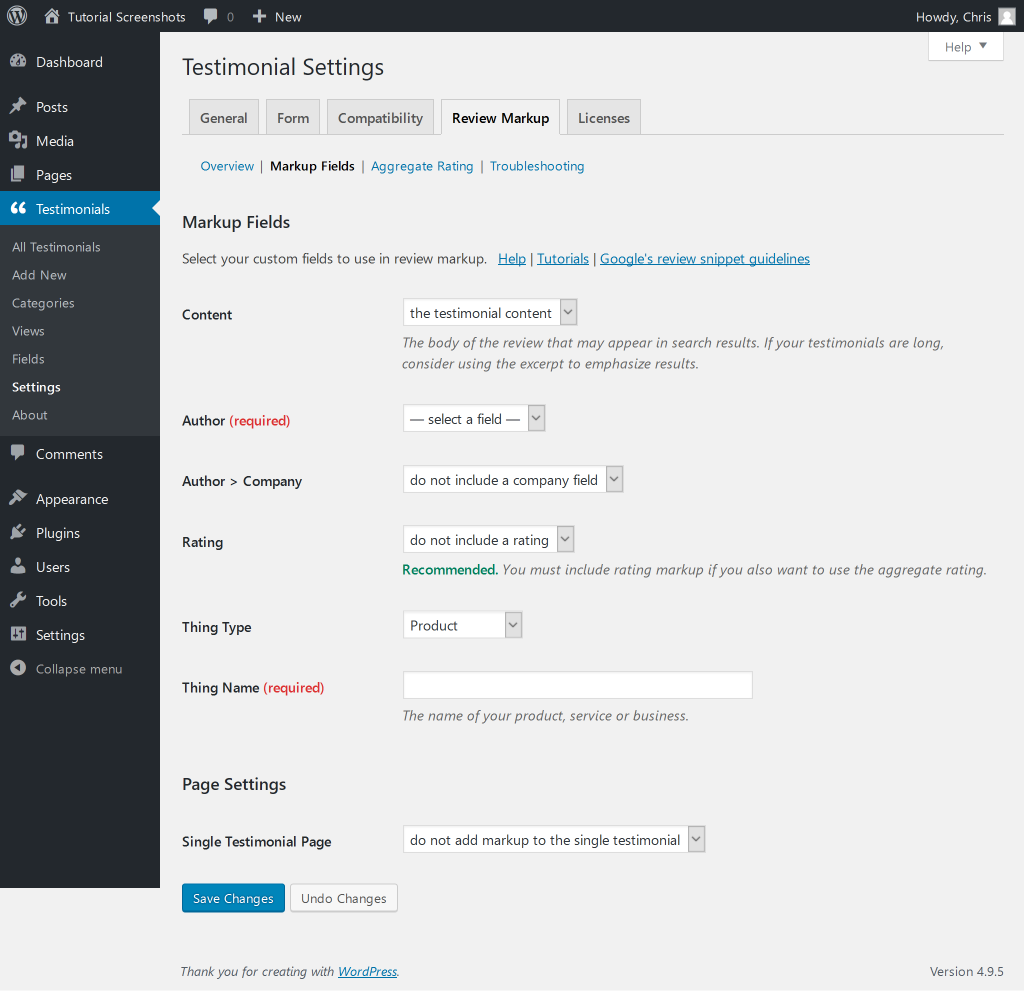 The fields
Content
Choose the testimonial content or the excerpt. This will appear as the body of the review in search results. If your testimonials are long, consider using the excerpt to highlight the best features of your product or service.
Author (required)
Every review requires the name of a real person who submitted the review.
Company
You can optionally add the reviewer's company name and website address if you collect that information.
Rating
Whether to include the additional rating markup as mentioned above and which custom field to use (you can have multiple rating fields).
If the testimonial has no rating value, you can either:
use the maximum value of 5 out of 5 stars (recommended); or
skip the rating markup for that testimonial (the review markup will still be added)
Rating markup is required if you also want to display the aggregate rating and enable search engines to display a review snippet (commonly called "the stars").
Thing Type
Every review requires a type of thing, either a product or a service.
Thing Name (required)
Every review requires a name of the thing it belongs to. That can be a product or service or simply your business name.
If you only sell one product or service, enter that here.
If you want your testimonials to refer to your business in general, enter your business name here.
If you sell multiple products and/or services, enter either a general description or your business name here as a fallback. Then segment your products and services by category. The category name will be used as the product name in the review. In admin, the category list table will show the aggregate rating for each.
Single Post
Whether to add review markup when viewing individual testimonials using your theme's single post template (not a view). For example, if you use the "Read more" link option in the view.
Enable markup
Enable review markup in any testimonial view and select your global product name or a specific category.
Enable aggregate rating markup as well to encourage search engines to display rich snippets for your product or service pages.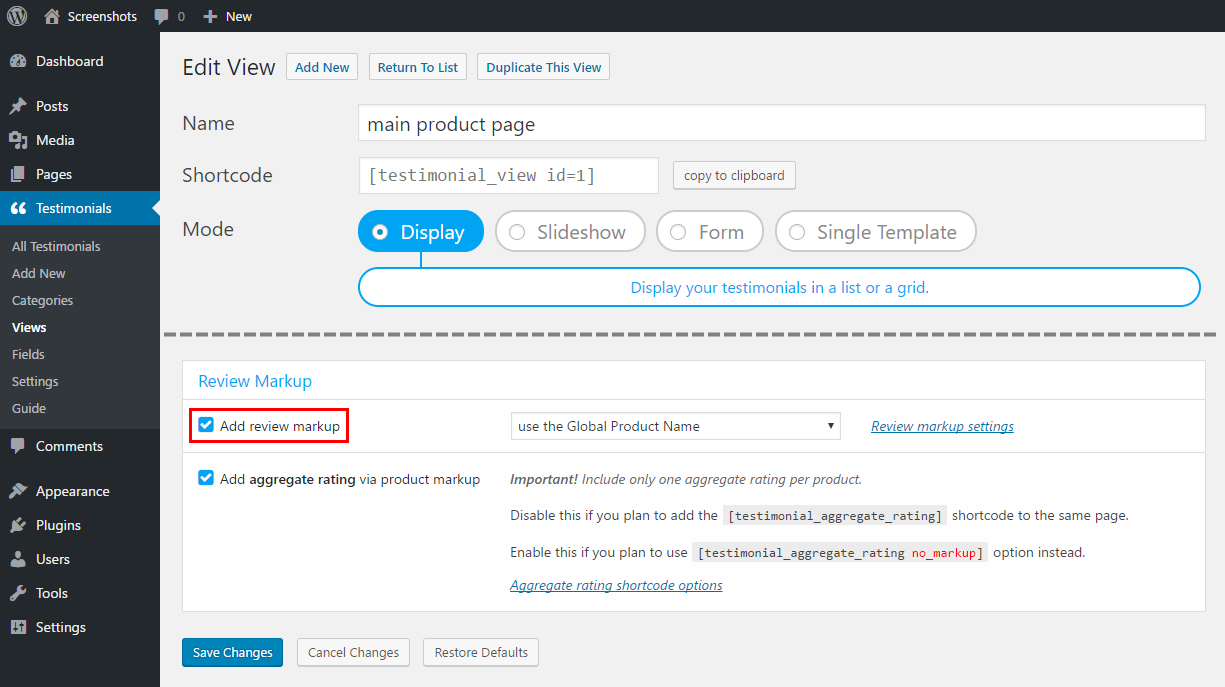 The aggregate rating
The aggregate is merely the average rating of your testimonials. An aggregate is calculated using all testimonials. If using categories, an aggregate is also calculated for each one.
Events that will trigger aggregate recalculation:
updating the add-on
changing the add-on settings
changing a testimonial's category
changing a testimonial's rating
publishing a new testimonial
Conditions that cause an inaccurate aggregate value:
rating field mismatch – for example, if you rename or delete your rating field after configuring the review markup
Summary
It may seem complicated but it boils down to this:
Configure the markup.
Enable markup in a testimonial view.
Validate your markup.