You don't need multiple widgets or shortcodes because, with Strong Testimonials, you can use only one widget and one main shortcode. Maybe you are wondering why you would add client testimonials to your website and how to add testimonials in a WordPress sidebar. You should do that because they help you get more customers and generate more sales.
It is known that testimonials can work for your benefit because clients can be influenced by someone's else review. People trust the word of their peers. Testimonials offer a realistic view of your product and can build trust. Read this article to find out the easiest way to create sidebar testimonials.
---
In this post, we will share:
Why use Strong Testimonials;
How to create a testimonial;
Add testimonials to a page;
How to add testimonials to a sidebar.
---
---
Why use Strong Testimonials?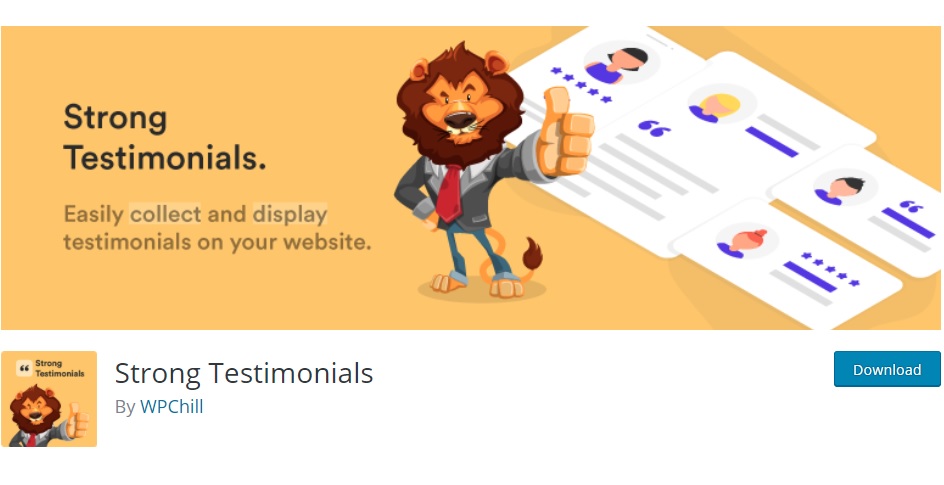 This guide is to teach you how to post testimonials in the sidebar of your WordPress website. One of the easiest and rewarding ways to do that is to use Strong Testimonials. It is incredibly easy to use, and it comes with powerful features to customize your testimonials as you please.
The number of users and businesses using the Strong Testimonials plugin is increasing continuously from more than 100,000 users. Because of its perfect balance between user-friendliness and features, it has a full perfect 5-star rating.
Why choose Strong Testimonials? Because it is accessible for everyone, it has a free version and a PRO version. At the same time, it is easy to use and has multiple forms for collecting testimonials. You can choose from:
4 layouts(masonry, grid, columns);
11 templates (card, elegant, minimalist, modern, bold, small widget, and others) for the display;
many other extensions;
shortcodes and so much more.
There are settings for shortcodes, widgets, and custom fields((text, email, URL, video URL, video upload, and more). It doesn't matter what kind of page builder you use, Strong Testimonials makes it easier and convenient to add testimonials to your WordPress website.
Do you want to upgrade to the PRO version? The plans starts at $49 per year.
---
How to add testimonials with Strong Testimonials?
First of all, you need to install and activate Strong Testimonials. To do that you might want to take a look at our guide about how to install plugins in WordPress.
After the installation process is over and you activated the plugin too, you will find it in the left WordPress menu with the name "Testimonials".
---
Create the testimonials
The first step is to create testimonials. After you installed the plugin, go to Dashboard > Testimonials > Add new.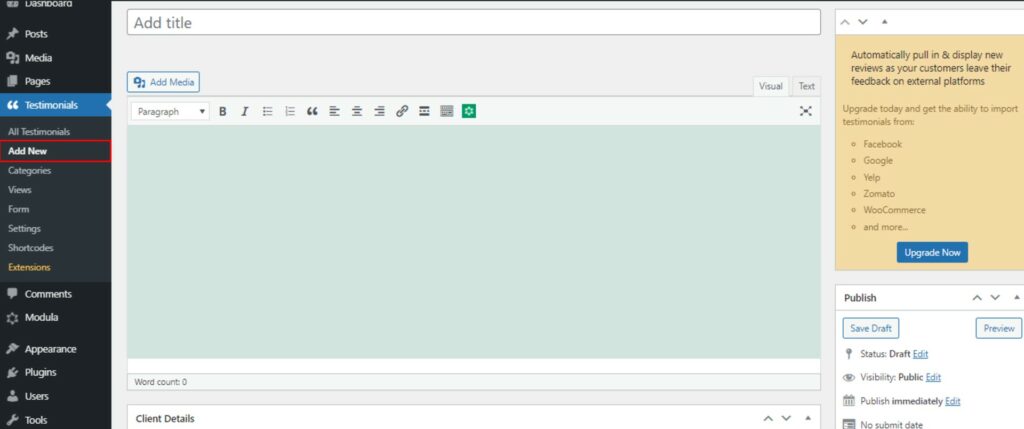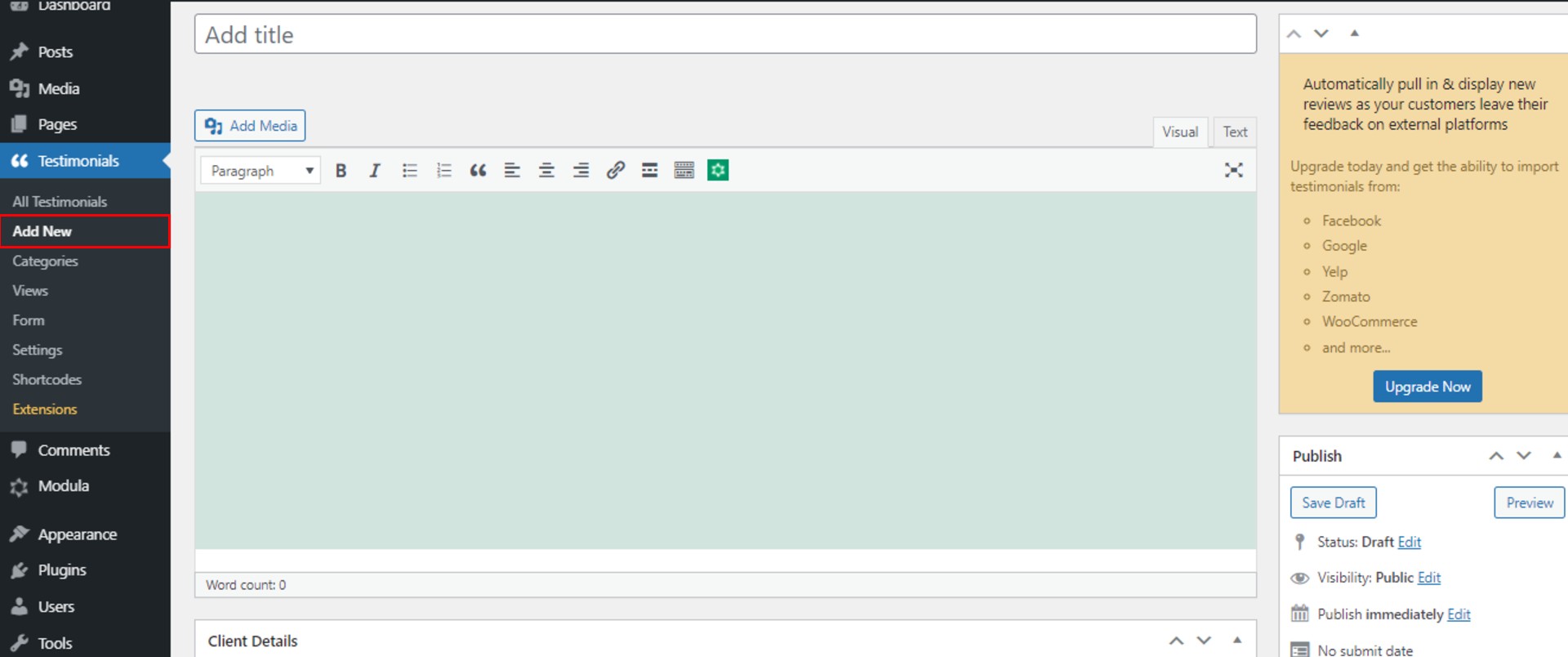 Here are many fields you have to fill, like custom's name, email address, company, or website. You can even add a featured image if the customer agrees.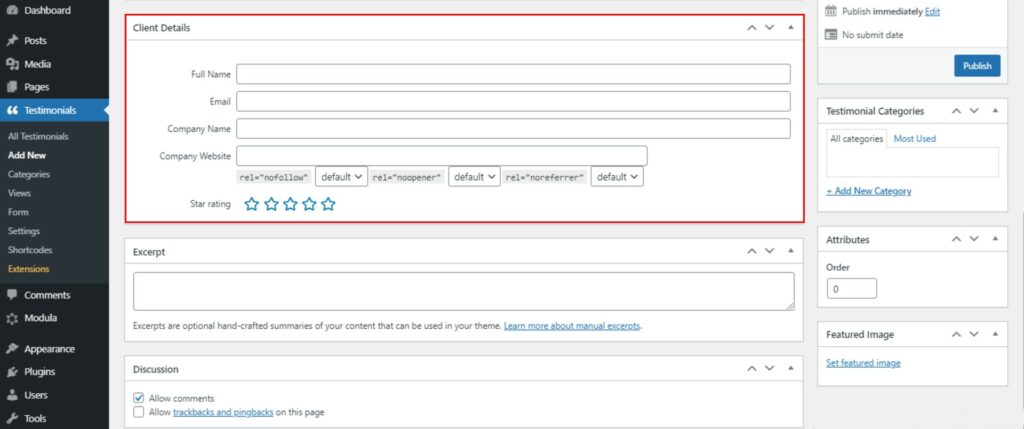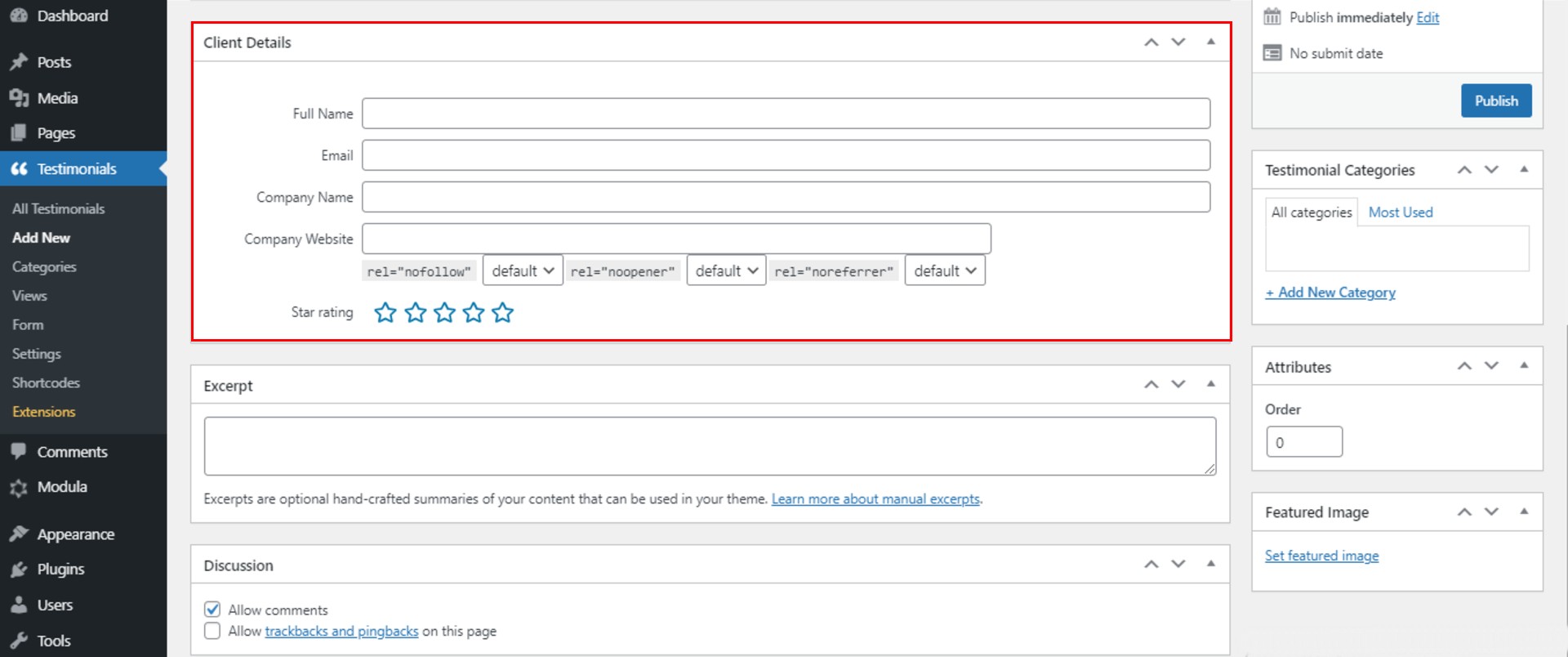 ---
After adding all the information about the clients, don't forget to click on the Publish button.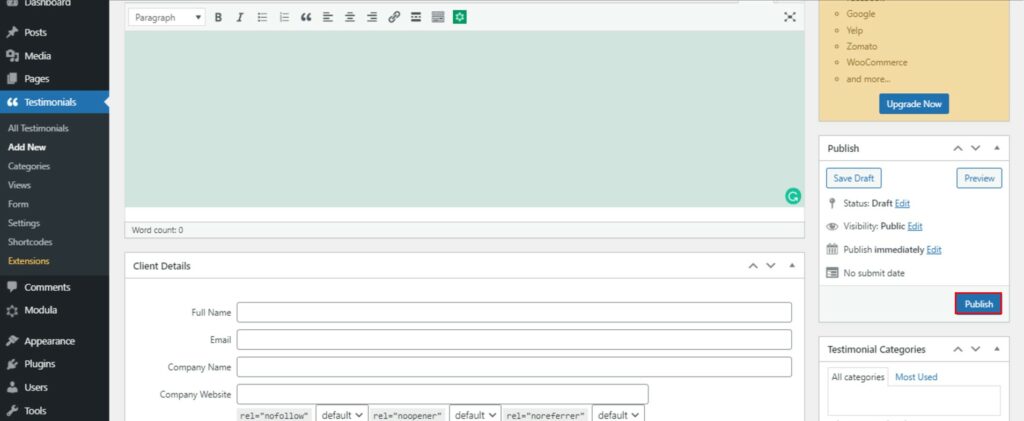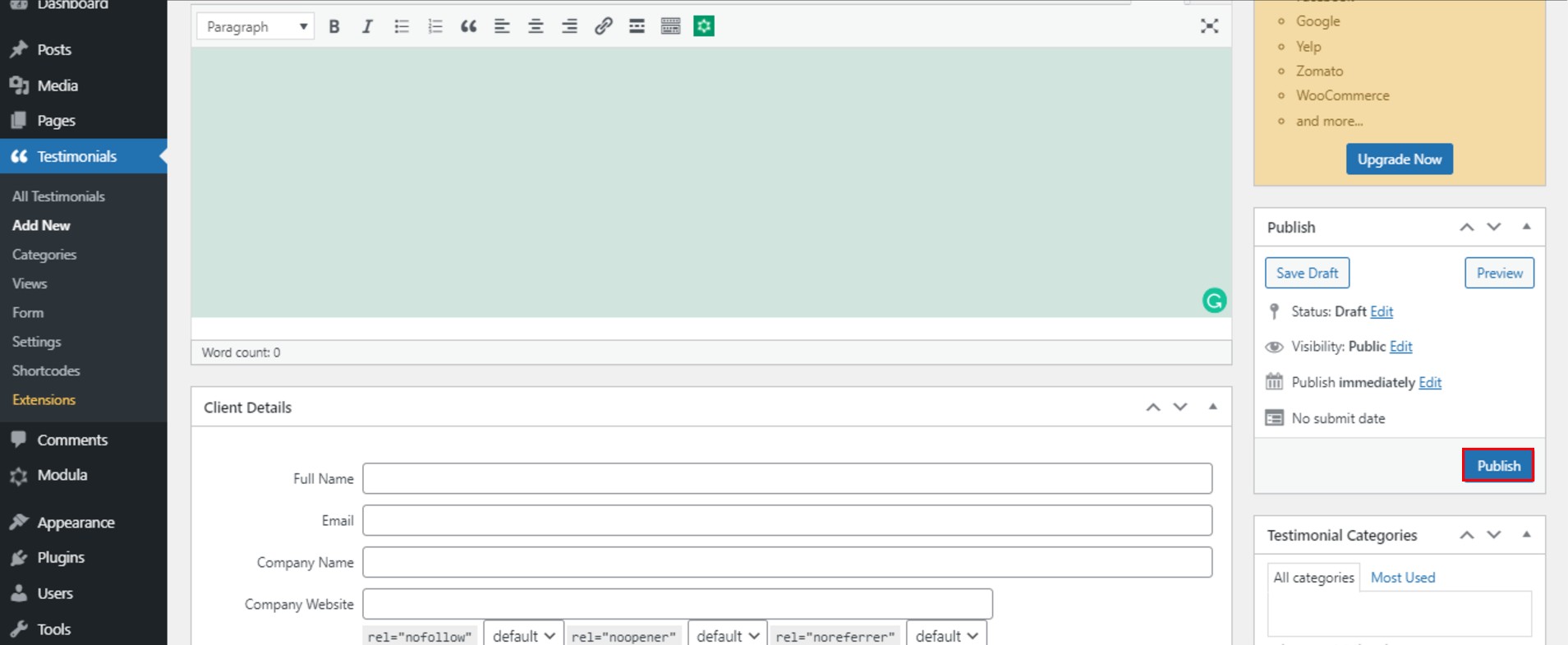 Next, go to the Views > Add New to create the testimonial.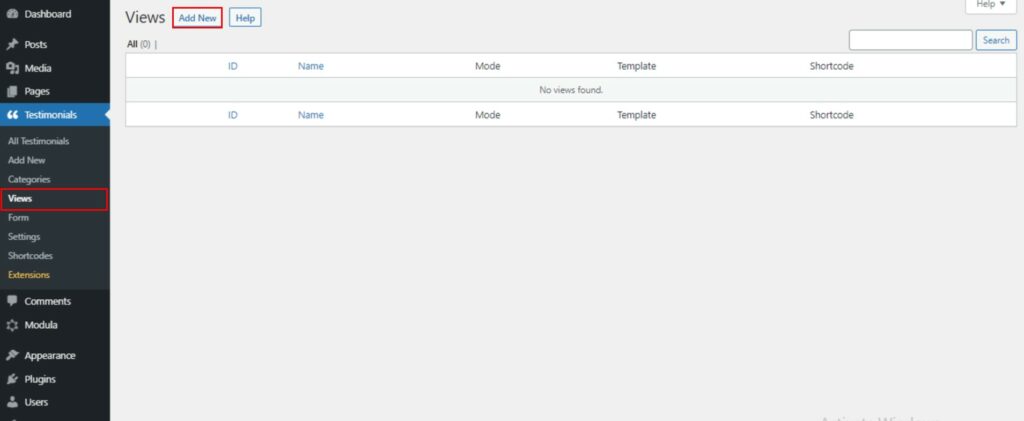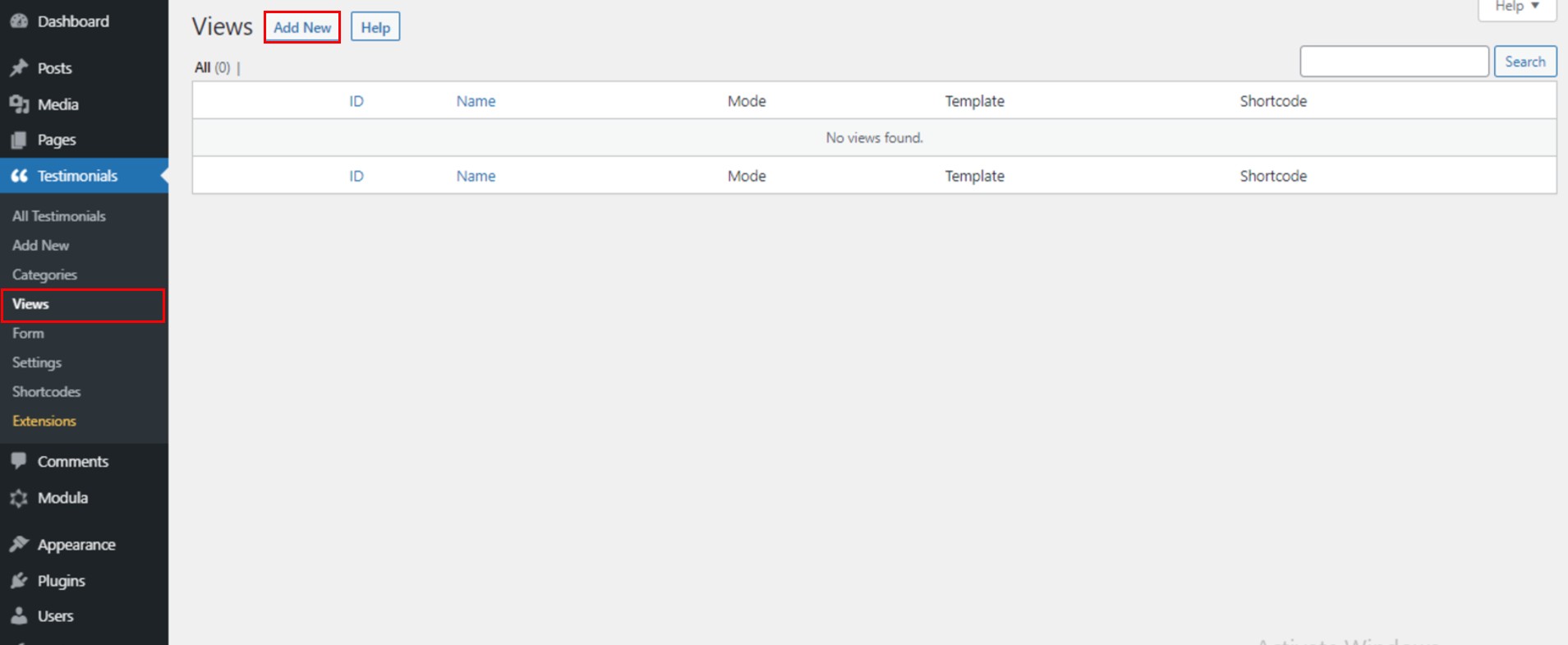 ---
Select a mode
You have three different available options to choose from: display, slideshow, or form. For each mode, the features will change because they are different.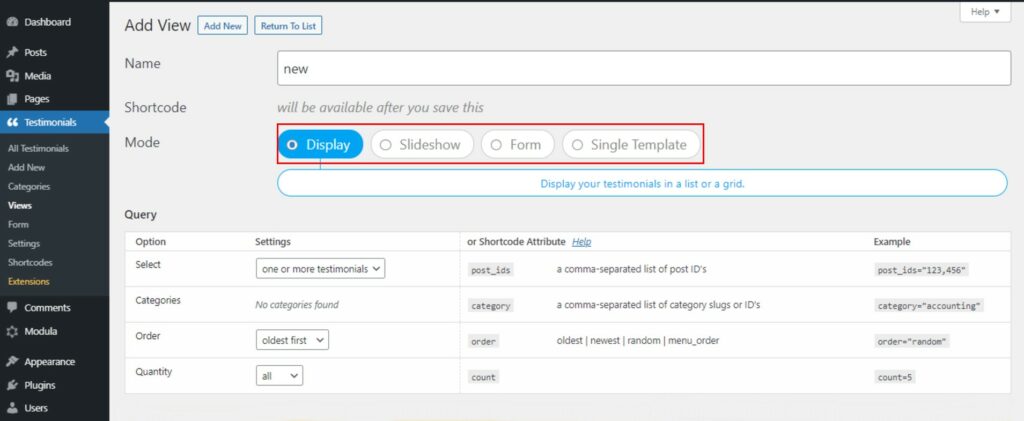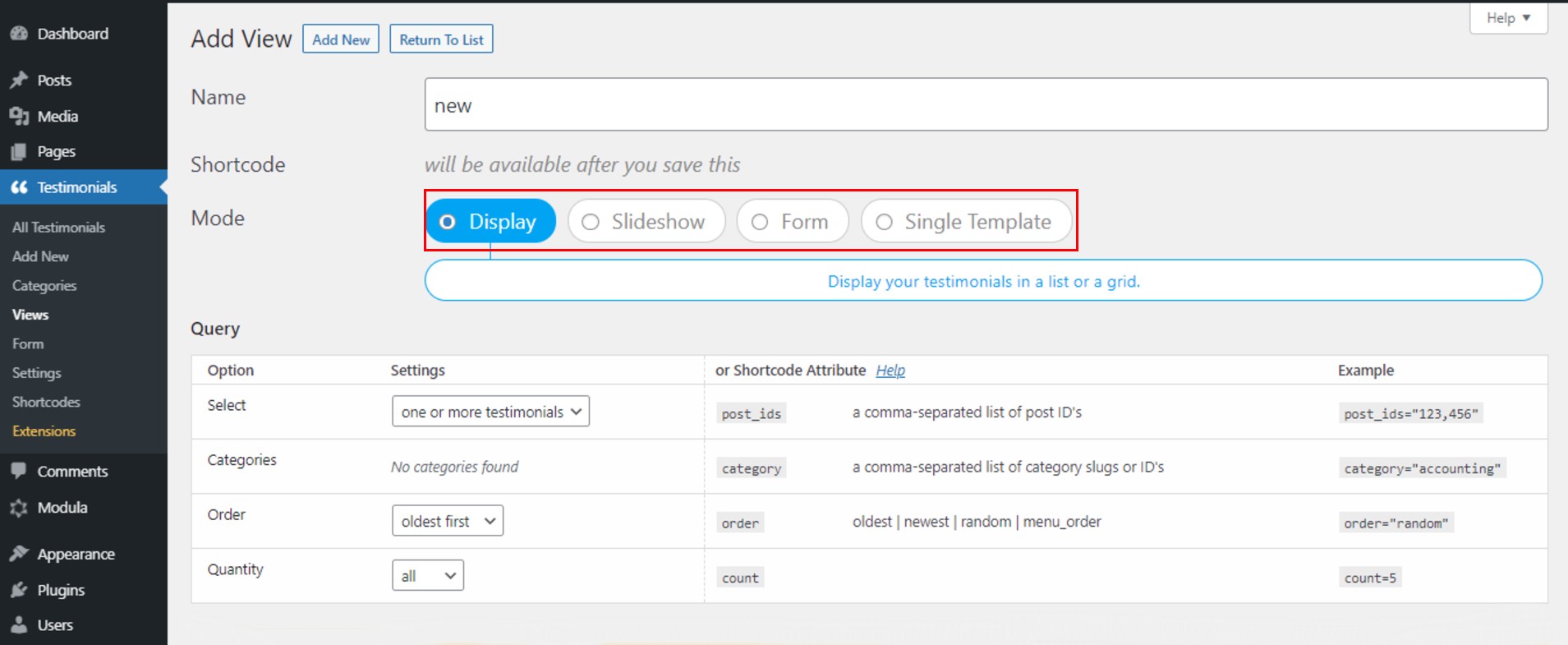 There are many options you can edit at this step. I chose the display mode, which is a classic one. You can edit the featured image size, the content, and custom fields. You can even add a new field.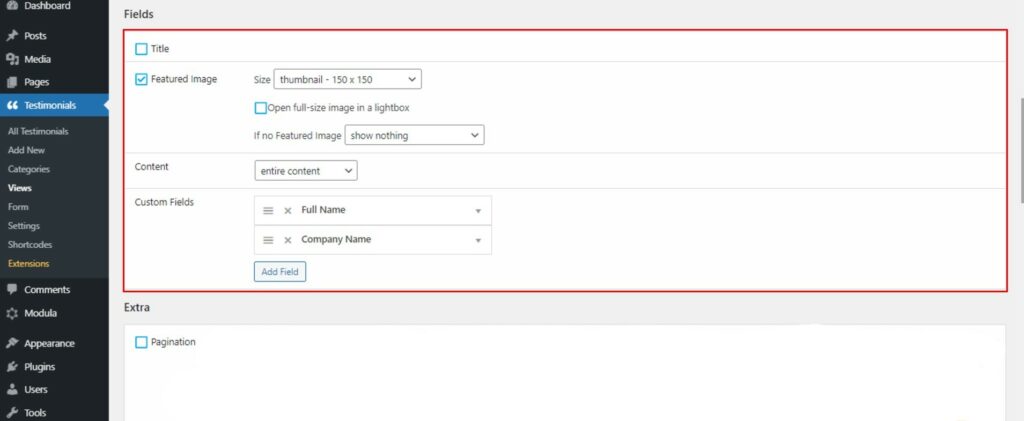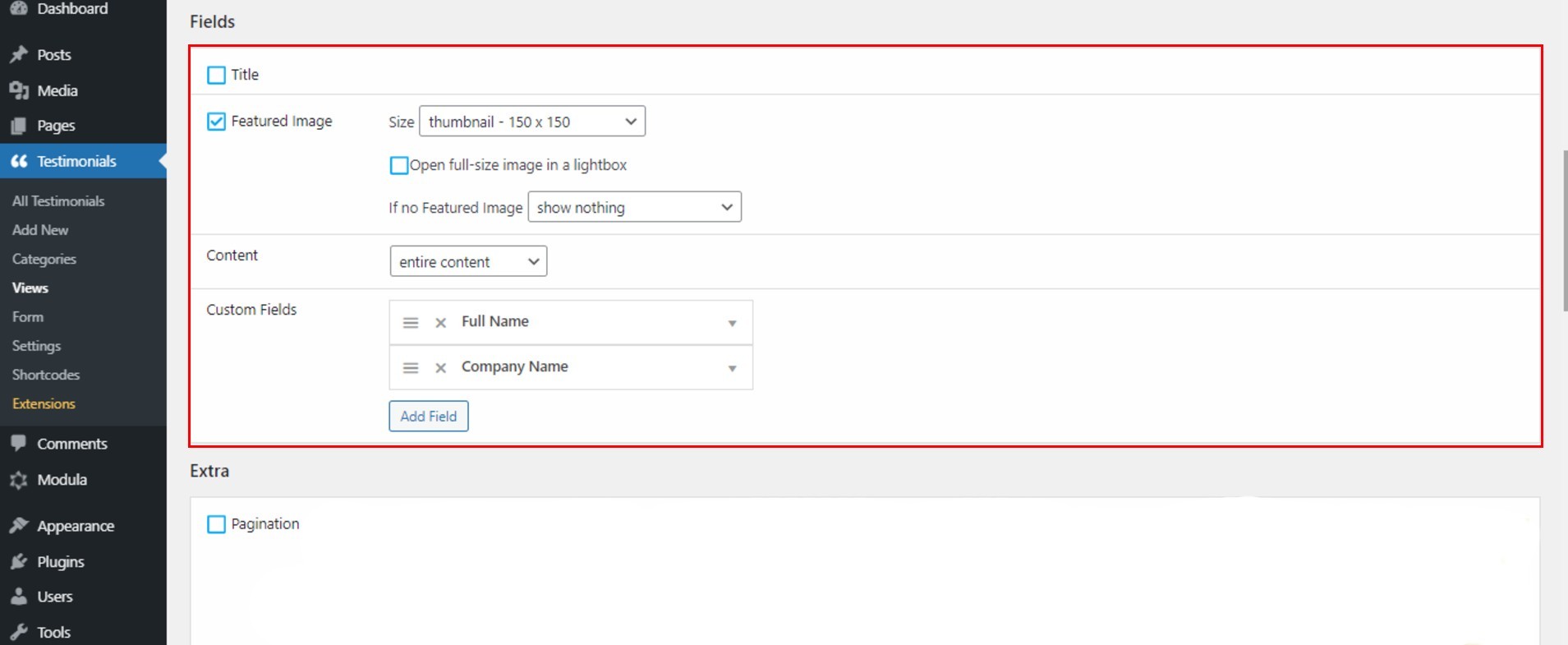 You can go furthermore and style your testimonials by selecting a template. You can choose from default, modern, bold, small widget, simple, unstyled.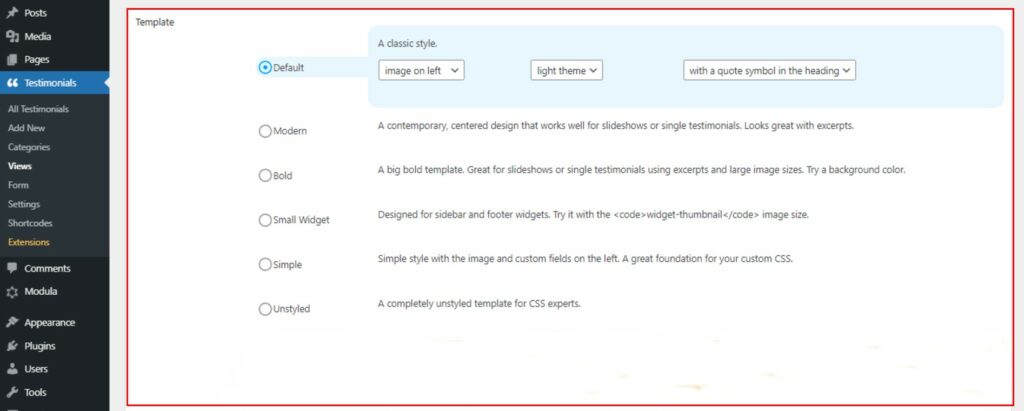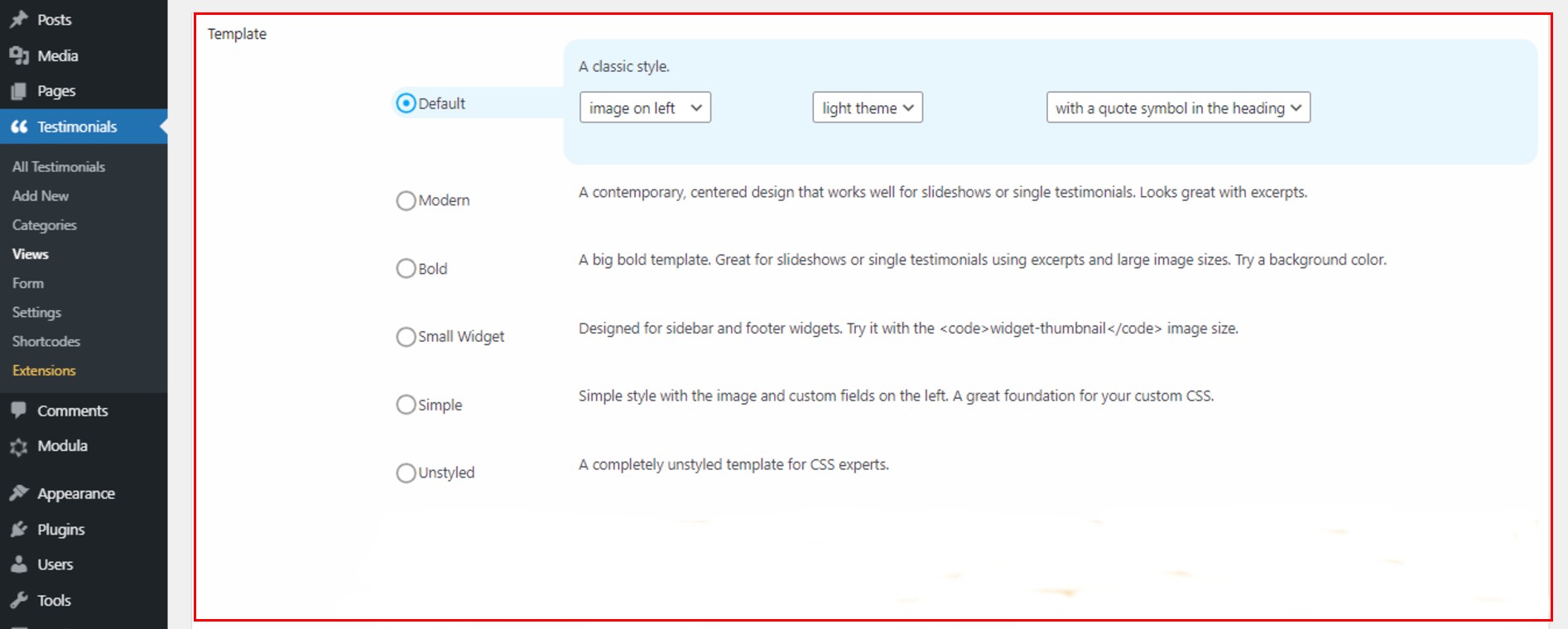 There are even more features to edit: background, layout, font color and CSS classes.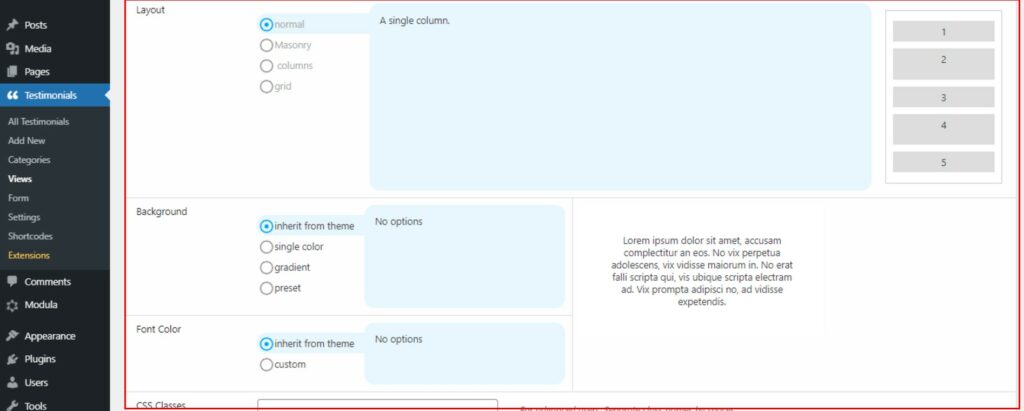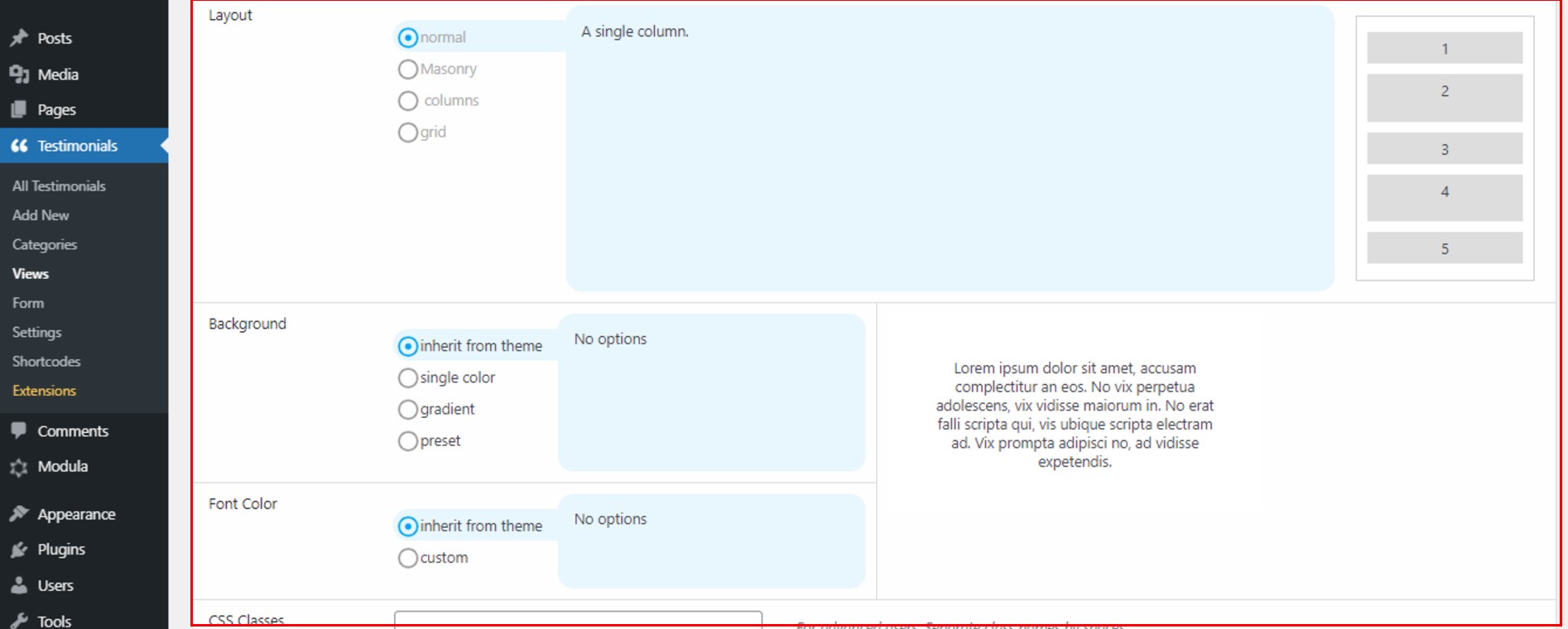 Don't forget to click on the Save Changes button when you are all done with editing.
---
Shortcode or widget
After saving your changes, the plugin automatically generates a shortcode you can use. To use it, you can simply click on Copy to Clipboard or copy it manually and paste it into your page.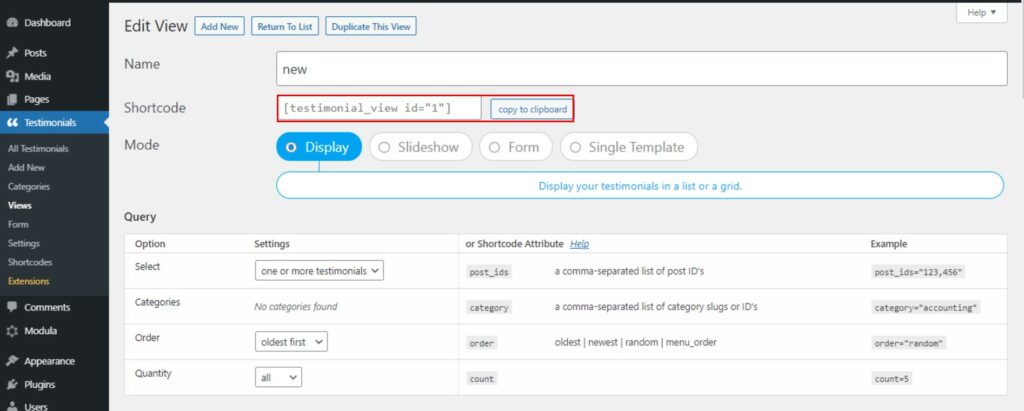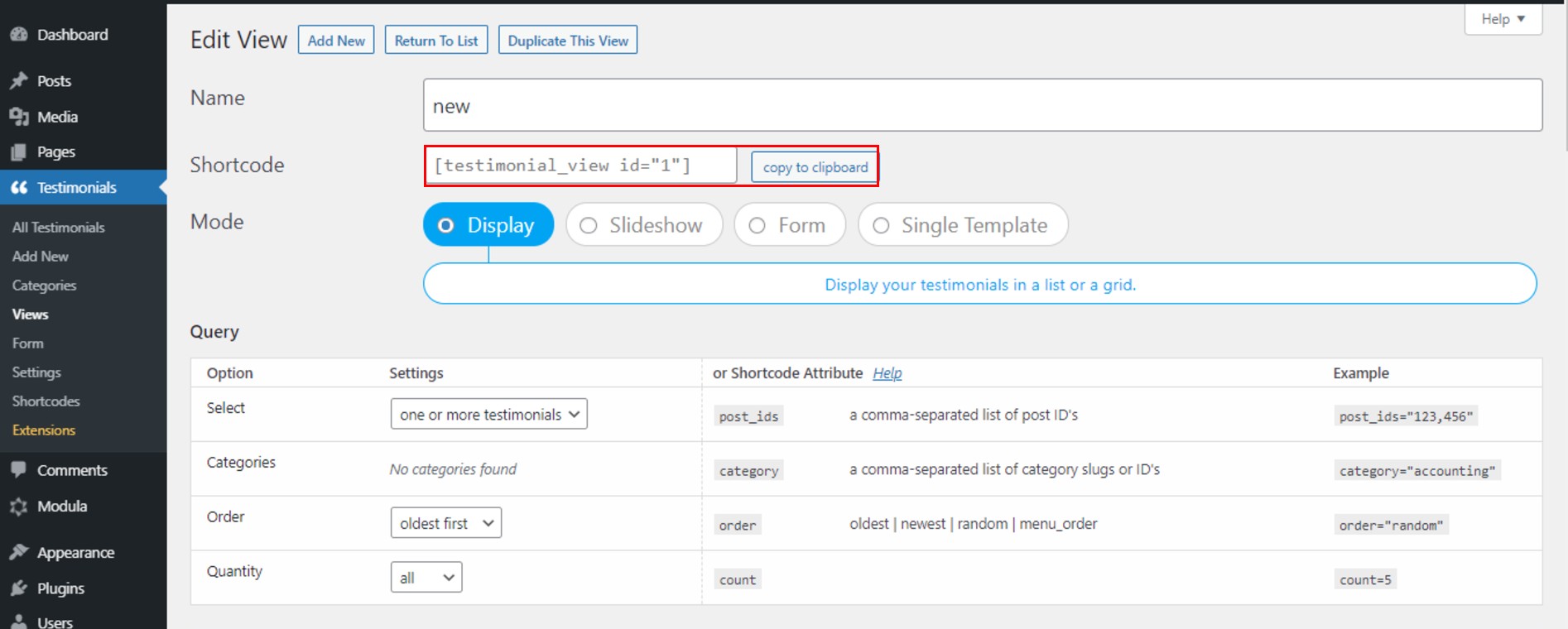 ---
Add testimonials to your page
With the shortcode copied to your clipboard, go to the page or the post you want to share your testimonials and click on the "+" icon. Next, go to the search bar and type Shortcode.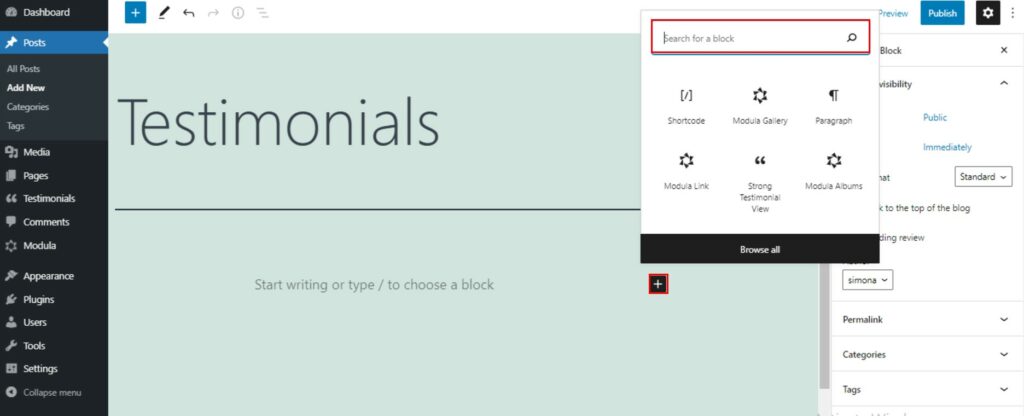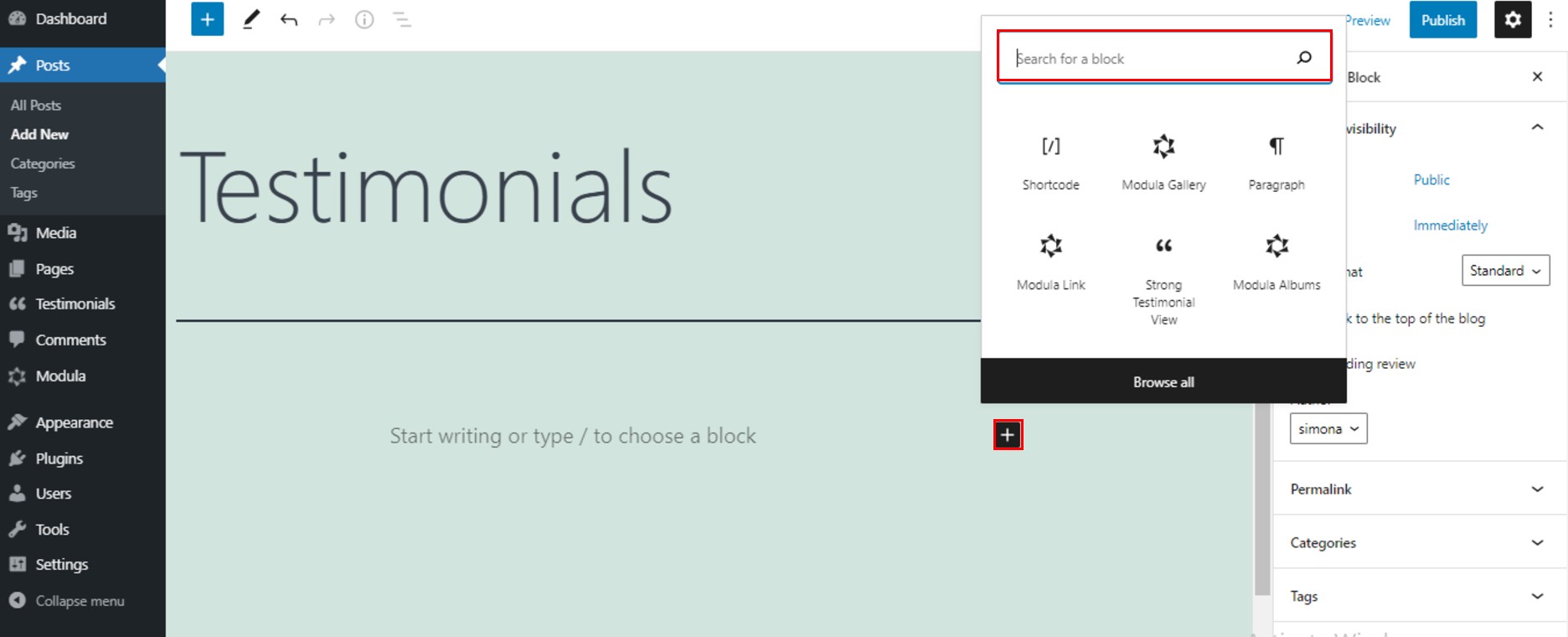 It will appear a new box and here you have to paste the shortcode you already copied to your clipboard.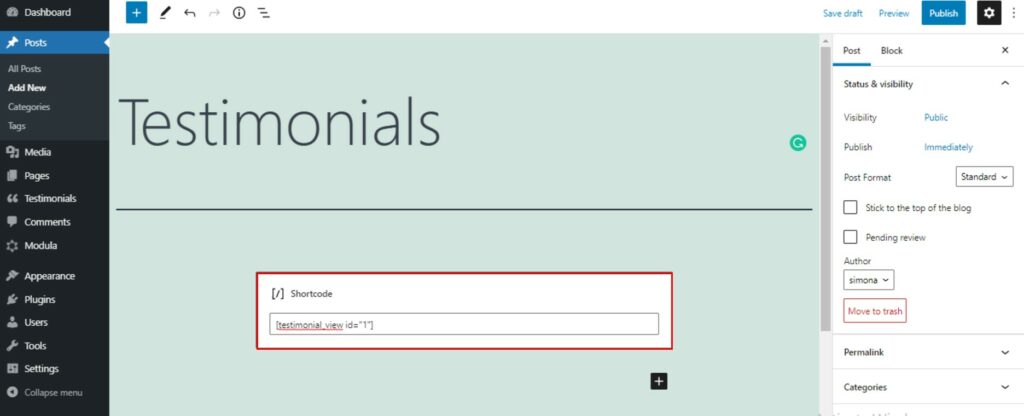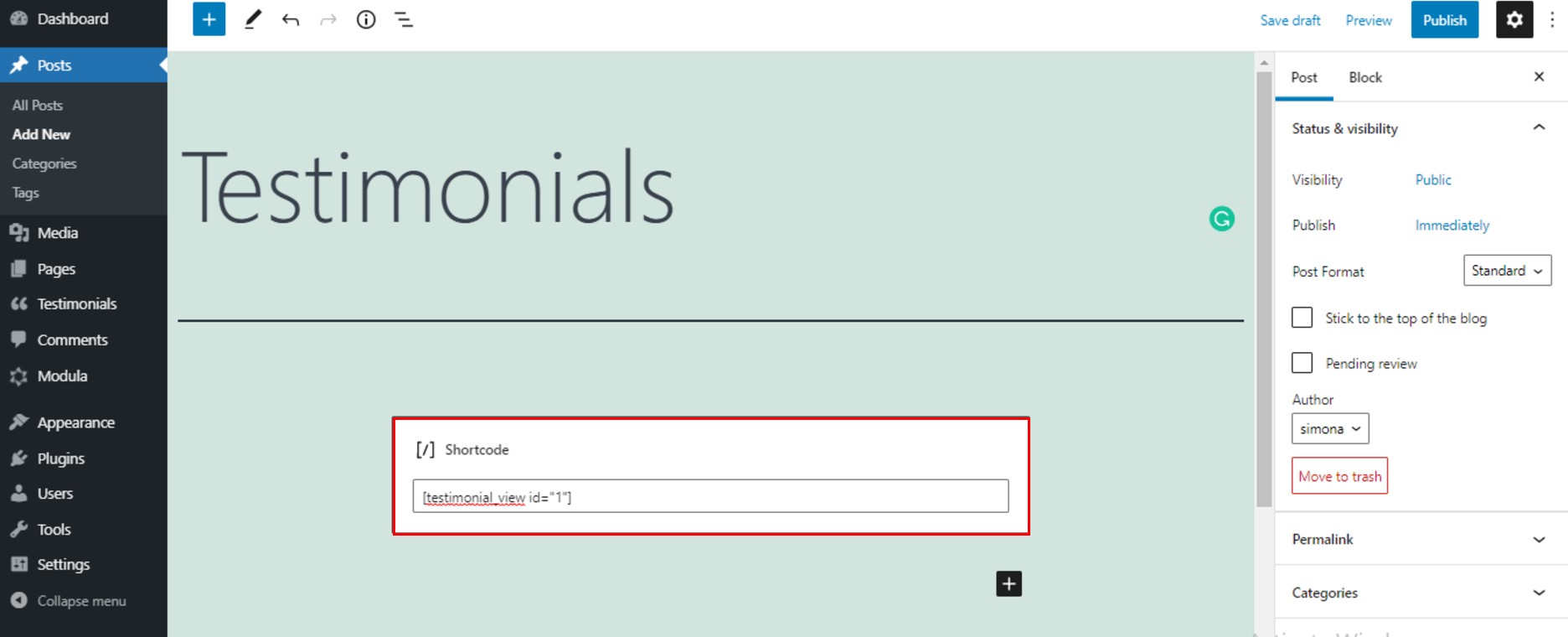 ---
How to put testimonials in the sidebar of your WordPress website
To add it in a sidebar, go to Appearance > Widgets > click on the Strong Testimonials View widget > and select where to add it.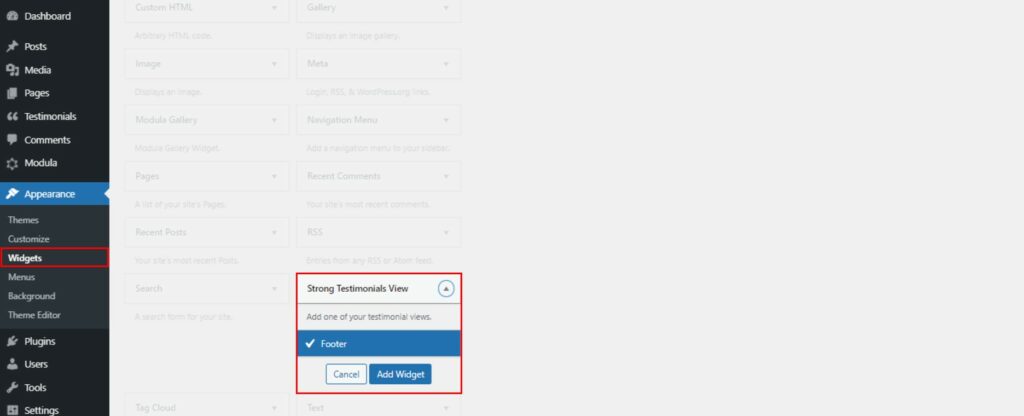 ---
Final thoughts
And this is how you add testimonials to a sidebar using the Strong Testimonials plugin. There is so much more you can do using this plugin. Strong Testimonials makes it very easy to add testimonials to any website. Learn how to add testimonials to three of the most well-known page builder plugins: Beaver Builder, Elementor, and Divi.
Install Strong Testimonials and attract more clients with beautiful testimonials that are fun and easy to create.