Display Testimonials In Quotes In Different Ways With Strong Testimonials

Testimonials from your past or current clients are crucial for building a reputation. Since they've used your product or service, clients are the biggest brand ambassadors and promoters. But what is the best way to display the testimonials?
In this article, we will present to you how to use Strong Testimonials to display quotes in multiple ways.
---
---
It's common knowledge that many organizations make use of testimonials to demonstrate product/service quality and enhance sales.
Here are some of the most common errors we've seen across a wide range of industries:
1. ❌ Confusion – Some companies load all of their testimonials into a single page. This makes it difficult for the reader to tell where one testimony finishes and another begins. It confuses them and ultimately makes them drop you.
2.❌ Losing marketing potential – Businesses who do not use their feedback are wasting their potential. Your marketing initiatives to promote the testimonials would appear dull and robotic if you don't include quotes.
3.❌ Removes credibility – Having no testimonials is terrible, but having some text portions in there without quotes looks way worse for the clients. It creates the impression to the client that the testimonials are made up and not genuine.
---
Reasons to add testimonials to your website
When clients are happy with your products/services or have had a great time working with you, they are more likely to leave a review detailing how they felt working with you or the influence your items had on their lives.
Taking these good evaluations and turning them into testimonials to post on your page in various places will increase your sales while making your website more SEO-friendly.
We've highlighted a few of the many reasons why you should include testimonials on your website below:
Improve SEO — You let the web bots crawl fresh content, which helps your website rank higher in the search engine rankings.
Social proof — This is the best way to prove to potential clients that your business has real clients and your products/ services are great and trustworthy.
Great feedback — Reading the positive and negative reviews can give you a better look at your business' actual situation and where you can make improvements.
---
How to display testimonials on your website
Now that we know the purpose of a plugin and what it does, all that remains is seeing how it works and creating and displaying different testimonial display quotes.
Firstly, you need to install the plugin to be able to use all of its features. Go to WordPress menu > Plugins > Add New > Strong Testimonials > Install > Activate. After that, you will find the plugin in the WordPress menu located on the left side of the screen.
Step 1: Creating a new testimonial
Let's begin this guide by creating a new testimonial. Head over to Testimonials > Add New.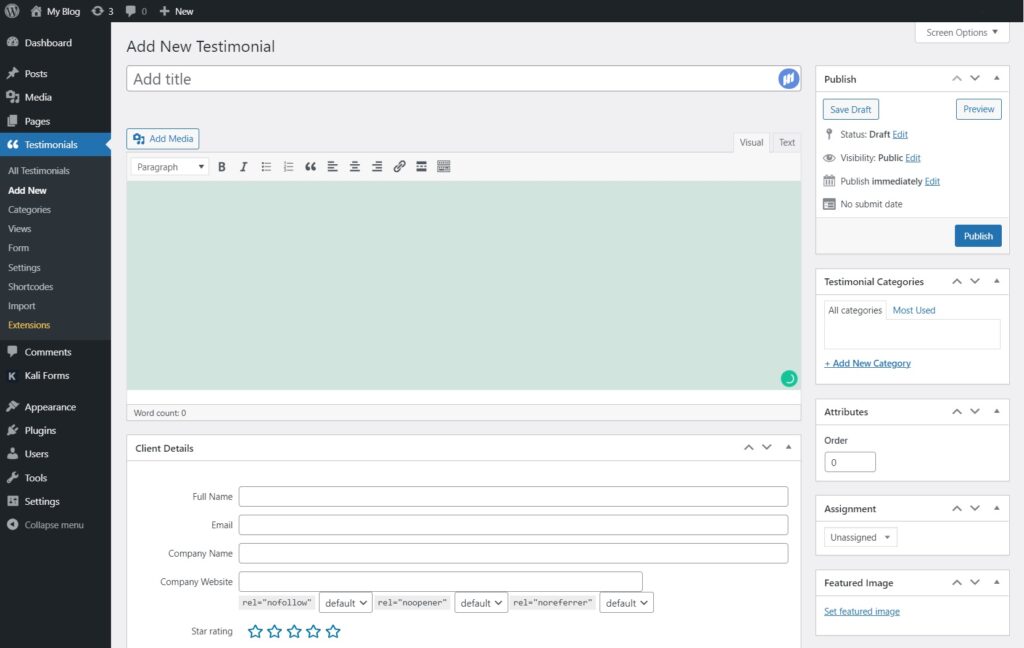 Strong Testimonials helps you display quotes in the best way possible because you have at your disposal a bunch of fields to fill such as Full Name, Email, Company Name, and Company website.
After you are done writing the testimonial, press the Publish button.
Step 2: Creating a view
After you created the testimonial, you will need to display it somehow. To do so, you will need to create a View. Head over to Testimonials > Views > Add New.
Consequently, you will be redirected to a page with all the View settings where you can start by naming your view.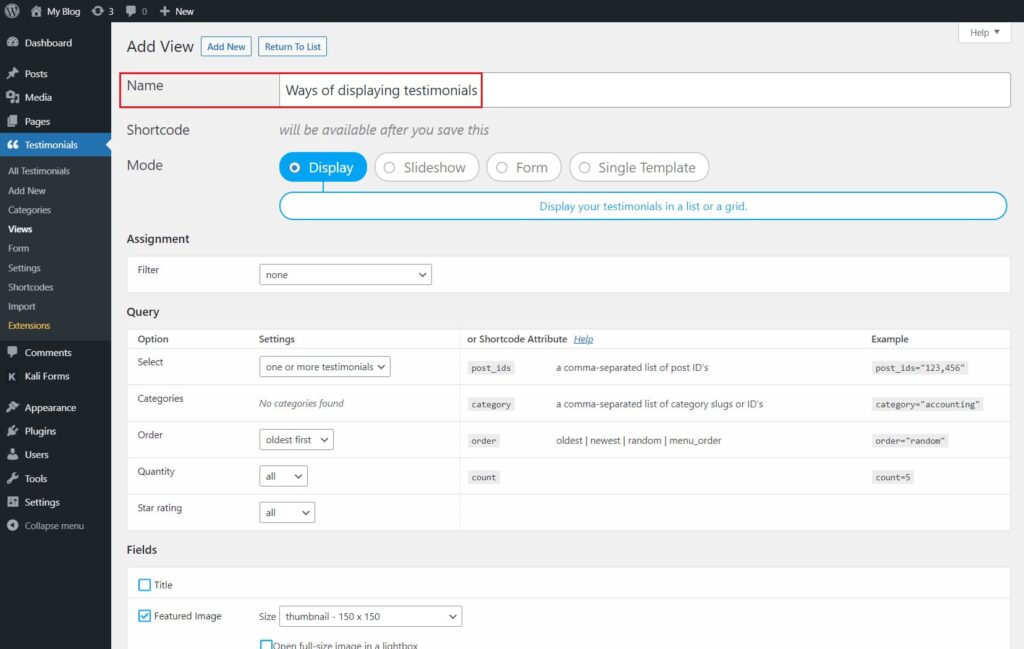 After that, scroll down to the Style field.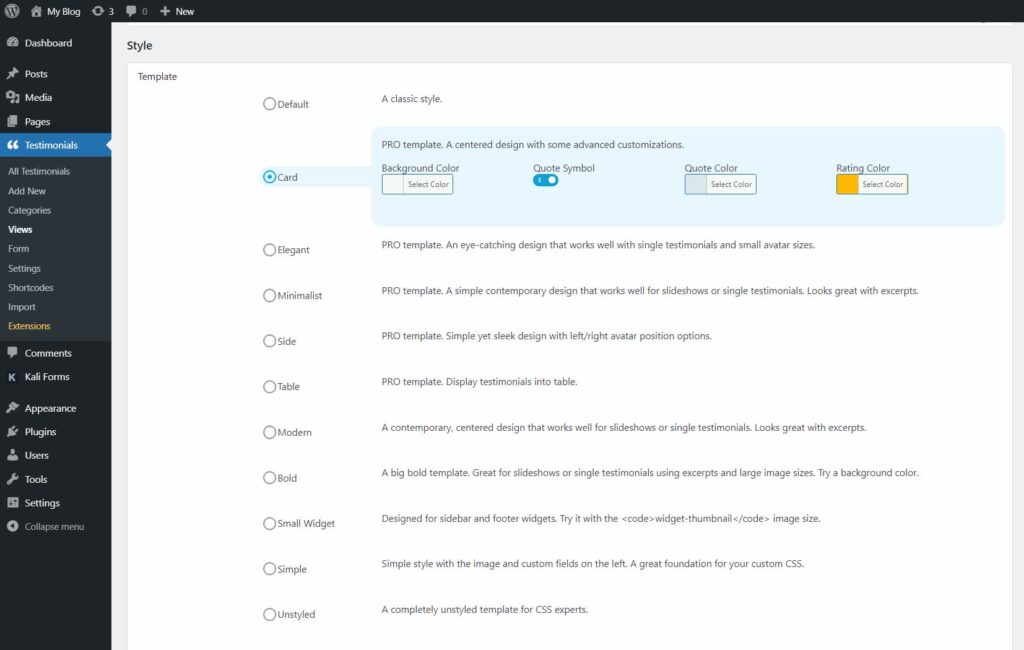 You have many options to choose from. We will present them briefly and show you how your quote testimonial can look with each one:
1. Default, Card, Side
All these templates allow adding a quote symbol in the testimonial. You can also change the background quote color to look the way you want on your WordPress website. Moreover, with Strong Testimonials, you can change the quotation font color.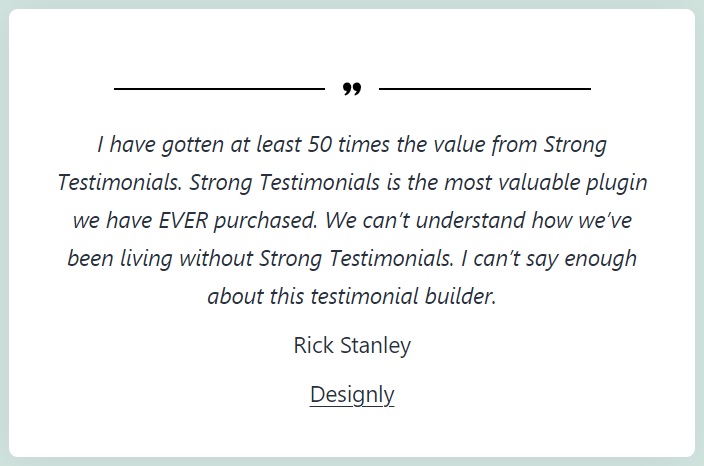 2. Elegant and Minimalist Template
These are eye-catching designs that work well with single testimonials and small avatar picture sizes. Moreover, these are simple contemporary designs that work well for slideshows or single testimonials. Because of that, it looks great with excerpts.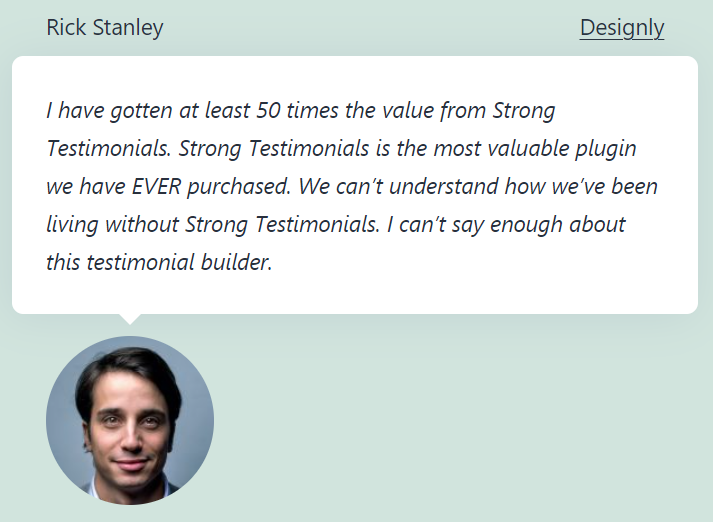 3. Table Template
Just like the name suggests, all the testimonials are going to be displayed in a table.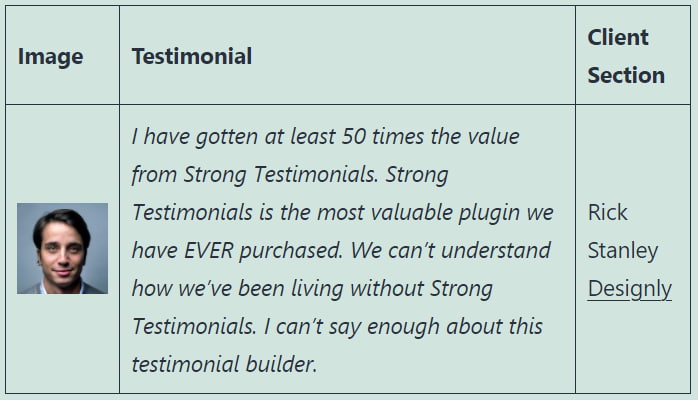 4. Modern Template
Testimonial modern design is a contemporary, centered design that works well for slideshows or single testimonials. Because of that, it looks great with excerpts as well.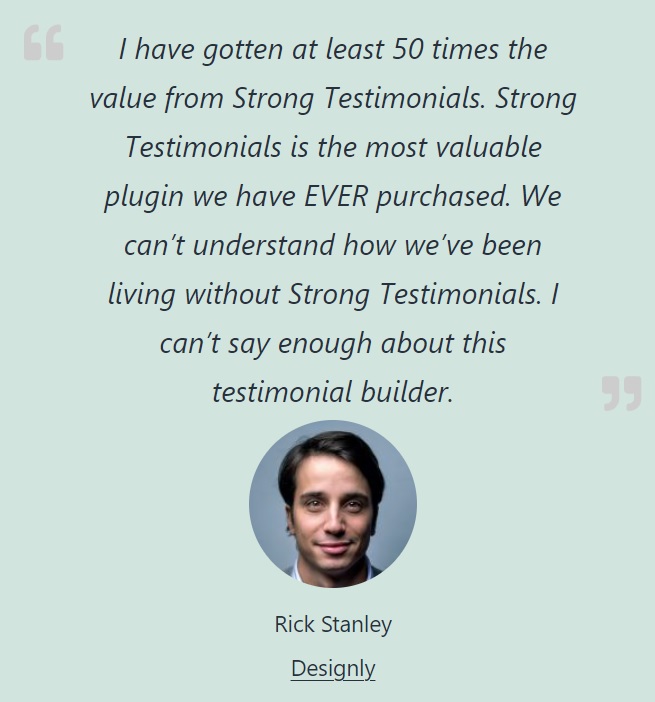 5. Bold, Small Widget, Simple and Unstyled
These are similar yet different template styles. It is up to you to choose which one best suits your needs and meets your business's standards. The bold template is great for slideshows or single testimonials using excerpts and large image sizes, while Simple has an image and custom fields on the left, which is a great foundation for your custom CSS.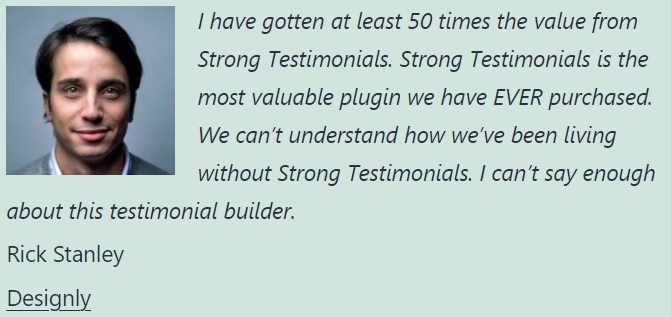 So, after you are done using Strong Testimonials to choose the way to display quotes, scroll down and click on Save Changes.
Step 3: Adding the testimonials to your website
The third step, displaying the testimonial, is even simpler than the previous two. All you need is a Shortcode.
All you have to do now is scroll back up, and you'll see the shortcode right under the view's name.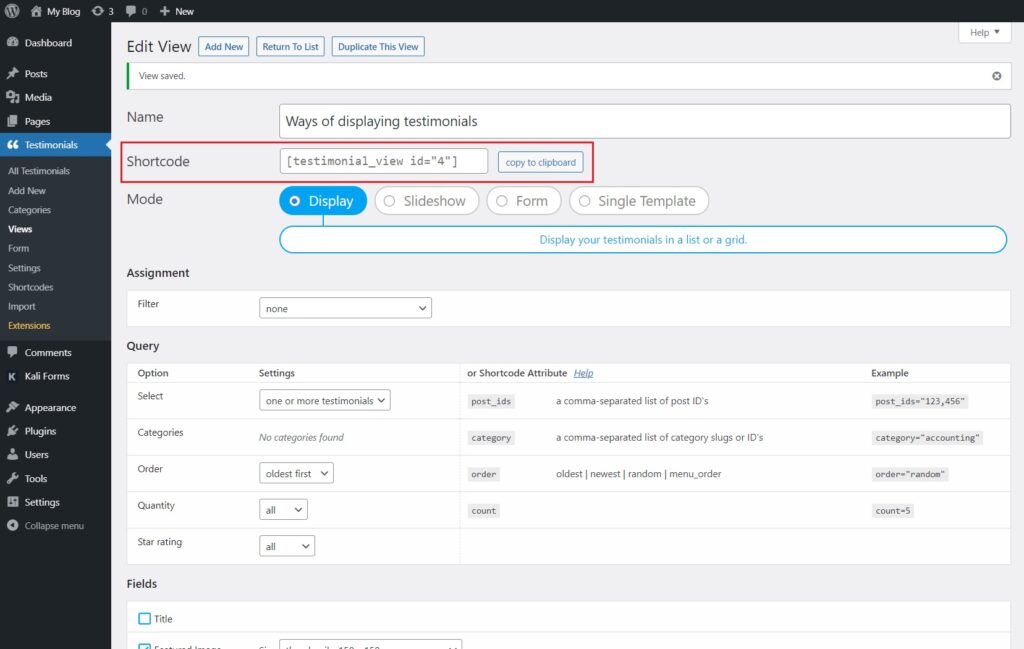 After copying the shortcode, paste it into any page or post where you want your testimonial to appear.
To do so, press "+" and look for the following shortcode block:

Simply select Preview > Preview in a new tab to see a preview of your work or click Publish when you are ready with everything.
---
So, what can I do using Strong Testimonials?
1. Attach quotes to your testimonials – If your clients read your testimonials in quotations, they will be more inclined to believe you. They'll assume your testimonies were posted precisely as you got them, with no changes at all.
2. Customize testimonial quotes – You can utilize the quote tool to bring out highly targeted testimonials. Use it to your advantage in your marketing efforts to increase conversions and profits.
3. Present testimonials in an appealing manner – Strong Testimonials templates make it easy to present testimonials neatly. The reader will be able to tell the difference between testimonials and will have an easier time investigating your product or service.
---
Conclusion
In conclusion, using Strong Testimonials to choose the quote template will give your website a better look and help hesitant customers make a purchasing decision.
Strong Testimonials offers multiple template styles with so many amazing options. Moreover, having the right testimonials displayed on your website is a great way to improve SEO. So, give this plugin a try, including all available features, by subscribing to our PLUS plan. 😁