Testimonials from your past or current clients are crucial for building a reputation. Since they've used your product or service, clients are the biggest brand ambassadors and promoters. They are more relatable to your prospects than actors who are paying to promote your brand.
The feedback from real consumers who have used your services/ products can convince potential but hesitant customers to try your products or services. Customer testimonials are meant to create confidence, but the web site's owner is the only one who can publish them.
In short, this article will present to you how to use Strong Testimonials to display quotes in multiple ways.
---
---
Why adding testimonials to your website
When customers are satisfied with your products/ services, or they had an amazing experience working with you, most of the time, they will let a review describing how they felt working with you or the impact of your goods on their life. So, taking these positive reviews and transforming them into testimonials to display them on your page in different places will boost your sales and make your website more SEO-friendly. Down below, I listed a few of the many reasons why you have to add testimonials to your website:
Improve SEO — By displaying testimonials on your website, you let the web bots crawl fresh content, which helps your website rank higher in the search engine rankings. The best part is that all you have to do is collect reviews from your customers, transform them into testimonials, and display them on your site. In other words, it's free SEO content.
Social proof — This is the best way to prove to potential clients that your business has real clients and your products/ services are great and trustworthy. Moreover, it shows that your past or current customers had such an amazing experience that they just had to write a testimonial.
Great feedback — Of course, you think that your business is perfect and your products are flawless, but what your clients think? After all, they are the buyers, not you. So, reading the positive and negative reviews can give you a better look at your business' actual situation and where you can make improvements.
---
The right way of adding testimonials
The best possible way of adding testimonials is by installing a WordPress plugin. Plugins are amazing because they are effortless to use; most of the time, they are straightforward and get the job done, and most importantly, you don't need any knowledge in coding.
Most of the testimonial plugins offer a bunch of customization settings you can choose from. These are a few examples:
the information that is displayed (full name, address, job occupation, profile picture, etc.)
background color
font color
the template of the quote testimonial
and many more
---
How to display testimonials on your website
Now that we know the purpose of a plugin and what it does, all that remains is seeing how it works and creating and displaying different testimonial display quotes. So, without any further ado, let's look at the best testimonial plugin for 2021:
---
Strong Testimonials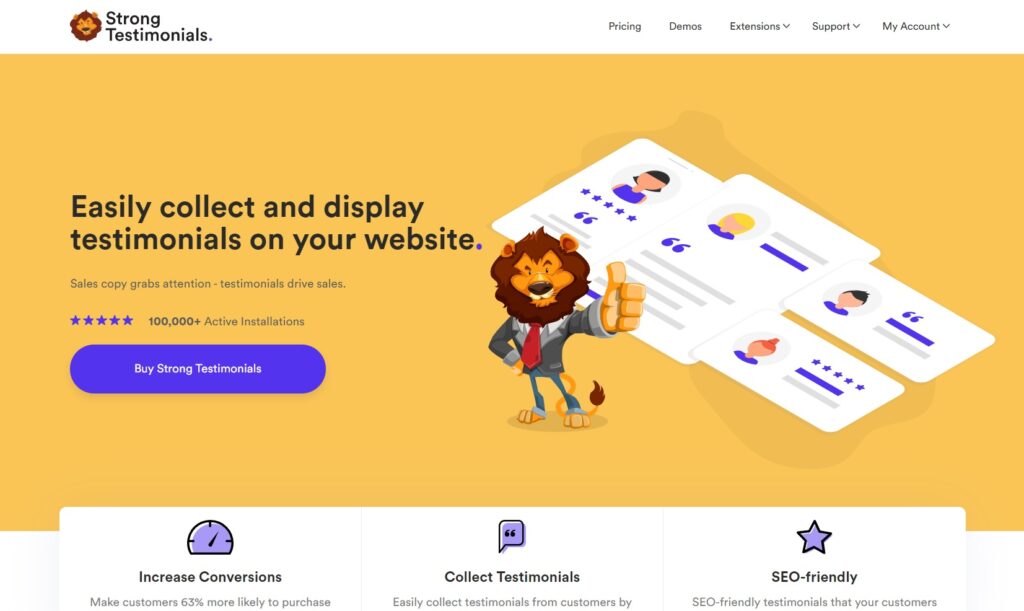 Strong Testimonials is an intuitive testimonial plugin capable of delivering all that you need, thanks to the amazing combination of usability and features, SEO-friendly, and ready-to-be-used. With the help of this plugin, you will display testimonial quotes like you never did before.
The plugin has two versions, a free one and a paid one. The basic package costs $49 per year for one website, and the most premium version is $149 for unlimited websites. I am definitely recommending you go for the premium version because all the features you will get will totally make the difference between your testimonials and competitor's testimonials.
Moreover, Strong Testimonials offers plenty of add-ons, such as:
Importer extension — allows you to import testimonials from external platforms such as Yelp, Zomato, Facebook, Google, WooCommerce.
Views — allows you to customize the appearance of the testimonials and choose from different quote templates.
Category — gives you the freedom to compartmentalize the testimonials the way you want so that you will find them more easily.
---
Let's look at a few of the best features this plugin has to offer:
Shortcode and widget functionality;
Useful extensions to collect and display testimonials from external sources;
Custom fields ( email, URL, text, video upload, video URL);
plenty of layouts (grid, columns, masonry) and templates available ( elegant, card, minimalist, bold, modern, small widget, and many others);
---
How to create a testimonial
Firstly, you need to install the plugin to be able to use all of its features. Go to WordPress menu > Plugins > Add New > Strong Testimonials > Install > Activate. After that, you will find the plugin in the WordPress menu located on the left side of the screen.
To begin with, to create a testimonial, go Testimonials > Add New.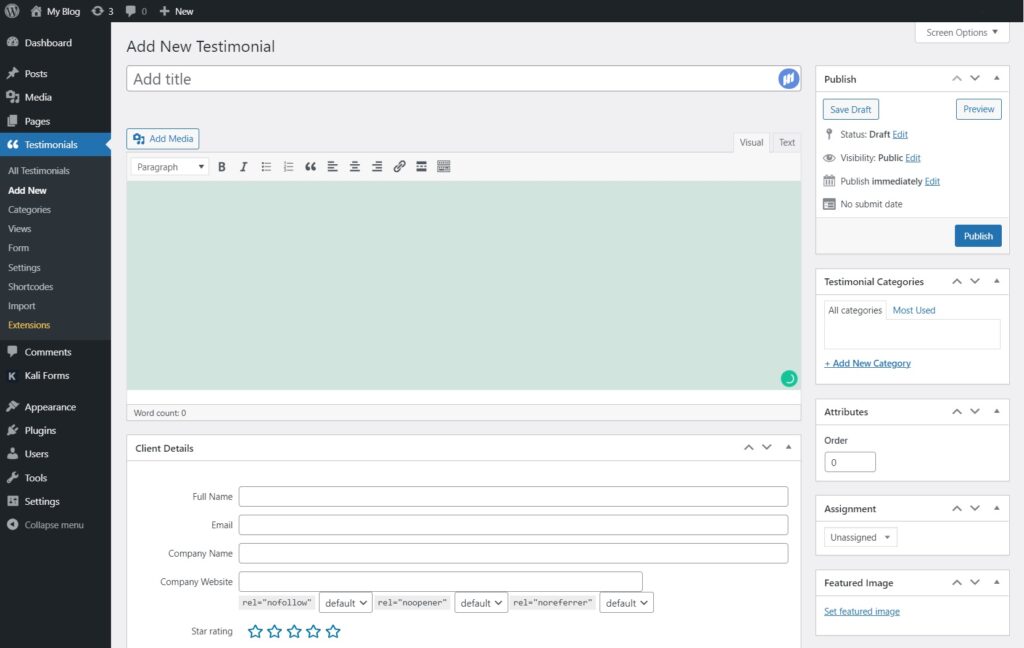 Strong Testimonials helps you display quotes in the best way possible because you have at your disposal a bunch of fields to fill such as Full Name, Email, Company Name, and Company website.
As a result, after you are done writing the testimonial, press on Publish.
---
Ways of displaying quote templates
After you created the testimonial, you will need to display it somehow. To do so, go to Testimonials > Views > Add New. Consequently, you will be redirected to a page with all the View settings. Firstly, I am recommending you start by naming your view.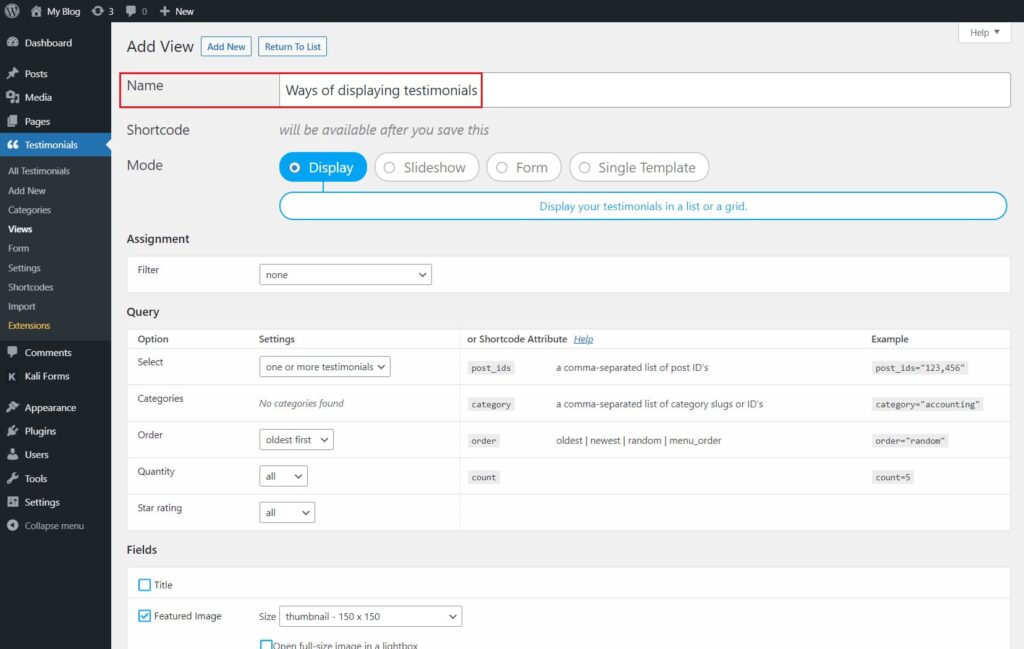 After that, scroll down to the Style field.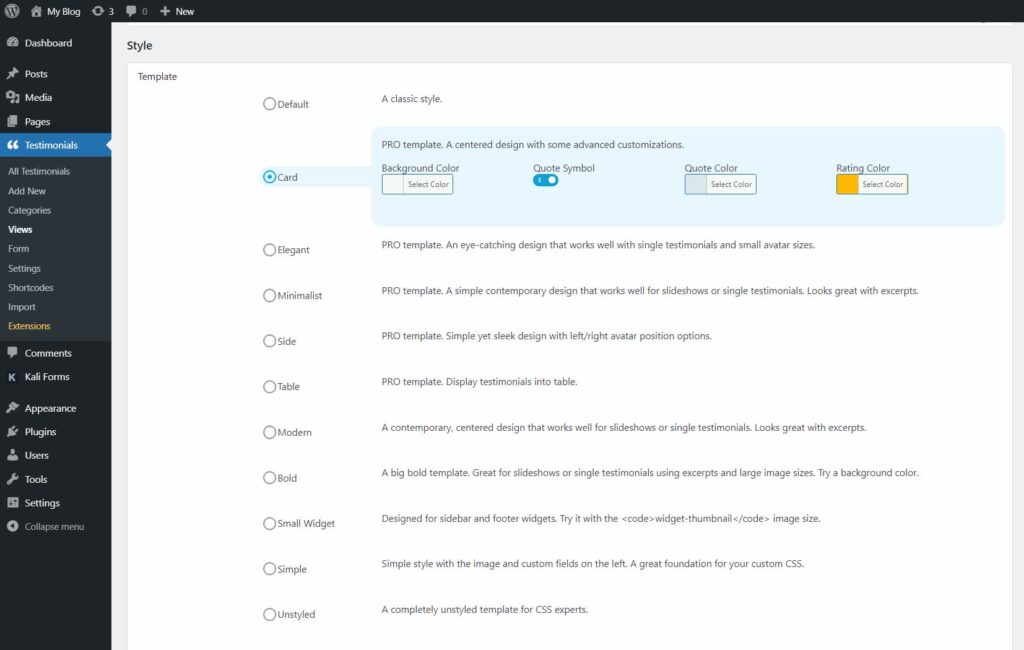 ---
1. Default, Card, Side
All these templates allow adding a quote symbol in the testimonial. You can also change the background quote color to look the way you want on your WordPress website. Moreover, with Strong Testimonials, you can change the quotation font color.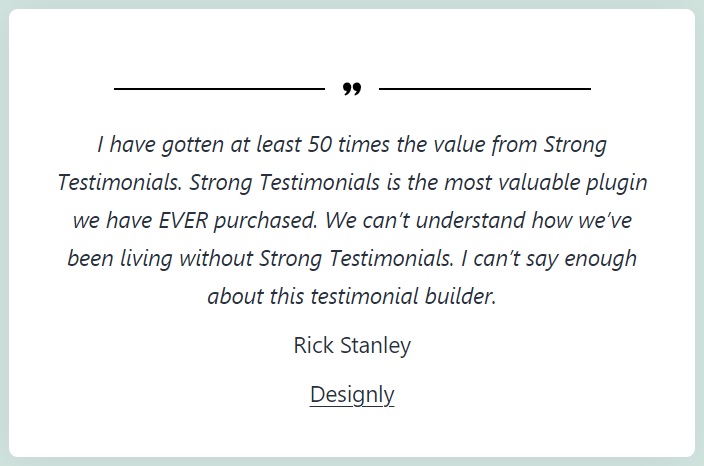 ---
2. Elegant and Minimalist Template
These are eye-catching designs that work well with single testimonials and small avatar picture sizes. Moreover, these are simple contemporary designs that work well for slideshows or single testimonials. Because of that, it looks great with excerpts.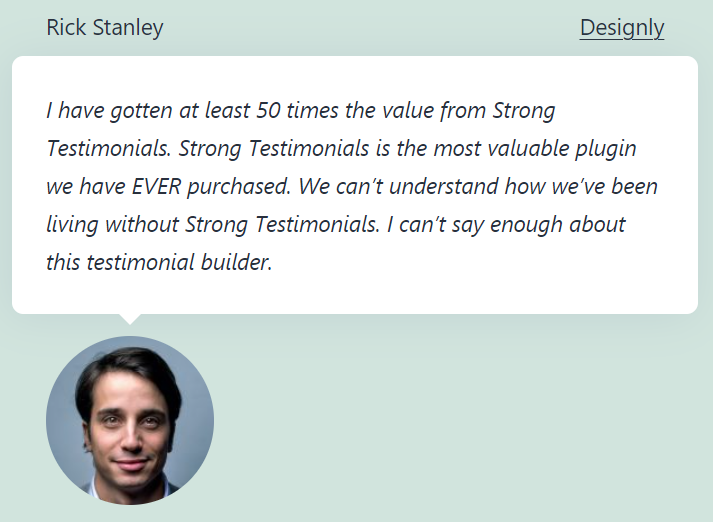 ---
3. Table Template
Just like the name suggests, all the testimonials are going to be displayed in a table.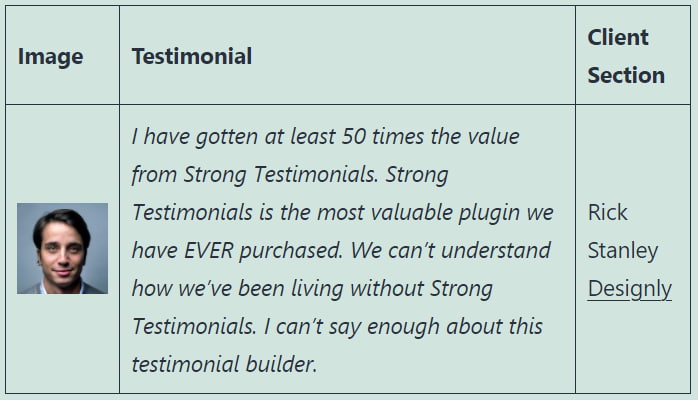 ---
4. Modern Template
Testimonial modern design is a contemporary, centered design that works well for slideshows or single testimonials. Because of that, it looks great with excerpts as well.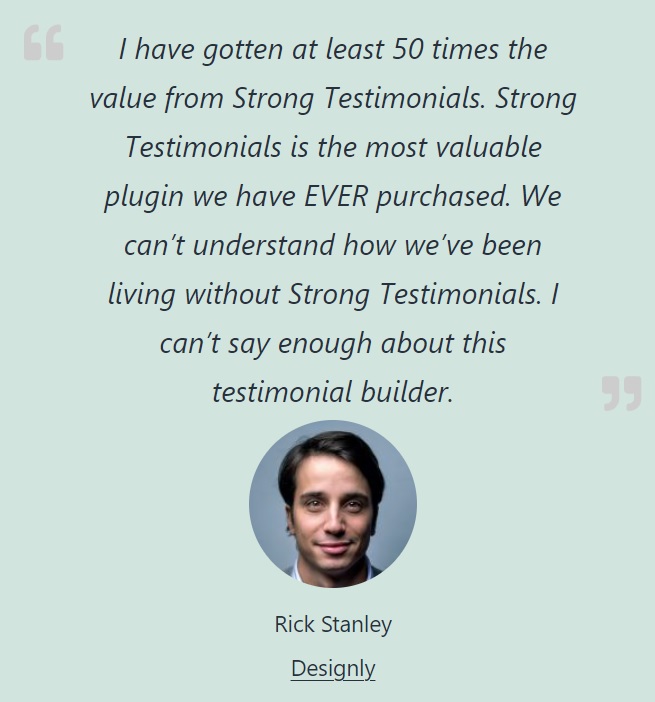 ---
5. Bold, Small Widget, Simple and Unstyled
These are similar yet different template styles. It is up to you to choose which one best suits your needs and meets your business's standards. The bold template is great for slideshows or single testimonials using excerpts and large image sizes, while Simple has an image and custom fields on the left, which is a great foundation for your custom CSS.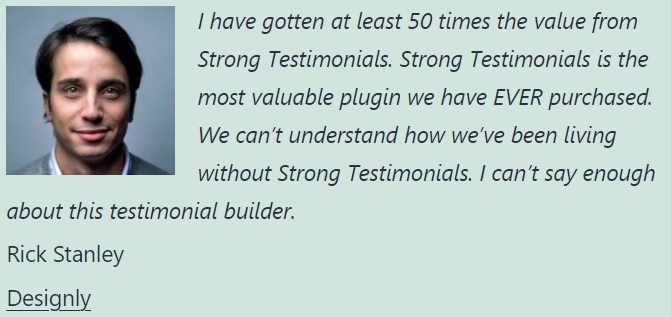 ---
How to add Testimonials to your website
So, after you are done using Strong Testimonials to choose the way to display quotes, scroll down and click on Save Changes.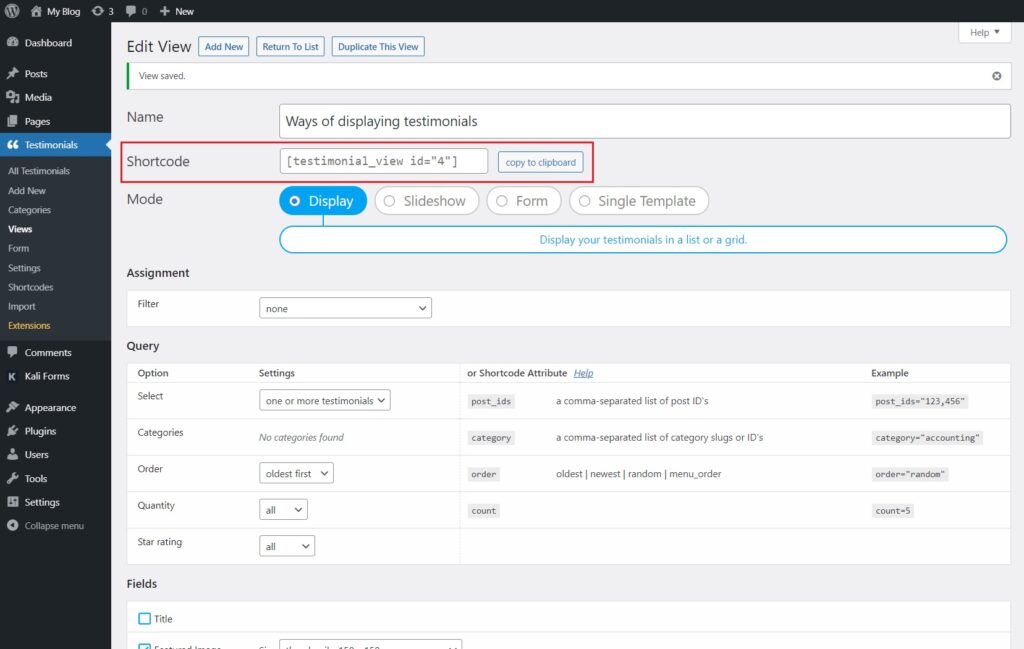 ---
Summary
In conclusion, using our plugin to choose the quote template will give your website a better look and help hesitant customers make a purchasing decision.
Strong Testimonials offers multiple template styles, such as modern, card, elegant, simple, or table. With so many amazing options, it's hard not to give your website an amazing fresh new look.
Moreover, having the right testimonials displayed on your website is a great way to improve SEO because it's practically free content. So, give this plugin a try, learn its features, and I am sure that you will increase your profits by a lot.