WordPress quiz plugins? Why would you need them? All businesses have the same goals: to increase traffic on their website, generate more leads and boost their conversion rate.
And user engagement is a very effective marketing strategy in that regard. There are various ways to keep your new website visitors and existing customers interested in your site.
Spicing up your website with fun, creative quizzes is a great method to reduce your bounce rate and increase user engagement.
Here is what you can find in this post:
---
what are the benefits of quizzes on your website;
how to make BuzzFeed-like quizzes and more in WordPress;
what are the best free and paid WordPress quiz plugins to consider;
---
---
Why use quizzes on your website?
Quizzes and tests are interactive, engaging and fun. That is why quizzes sites like BuzzFeed are extremely popular. Visual quizzes are extremely addictive and contagious.
Users are always interested in finding things about them, taking fun quizzes and tests just to pass the time or to entertain themselves.
There's just something irresistible in finding out who your celebrity soulmate is, what character you are in a popular TV show, what kind of personality you have and so on.
---
Popular types of quizzes
There are many types of quizzes and tests you can make. Some of them work great if you want to entertain your users and boost engagement. Others, on the other hand, can also be valuable marketing and research tools for your business.
Here are some of the most common quiz types:
personality quizzes;
knowledge/IQ tests;
contest quizzes;
trivia quizzes;
celebrity and movie quizzes;
educational quizzes;
best career quizzes, etc.;
---
The benefits of having quizzes on your website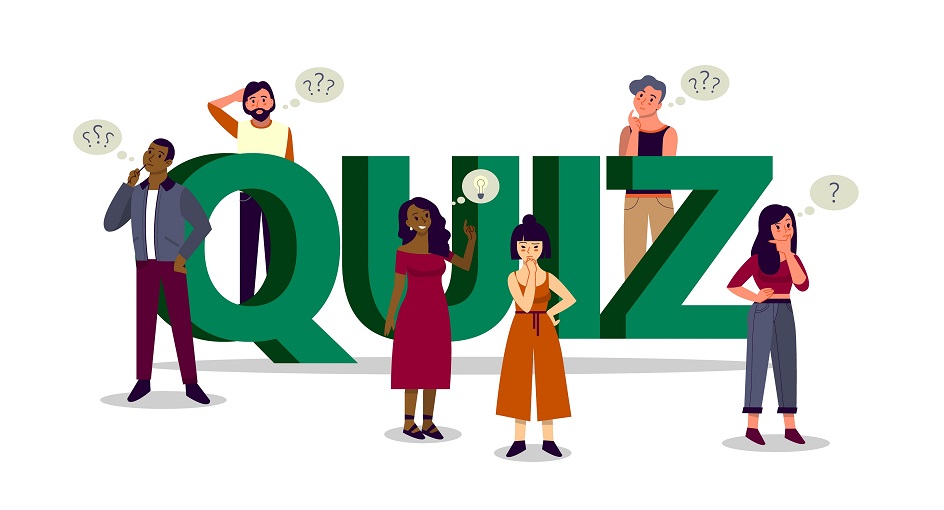 The most obvious and significant benefit of quizzes is that they increase user engagement and reduce your bounce rate. And the more catchy and fun your quizzes are, the longer you can keep users hooked on your site.
Also, in addition to engaging your users, some of these quizzes can help you educate your customers about your product or services.
Another use of the quizzes is they help you make fun contests with prizes from your store.
You can also use quizzes to profile your potential customers and get to know their preferences. This can help you come up with better offers that meet their needs.
Quizzes can also be a great tool to build and/or grow your email list. For instance, before you offer the quiz results, make sure you invite users to opt in.
You can also boost your shares on social media. When people like a test or quiz, they usually share it on their Facebook, etc. Or you can ask them to do it before you give them the results.
Over time, quizzes can significantly increase your conversions. Moreover, your site will be more attractive and users will feel more rewarded and motivated to browse it.
---
How to make a BuzzFeed style quiz on your WordPress site?
Quiz websites like BuzzFeed, JetPunk, Zimbio, Sporcle and so on have a huge traffic. So why not learn from the best and make your own WordPress website more fun and interactive?
The best and easiest way to create a quiz on WordPress is to use dedicated WordPress quiz plugins. Plugins are easy to install and use, because you don't have to know any code in order to make the best of their features.
There are a plethora of quiz builders available in the WordPress repository and most of them offer more than enough features with the free version alone. So you can start from there and upgrade to the premium version only if you feel you need to.
Whether you want to create multiple choices, true or false, multiple answers quizzes, a quiz builder plugin can help you do that in the shortest time.
Also, as another useful piece of advice, you should have a list of the questions and answers ready before you start making the quiz.
As we've already mentioned it, there are several types of quizzes you can make and each of them require different types of fields. By being prepared ahead of time, you can make your job easier.
What are the best WordPress quiz plugins to consider in 2021?
So, without further ado, here are some of the best WordPress quiz plugins in 2021. And since you have to know how to install and activate a WordPress plugin, you might want to check our tutorial on how to do that.
Our quiz plugins at a glance:
Plugin name
Free version
Premium Price
Best features
Read more
WP Quiz
✅
$57/site; 1 year of updates;
– great for trivia quizzes, personality quizzes and flip cards;
WP Quiz
Quiz and Survey Master
✅
$79/site; 1 year of updates;
– very flexible; it comes with a wide range of question types;
Quiz and Survey Master
Quiz Cat
✅
$49/site; 1 year of updates;
– user-friendly;
– great for basic quizzes;
Quiz Cat
HD Quiz
✅
No premium version available;
– it is completely free;
HD Quiz
WordPress Viral Quiz
❌
$36 one-time fee
(6 months of support);
– great for BuzzFeed style quizzes;
WordPress Viral Quiz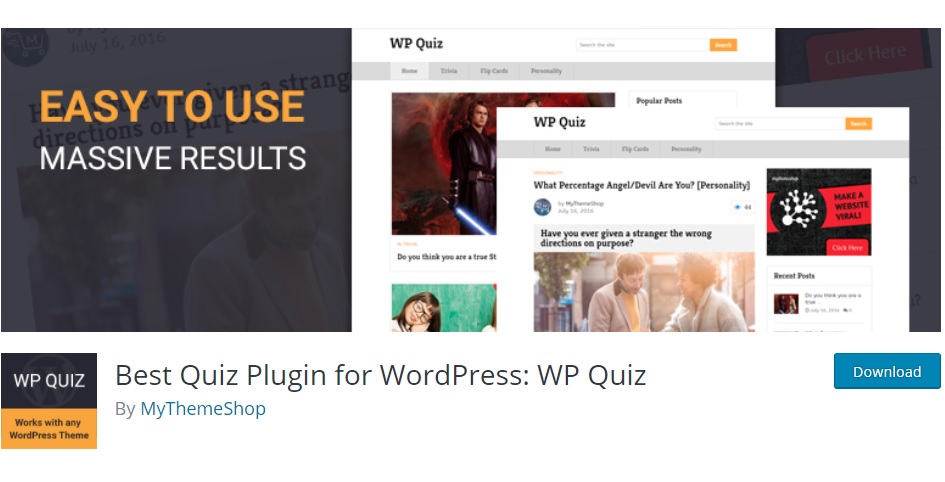 If you are looking for a reliable quiz builder, WP Quiz might be among the most popular WordPress quiz plugins available. One reason for that is that it strikes a great balance between features and user-friendliness.
This plugin has a free version and a Pro one as well. If you want to go premium, you've got two choices. You can either buy just the plugin or opt for a membership. The latter gives you access to all their premium themes and plugins.
A plugin license for 1 site is $57 (for 1 year of updates and support), $77 for 3 sites and $87 for unlimited sites.
A 1 site membership is priced at $99 for 1 site, $197 for 3 sites and $420 for unlimited sites.
The plugin is fully responsive and works with any WordPress theme.
WP Quiz best features:
it offers 3 quiz types with its free version (trivia quiz, personality quiz, flip quiz);
add images or videos to your quizzes;
shortcode support;
social share buttons included with the free version;
show ads between the questions (with WP Quiz Pro only);
force users to share on Facebook and enter their to see the results (WP Quiz Pro only);
Google Analytics tracking;
integrates with MailChimp, AWeber, Stripe, PayPal, GetResponse;
WP Quiz CONS:
Pro version is a bit pricey;
limited in terms of quiz types;
---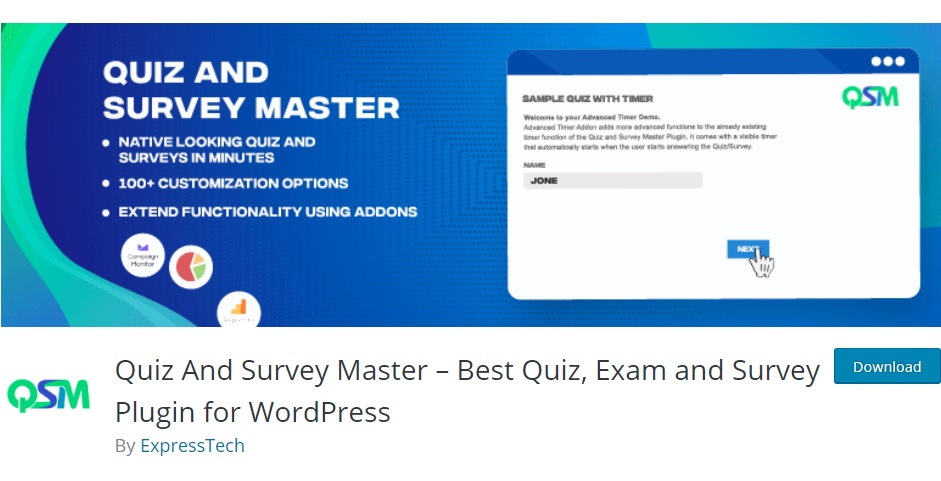 This is another great quiz builder to consider for your WordPress site. Quiz and Survey Master also comes with a free and a premium version.
Premium features come as addons that you can purchase individually or as a bundle. Addons cost $10 per addon for 1 year of updates, $79 for a 10 addons bundle and $149 for 34+ addons.
The Quiz and Survey Master is a powerful quiz builder that has a very extensive range of question types for your quizzes: true or false, multiple choices, multiple responses, fill the blank, number answer and more.
In addition to being feature-packed, this plugin also comes with a clean, user-friendly interface.
Quiz and Survey Master best features:
impressive number of question types available;
easy to use interface
you can pay only for the premium addons you want;
rich in features: you can add a timer for those taking the quiz, add images and videos, export results, use leaderboards and more;
reporting and analysis available with premium addons;
plenty of integrations available: Slack, Easy Digital Downloads, Drip, GetResponse, Zapier, Aweber and others;
Quiz and Survey Master CONS:
may not work 100% with every WordPress theme;
premium bundle plans are a bit expensive;
---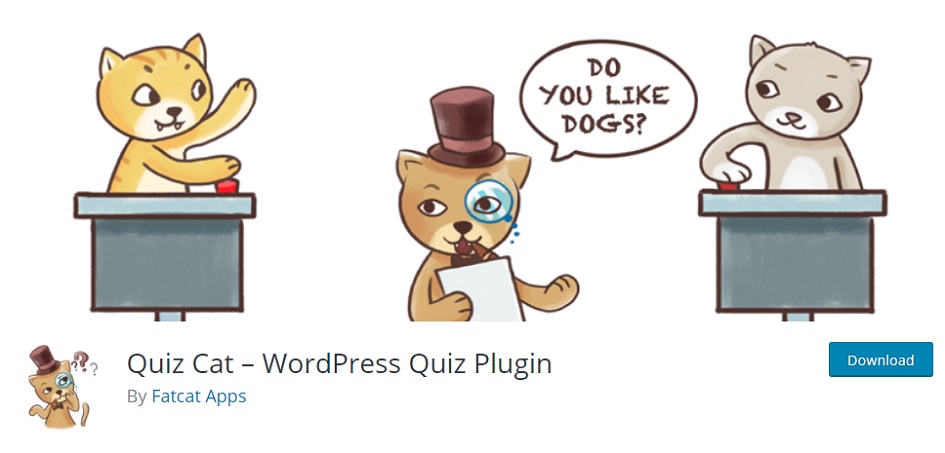 Our next recommendation is Quiz Cat. This is a very good choice for users looking for a beginner-friendly quiz builder. If you want to make basic quizzes to spice up your website, this is one of the best WordPress quiz plugins you can find.
Quiz Cat comes with a free version as well as a premium one. Premium plans start at $49/1 site/1 year of updates and support. You have to pay $79 for 3 sites and $149 for unlimited sites.
Quiz Cat stands out through its simplicity, which makes it a joy to use, especially if you are not that tech-savvy. There aren't as many features available as with other quiz makers, but you can easily create BuzzFeed like quizzes.
Quiz Cat best features:
clean, straightforward interface that is very beginner-friendly;
you can translate quizzes into any language with the help of PHP Filters
fully responsive and works great on any theme;
weighted and personality quizzes available with the premium version;
analytics and social share buttons with the Premium version;
shuffle questions;
retake quiz;
integrations: Facebook Pixel, MailChimp, AWeber, GetResponse, Active Campaign, Drip, Zapie and more (with the paid version);
Quiz Cat CONS:
not as feature-rich as other quiz plugins;
---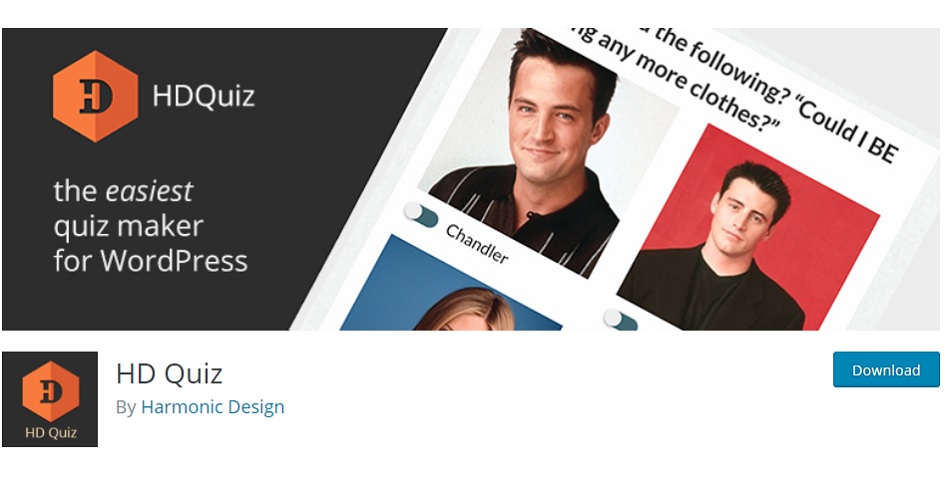 This is a completely free WordPress quiz plugin, with no premium version available.
While it may not have all the bells and whistles of other more premium plugins, it offers more than enough features to create viral BuzzFeed-like quizzes such as trivia or personality.
HD Quiz best features:
you can make unlimited quizzes with an unlimited number of questions;
you can set a time limit to answer questions;
social media share option (Facebook, Twitter);
animated GIFs and image-based answers;
random question and answer order;
you can add links or images to quiz results;
HD Quiz CONS:
you don't get as many features as with other plugins that have premium versions too;
there's a learning curve with using its interface and creating the quizzes;
---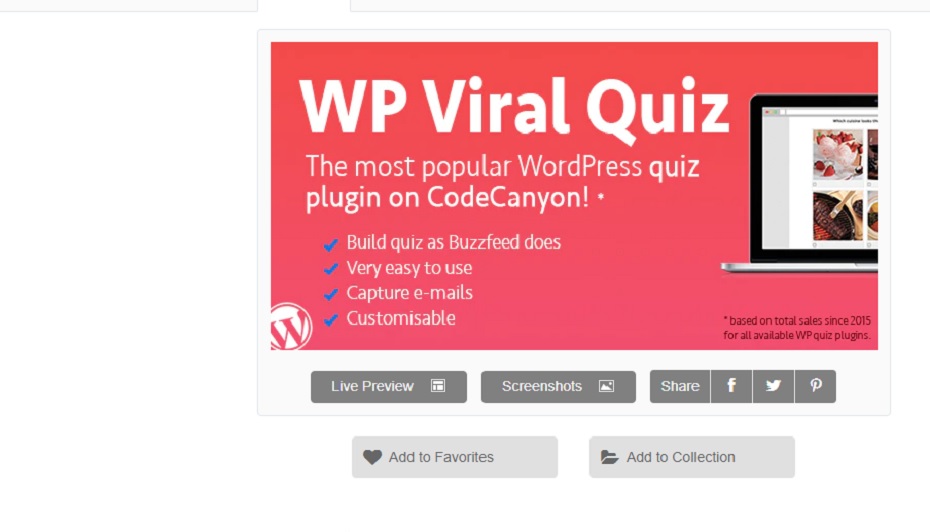 WordPress Viral Quiz is another great quiz plugin to consider if you want something premium.
This plugin doesn't have a free version, so you have to purchase a license in order to use it.
Viral Quiz is priced at $36. In this price you get updates for life and 6 months of support. You can extend the support with 6 more months for an additional $11.63.
The plugin works on every WordPress theme and it is great for viral, BuzzFeed quizzes (as its name suggests it). It is also fully responsive on any type of gadget.
WordPress Viral Quiz best features:
random questions;
social share buttons;
Multilanguage support (English, French, Spanish, German, Portuguese, Japanese, Turkish, Russian, Swedish and more);
import and export quiz functionality;
force user share to see results;
you can integrate quizzes even outside your website, with an iframe;
analytics;
you can insert ads;
MailChimp, AWeber, ActiveCampaign sync for user emails;
Zapier compatible and more;
WordPress Viral Quiz CONS:
there is no free version available;
you can only create trivia and personality quizzes;
---
Summary
To wrap it up, website quizzes can be a very valuable marketing tool that can help you grow your business.
User engagement is very important for your site traffic and your conversion rates and fun quizzes, tests, surveys and polls can keep your site visitors hooked for hours.
Quizzes also have a huge potential to go viral and improve your social media interactions.
The easiest way to make a WordPress quiz is to use a quiz plugin and there are so many options to choose from.
🏆 If you want a completely free quiz plugin, we recommend you give HD Quiz a try. It lets you create unlimited quizzes and it has very good ratings.
🏆 If cost isn't an issue for you and you are willing to pay for a premium quiz plugin, Quiz and Survey Master is one of the most powerful options out there. It is feature-rich and comes with plenty of useful addons.
🏆 Do you want a quiz plugin that is very user-friendly and has a straightforward interface? Then you should give Quiz Cat a go.