Your business is running smoothly, and your website is looking good, but something is missing. You want to maximize your profits in such a way as to improve your website's SEO and its aesthetic. As you might already know, testimonials check all the boxes from both perspectives. It will make your website look a thousand times better with the slideshow option rolling those amazing client testimonials or with the other options that are at your disposal. All these options are settings from the view section.
A view is basically a collection of settings with a simple editor. You can make as many views as you like. For example, one view for your testimonials, another for your testimonial submission form, and a third view for a slideshow of your testimonials on your website.
The easiest way to create views is with the Strong Testimonials plugin. Why? Because instead of multiple shortcodes and widgets with tons of attributes, like many other plugins work, this plugin uses only one main shortcode and one widget.
In this post you are going to find out how to create a view with Strong Testimonials, how to use them, and all its functions.
---
---
How to use the view function in Strong Testimonials
Next, I will present you with a step-by-step process that will take you through the installation process and use the view to meet your needs. Firstly, to use this plugin, you have to install it. To do so, go to Plugins > Add New. Type Strong Testimonials in the search bar located in the top right corner. After that, click on Install > Activate. You will find the plugin in the WordPress menu.
---
Create a view
A view will help you arrange the fields in a testimonial, add a featured image, and many more!
To create one, go to WordPress Menu > Testimonials > Views > Add New. You should start by giving the view a name to help you distinguish it later, such as "Home page testimonials" or "Testimonials dedicated page."

---
Select the desired mode
You can choose from three different modes: Display, Slideshow, Form, or Single Template. The currently displayed settings will change based on the selected mode. Then, to customize your view, go through the options one by one. It's also ok if you let the default settings.
Display — This mode lets you display testimonials as a list or a grid. You can find plenty of settings to customize them, such as modifying the queries, fields, style, font color, background, etc. You can post this testimonial mode basically everywhere: on the front page, sales page, or testimonial dedicated page. Click here to see different examples of testimonials created with the Display mode.
Slideshow — The difference between Slideshow and Display and the previous one is that you will display a slideshow instead of a list or a grid with this mode. For more information, please take a look at our tutorial on how to create a slideshow testimonial.
Form — This is the best mode when asking for a testimonial request. You can modify the style, background, and font color of the form. If you are particularly interested in this form, don't forget to follow our step-by-step tutorial on creating one and attaching it to your website.
Single Template — At the moment, this mode can be accessed from the settings only. Its fields are customizable, and it has multiple templates you can choose from.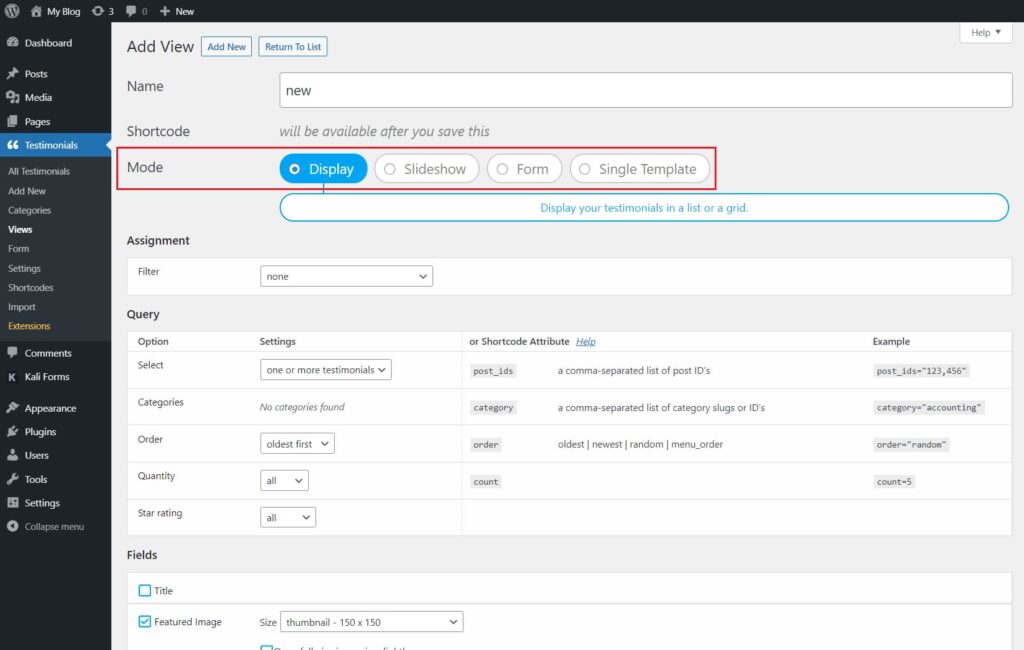 Click on Save Changes at the bottom of the page. After that, the view's unique shortcode will appear.
---
Widget or Shortcode
To use the shortcode, click on the Copy to clipboard button or manually copy the shortcode and paste it into your page.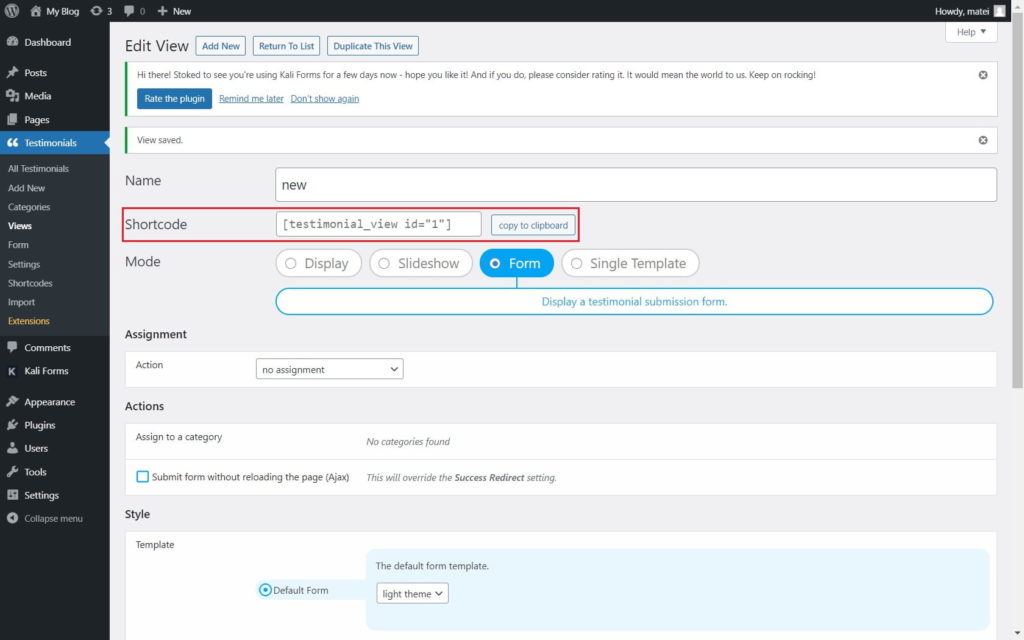 After you copied the shortcode, go to Pages > Add new or edit an existing page by clicking on the "+" icon to choose a block > Shortcode block > paste the shortcode.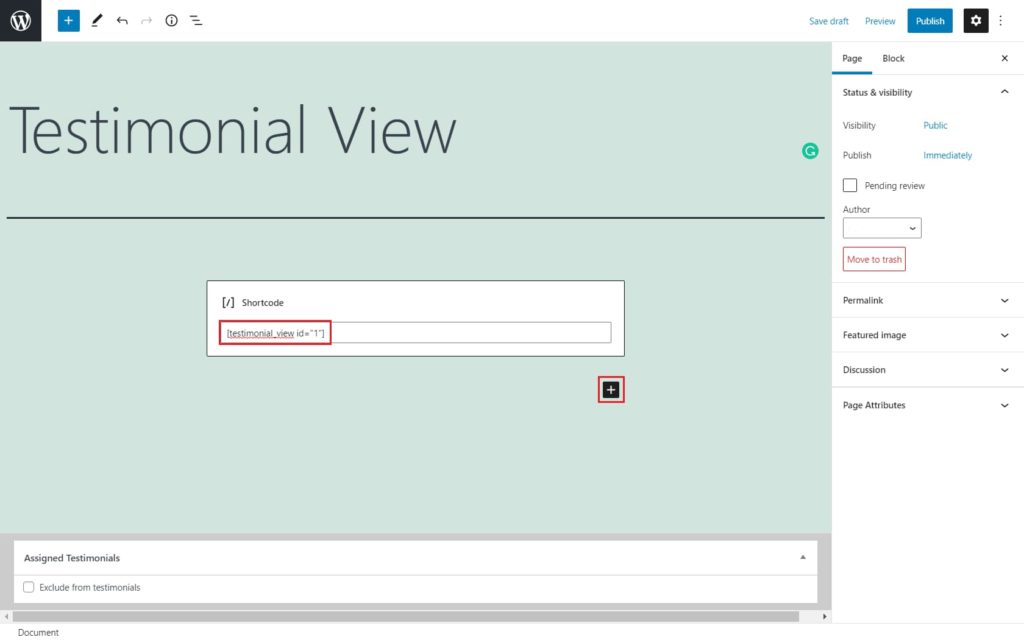 Or add the Strong Testimonials View widget to a sidebar and select the view by name (that's why you gave it a descriptive name).
To add it in a sidebar go to Appearance > Widgets > click on the Strong Testimonials View widget > and select where to add it.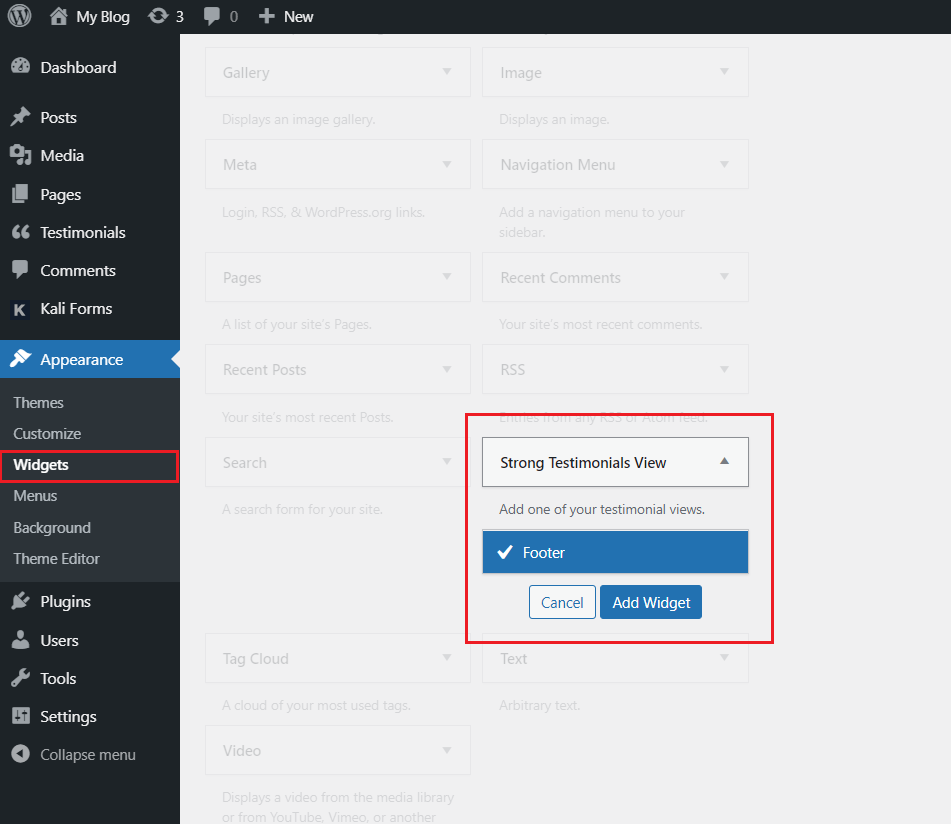 ---
Advanced Views add-on
With the Strong Testimonials Premium Advanced Views Add-on, you can easily configure testimonials beyond the default star rating value, reorder fields, and more.
Don't limit your testimonial game by not considering all the options you can find in testimonial view settings.
Filter Testimonial — By using this advanced add-on, you can select to display the testimonials from 1 star all the way to those with 5 stars, but I am suggesting you not display any 1 or 2-star reviews if you want to make the most out of it. By accepting testimonials through a request form, you can filter only those testimonials representing you and your brand the best to be shown on your website.
Reorder fields — Thanks to the plugin's flexibility, when you create a Display or a Slideshow view, you can rearrange all the fields the way you want to meet your needs. In other words, you won't be limited to a single template, and you will have full control over your testimonials' aspects and the way they will be displayed on your website.
Strong Testimonials has a paid version but also a free one. Choose the one that fits your needs and start increasing your conversions with the help of the testimonials created with this plugin.
---
Summary
Using the view function when displaying testimonials is essential because it lets you customize your testimonials the way you want and take them to a whole new level. Give Strong Testimonials a try, and I promise you won't be disappointed.