Testimonials demonstrate the actual value of your products and how existing customers use them. It will save both you and their time by allowing website users to conduct initial research to determine whether or not what you sell is relevant to their specific interests. And quoted testimonials are just that.
---
---
It's known that a lot of businesses utilize testimonials to display product/service quality and to increase sales. Here are just some of the few common mistakes we've seen from a multitude of businesses:
1. ❌ Takes away credibility – Not having any testimonials is bad but just having some text sections thrown in there without quotes looks worse. It gives the client the impression that the testimonials are fabricated and not genuine.
2.❌ No consideration for marketing – Businesses are losing potential if they don't make use of their feedback. Not adding quotes makes your marketing campaigns seem dull and robotic.
3.❌ No delimitation – Some businesses cram up all of their testimonials in one page and it's hard for the reader to figure out where a testimonial begins or ends.
---
Reason to add testimonials in quotes to your website
Customer testimonials are an effective technique that every company should employ to demonstrate how their products or services have impacted the lives of their customers. Not only that but it's been proven that testimonials help you increase the conversion rate since 92% of the people read customer testimonials when considering a purchase,
By displaying elegant quotation mark testimonials with what clients said about your brand, product, or service, it's the most efficient way of building trust, especially when your business is still new and doesn't have an image yet.
In their testimonials, people utilize quotations to highlight the importance of believing in their product or service. It appears as if the person delivered the testimonial as it is, without the company modifying or tweaking it. It seems genuine and trustworthy.
When displaying testimonials in quotes, remember that it delivers more if you immediately attach a face and a name to it.
And not only that but having quotes around a testimonial makes it easier for the reader to clearly see where the testimonial starts and ends without having them waste time struggling to figure it out.
---
Step 1: Add a testimonial
We have a very straightforward process when it comes to adding testimonials. Read below and you will get it right in no time!
Once you installed and activated Strong Testimonials, go to the WordPress menu > Testimonials >Add new.

You have plenty of fields to fill in, such as the client's full name, email address, company name, and website address. There is even the option to set up your own custom fields.
You can add a featured image from the right sidebar if the client provided you with one.
Once you have the testimonial ready, hit Publish to add it.
Step 2: Create a view
The next step is to create a view of our testimonial. A view contains all the visual settings of the testimonial that will be displayed on your website.
To create the quote, go to the left sidebar in the Dashboard and click on Views. Press the Add New button, just like in the image below:

After that, you will be redirected to a new page with all the configuration options:

Strong Testimonials allows you to configure your testimonials in such a way to fit your needs.
Further, depending on the layout and design of your website, you can get to choose from a few built-in templates. These are the default, card, and side templates.
Moreover, you can customize the testimonial's appearance by changing the background font, quote color, and rating color.
Finally, when you are satisfied with your client testimonials quotation, make sure to click on Save Changes at the bottom of the page to save your work.
Step 3: Display the testimonial
Displaying the testimonial is even easier than the 2 other steps. All you need is a Shortcode.
Firstly, to find the shortcode, all you need to do is scroll back up and you will find it right under the name of the view.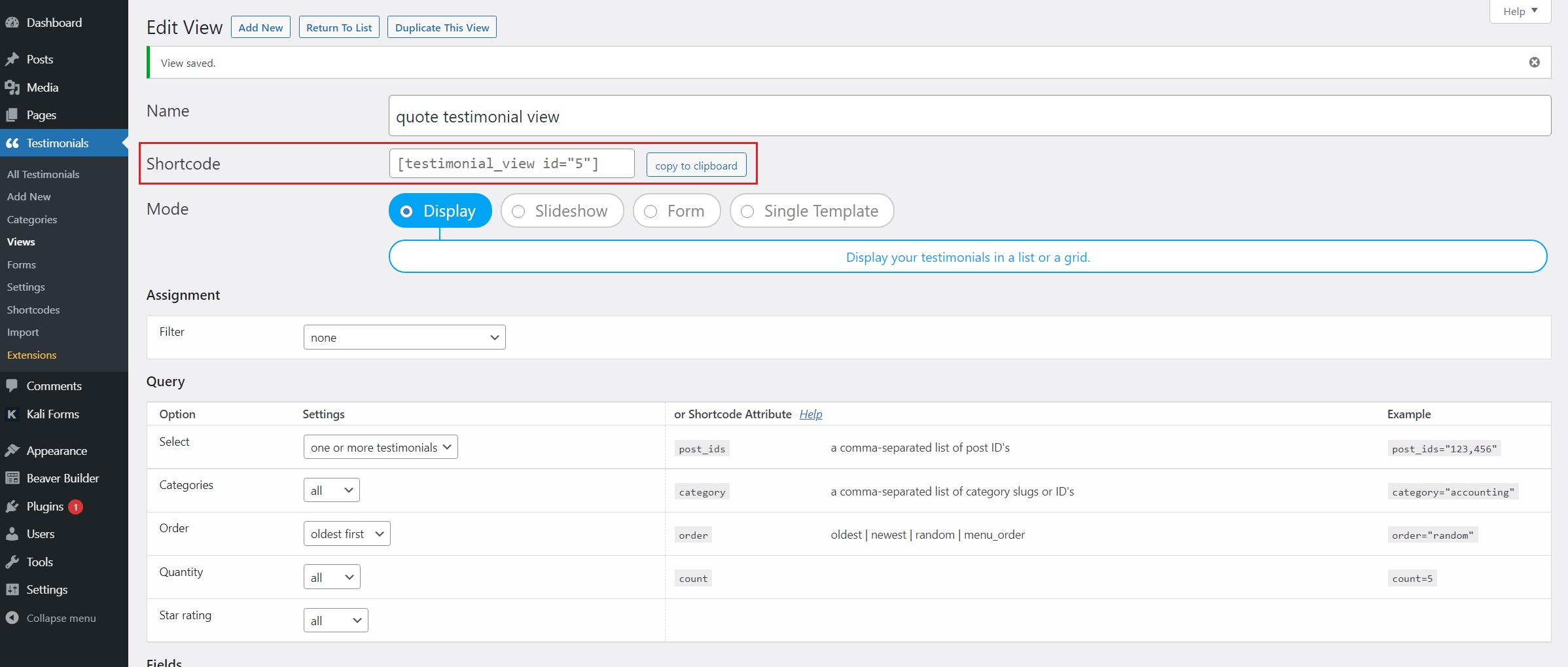 After you copy the shortcode, you can paste it into any page or post, wherever you want to display your testimonial.
To do so, press on the "+" and search for the shortcode block: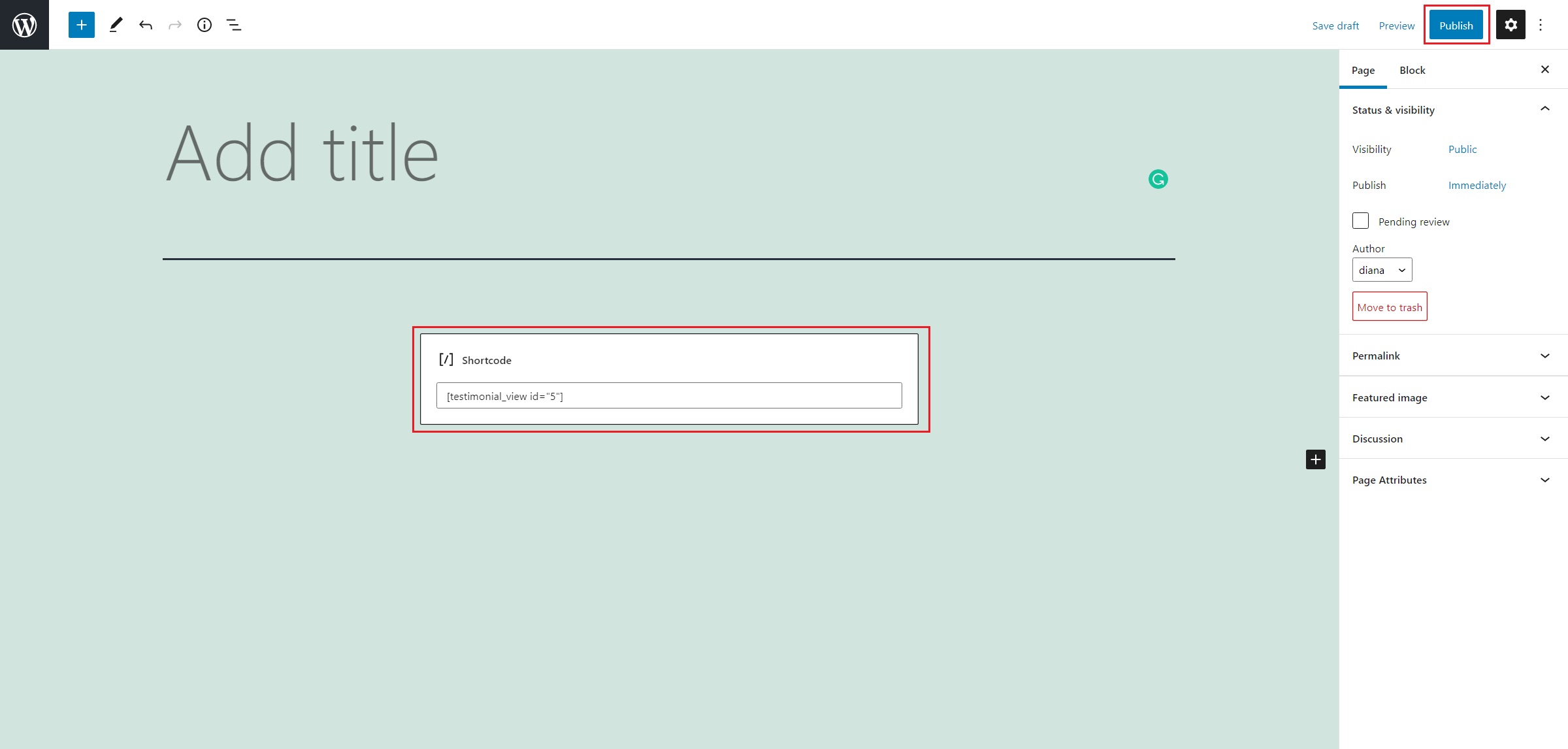 If you want to preview your work, simply click on Preview > Preview in a new tab.
---
So, what can I do using Strong Testimonials?
1. Add testimonials in quotes – The clients will be inclined to believe you more if they see your testimonials in quotes. They will immediately think that your testimonials were published without modifications and exactly as you received them.
2. Customize quotation marks for testimonials – You can use the quote feature to push out targeted testimonials with extremely good feedback. Make the most of it in your marketing campaigns.
3. Showcase testimonials in an engaging way – Strong Testimonials templates help you display the testimonials in a clean and organized manner. Moreover, the reader can clearly distinguish testimonials and has an easier time researching your product or service.
---
Conclusion
And there you have it. You successfully displayed your first quoted testimonial. It's a task that can be completed with a few mouse clicks and needs no special skills. However, you may need to put in some extra effort to obtain these client testimonials, to begin with.
Moreover, the plugin comes with everything you'll need to make and show customized testimonial forms on your WordPress account. You can make use of this feature if you subscribe to our Plus Plan and you get access to everything that Strong Testimonials has to offer! 😁