Do you respond to positive reviews related to your business? Replying to positive reviews is usually not a priority for business owners. In fact, most of them are more concerned with damage control after a negative review.
However, with each positive review, you have the opportunity to show your customers that you truly care about them and aren't solely interested in protecting your brand image.
---
In today's post, we'll share:
why you should respond to positive reviews;
tips for responding to positive reviews;
examples of how to respond to positive reviews.
---
---
Why Respond to Positive Reviews?
Why respond to reviews? As mentioned earlier, responding to positive reviews is a perfect opportunity to show customers you care about them. According to recent statistics, this is exactly how 78% of consumers feel when they see a response to their review.
On top of that, responding to positive reviews has a few more benefits:
---
Responding to reviews boosts your retention rate
Responding to positive reviews can help foster customer loyalty, which in turn, boosts your retention rate. In other words, your existing customers are more likely to return and do business with you again if they feel like you care about them.
---
Responding to reviews attracts new customers
Put yourself in your customer's shoes for a moment. Now imagine you're looking for a new restaurant. You're finally settled on two and you decide to check out their reviews on Yelp.
One restaurant has positive reviews and the owners are actively engaging with their customers, acknowledging and replying to their reviews.
The other restaurant has both positive and negative reviews but nobody seems to be checking them, let alone addressing customers' concerns.
Which restaurant would you choose?
If you answered the first one, remember that the same principle applies to your business. As such, don't underestimate the power of responding to positive reviews from your customers.
---
Responding to Reviews Boosts Your SEO
Does responding to google reviews help SEO? It surely does. Responding to positive reviews can boost your SEO. This applies to local businesses and localized business searches.
Google will take into consideration online reviews when it comes to ranking a business. They will consider the volume of reviews, the tone of the review, and the consistency.
As such, you need to encourage your customers to leave you a review on multiple places online (especially Google's own rating platform) and you need to respond to those reviews.
By adding your company name, location, and other important keywords in your reply, you can improve your search engine visibility, which can result in your business showing up higher in the search results.
---
How to Respond to Positive Reviews
So now that you know why you should respond to positive reviews let's see how to respond to a 5-star review!
---
Thank The Reviewer
How should a business respond to online reviews? Well, the most important tip to keep in mind is to thank the person who left a positive review. This is a great way to let them know that their response was noticed and, more importantly, appreciated.
Be sure to make the response sound personal instead of a templated reply. Include their name and reference things they mentioned in their review. This will show them that you took the time to read the entire review instead of merely focusing on the number of stars. Thank you message for a positive review: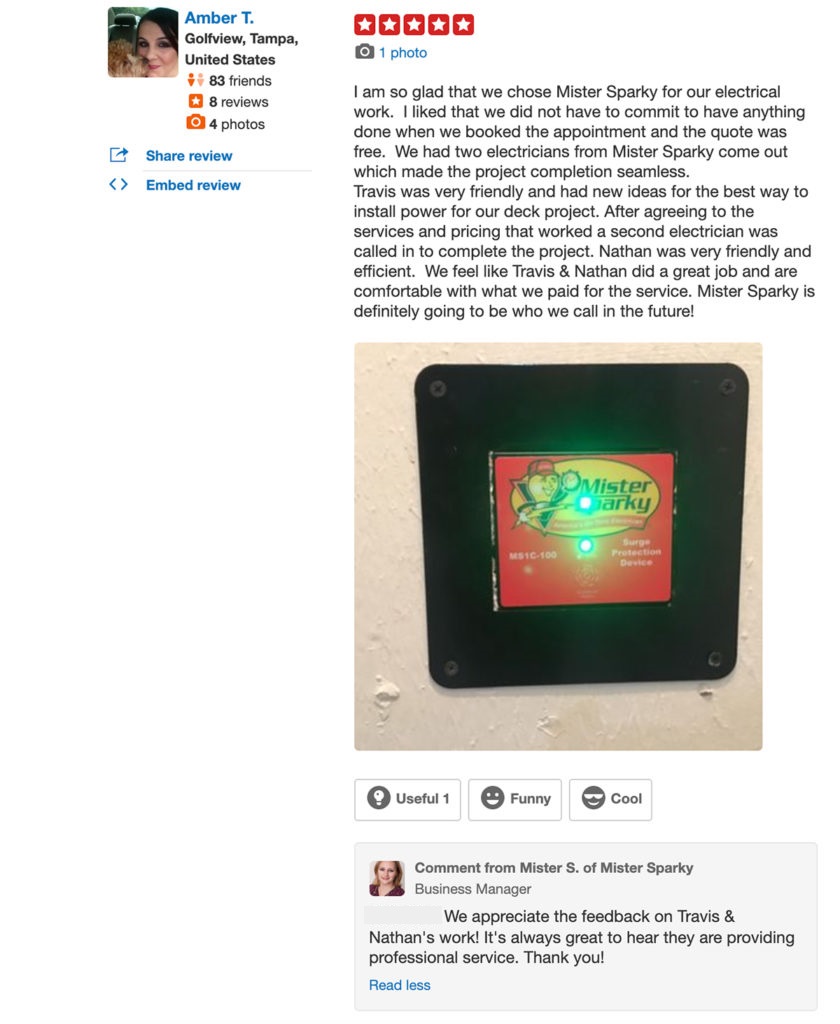 Example of how to respond to positive feedback: Jane, thanks so much for taking the time out of your busy schedule to leave us a review. We're on a mission to be the best landscaping firm in southern Virginia. I'm glad we could get your lawn in top shape before your big Saturday barbecue!
---
Respond In a Timely Fashion
In today's day and age, we are all victims of instant gratification. As such, responding to reviews in a timely fashion is of the essence. If you reply to a positive review months after it was posted, it looks like you aren't really paying attention or don't really care about the experience your customers had while doing business with you.
5-star review reply example: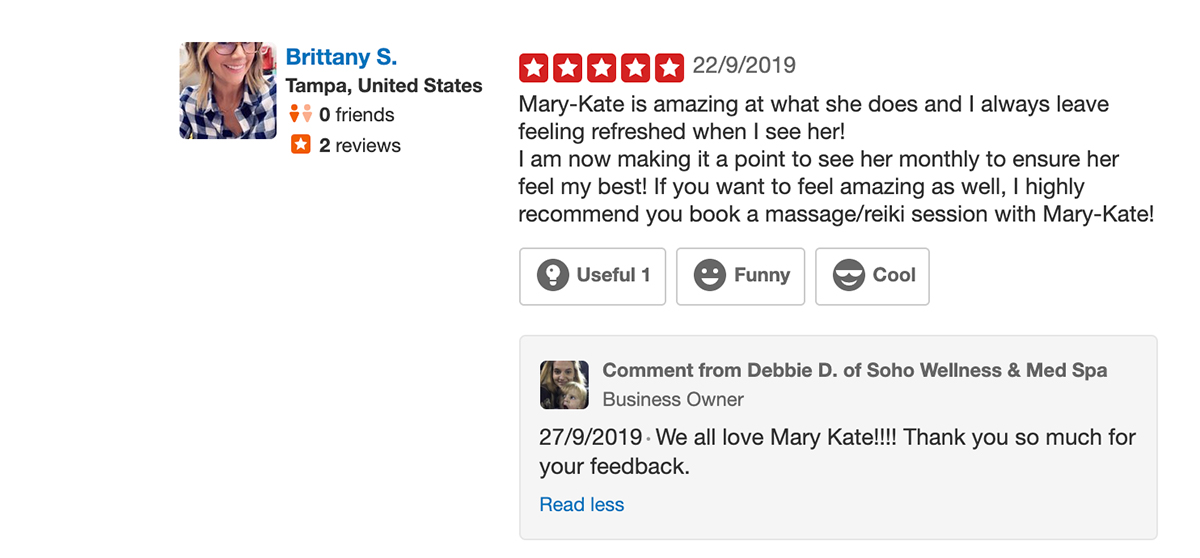 ---
Keep It Short and Sweet
Keep your response short and sweet as nobody likes to read walls of text. Acknowledge your customer, make it personal, thank them for taking the time to leave the review, and invite them to come back. This will keep your responses concise and to the point. Positive feedback reply example: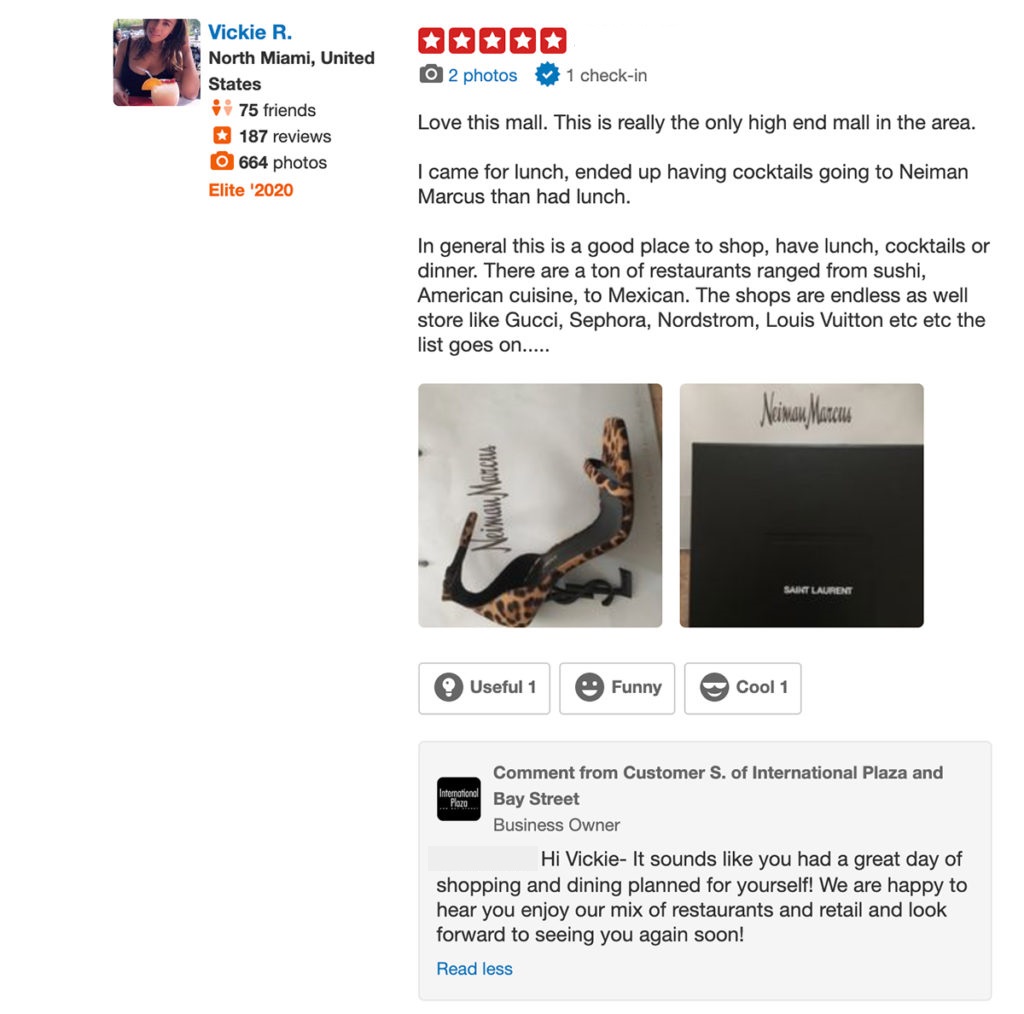 ---
Invite Them to Come Back Or Spread the Word
Consider casually asking the reviewer to take action by visiting you again, following you on social media or spreading the word about you to their friends and family.
Make it feel natural and keep in mind that inviting them to do business with you again while they're happy is the best way to ensure they turn into repeat customers and brand advocates.
Example response inviting them to visit again: Thank you for your kind words, John! We're happy to hear that you had an awesome experience! We'd love to see you again and we're looking forward to your next visit!
Example response inviting them to share the experience: Thanks for the glowing review, Jane! We're happy you enjoyed your anniversary date at our restaurant. Would you mind sharing your experience with your friends too? We'd love to serve other happy couples like you!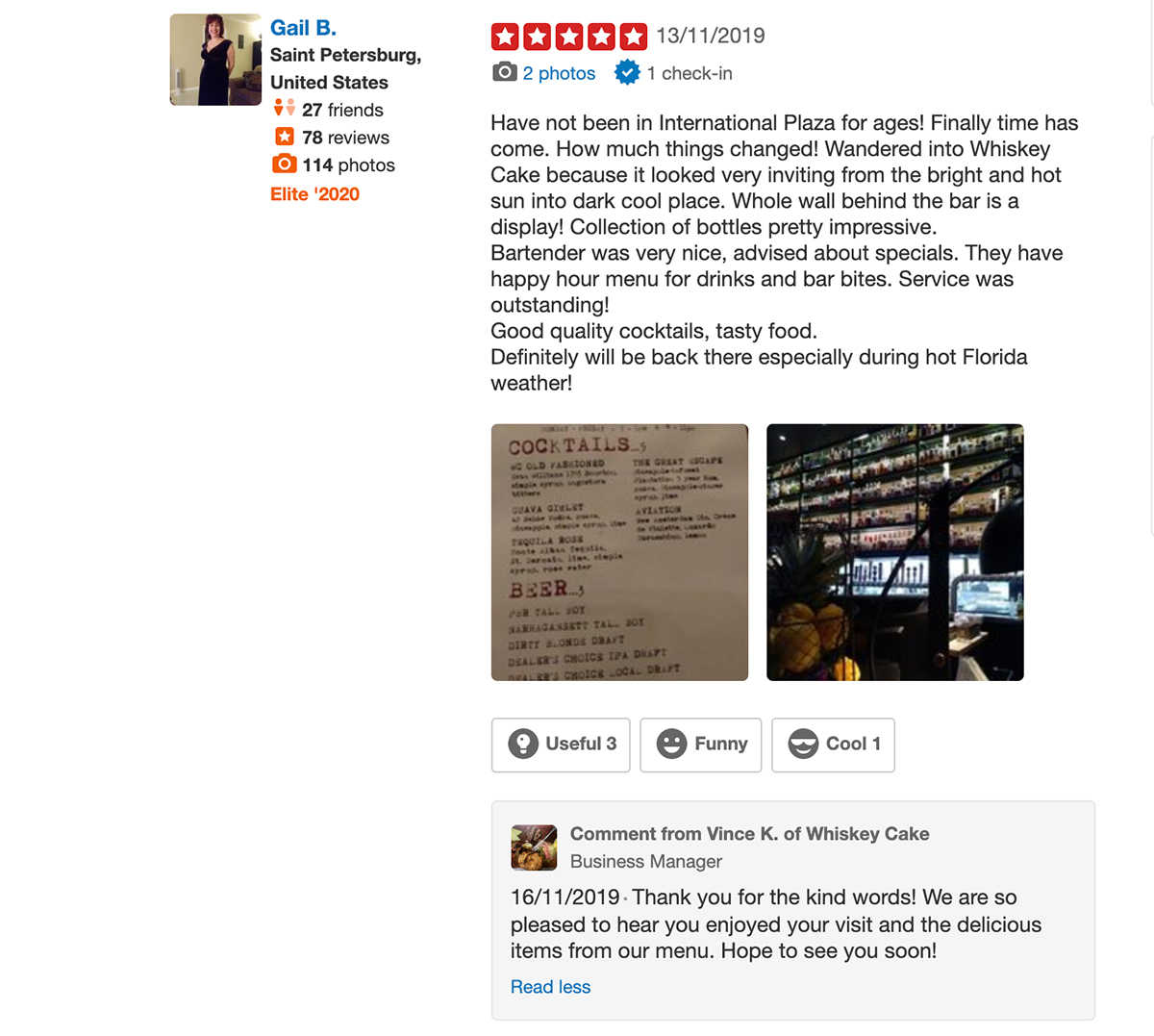 ---
Make Them Feel Like a VIP
Another thing to include in your response is a little inside information that makes the reviewer feel like a VIP while at the same time piquing the interest in new customers.
This can include mentioning a special offer, sharing more details about a particular service, offering a bonus or anything else that makes sense for your business.
Example response with insider information: The dumpling recipe you loved is an old family tradition. We published the recipe on our blog in case you want to try it yourself! If not, we'll be happy to serve it to you again next time!
---
Sign Off With a Positive Sentiment
Sign off the review with a positive sentiment just as you would when signing off a letter or an email to a friend. Express your hope for seeing them again and thank them again for their business.
Example of sign offs you can use:
We can't wait to see you again!
Enjoy your mani-pedi!
We look forward to celebrating the next anniversary with you!
---
Share the Positive Review Elsewhere
Our final tip is to share the positive review elsewhere. You can take a screenshot and share it on your social media plugins or you can add a plugin that automatically pulls reviews from places like Google, Yelp, Facebook, and others and posts them on your WordPress site.
A great way to use the positive customer ratings and display them on your site is by adding testimonials. If you have a WordPress site, the easiest and most convenient way to do it is by using a plugin.
Strong Testimonials is one of the most powerful testimonial plugins available. It has over 100,000 + active installations so far and it features both a free version and a premium one.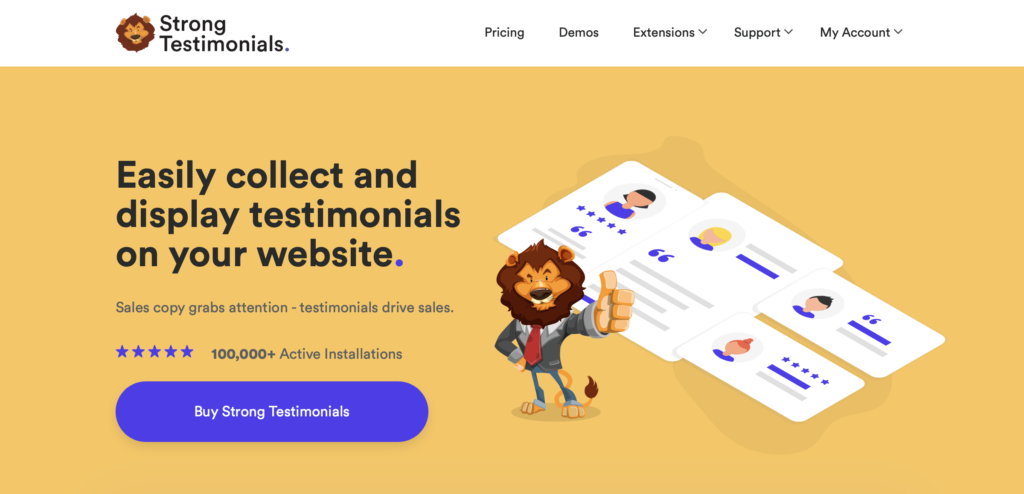 This plugin is highly customizable and includes several useful extensions.
For instance, the Strong Testimonial Importer extension allows you to import testimonials/reviews from external platforms such as Facebook, Google, Yelp, Zomato, WooCommerce. By using the extension, you can collect all those third-party testimonials and display them on your site.
---
How fast should you respond to online reviews?
Well, if you want to provide excellent customer service, I advise you to respond to customer reviews as soon as possible. As a business, you need to respond to positive feedback quickly enough to make your customers feel that their opinion is appreciated.
A Review Tracker survey showed that 53.3 % of customers expect businesses to respond to their feedback, even if they are positive or negative, within seven days.
---
Final Thoughts
Responding to positive reviews can improve your brand reputation and make customers trust you more. Use the tips in this article as well as the examples to craft your own responses to positive reviews and show your customers you care about them.